Come & appreciate one of the finest architectures of Iowa State Capitol Building in Des Moines, portrays the rich historical significance of Iowa State. It's a top free things to do in Des Moines (Iowa), perfect to spend a family weekend, offers free guided tours takes you in and around the building, which houses General Assembly, Senate chamber, Old Supreme Court, State library, Governor's office and offices of Auditor, Treasurer, Attorney General & Secretary of the Iowa State.
The most attractive & decorative part of the building from inside & out are its five domes including a golden dome at the center comes with a standing balcony, overlooking the downtown of the city. There are many displays, exhibits from civil wars & history, remarkable paintings, statues & murals, every corner is piece of art here!
As per the google says, it is one of the top 3 most beautiful state capitol building in the USA. Read more about the guided tours, highlights of the building and things you must not miss while visiting this place.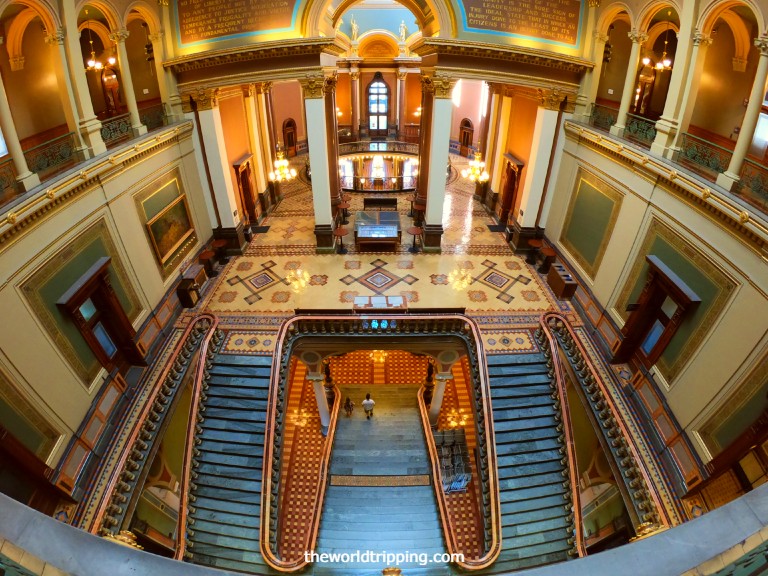 The Iowa State Capitol building is one of the best examples of neoclassical architecture, celebrate its powerful history & local heritage.
Style of Architecture: Neoclassical, Renaissance Revival
Can you believe, it took 15 years to construct this Capitol Building, which started in 1871 & finished in 1886. The dimensions of the building are 368 feet, 8 inches by length & 246 feet, 11 inches by width, which costs around $3,296,256.
The Foundation stone, Limestone, various colored Granite & Sandstone has been quarried & gathered from different counties of Iowa. Its interior wall are furnished with 29 types of marbles imported from Italy, France, Germany, Belgium, Spain, Ireland & Mexico.
You will be mesmerized by the artwork, paintings, murals & statues. Their wood carving works, monuments & memorials, artifacts from American history, decorative walls & ceilings, giant staircases, tall ceilings & pillars, imperial chandeliers & lightings will surely blow your mind.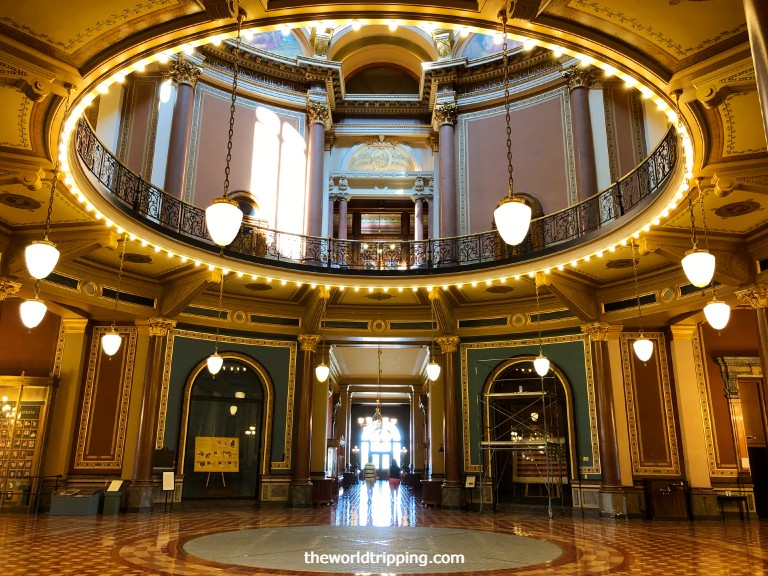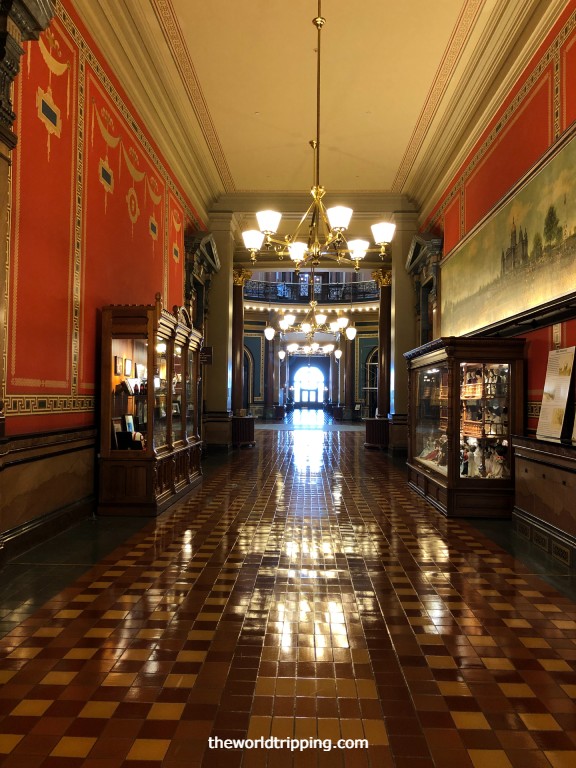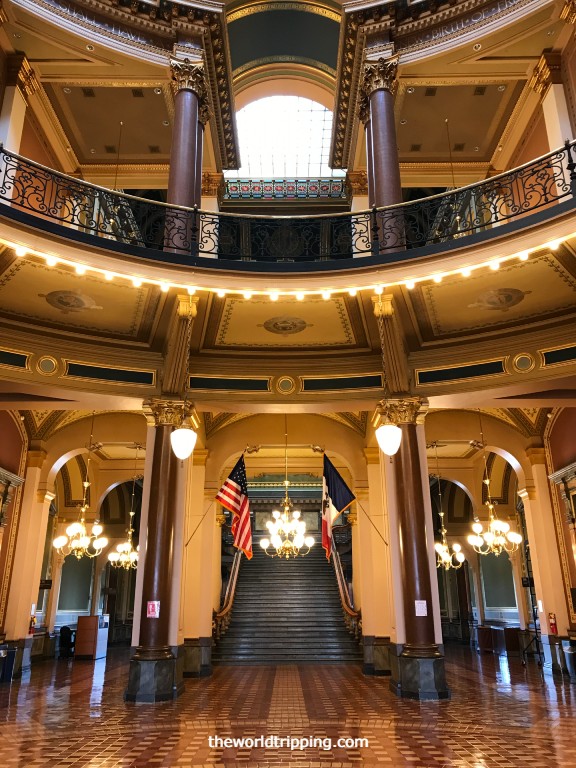 Royal Chandelier & Lightings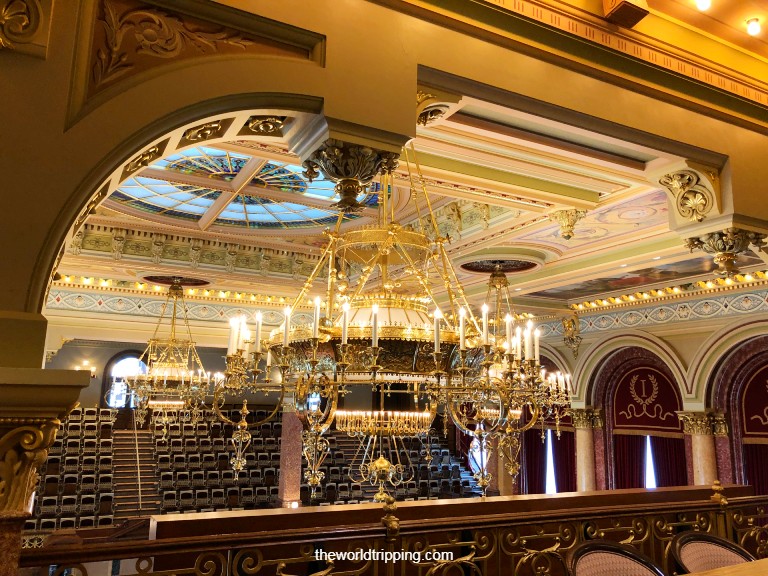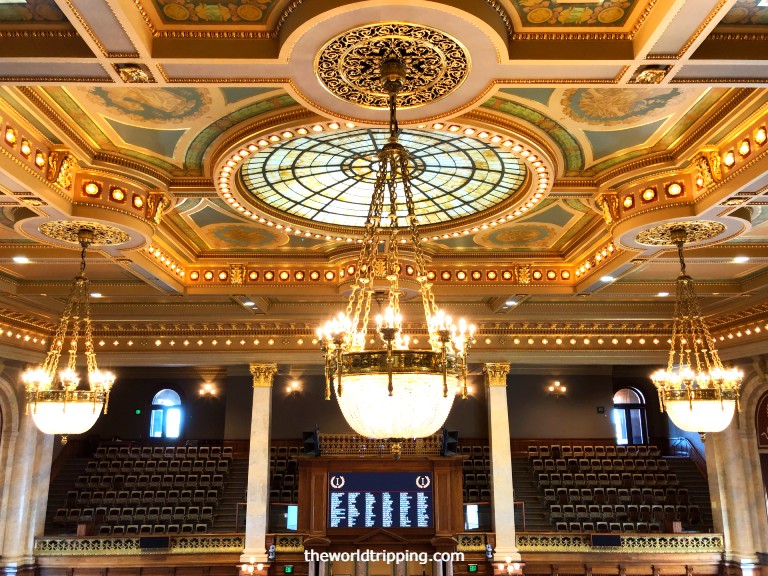 Grand Staircases & Stairway Statues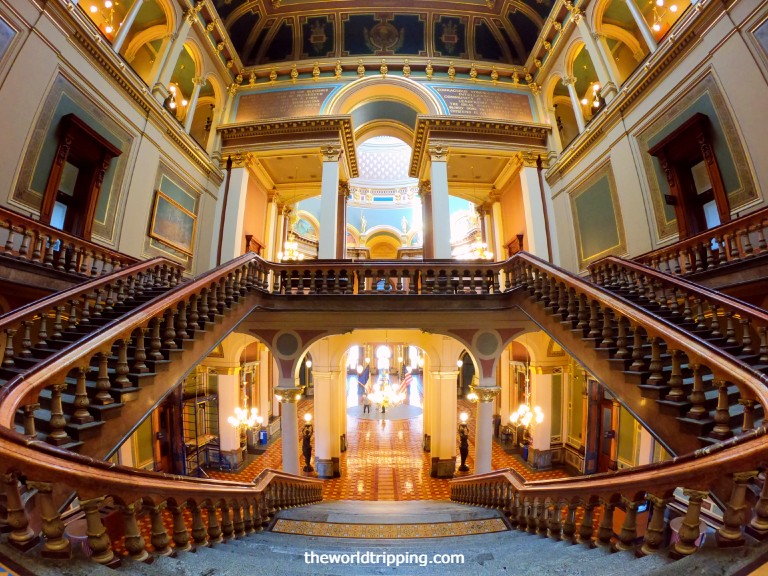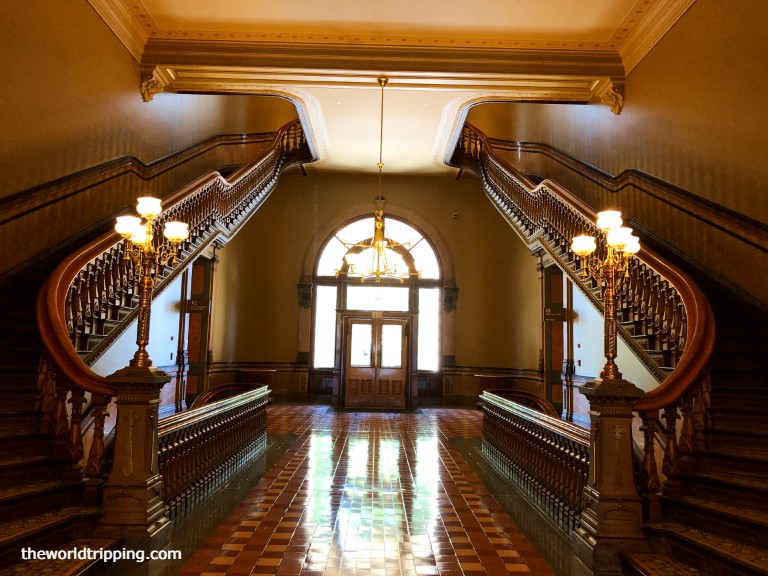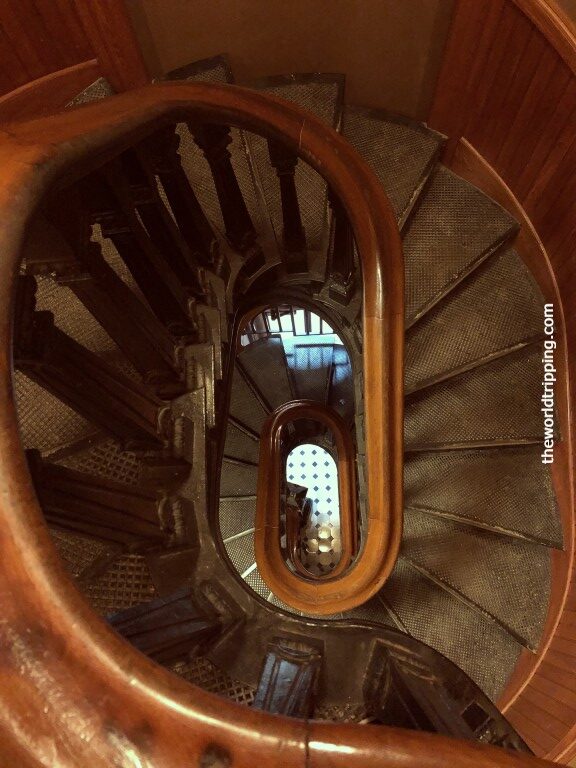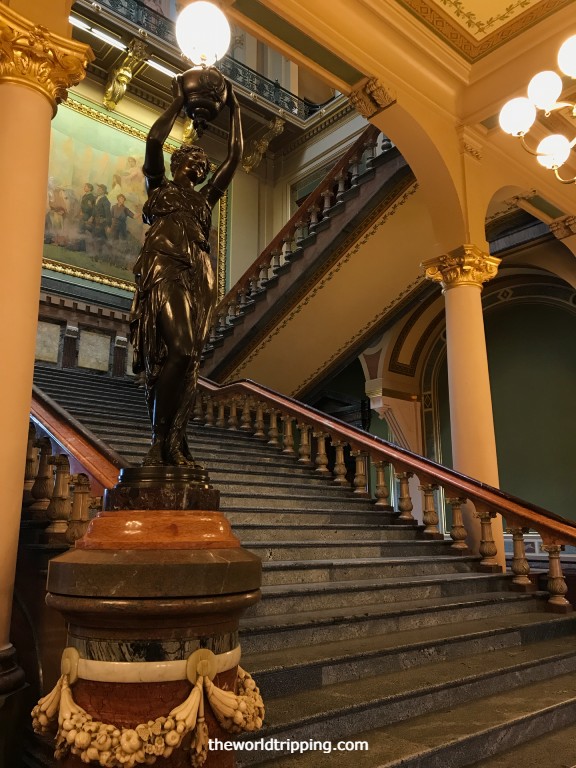 Mural Paintings (Second Floor)
* Westward (Located in between the Grand Staircase)
Westward is a beautiful, large wall sized painting located on the east side of the Capitol building, between the first and second floors. This mural takes you to the era when pioneers arrived in Iowa and how the civilization started & progresses. Such meaningful painting by the Artist Edwin H. Blashfield of New York. Read the entire description about the painting by visiting in person.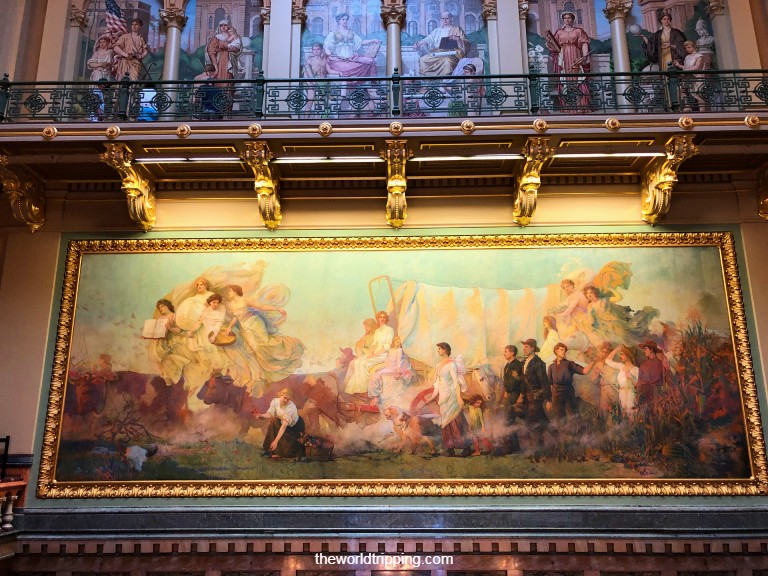 * Lunettes (Half-moon shaped paintings surrounded Rotunda)
The artist tried to explain how the civilization flourish through those eight paintings on the wall surrounded Rotunda. Read more in a separate section under Rotunda.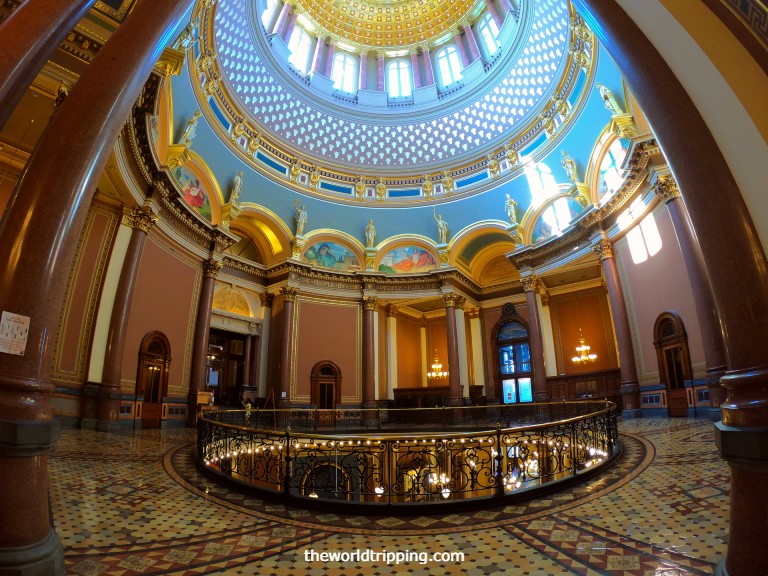 Displays & Artifacts from American History (First Floor)
* Collection of dolls representing Iowa's first spouses
* Reproduction photograph (Located above the doll case)
It is said to be the world's largest reproduction photograph measuring 26 feet long & 6 feet tall, depicts the Rainbow division (42nd), 168th Infantry, Soldiers returning from France in May 1919, parade that ended at the Iowa State Capitol.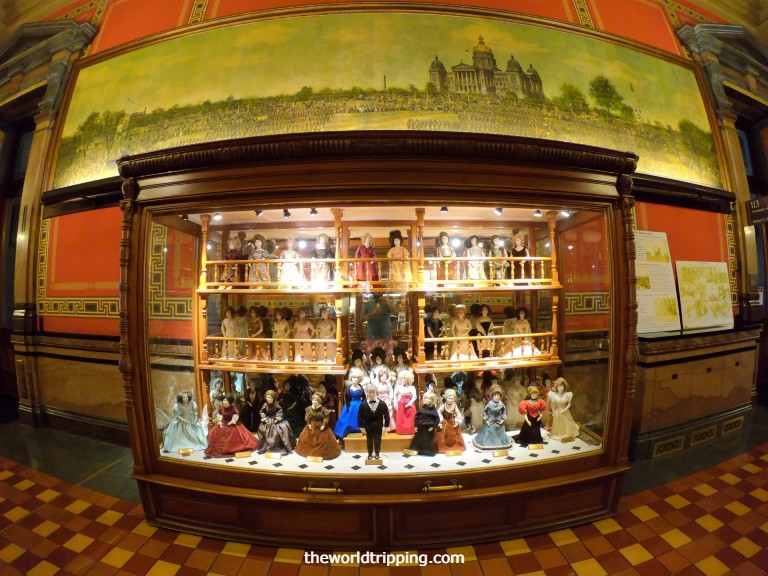 * Model of U.S.S. Iowa battleship:
It's a marvelous piece, 18 feet & 7 inches long battleship model, weighs up to 1350 pounds. You must see the design; it looks so accurate with each detailing.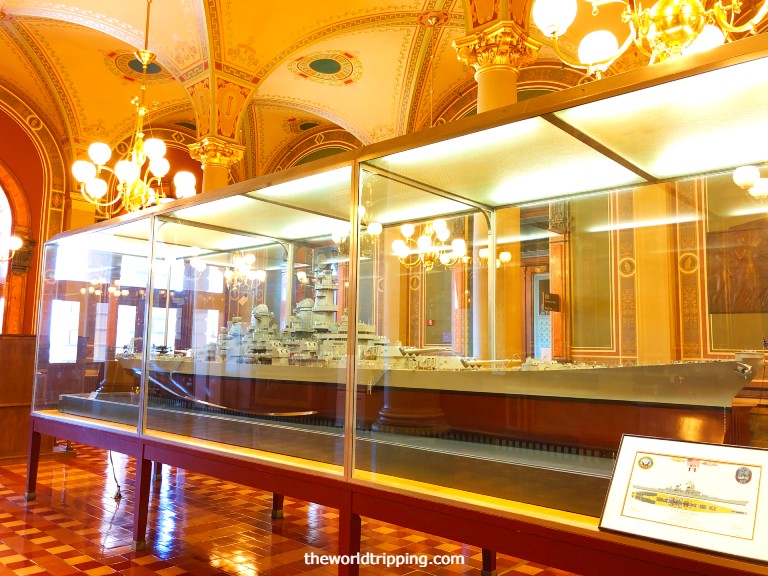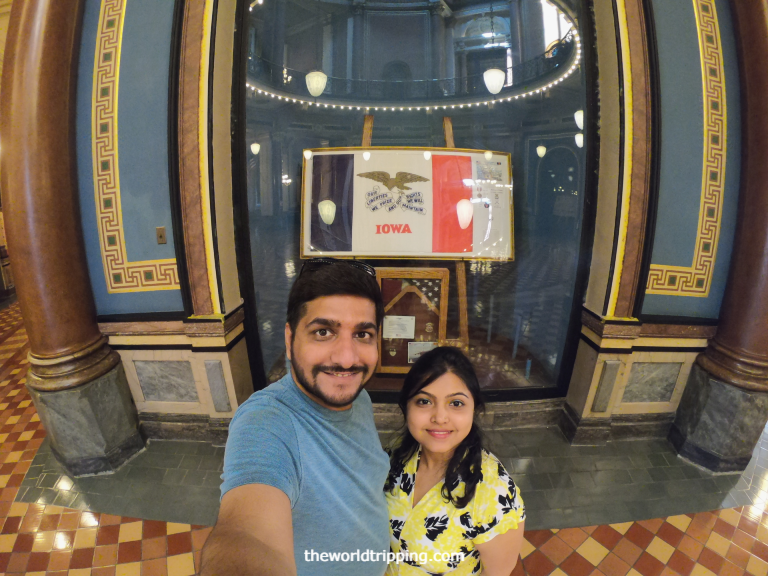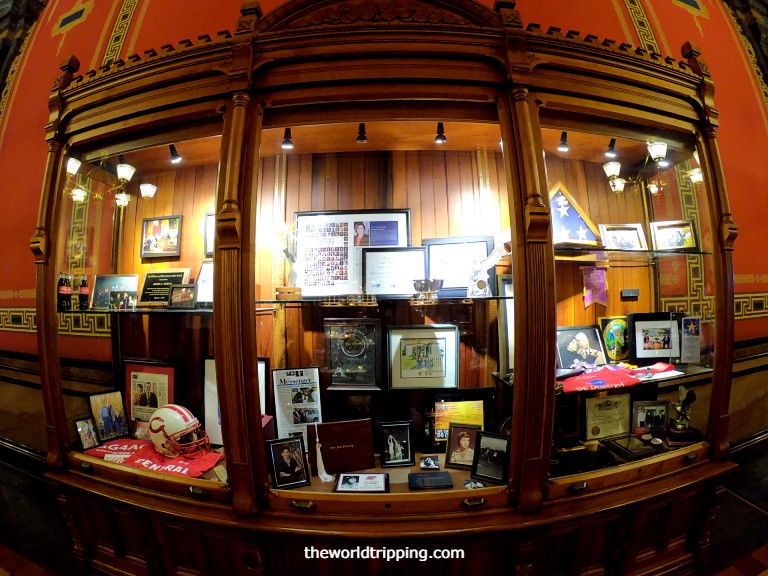 2. The Golden Dome of the Iowa State Capitol
Not all capitol buildings have the iconic Golden Dome structure at the top. Only 11 states (Iowa, Massachusetts, Nebraska, Georgia, Colorado, Connecticut, Wyoming, Vermont, West Virginia, New Jersey, New Hampshire) out of 50 states are having it. The Capitol's golden dome can be seen from miles, demonstrate the pride of Iowa State.
It is the most attractive symbolic structure of the Iowa State Capitol Building. Visit here and read more about how it is built.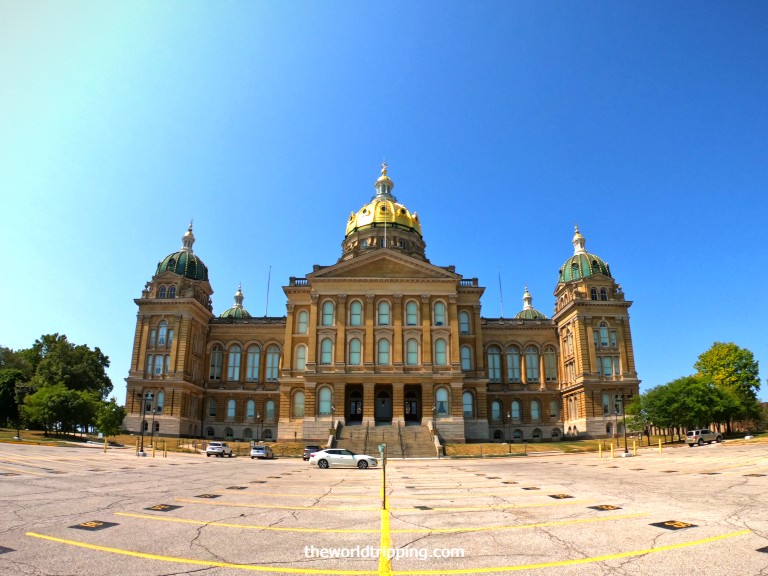 As you can see, there are five domes, the largest one is in the middle, made up of steel & stone covered with 23-carat gold, whereas the other four domes are located on the corners of the building. 
In the process of gold leaf gilding, 250,000 thin sheets have been used to make a 1-inch layer, which costs lakhs of dollars. It has been replaced in 1927 & 1965. The height of the dome is 275 feet above ground level with an external diameter of 80 feet.
The balcony- There is a balcony on the dome structure, which is 219 feet from the ground. The children of six years and above can go on the top during the guided tour, but you need to climb up through a narrow staircase. However, the view from the balcony is rewarding. As the capitol building is located on a hilltop, offers 360 degrees panoramic views of the downtown, capitol grounds, & west side terrace.
The internal side of the Golden Dome- If you see the Golden Dome from inside, there is the emblem of the Grand Army of the Republic (G.A.R.) painted on a canvas suspended across the dome against the painted cloudy sky.
This represents the Union – American civil war between 12th April 1861 to 9th May 1865, between northern & pacific states. You can see the years mentioned on it. As you observed there is a prominent use of pink, sky blue & golden colors, making it as catchy as it is from outside.
When you come upon the second floor, you will see two-section, there is a huge staircase and the painting, information board to read about the building & history. Sit on the benches observe minute details and admire the art.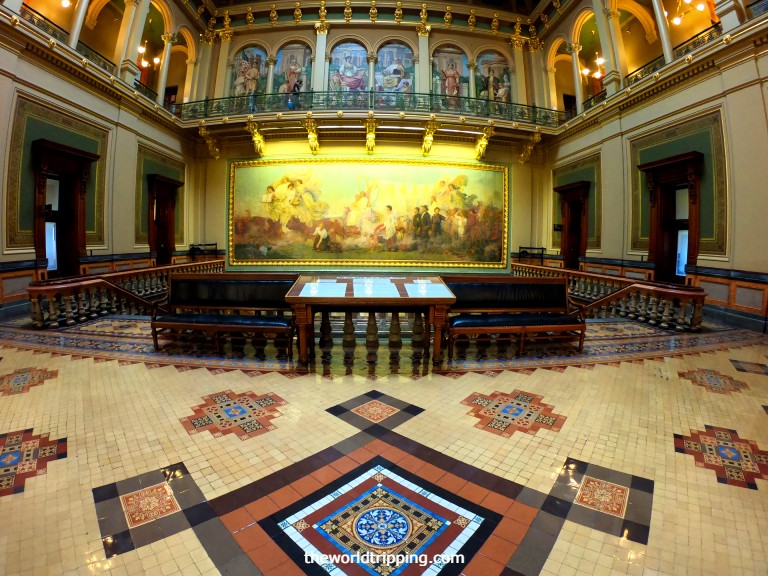 On the other part, there is around balcony kind of structure called Rotunda, from where you will be able to see some amazing artworks of the Capitol Building. You can see the paintings, statues on the circular wall & the central dome. The diameter of Rotunda is 66 feet & 8 inches.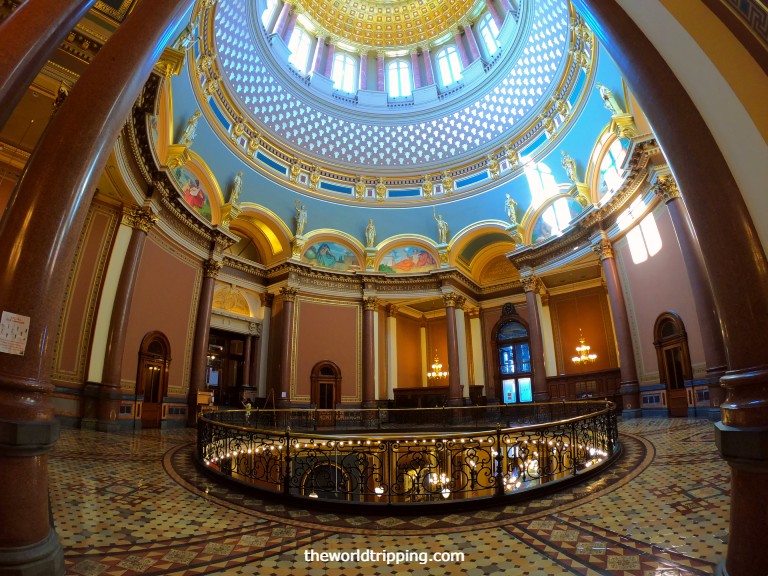 Eight Decorative paintings around Rotunda, four on each side, depict how civilization progresses. Each painting represents the following subject – culture, Art, Education, Science, Commerce, Hunting, Agriculture, & Herding.

Then there are twelve statues near those paintings, six on each side, which holds your attention symbolizes- Agriculture, Commerce, Industry, Law, Science, History, Progress, Victory, Truth, Peace, Literature & Fame. All of these are intriguing, right?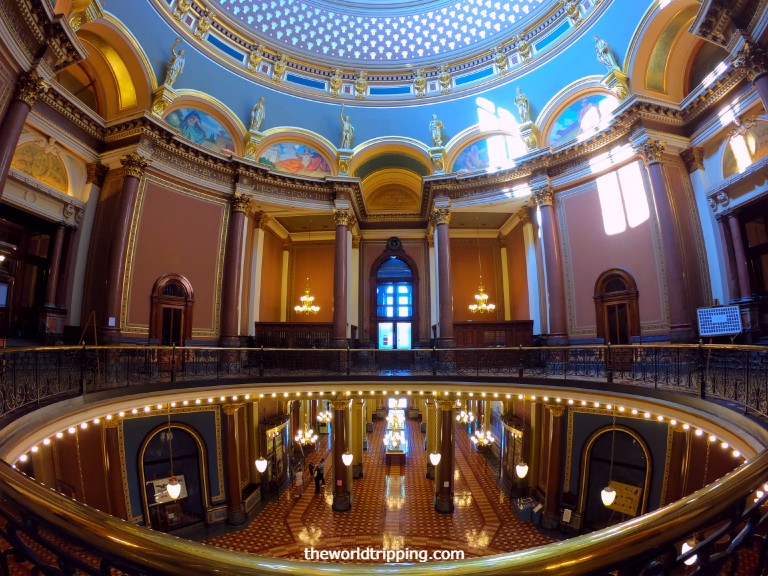 4. The State Law Library of Iowa (Second Floor)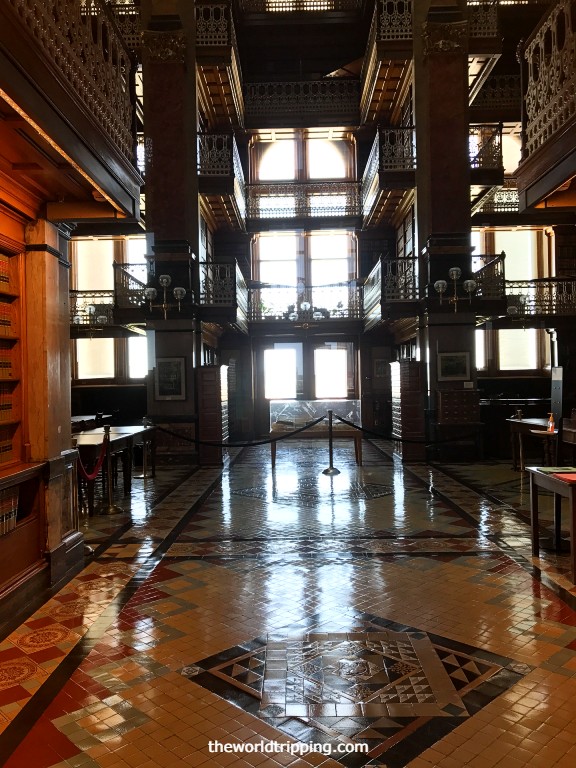 Indeed, one of the highlights of the Capitol Building, 'The State Law Library', located on the west wing, 2nd floor.
A massive hall, tall pillars made up of granite & marbles, vintage style wooden furniture, cozy interiors, stunning chandeliers with soothing lights, murals on the ceilings, colorful & artistic flooring tiles, complemented with white-colored spiral iron staircases with delicate grillwork, leads you to the four tiers of law study books. Wow! It will remind you of some Hollywood movie set, like Harry Potter.
Anyone can enter this library, usually, people didn't come here to study, but to take some photographs. I would say, It's more like a tourist attraction than a library!
Iowan people interested in law books may apply online for a State Library Card. Check out their collection of antique law books, court decisions, legal periodicals, materials of legal legislature & more.
Note that: The library is closed on weekends.
5. The Old Supreme Court Chamber (First Floor)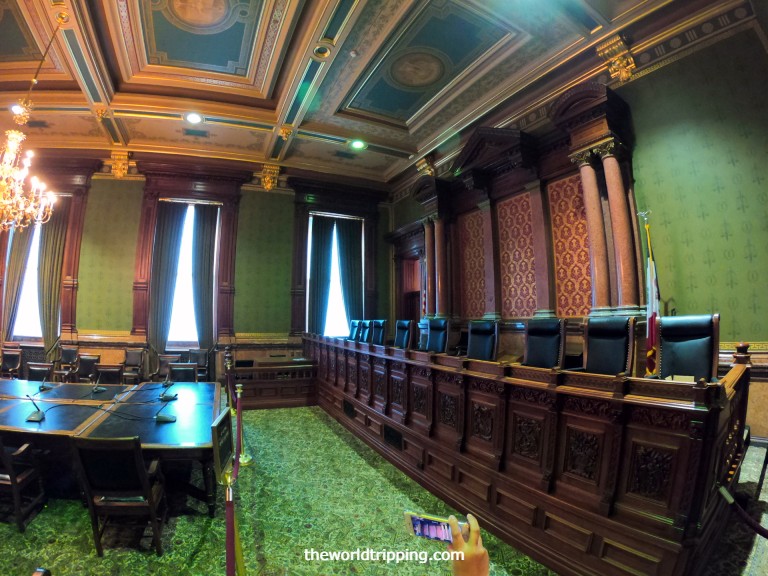 Being a fan of vintage styles, absolutely loved the old supreme court chamber, which is a work of vintage art, from Mahogany benches & chairs, carpets & wallpapers, lamps, to elegant woodwork.
It has a history of 120 years, where Iowa's judicial cases were taken place. Though it is no longer used as a court, this room is now a committee room for the House of Representatives. It still holds that aura where justice has been served for years.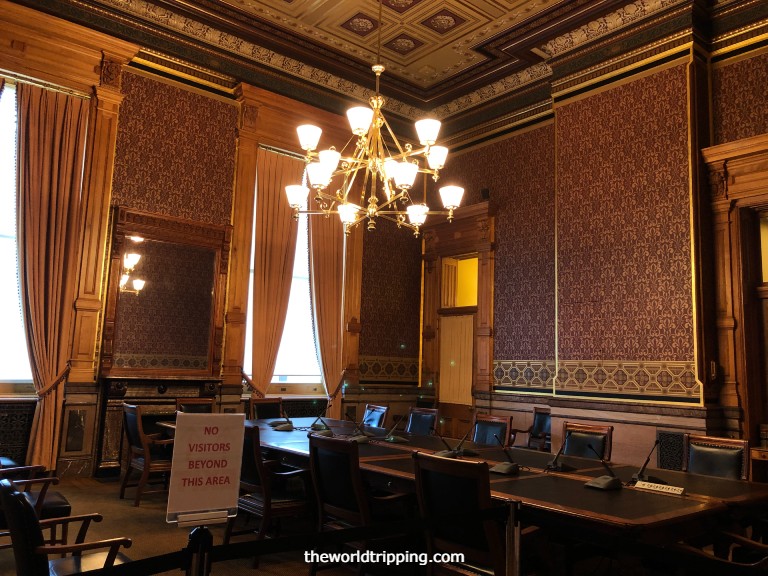 6. The Chambers of the Iowa House of Representative & Iowa Senate (Second Floor)
Most of the second floor is occupied by chambers of the House of Representatives & Iowa Senate. This is the place where Iowa laws are introduced, discussed & sanctioned in the presence of 50 senators & 100 representatives. These legislative sessions are conducted on the second Monday in January each year.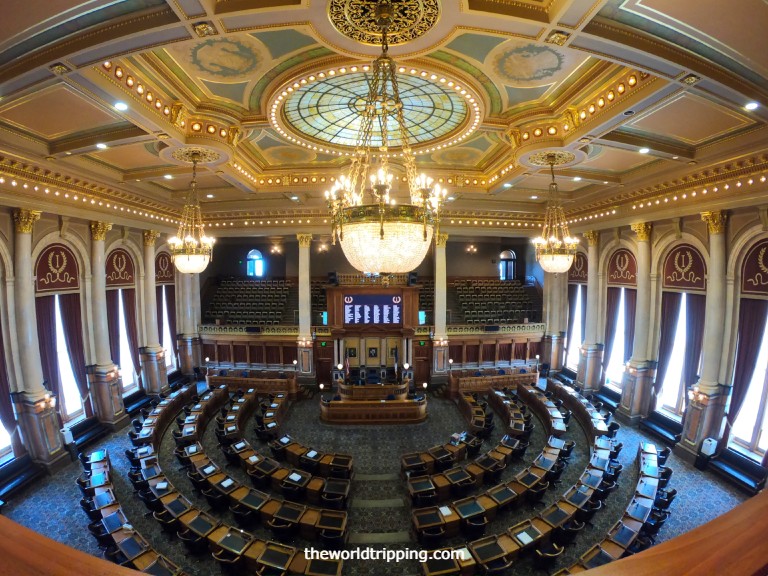 Iowa House of Representative Chamber – During the annual sessions of the Iowa General assembly, 100 representatives come here to discuss the laws. It's a huge crescent shape hall with imperial décor, furnishings, carpets & lights. The dimensions of the house chamber are 74 x 91 feet, with a ceiling height of 50 feet.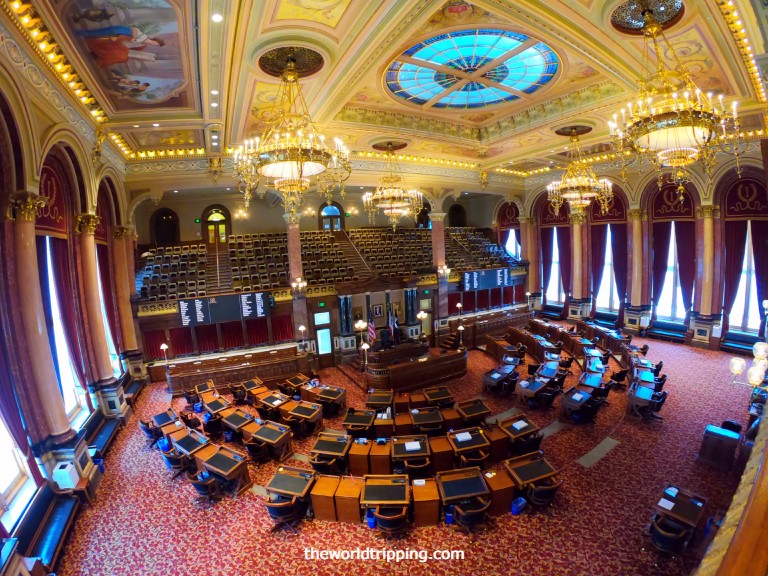 Iowa Senate Chamber – This is the other crescent hall against the house chamber on the same floor. Both the chambers are filled with elegant decorations, painted ceilings with attractive chandeliers & artworks. The dimensions of the senate chamber are 58 x 94 feet, with a ceiling height of 41 feet. Senators of Iowa meet here for the assembly.
7. Mosaics – (Third floor)
Coming on to the third floor you will get an incredible view of the entire second & first floor with the grand staircase & rotunda. You can enter the Senate & House Gallery. Other than that, there are six mosaics just above the Westward mural. Mosaic is a picture formed by arranging small pieces of colored glass. Theses Mosaics were imported from Venice, Italy, symbolizes Defense, Charity, Executive, Legislative, Judiciary & Education.
8. Monuments & Memorials – (Capitol Grounds & West Capitol Terrace)
Adjacent to the Capitol Building, on the E Walnut St, there are various monuments & memorials to explore – William Boyd Allison Memorial, Soldiers & Sailors Monument, American Revolution Monument, Christopher Columbus Memorial, Vietnam War Memorial, Korean War Memorial, Lincoln & Tad, etc. I'm sharing some photos here.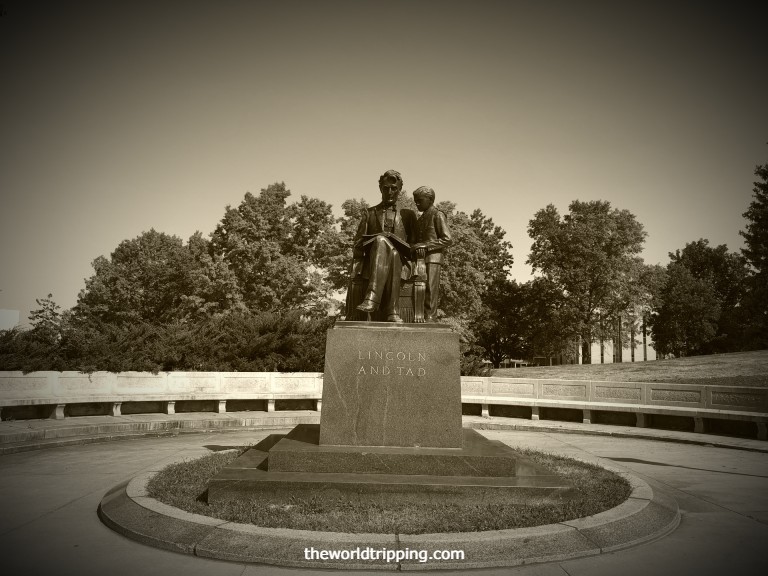 Lincoln & Tad:
Statue of Abraham Lincoln who led the nation through the American Civil War with his fourth & youngest Son Tad, located on the west capitol terrace.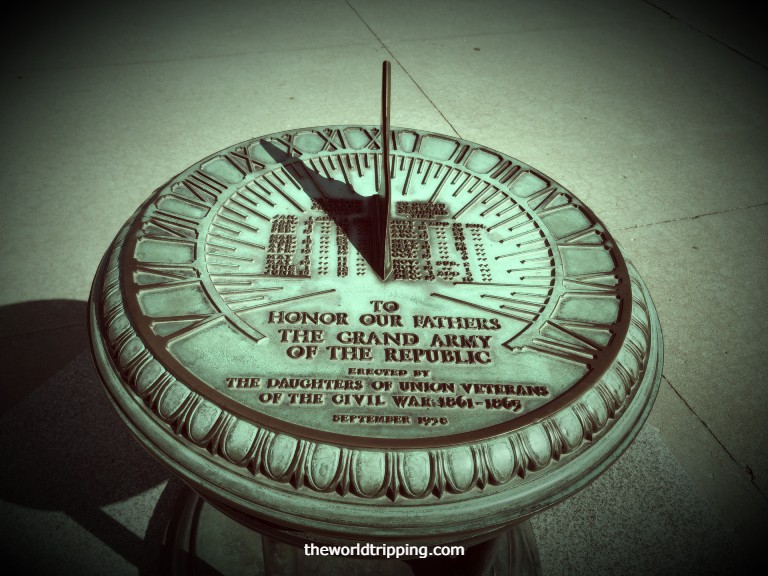 Grand Army of the Republic (G.A.R.) Sundial:
It's a bronze sundial located outside of the Capitol building, the name itself indicates that it is for the remembrance of Union veterans of the civil war during 1938, the Grand Army of the Republic.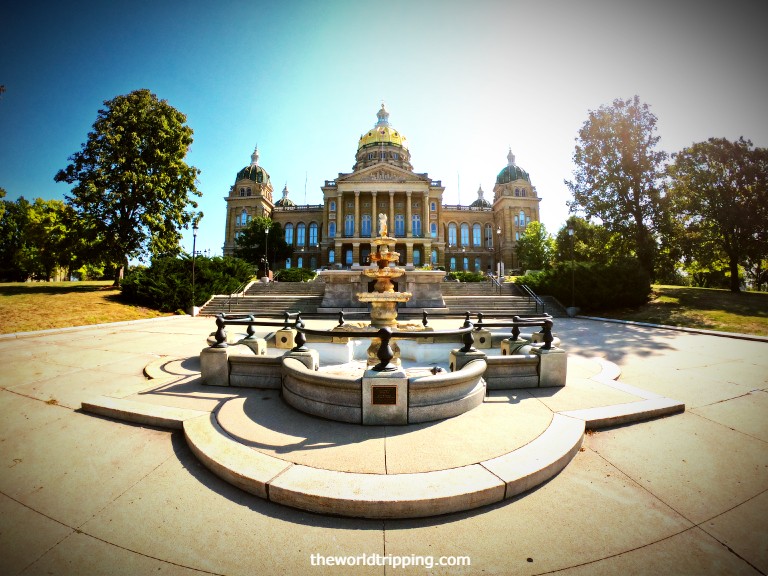 Bicentennial Fountain:
It catches your attention while wandering outside of the capitol building. We find it photogenic & located on the west side of the Capitol building. However, the fountain was not working when we visited the place. At the end of this post, I've given a smartphone QR code for all to know in detail.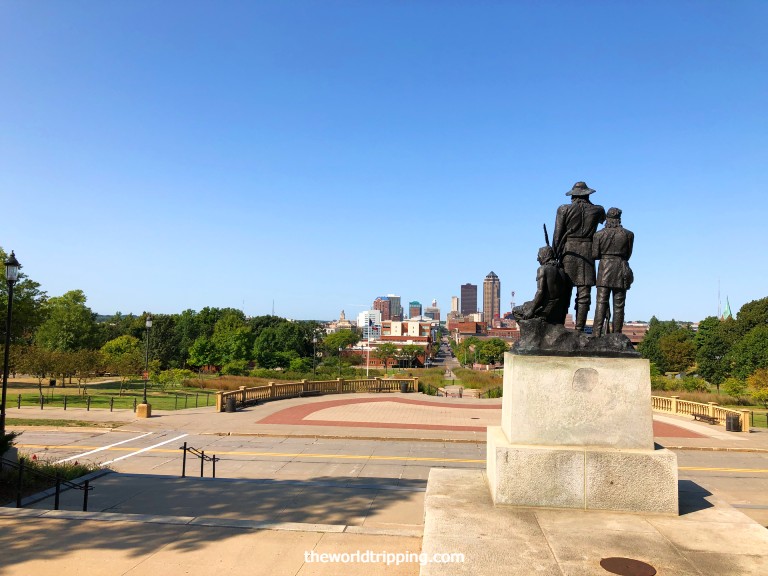 Buffalo Head Fountain:
Just a few more steps from Bicentennial Fountain, there is a Buffalo Head Fountain. In the early days, there was a drinking water supply for horses & people.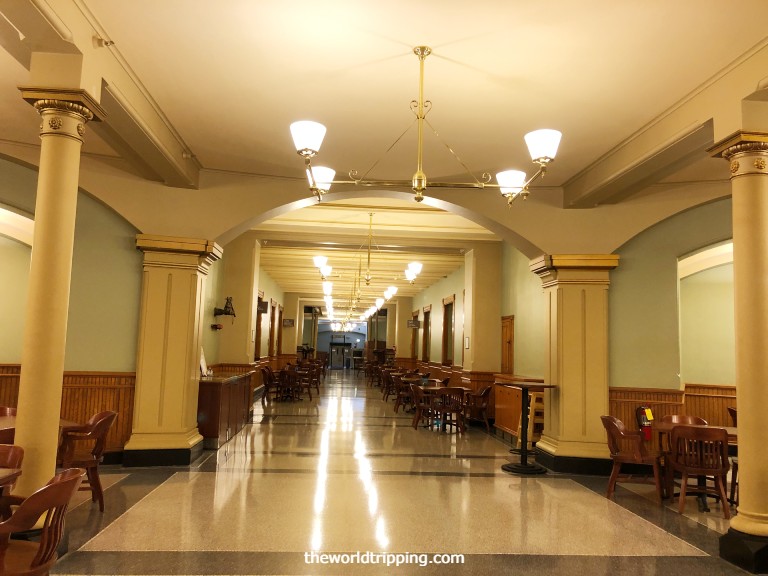 Visitors can enter the building from its South & West gate on the ground floor. Go through the security screening, also they may check your body temperature if you visited during COVID times.
On the ground floor, you will find a tour guide front desk, a Capitol gift shop, Legislative service agency & information office, Cafeteria with tables & chairs, public restrooms, for public use.
• Note that: Cafeteria is working only during the legislative session.
Iowa State Capitol Building & Capitol Grounds Tours:
It's not an entertaining tour but can be a knowledgeable one especially for kids who likes to explore American history.
Iowa State Capitol Address: 1007 E, Grand Avenue, Des Moines, Iowa- 50319
Time Schedules:
Monday – Friday (8 AM to 5 PM)
Saturday (9 AM to 4 PM)
Sunday & Federal Holidays (Closed)
Public Entrance Gate: Located on the South & West sides of the Iowa Capitol Building, where the security screening will be done.
The official website for more info: https://www.legis.iowa.gov/resources/tourCapitol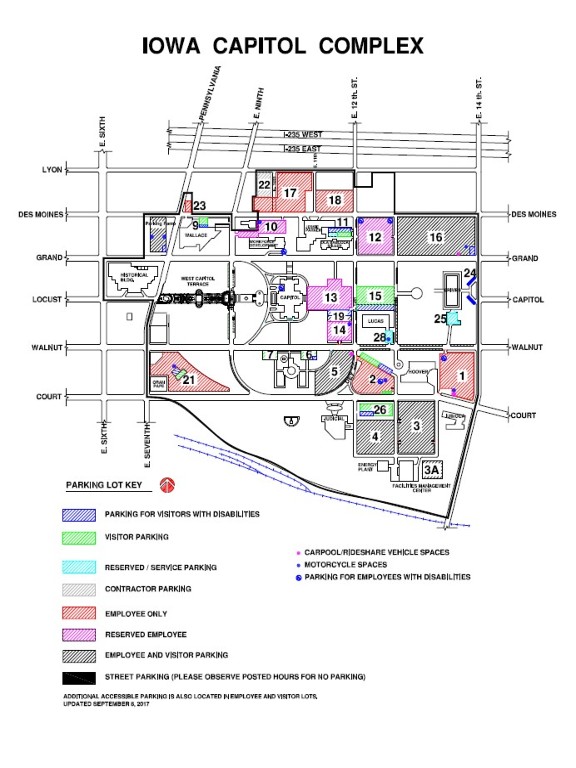 Iowa State Capitol Parking:
There is a designated parking spot for employees, reserved employees, contractors, visitors with disabilities, etc. Above is the Capitol Complex Parking Map for your ready reference. As you can see, a free visitor parking lot No. 15 is there in front of the Capitol Building, just follow the signboards once you reach there. Other paid/free parking garages are available at walkable distances.
Entry Cost: Free
Tour Cost: Free
Tentative time required for the tour: Around 90 Minutes.
Available at no extra cost, from Monday through Saturday. Tour timings are not fixed. Call – 515-281-5591 for enquiry.
Your group will be accompanied by a tour guide, who will provide all the information about the building, its structure, design, history, and will tell you the significance of each mural, exhibit & artwork. Tour also includes a walk through the library & to view of the legislative chambers. Students are most welcome here, it's a must-visit place for children to understand the history. 6 years and above students may get an opportunity to walk up to the balcony of the dome.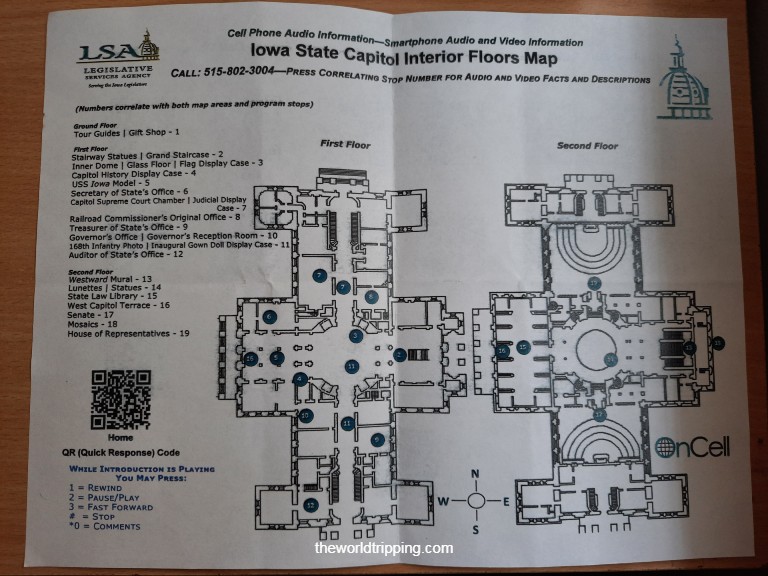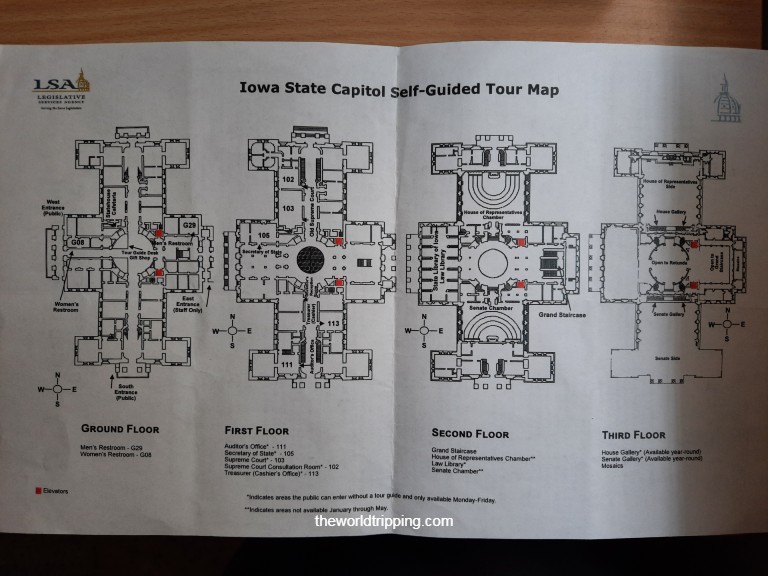 How to schedule a Guided Tour?
If you are a group of 10 or more people, it is required to schedule a tour online by filling up the form on this link.


Smaller groups can schedule a guided tour by calling on 515-281-5591 or you may join with other groups. To know about ongoing tour timing call them on the same number- 515-281-5591.
Self-Guided Tours (Cell Phone Self Tour):
Self-guided tours or I should say a Cell Phone Tours are available. You will get the information guide, floor maps of Capitol & Capitol Grounds, QR (Quick Response) codes from the front desk on the ground floor so that you will not miss any important attraction. Follow the visiting hours while taking the self-tour.
I am providing all the individual QR Codes down below for those who cannot visit the place. Scan the individual code on your mobile from the given picture and enjoy the armchair tour.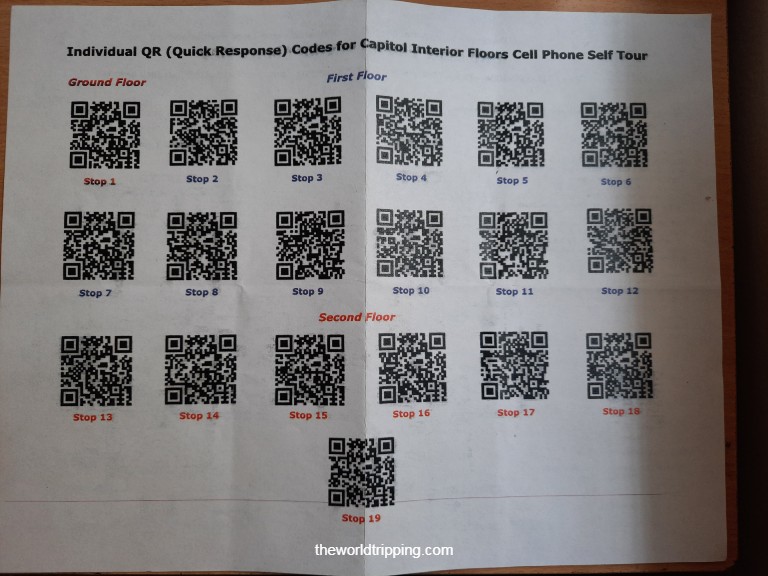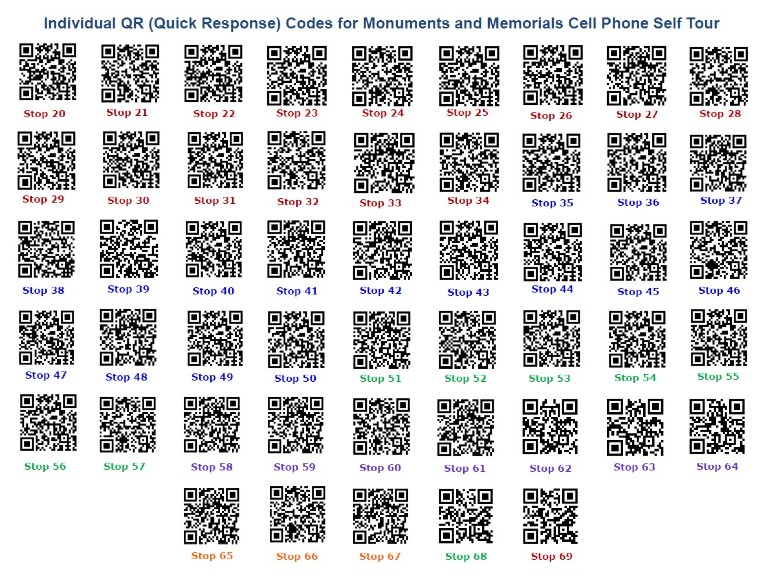 The virtual tour is possible if you have a Flash Player 9.0.28 or later version installed in your computer.
Click this link to view all the videos. 
In these videos you will get in-depth information and facts about the Iowa State Capitol, its construction, restoration, architecture, functions, and its history.
Note that:
Special rooms, State Library are not accessible on Saturdays.
Unfortunately, we visited the place on Saturday & seen through the doors/balcony & took some pictures.
We wanted to see the library from inside, but it was closed, although managed to take one picture through doors.
I recommend visiting on weekdays, if possible so that you can enter freely inside the rooms.
There is a small gift shop at the ground floor, where you can buy Iowa State Capitol Building related souvenirs and Iowa state merchandize.
Timing:
Monday through Friday (9 AM – 4 PM)
Saturday from (9 AM – 3.30 PM)
Sunday & Holidays (Closed)
Click here to view their collection. 
Iowa State Capitol is on the top of the list if you search for top attractions in Des Moines. Other than that, nearby famous attractions you must visit are –
# 'John and Mary Pappa John Sculpture Park' (It's a modern Sculpture Garden perfect for family outings, a well-known spot for events, gatherings, concerts & festivals during summer),
# 'Greater Des Moines Botanical Garden' (A dome-like structure situated near the downtown area, having a wide range of indoor & outdoor plants with many varieties),
# 'Gray's Lake' (Lakeside walking trail with pedestrian bridge, fun activities like paddling, kayaking & sailboats),
# 'Des Moines Art Center' (it's a small art gallery having a collection of paintings, contemporary artwork, a sculpture made from known local & international artists), etc.
We recommend visiting the Iowa State Capitol Building at least one time if you are near Des Moines. It's worth your time, specifically for kids, they will learn a lot about the Capitol, its history. And for adults, just go and admire this beautiful infrastructure!