If you never experienced traveling by ultra-low budget airlines in the US and wondering whether to take one, Allegiant Air Reviews & step-by-step guide on what to expect flying by Allegiant Air will help you with the quest. 
How to book a ticket? Why is Allegiant Air so cheap? What are the hidden charges? Which add-on services you should buy? Is Allegiant safe to fly? Our flying experience during COVID-19, Allegiant Air reviews, the check-in & boarding, comfort & cleanliness, seating & legroom, food & beverages, Allegiant Air credit card, trip flex, cancellation policy, Pet policy, etc. Read on an in-depth review of Allegiant Air and get all the answers right here.
We traveled with Allegiant a couple of times, so the observations from booking to boarding to the in-flight experience to cancellation of a trip, written in this post are based on our experiences with the airline.
It's Nevada-based, categorized as the ultra-low-cost airline that operates all Economy Class Aircrafts.
The airline capture networks over 110 destinations in the United States with a total of 90 fleets.
It works on an ala carte pricing model. To keep the pricing as low as possible, you're allowed to choose & pay only for the services you would like to use.
It comes with extremely low cost, but the basic airfare includes only an economy class standard seat with 1 personal item like purse/backpack/laptop bag allowed per person. Everything beyond this comes up with add-on and extra charges such as baggage fees, seating options, food & beverages, priority entry, ticket/trip cancellations, etc.
Allegiant Air does not fly to every state or every city, it flies from smaller/regional airports to the world-class major destination airports like Los Angeles International Airport (LAX), McCarran International Airport in Las Vegas, Fort Lauderdale–Hollywood International Airport in Florida, Phoenix-Mesa Gateway Airport (AZA), etc.
Allegiant Air does not fly every day from all locations. Only two days a week for the specific destination or sometimes it depends on the popularity of the route. They've come up with the explanation as, "flying fewer flights with more passengers means they're able to pass the savings on to the customers."
Your travel plans need to be flexible while flying by Allegiant because of the airline's limited flight schedule. You cannot choose the time of the flight as well. For example, a flight from Quad City International Airport, Moline, IL (MLI) to McCarran International Airport in Las Vegas, NV (LAS) operates only on Sunday & Thursday in a week with fixed timing. So, either you plan your travel for 3 days or 7 days to save big on flying by Allegiant.
Carry-on & Checked Bags should be purchased online and added to your itinerary before departure, as the rates are higher at the airport.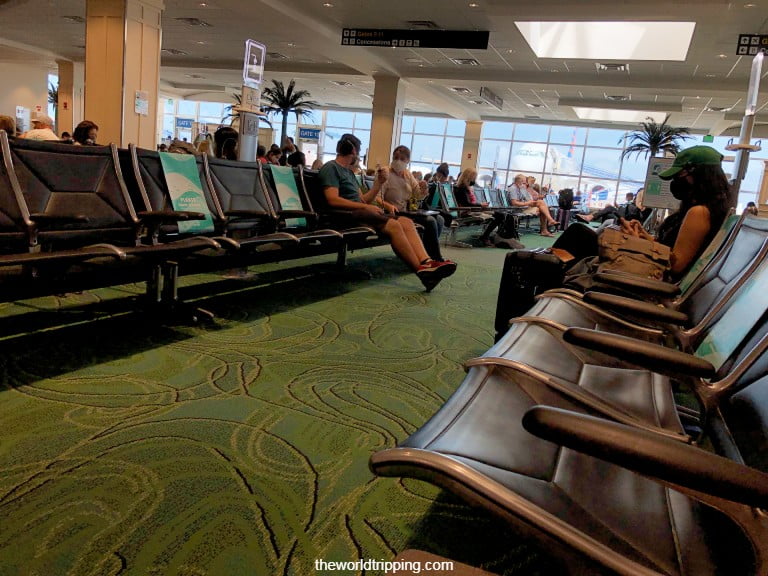 # Things you should know before book that cheap air ticket
When you are searching for flights on famous booking sites like Expedia, Kayak, Cheap flights, and all, one thing you will notice that none of these showing flight options by Allegiant Air. So, you need to go to the Allegiant Air website or download its free mobile app from Apple or Google Play store to see the attractive deals and book your tickets.
You will be hooked by its unbelievably cheap and attractive deals, sometimes the base rate would go under $50, but then you need to pay attention to the add-on services cost extras and its limited flying schedules during the week.
In our case, we live in Quad Cities, and flying by Allegiant from the regional airport is more convenient than from Chicago, plus we do not mind sitting anywhere during just 2-3 hours flight (Luckily, we seated together every time), we do not prefer eating in a plane, so all our needs get ticked without buying extra services except baggage. And trust me, we saved a major chunk of monies by opting for Allegiant Air.
Did you fly by Allegiant Air before? Here we would like to alert you regarding some add-on services and their charges which can add up to your itinerary.
> Allegiant Bundles Reviews
Once you select the destinations & flight dates, you will be directed to select a bundle, where three choices are given to you – 
allegiant basic-

Includes a ticket with one personal item free, choose this option, and then add the extras later as per requirement.

allegiant bonus-

Includes a ticket with one personal item + carry-on bag + seat selection + trip flex (with saving of 33% of the total cost, if added separately).

allegiant total-

Includes a ticket with one personal item + carry-on bag + seat selection + trip flex + priority access (with saving of 38% of the total cost, if added them all separately).
This might be a good deal for those, who would like to purchase all these services. It can save your money by purchasing a bundle than if you were to buy each service individually. Booking bundles are specially introduced to save time, money & to make things simpler for a traveler.
Although we feel allegiant bonus & allegiant total won't work for us, we simply choose allegiant basic and then add extras what we want.
> Call Center Booking Fees
If you purchase the ticket through Allegiant call center services, it will charge you $14.99 per person per segment. We recommend you book tickets from a mobile app or website.
> Importance of Booking Tickets From Mobile App (Highly Recommended)
It's a free mobile app. Book your tickets without hassle. The itinerary is readily available on your phone.
Faster & more convenient than a website.
Get the boarding pass on your mobile and save $5.
Receive flight alerts.
Check-in through the app 24 hours before the boarding.
Easy to buy other services like bags, priority access, seating reservations.
Speedily access through TSA security screening. Go Paperless!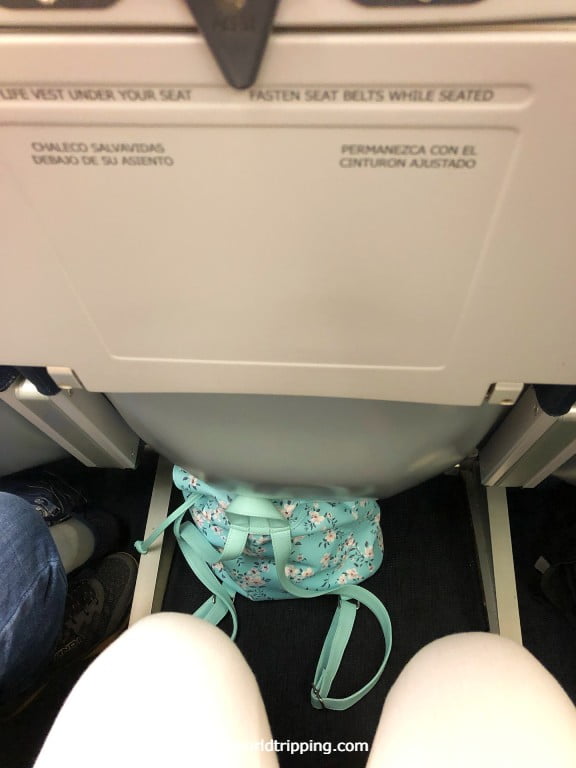 This is the first difference between majority carriers and Allegiant Air is that you need to pay for a carry-on item.
One personal Item is free per passenger subject matter to an acceptable size and it should accommodate under the seat.
Do the reservation for checked & carry-on bags before take-off, as the prices are higher at the airport.
Baggage fees vary depending on route, segment, and when the bag is added to your itinerary like at the time of booking or pre-departure, or at the airport. My advice to you is to purchase bags at the time of booking only to save big bucks. The prices are almost double if you buy online before departure and pay some extras to that if you purchase at the airport.
Please make sure the personal items, checked bags and carry-on bags are within the permissible size & weightage. Check out the acceptable measurements here.
| Permissible Limits | Items Allowed Per Passenger | Size Limit | Weight Limit | Fees Range |
| --- | --- | --- | --- | --- |
| Checked-in Bags | 4 Nos. | 80" x 80"x 80" | 40 lbs. (18Kg) | $10 - $75 |
| Carry-on Bag | 1 No. | 10" x 16" x 22" | Nil | $10 - $75 |
| Personal Item | 1 No. | 8" x 14" x 18" | Nil | Free |
Note that, measure your bags carefully from handles to wheels, as they are very strict in this.
Anything overweight/oversized bags will cost you between $50 to $75 extra per segment. Click here to know more. 
Passengers may bring car seats/strollers, mobility aids/assistive devices, an umbrella, food items to eat during the flight, diabetic supplies, jacket/coat, diaper bag, etc. on board the aircraft without charge.
If you want your family to be seated together, we recommend reserving seats in advance for a minimal fee.
If you are traveling with children, it is better to reserve the seats in advance, otherwise, it will be randomly assigned by the computer from the remaining available seats on the plane. Note that, children under the age of 14 must be accompanied by an adult.
Sometimes, the In-flight crew tries to adjust families together if there are vacant seats available.
If you do online web check-in, you can view your free assigned seats, or you can select the seats from the available free options.
You can purchase the seats as per convenience to get more legroom, aisle or window seats, front seats, which would cost a maximum of up to 80$.
You can buy a priority entry to board the plane before general boarding starts costs between $4 – $12.
> Electronic Carrier Usage Charge
There is a $22 fee for usage of the electronic carrier.
Go paperless, save time & money by getting your boarding pass on the Allegiant Air mobile app (Recommended).
Print your boarding pass at home.
If you forget to get the boarding pass, you need to pay a $5 charge for an agent to print your pass at the airport counter.
> Hotel & Rental Car package
Allegiant offers exclusive hotel booking and rental car service along with your flights.
Allegiant Air Credit Card:
Avail of great offers and reward points by purchasing an Allegiant Air credit card (i.e. Allegiant World Mastercard). Those who fly frequently with the airlines may find it beneficial.
The offers are like, priority boarding, free drinks & buy one get one free airfare offers, etc. (Conditions apply – read here). 
Note that, there is an annual fee of $59 and penalty fees for late payment & returned payment.
Cancellation Fees / Change of Itinerary Without Trip Flex:
If you want to cancel your ticket or to change dates or anything, you will be charged $75 each way per passenger without Trip flex.
You will receive a full refund of your airfare if you cancel your reservation within 24 hours of your initial booking unless booked within one week of your flight's departure.
In case of refund, carrier charges and booking fees are not refunded, with or without Trip Flex.
No credit will be issued for no-shows or cancellations or any changes made within 7 days of flight departure.
In case of weather advisory issued and need to reschedule your flight, then you need to book another flight at later date, which must be within 7 days of the original departure date at no additional charge.
What is Trip Flex & How it is useful?
Allegiant offers an add-on service called Trip Flex that allows you to cancel or change your flight plans once, up to 1 hour before departure and up to 72 hours before departure for air/hotel package purchases without suffering change fees of $75 per passenger per segment.
After 24 hours of booking, the itinerary is non-refundable. A credit voucher will be given for future travel with Allegiant.
You can buy this add-on service at the time of booking.
In this way, you can protect your travel itinerary purchases, if you're not sure about the dates of travel.
Personally, we declined this option each time to save money.
Traveling With Children- Allegiant Air Stroller Policy: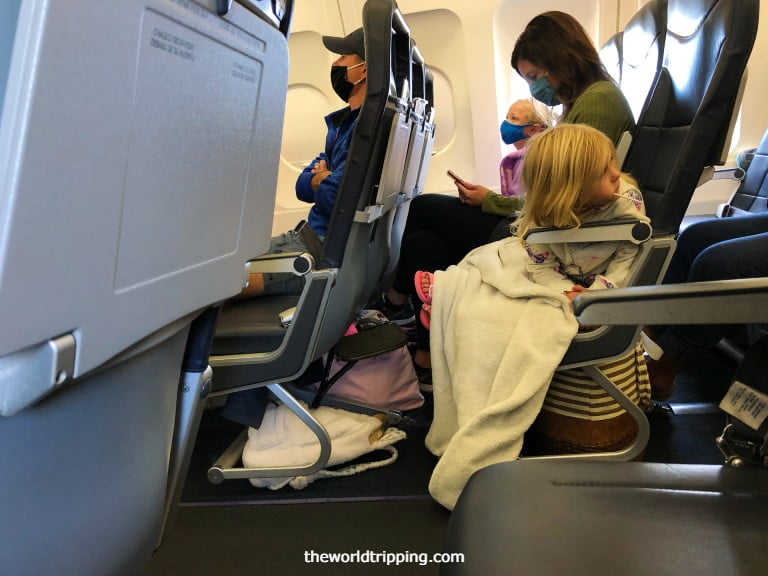 Children are always excited to fly & taking them to new places is a superb idea. Following are the regulations you need to follow while booking a ticket for your children and it varies according to the age group.
Children under 2 years needed to accompany by an adult. Take them as a lap child or as a ticketed passenger with their car seat.
You must buy a seat for children of age 2 to 14 years and must be accompanied by an adult.
A birth certificate or birthdate identification document is mandatory for flying.
The age group above 15 and higher must have their own seat and may flight without an adult companion subject to weather advisory. (Government Photo ID is required while flying)
For safety purposes, children seated in car seats must be placed in a window seat only. It is strongly recommended to reserve seats while booking or mobile check-in so that you can be seated together.
Stroller & Car seat: Check the car seat / Stroller as checked baggage while check-in and retrieve it at baggage claim upon arrival. Or gate check-in during boarding and retrieve it at the gate or passenger loading bridge upon arrival at your destination. It is free for a paid passenger.
Can I travel with my pet on-board? What is the fee?
You can travel with domestic dogs and cats in the cabin. There is a non-refundable $50 each way fee to travel with your pet.
For more information like Pets carrier and its dimensions, about the health of your pet, etc. Go to this link.
Is Allegiant safe to fly?
Allegiant has no serious accidents since its 20 years of operation in the US. However, there were some incidents of emergency landings and failures but nothing much severe. As per the search results in google seems like Allegiant has proved to be a safe airline.
We've flown by Allegiant on a couple of occasions, catching direct flights to Las Vegas and Florida from Moline, and our flying experience has been satisfactory, we didn't find any major negative points to highlight here. But some of you may not get the same feel. We are here to share genuine observations being a non-biased customer.
Like I explained earlier, it's a low-budget airline, you cannot expect the luxury and you would feel the difference right from the booking process to boarding and in-flight amenities. Hey but one thing I promise that you will end up saving lots of money on travel.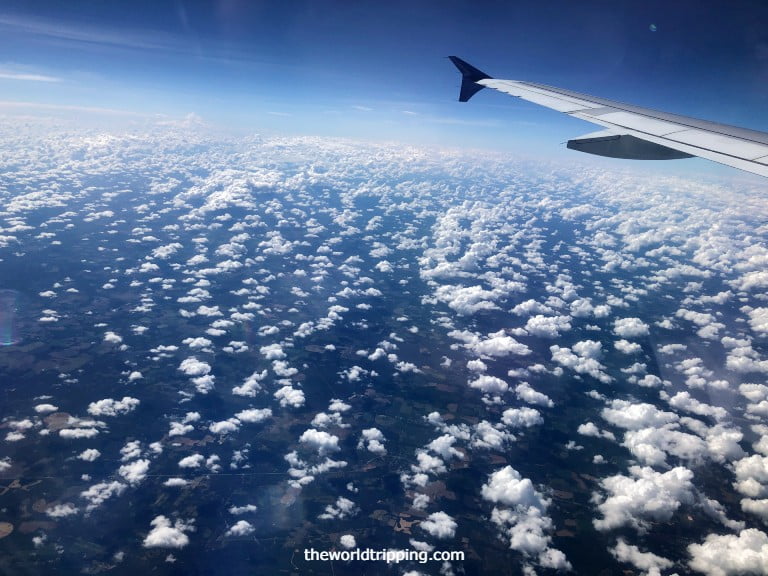 > Check-in and Boarding - 4 / 5
The Check-in procedure was simple, most of the time, we did not have to wait in long lines even at the busiest airports. If your luggage is within permissible limit & got your boarding pass printed beforehand, you're good to go without any delay. 
Honestly, they just saw my carry-on & personal item and didn't check anything further.
The boarding process was always being smooth, pre-boarding started with those who needed extra time or assistance, then the passengers who purchased the priority access & the Allegiant World Mastercard holders take their own time.
They called up in groups, military personnel & their dependents, later the family boarding with car seats and strollers.
In the next segment, they called group with no carry-on luggage, and then the last ones who purchased the carry-on bags can have their time to settle down. Your carry-on bags can easily fit into overhead compartments.
> In- flight crew - 4 / 5
We noticed all in-flight crew were humble and friendly especially with the kids. They greeted you nicely, interacted with you, and makes you feel comfortable. Helped passengers to lift the baggage.
They tried their best to accommodate family members together if vacant seats available, which is great. Especially during a pandemic, when we were flying by Allegiant, they adjusted passengers to be seated comfortably distant, during our journey to-and-fro the row was just for us.
To be honest, we had nothing but a positive opinion about the crew and nothing to complain about here.
It's a domestic low-budget airline, although not fancy looking they maintain cleanliness in the flight.
The seats and the tray tables were in good condition. The toilet looks hygienic. I would say, neither best but nor the worst.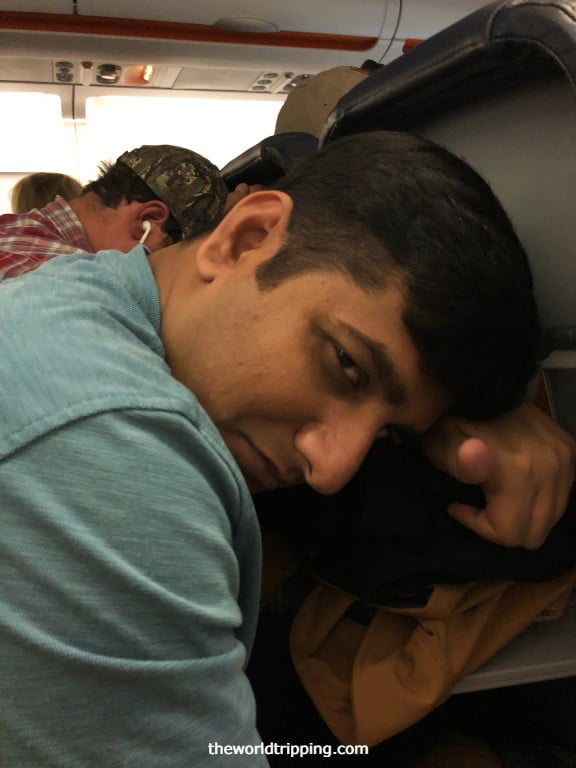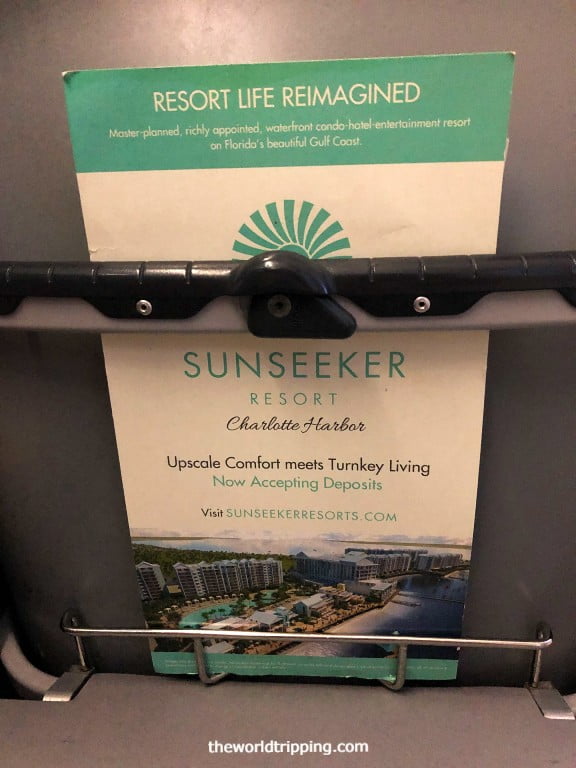 Similar to most budget airlines, Allegiant seats relatively comfy but do not recline. Bring a neck pillow if you have trouble falling asleep.
Seats are firm with minimal cushion though you can sit for 2-3 hours without pain.
There is a small tray table in front of you and no backseat pocket to keep your stuff.
There are no mobile charging points given under the seat or anywhere, so you must have a power bank to keep your phone alive.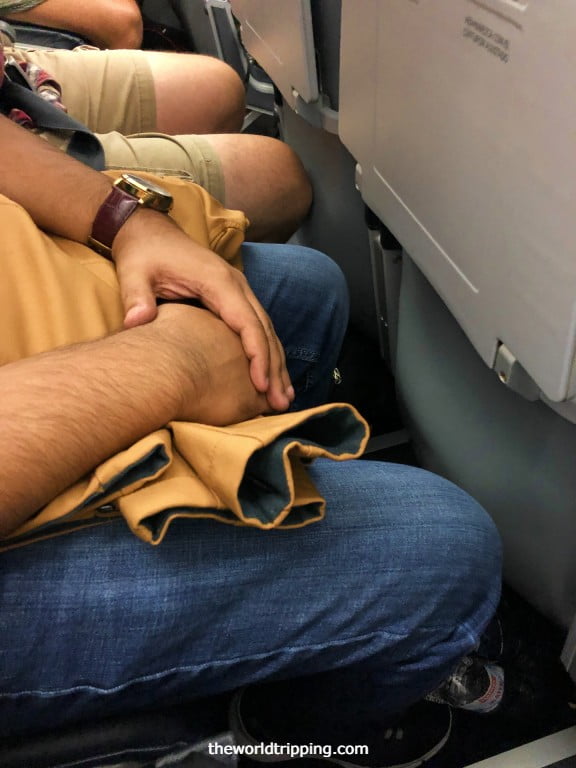 As there were no charging points under the seats, so you can put your bag underneath. The legroom was tight but a short person like me can sit comfortably.
There is a support structure in front of you (I. e. below the seat in front of you) where you can place your feet and relax.
If you are taller than 6 feet, you might experience a struggle to find legroom & shoulder room.
Overall, I was satisfied with the seat & legroom and didn't mind seating for 3 hours or so.
> In-Flight Entertainment Or Wi-Fi - 1 / 5
Well, you cannot expect In-flight entertainment, Wi-Fi, or movies in an ultra-low-cost airline.
They do not provide any electrical boards for passengers to use. We recommend downloading some movies or shows on your tablet or mobile beforehand.
> In-flight refreshments (Food and beverages) - 3 / 5
Since it's a budget airline, if you want to munch or sip during your flight, allegiant allows you to carry packed food or snacks and fill a water bottle before boarding.
Otherwise, you can buy snacks and beverages from their in-flight menu costs you around $2 – $7 (which is a nominal price). Nothing is free here, nor water. You will get sodas, juices & water at $3.
There are a variety of combos available at $10 – $16. One can enjoy coffee at $5. In snacks, you will have chips & biscuits, salami & cheese tray ranges from $3-$6.
For Allegiant World Mastercard holders, you will get one free drink, when you show the card.
Note that, each of these purchases must be made with a credit card or debit card, as they do not accept cash.
> Value for money - 4 / 5
Indeed. It's a great inexpensive option if you want to go from destination A to B with no embellishments.
Keep the judgments on the sidelines and just figure out what you get at what cost, a comfortable flight at a great price!
> Customer Service - 4 / 5
Admittedly we are not utterly knowledgeable about the customer service they provide, as not needed very often.
There was only one time when we wanted to cancel our bookings due to COVID-19 pandemic travel restrictions in 2020. Please read our story herein.
# Received full refund on cancellation during COVID-19 Pandemic, WITHOUT TRIP FLEX
Yes, you read it correctly. This was when COVID-19 happened, and the government restricted Interstate Air Travel. Our trip was planned for May-2020 and tickets were booked 3 months in advance. 
Everything was so ambiguous at that time, we were not sure when things will get back to normal, so instead of postponing our trip, we had no option but to cancel the trip. Unfortunately, we did not purchase "Trip Flex" at the time of booking, so our reservation was going to be non-refundable.
During that time, when everyone was canceling their future air travel, Allegiant Air was offering a credit voucher for the cancellation which can be redeemed within a year. But this offer would not help us since we repatriated to our home country at the end of the year.

We shoot an email to customer care and brief our situation; they feel our case was genuine and needed action. We were impressed by the customer support & their gestures in our case, especially during a pandemic when everybody canceling on them and the businesses were running low. Still, we got the full refund without any hassle and follow-up.
The good news was, after a couple of months, when the COVID-19 situation got under control, we rebooked the trip for Sept- 2020. Read on our flying experience during Covid-19.
# Flying experience with Allegiant Air during the COVID-19 pandemic
The idea of flying in the middle of a pandemic can be scary but if you know that the Airlines made some positive changes in their operations & are taking good care of the safety of passengers, everybody is following the new rules, then you can fly with confidence.
Allegiant Air is like what you'd expect from a low-cost carrier in the United States. We Choose to fly with Allegiant Air because of its availability from the Quad City International Airport, Moline, IL (MLI), which is the nearest airport to our location, and due to its cheap pricing. They've got a newly introduced face-covering policy.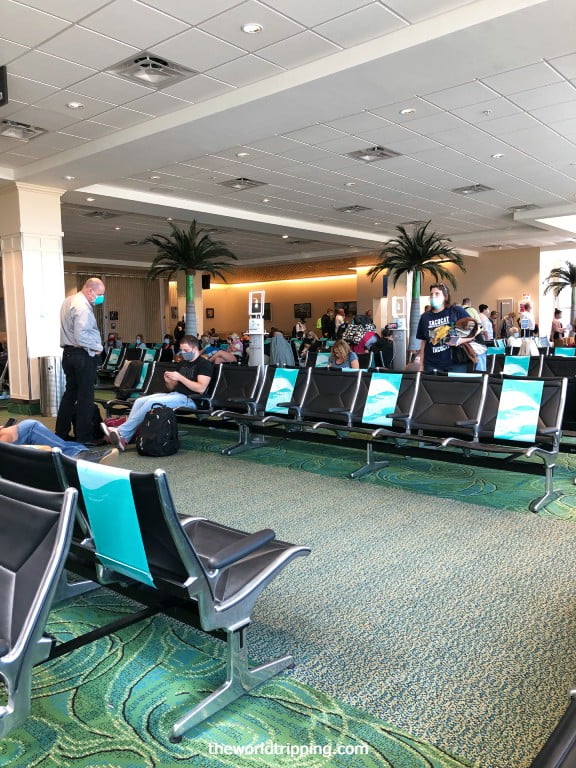 Every person must wear a face covering that always covers the nose and mouth while traveling. You will also receive complimentary health and safety kits from Allegiant Air that has a single-use face mask and two sanitizing wipes. If anybody not wearing face-covering can result in denial of boarding.
In case you want to know more about the services enhanced by the airlines & developed new ways for the safety of you & your loved ones.
Airport was less crowded than usual. People were encouraged to select the contactless option.
The check-in and boarding areas, security checkpoints, common areas were marked for physical distancing.
Sanitizers were placed at every corner. Cafes & merchandise shops were open with limited capacity.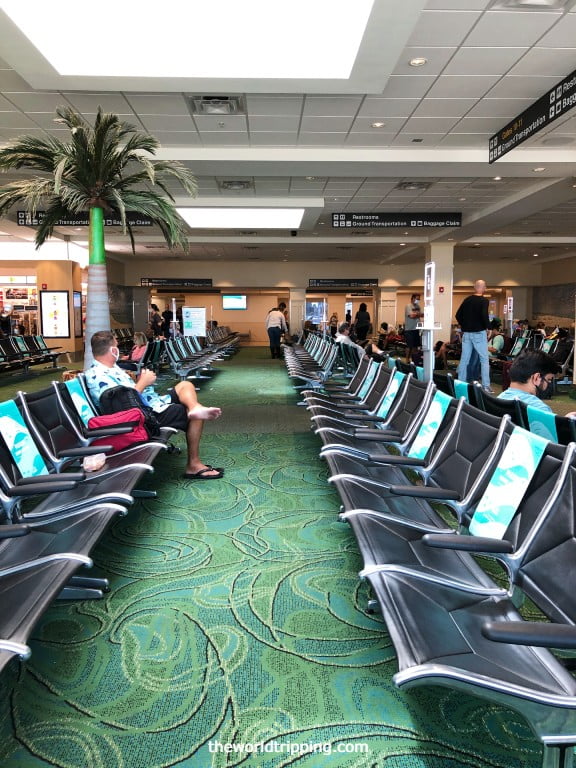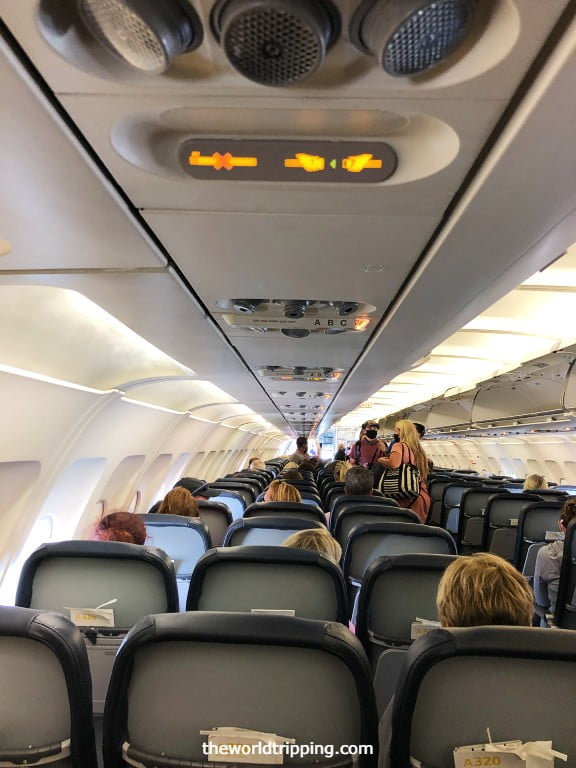 Allegiant Air flies with almost full capacity even during the COVID-19 pandemic. No alternative seating available or keeping the middle seat vacant.
Though in-flight crew tried to accommodate family members together. We were lucky that we've got a complete row to ourselves on both journeys (To and from).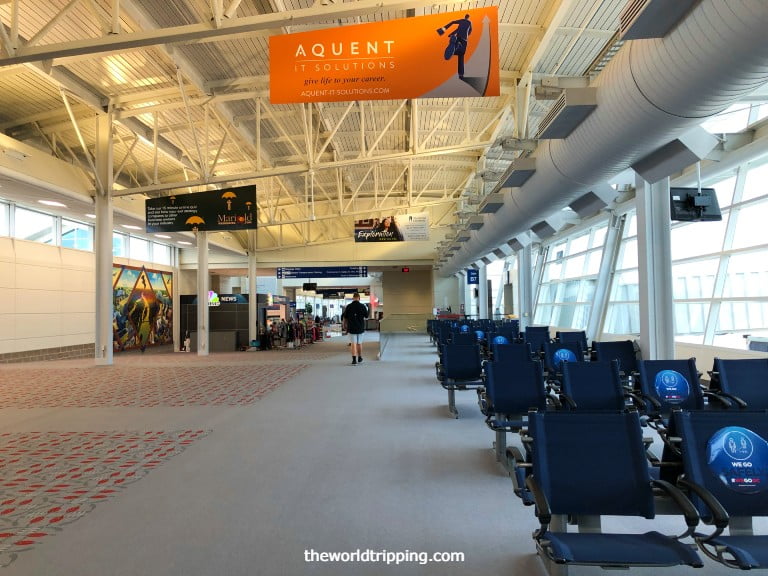 The majority of people were following the social distancing rule at the airport and during the flight, having their face masks on all the time.

If you're in a dilemma about whether or not to travel by Allegiant during a pandemic? My answer would be yes you can! It depends on your comfort though.
Overall, our experience on Allegiant Air was satisfactory and we'll certainly recommend you give it a try. We love the pricing model that you don't need to pay for something you don't need. Tell us your thoughts and experiences about Allegiant Air in the comments down below. Happy saving!