On your next trip to Andaman and Nicobar Islands, looking for exploring places that are not so popular yet beyond the ordinary, this post will help you find the Top 5 offbeat places in Andaman and Nicobar Islands that'll leave you in awe.
Let's uncover the hidden gems of Andaman and make your trip unique and memorable while experiencing a completely different side of Andaman, away from the touristy crowd, get lost on the uninhabited islands, mesmerized by watching live corals and vivid colors, learn about how limestone caves formed over the millions of years, visit the active mud volcano, experience the horrific & tragic history of freedom struggles & the British colonial past, take a tour of Asia's largest & oldest operational sawmill which holds the stories of World War-II timeline and just have fun great at Andaman.
Check out top 5 offbeat places in Andaman you should not miss
Jolly Buoy Island is a part of Mahatma Gandhi Marine National Park, away from the touristy crowd, famous for its vivid live corals with varieties of flora & fauna, pristine beach, and adventure activities. It is indeed on top of the list of off-beat destinations in Andaman, where you need to secure a full day (including travel time) & proper planning to visit here.
This island is different than the other islands in Andaman, as it remains closed for six months in the year primarily to preserve the corals. Prior permit and entry tickets are mandatory to visit this island, and you need to avail of the permit in advance, as limited tourists are allowed there. Permits are available at Wandoor Beach. Note that, Jolly Buoy Island is closed on Mondays.
Enjoy the scenic drive from Port Blair city to Wandoor beach, which is about 20 km. And take a ferry from Wandoor beach to Jolly Buoy Island. Make sure to reach before time for the ferry & get reservations in advance to avoid standing in the waiting line. There are no ferries on Monday.
Corals here are so beautiful, and you can see the underwater beauty by availing the adventure sports like scuba diving, snorkeling & glass bottom boat ride. The beach is so clean, pristine, simply perfect for photography. Go for picnicking and relaxing on the beach.
Jolly buoy Island is a 'No Plastic Zone', make sure, not to carry any plastic items with you like bottles, carry bags, etc. Otherwise, you need to submit the list of plastic items at Wandoor beach, where they will take some deposit amount as security. You will get the deposit back on returning only after producing the same item.
It's a protected zone, limited tourists are allowed there, please do not pick any shells and corals or any other things from the Island.
Tourists are supposed to carry their food & drinking water, as there is no arrangements.
There is no accommodation facility. You are not allowed to stay at night.
You can enjoy this beautiful island, do snorkeling & scuba diving till 2.00 pm, there will be a return ferry to Wandoor.
Baratang Island is a part of Andaman Islands, lies around 100 km from Port Blair, connecting South & Middle Andaman.  This Island has distinctive geographical features like gorgeous beaches, mangrove creeks, limestone caves, and mud volcanoes. It is said that this one is the only known mud volcano in India, which erupted periodically. It's a popular destination for one day trip for those who are keen to see something unusual like mangroves, caves & volcanoes besides beaches.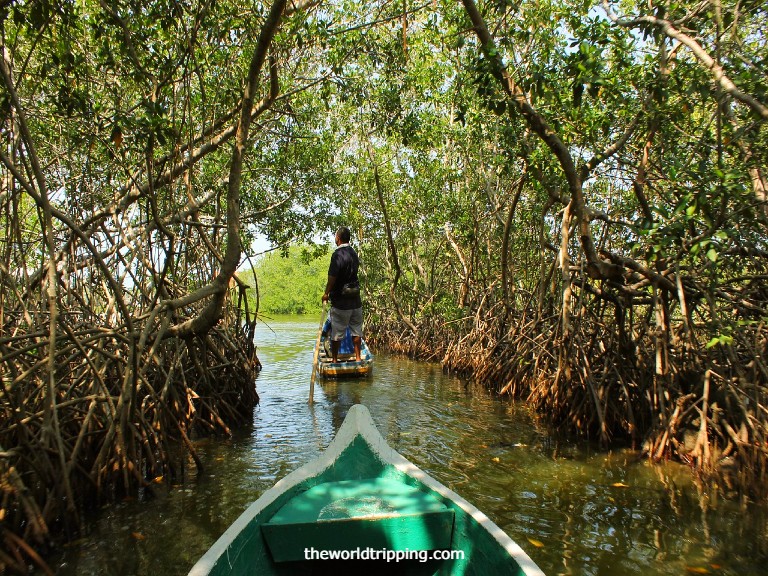 Baratang Island is connected to Port Blair by road & sea.
By Road (Bus & Taxi)
There is a highway called Andaman Trunk Road (ATR) connecting to Rangat & Mayabunder goes through Baratang Island. Local buses & taxis from Port Blair are available, covered distance around 101 Km within 3-4 hours depending on the mode of transport. People choose taxi over buses due to their flexibility & it takes less time to reach. This route goes through a dense tropical forest, a scenic drive. There is a guarded check post to enter the Baratang Island, as it comes under the Jarawa Tribe Reserve. Two-wheelers are not allowed beyond this check post. If you spot any group of people from Jarawa Tribe along the road journey, you are not allowed to take their photographs. Do not try to interact or feed them.
By Ferry/Boat Services
Travel by Government Ferry/Makruzz Boat Services from Port Blair is the faster, convenient & recommended option to go to Baratang Island. There is a solid reason why I am saying it is recommended. The Andaman Trunk Road (ATR), passes through Jarawa reserves of dense forests, brings daily human safaris & many tourists going by bus from Port Blair to visit Baratang island is home to limestone caves and mud volcanoes, runs through their territory, where tourists can't resist themselves taking photograph & filming members of the Jarawa tribe along the road, leads to a threats. 
To protect the Jarawa tribe from the prying gaze of tourists, a supreme court banned the safaris & encouraged them to take the sea route which is a more convenient and affordable way to go to Baratang island. Ferry boats from Port Blair are easily available & you can buy tickets from any shipping services.
Baratang Island is not that much developed like Havelock and Neil Islands. You will not find any fancy restaurants or luxury hotels here, all you can have is a nature's wonder. You can spend a night at Forest and PWD guest houses. There are a couple of private accommodations as well. Make sure to book in advance & confirm reservations.
Explore mud volcano, limestone caves, & the parrot Island.
Exploring the Limestone caves is an extraordinary experience you will ever have in Andaman, where you can understand & realize the process of how it is formed and evolved to its shapes, sizes, and patterns over millions of years. It's gonna be a learning experience for your children as well.
Hire a speed boat ride from Baratang (Nilambur Jetty) to Nayadera Jetty. It will be around half an hour ride through a creek and tourists may directly reach Nayadera Jetty by boat passes through thick mangroves forest or by a small walk. I would say, walking through the mangroves trail is a one-of-a-kind experience.
There are massive limestone formations inside the caves of different sizes and patterns, formed due to water dripping through it, some are hanging from the top and some are growing from the ground. If you are in Baratang Island, this should be on top of your must-visit place.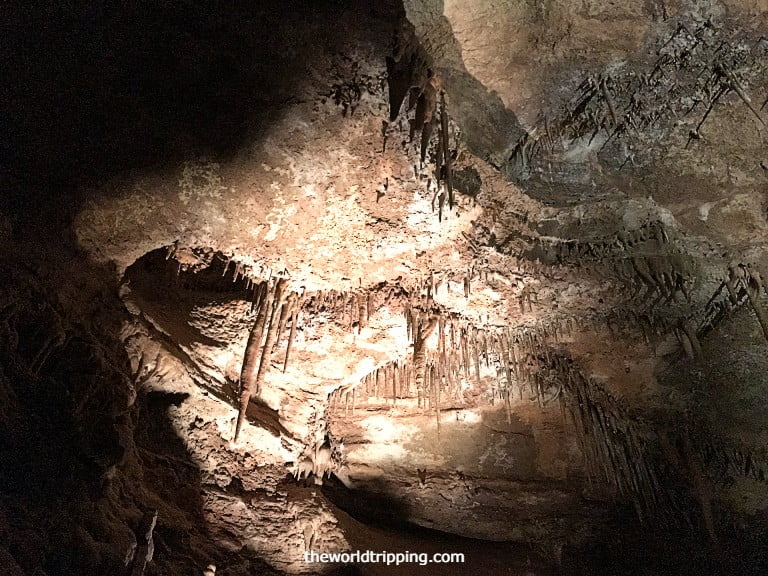 The next spot you should see is the mud volcano, created by natural gas, heat, living microorganisms, mud & slurries oozes out on the surface, causes bubbling of mud & water. It's not driven by any magmatic activity underneath and does not produce lava. A public Jeep from Nilambur jetty will take you there, a short ride & a small trail walk takes you to the mud volcano site.
Some of you may find it less attractive, but there are very few places in the world where you can find this volcanic activity. If you have enough time, do visit this place & see by yourself.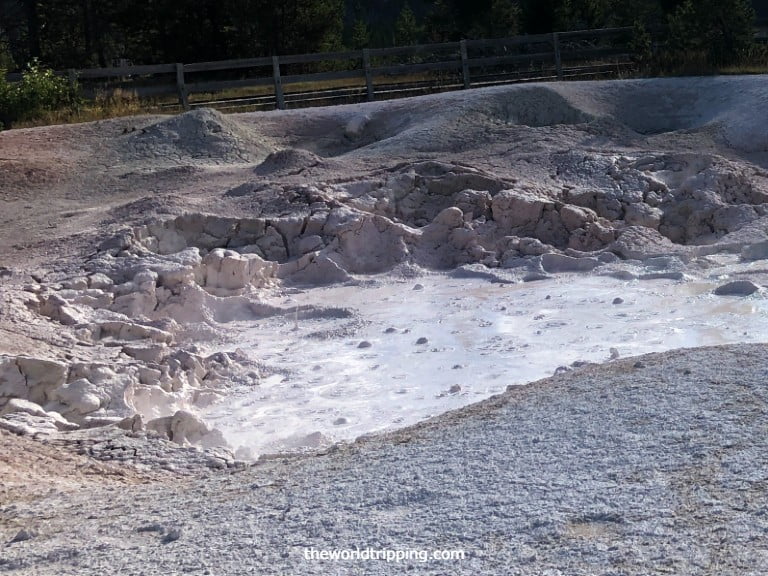 The name itself indicates that it's home to lots of Parrots. The best time to visit this place is the evening & early morning time, when thousands of Parrots gather, have a feast, stay for a night, and leave in the morning. It's their wonderland to come, relax, eat & go, attracts many tourists those interested in bird watching. Take a boat ride from Baratang Jetty to reach Parrot Island.
Please do not leave your trash anywhere on the islands. There is a fine of Rs. 500.
Two-Wheelers are not allowed after the check post in Baratang Island.
Use Govt. Ferry/Boat service to reach Baratang Island.
Do not take photographs of Jarawa Tribes. Stay away from their habitat.
A permit & ticket is required to visit Limestone Caves & Mud Volcano.
Limestone Caves & Mud Volcano are closed on Mondays.
For more information about getting permits, tickets, and booking rides, please contact any local tour guide or travel services.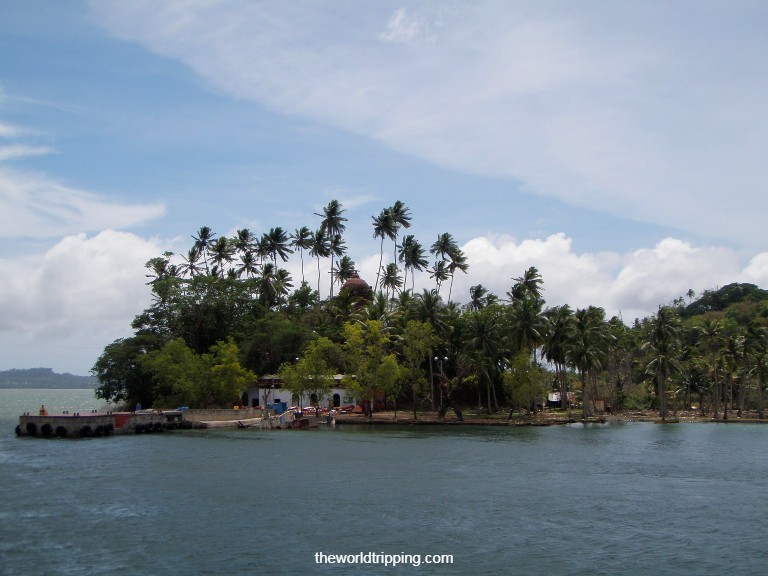 It's a small Island, known to have been used by the British to imprison the rebels, political detainees & felons of the islands. There was this two-storied Jail has been constructed many years before Cellular Jail, now has ruins of a Gallows on the top of a hillock, can be seen from the distance as you arrive near the island's jetty.
Later, it was abandoned after Cellular Jail was constructed in the year 1906. The notorious viper island gallows is a monument where many of the unsung heroes of India's early freedom struggle were hanged and their mortal remains were thrown into the sea by Britishers.
It is said to be a haunted place, where the echoes of the hanging of Sher Ali can still be heard sometimes. For those who love to indulge in the past, and are kinda fascinated by spooky stories, this place is for you.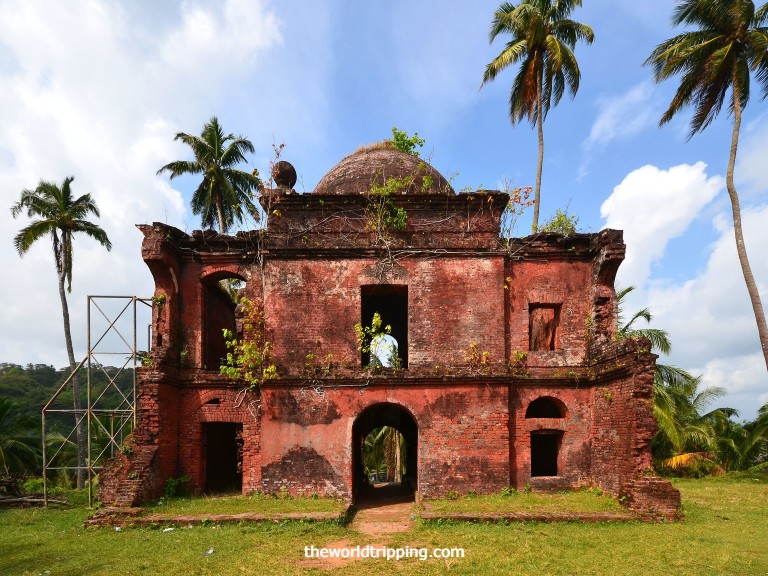 Viper Island is at 4 km distance from Port Blair through sea-route, can be reached by a 20-minute ferry from the Phoenix Bay Jetty at Port Blair.
Visit the Viper Island Jail, which is near the jetty, and experience the horrific & tragic history of freedom struggles & the British colonial past.
It comes under off-beat destinations in Andaman. You can give it a miss if you have limited time. The ruins of the Jail are not properly maintained like Cellular Jail, which has been destroyed during the Tsunami in the year 2004, however, you can still sense the imposition of the worst form of torture and hardship on the convicts by the British.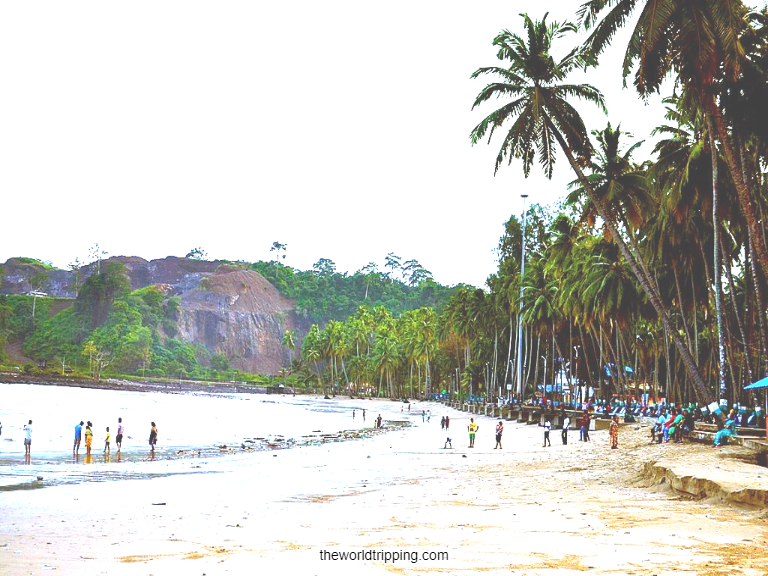 Unspoiled sandy beach with picturesque coconut & palm trees in the background, famous for water sports activities like Jet Ski rides, Boat rides, Scuba diving, Snorkeling, and many more. Perfect location for sunbathing, swimming, and surfing, lots of fun and happening here. The plus point is its proximity to Port Blair city. Come here for dining, as this beach is surrounded by hotels & restaurants.
Getting here is easy, just 10 min drive from the Port Blair city center. Hire an autorickshaw or rent a motorbike to come here.
Come here to enjoy the liveliness of the beach, water sports activities, and dining with a wonderful atmosphere.
Make a visit to Chatham Island to learn more about history, where the earliest British settlement began in Andaman. You will see the beautiful thick forest of big old trees all over the island, fulfill the timber requirement of the entire Andaman. 
The main attraction of this island is the Chatham Sawmill, established in 1883 by the British, is one of the largest & oldest mills in Asia. Amazingly, the mill is still in working condition with reduced working hours. 
Other than the Sawmill, there is a Forest museum that offers an insight into forest activities through dummy models, showcases the history of timber grating on the island, Japanese Bunkers of Second World War, Bomb Pits, etc.
Chatham Island is about 11 km from Port Blair city center connected by a bridge over the sea, easily accessible by public transport bus or hires a taxi or auto.
Chatham Island entrance fee – Free
Never miss a visit to iconic Chatham Saw Mill, Chatham Memorial, Forest Museum featuring forestry of Andaman, Japanese War Bunker & Bomb pits, Souvenir shop, everything is in close vicinity.
Chatham Saw Mill was constructed in the year 1883 by the British to meet the local requirements of timber for construction works. Later they started exporting huge quantities of timber to their home country. During World War -II, the Japanese destroyed this Saw Mill by bombing, as you can walk & see the bomb pits are still there in the premises depicting the stories. The sawmill was later renovated and started functioning again; it is now opened for visitors & get the tour of how timber is being processed. The Sawmill is now managed by the Forest Department. 
Entrance fee – 10 Rs. per person & 50 Rs. with a tour guide.
Visiting Hours- Mon-Fri from 8.30 AM to 2.30 PM, Sunday- Closed
Estimated time to see the entire mill & museum – Minimum 1 hr. to 2 hrs.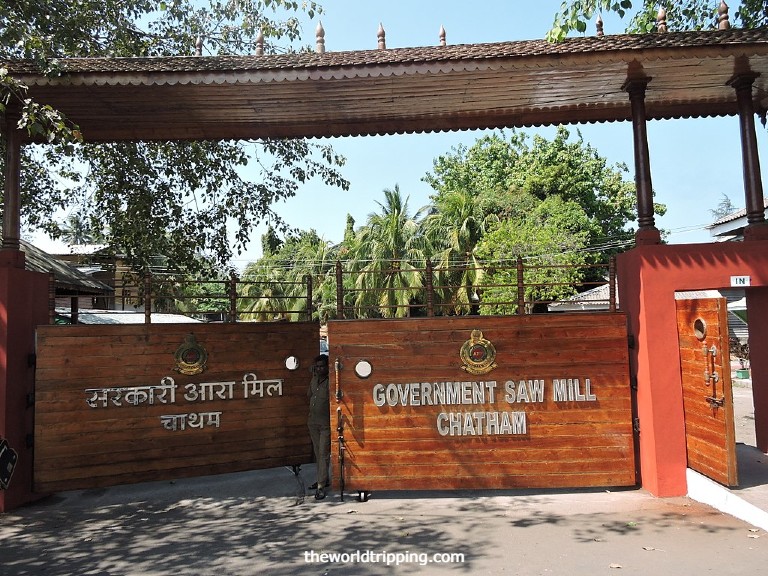 Forest Museum & Souvenir Shop – 
There is a forest museum that exhibits photographs of historical development that happened at the Sawmill during the years, dummy models of forest activities, handicrafts of timber, artifacts, decorative wooden furniture, sculptures, carving, & décor, which shows how skillful & innovative the workers are.
All these arts are made up of different types of woods that are locally found at Andaman and Nicobar Islands such as – Oak, Satin, Marblewood, Padauk, Silver Grey, Chooi, Kokko, etc. Paying a visit to the Forest Museum is worth the time and helps tourists learn more about the biodiversity of the islands.
There is a small souvenir/gift shop, from where tourists can buy handmade wooden artifacts as souvenirs or gifts for special ones, to memorize their visit to Andaman & Nicobar Islands.
Entrance fee- 2 Rs. per person. Cameras are not allowed.
Visiting Hours- Mon-Fri from 10 AM to 2 PM, Sunday – Closed.
Japanese War Bunker of World War-II & Bomb pits
Pay your visit & learn about the bombing stories at the time of World War -II.
Sawmill is open for visitors for a limited time, make sure you go early morning to have surplus time to explore.
Those who have dust allergies coming from woods, please take precautions & carry face masks/coverings during the visit.
Now when you are well-stocked about offbeat destinations of Andaman and Nicobar Islands, why not feel its real charm in person? Why don't you make a special itinerary covering all these not so popular but intriguing, hidden gems of Andaman and visit them all? Let the world know, what part of Andaman they are missing.
Tell me in the comments down below, if you want to add some more destinations to the list, which are unknown but well deserve to grab all the attention.