If I would like to describe Daman in few phrases that would be – a very chilled out, low-key place, beaches that are family-friendly, beautiful sunsets, lot of fun activities to do, takes you to the era of Portuguese living in daman with their churches, forts, government offices & monasteries.
But hey, even though Daman has got Portuguese influence, but it is nowhere like Goa.
Being conveniently located equidistant from two major cities- Surat of Gujrat state & Mumbai of Maharashtra, people love to come here over the weekend. For some frequent tourists, this is their go-to destination to take a break from work. If you're planning your next vacation to Daman, check out our solid plan for a two-day itinerary that are covering all famous places to see in Daman & top 10 things to do in Daman.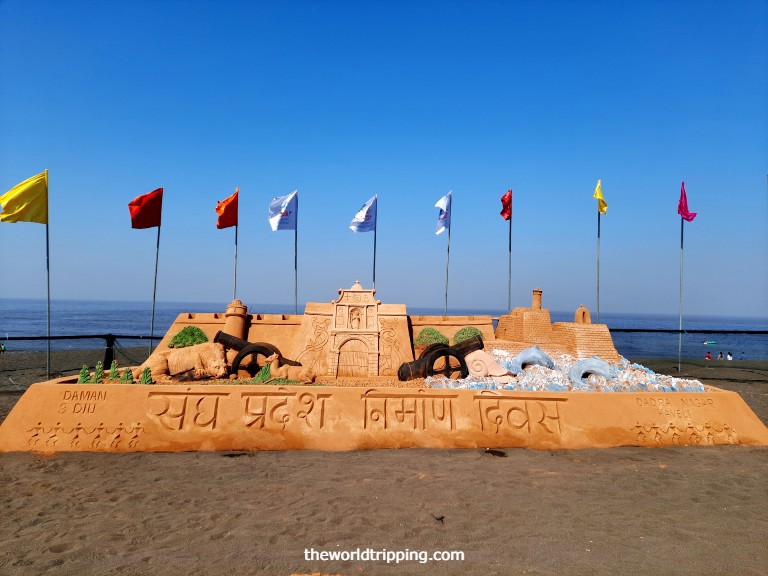 This is our top 10 things to do in Daman & list of famous places to see with 2 days itinerary plan. Yes, you can visit most of the places in just two days. (Mirasol Garden & Water Park is an exception, where you will be required at least half a day to explore & enjoy). Let's get to know each place in detail-
Jampore Beach is the most popular and must-see attraction in Daman, that you should not miss. We usually flaunt white or golden sandy beaches, but here is an exception, all beaches in Daman are of black sand and yet so beautiful. You don't trust me?! Look at this photo-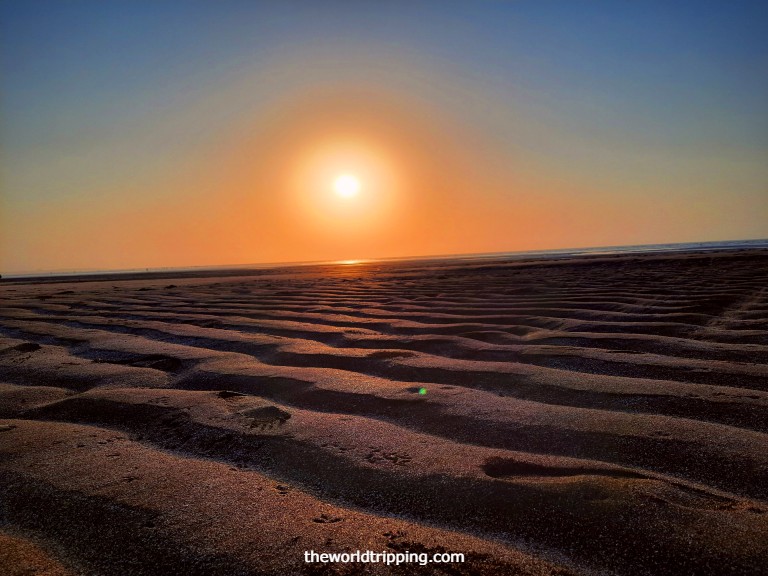 This is the most likable beach in Daman amongst all. Because it offers all kinds of entertainment to every age group. Did I mention this beach is family-friendly? Jampore beach vibes are so lively, full of entertainment, always loaded with families. Children just love it here, as they can enjoy a camel ride, horseback ride & horse cart ride, plus there are dozens of vendors carrying cotton candy, balloons & toys to allure them.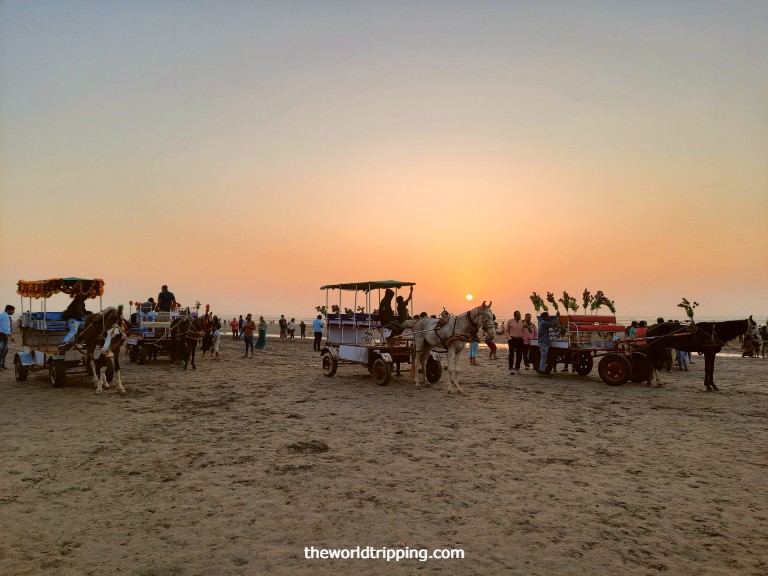 As you approach the beach, one can easily spot parasailing balloons from far. There are beach sports- sand bikes & water sports activities like Parasailing, Boating & Jet Ski rides available at a fair price, so the parents & young age people won't feel left out. And those who are not interested in any of these can simply walk or jog on the beach shore or just pick one place on the beachside compound wall, sit back, relax and enjoy golden sunset.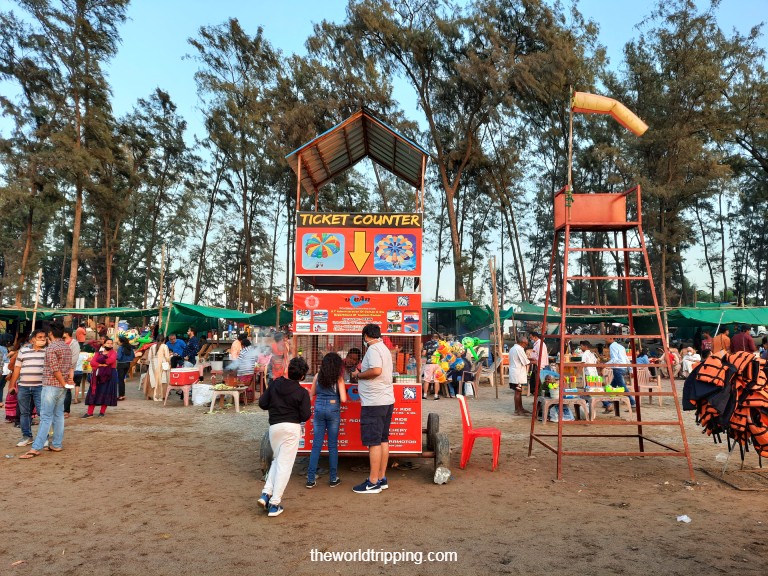 Enthusiastic photographers like us took full advantage of natural lights to do Sunset photography. There is a small chaupati on the beach (a range of food stalls), where you can relish some "Chaat- Shevpuri, Bhelpuri, Cornchaat" or any fast-food items.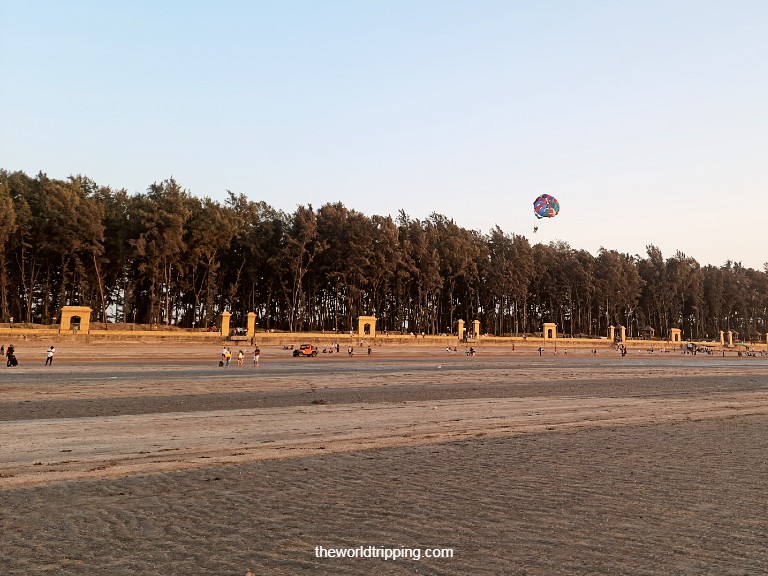 Parking:
Parking is free.
Limited spots are available in proximity to the Jampore beach (i. e. where the actual beach started).
If it is full, especially during weekends & evenings then you need to park your car roadside near 'She-Oak' trees, just follow the crowed.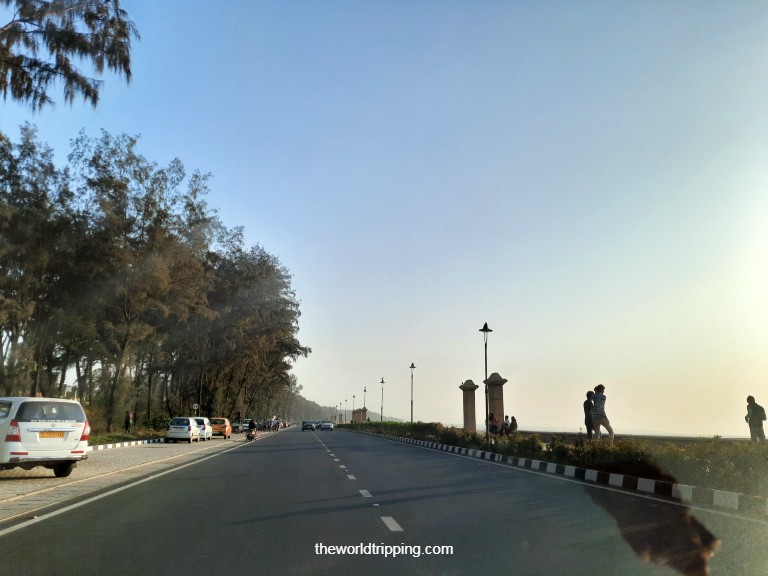 Things to do at Jampore Beach:
Beach & Water Sports activities 
Camel ride, horseback ride, cart rides, etc. 
Leisure activities (Walking/Jogging/Relaxing on the beach watching Sunset)
Sunset Photography 
Shacks on the beach, Food stalls & Eateries
Driving along the beach:-
The best part we love about is that you can drive along the beach for 4 km (10 min drive) takes you from Jampore Beach all the way up to Moti Daman fort & Jetty, the famous lighthouse & ends at 'I Love Daman' sign.
Considering the road is a beach view provided with a footpath for walking & jogging along with sitting areas to watch the sunset from anywhere & the other side of the road there is an array of 'She-Oak' trees. Isn't it lovely? It looks magical after sunset when the streetlights turned ON.
Tattoo parlors are also there for passionate souls.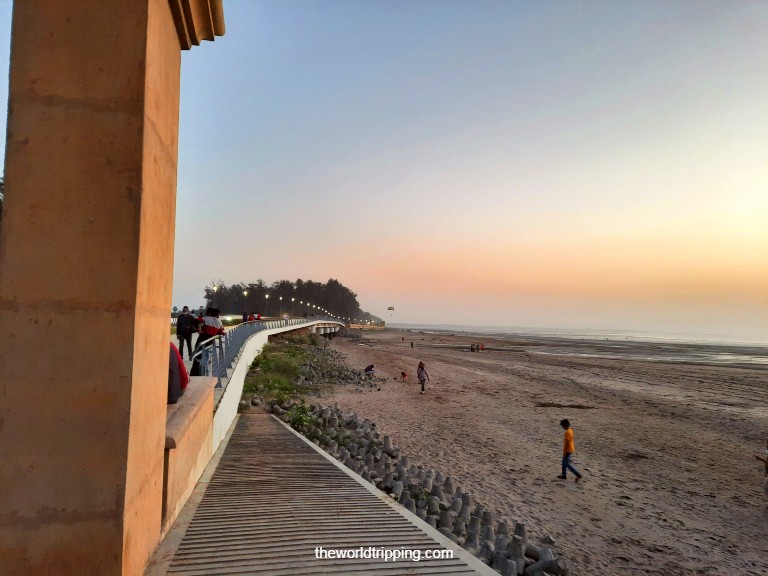 2. Moti Daman Fort & Fort Garden
If you are into history, there is so much to explore & see at this place, as it was built in the 16th century takes you into the era of Portuguese colonies that lasted for over 450 years in Daman. 
It's an old Fort, with a huge defensive compound wall made up of stones covering 30,000 sq. meters. of areas making a pentagon-like shape if you look at the drone shots or google maps. You can climb up and walk on the wall, to get panoramic views of the beach, fort, Jetty & lighthouse, etc.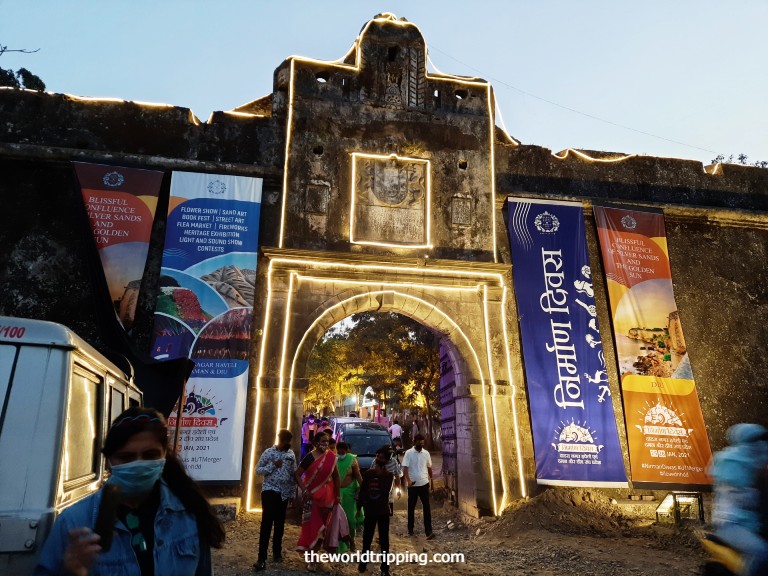 The Entry and Exit of the Fort are very narrow and of a short height that hardly one SUV vehicle can pass through it. Yes, you can drive through the Fort! Its Portuguese-style architecture was built for protection against the Mughals in the 16th century.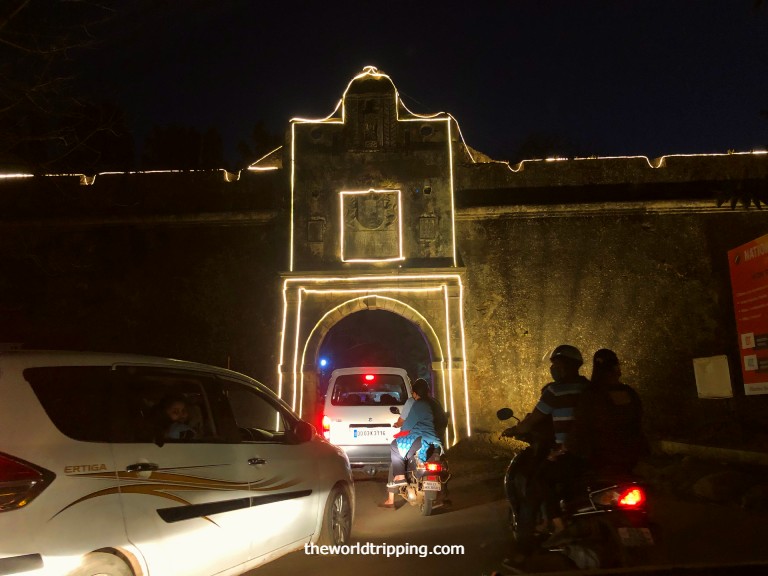 The fort is now the address of many important Government offices, including, District & session court of Daman, Daman Municipal Council, Administration department of Diu & Daman, Secretariat office, National Informatics, Post Office, District library, Forest Department, and their servant bungalows/houses.
Tourists are allowed to enter and see the surroundings, as there are some tourist attractions like Dominican Monastery, Bom Jesus Church, and the lighthouse inside the Fort. It's remarkable that the fort & old buildings have been preserved & are still in their original shape.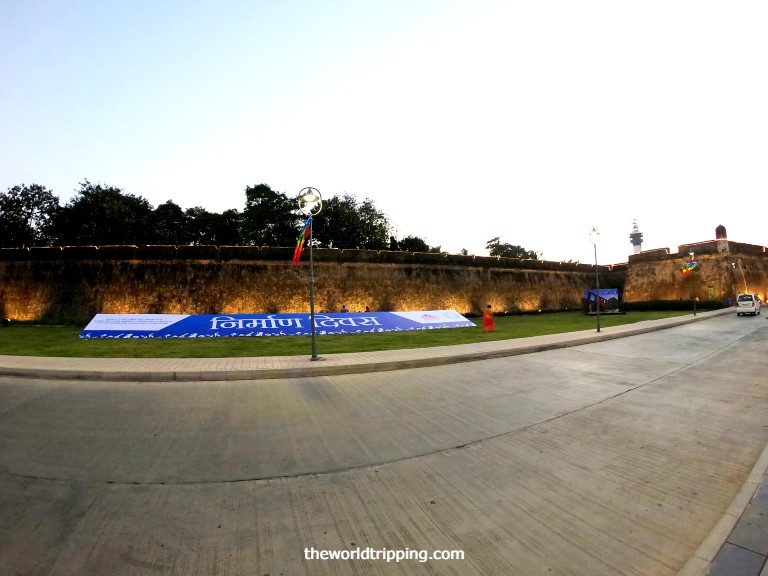 Around the Fort, there is a small lawn garden called 'Fort Garden'. An Indian Army T-55 Tank placed in Fort Garden catches your attention while entering the fort. The Indian Army used this tank in battles with Pakistan during the 1960-1980s.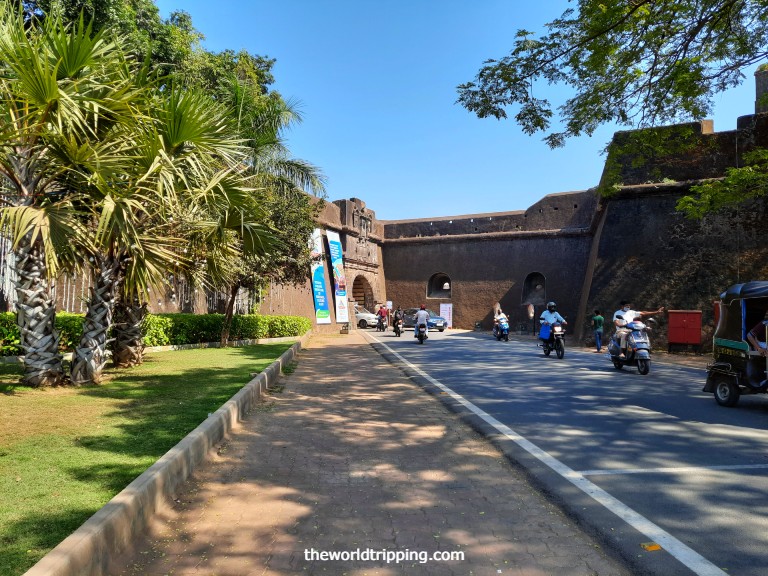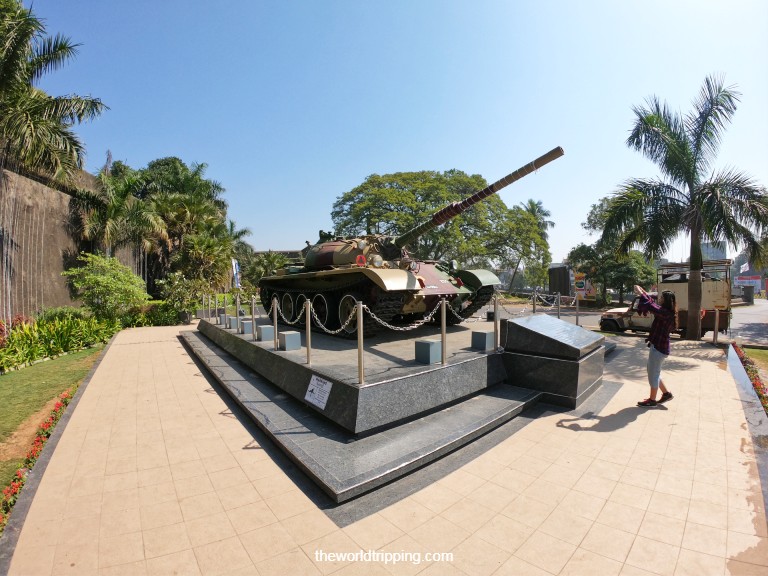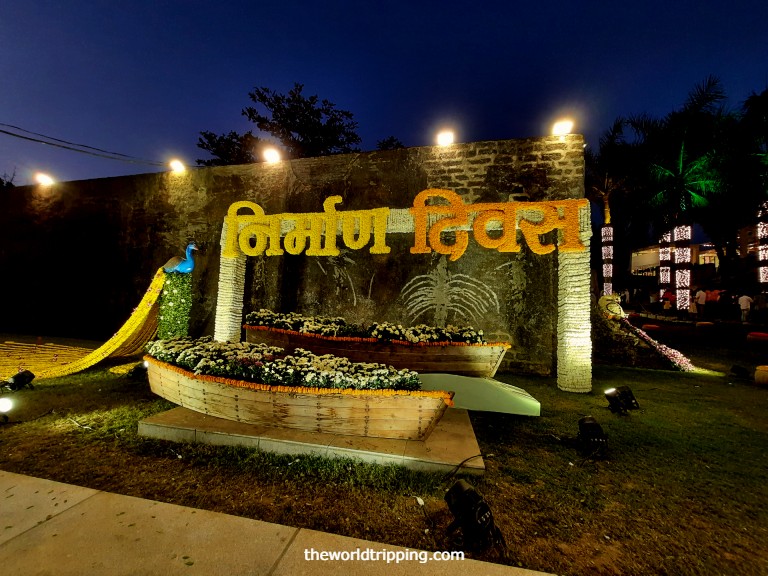 We visited daman on its '1st Anniversary of Nirman Diwas on 26th January 2021', where the entire Fort has been decorated with flowers and lightings, there were special events like – Flower show, Sand Art, Flea Market, Book Fest, Light & Sound Show, Heritage Exhibitions, Contest & Fireworks.
Locals participated, came with their families, it was no less than a fest! It was a great opportunity for us to see a glimpse of their culture & local art. We thoroughly enjoyed that evening!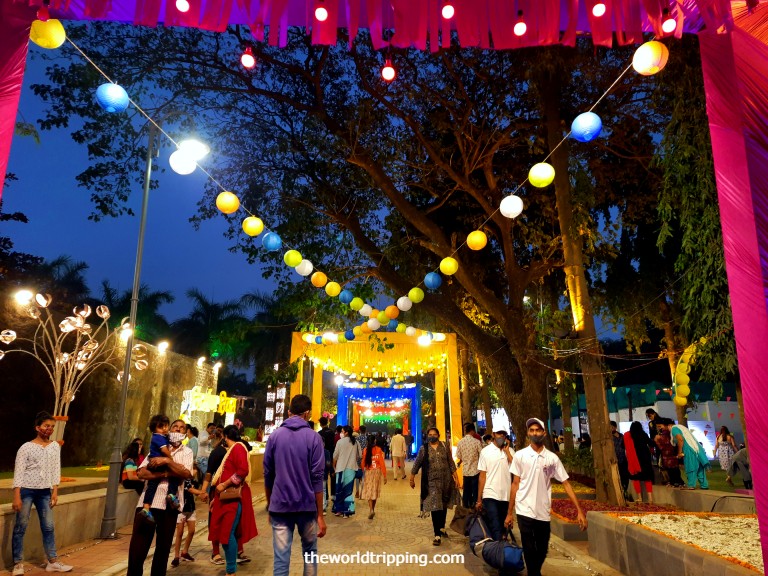 Are you interested to read more about Nirman Diwas? Why & How it is to be celebrated? What we have seen here?
We have so many pictures for you to get the feeling of being there…
3. Lighthouse, Moti Daman Beach, Jetty Garden (Jetty De Damao Grande)
What if, you get a beach, lighthouse & fort all in one frame!!! I have this third most favorite attraction in Daman for you!.
Whenever I see a lighthouse on any beach, it seizes my attention, and here's a Navy Blue and White-colored multi-story lighthouse is no less. It has that vintage charm to impress you. Look how beautiful it looks in the daytime as well as at night.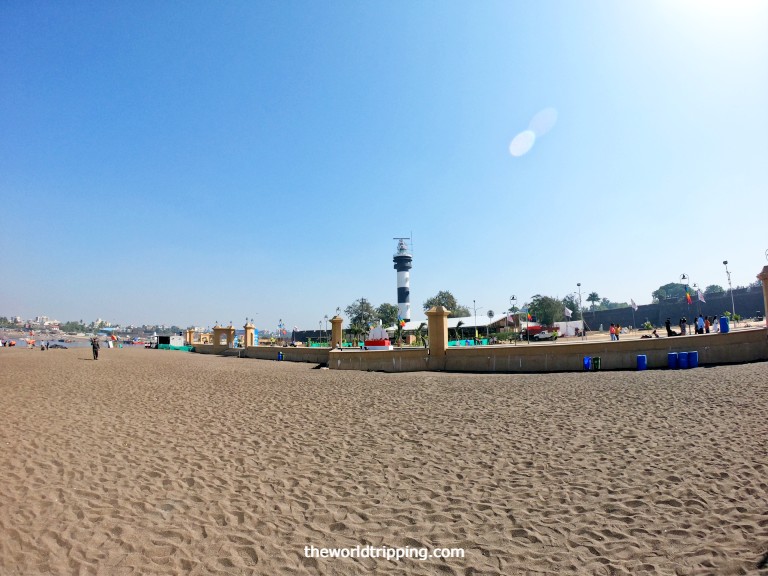 You can climb up and get a 360-degree view of the surrounding. Do not miss the panoramic views of the city, Moti Daman, Nani Daman, Daman Ganga River & Jetty, Arabian Sea & the Fort. The access to the lighthouse is from inside the Moti Daman Fort.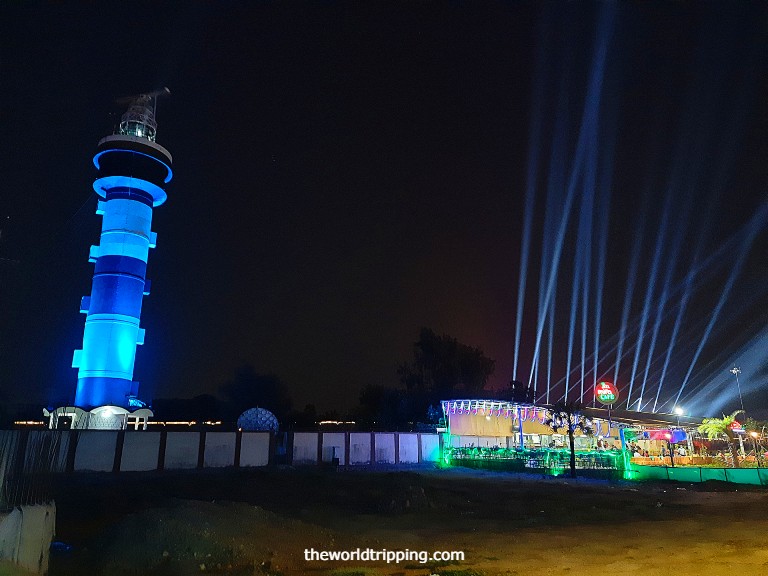 Moti Daman Beach is where there is Daman Ganga River meets the Arabian Sea! We kinda liked this beach because from this point, many attractions are nearby and you will get the best views of Nani Daman Jetty, St. Jerome Fort, Jetty De Damao Grande, Rajiv Gandhi Setu, Lighthouse & the Moti Daman Fort of course!
As you all know, all beaches in Daman are either of black sand or muddy types but here on Moti Daman Beach we saw white sands, it is possibly because they level up by outsourcing white sand and made it attractive.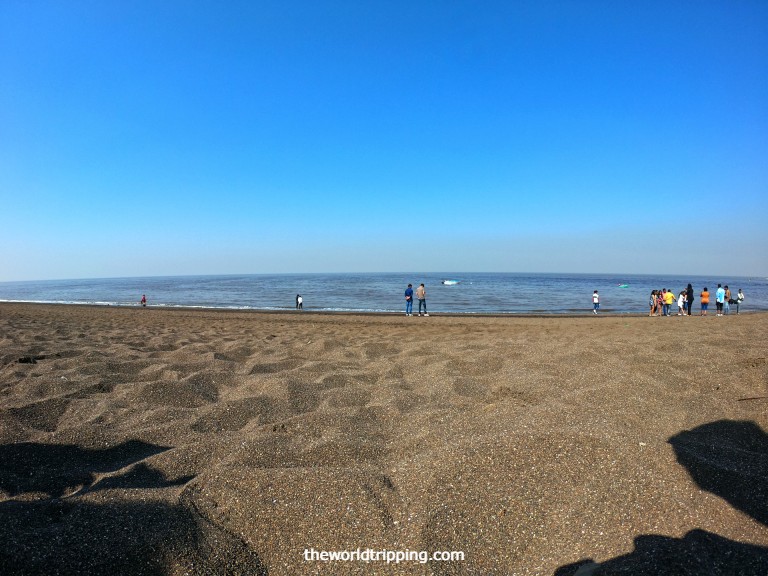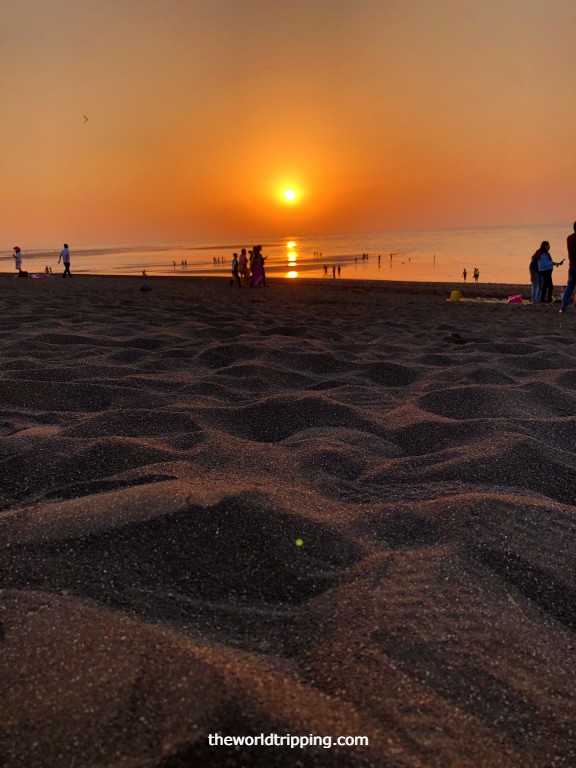 On 'Nirman Diwas 2021' they made stunning sand art on this beach. In the evening, many people gather here to watch the sunset, enjoy adventure water sports, and click pictures. It's a nice sight to see many boats resting on the Moti Daman Jetty.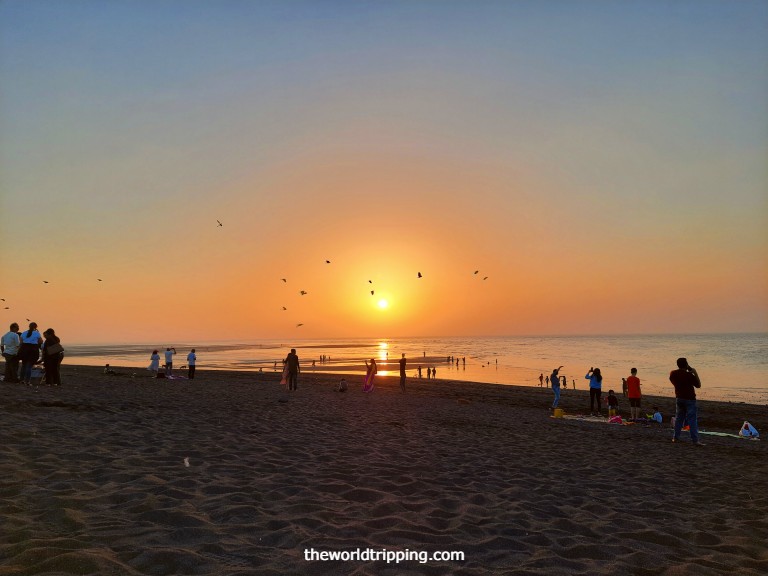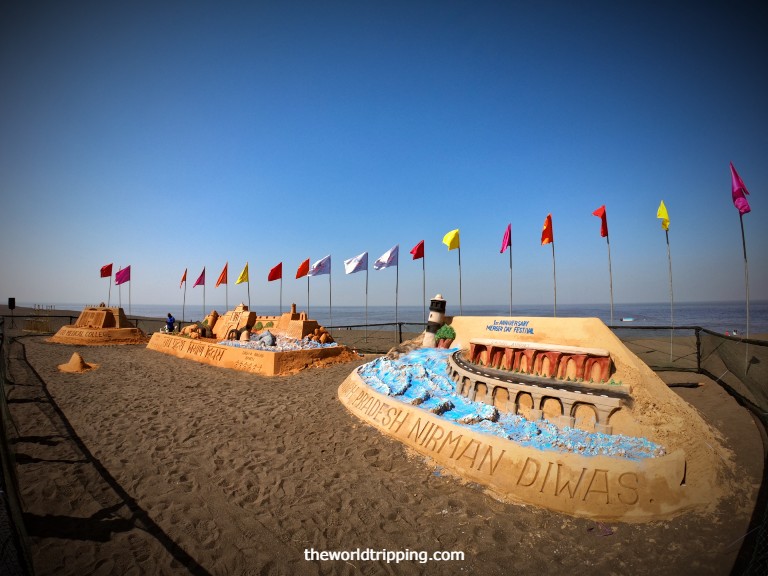 Jetty Garden (Jetty De Damao Grande)
People come here to take groupies/selfies with the famous 'I Love Daman' signboard placed near Moti Daman Jetty. Photo with this iconic board is a must if you visit daman. 
It gets illuminated in the night. You will find this Jetty Garden as you exit from Moti Daman Fort from the Jetty side.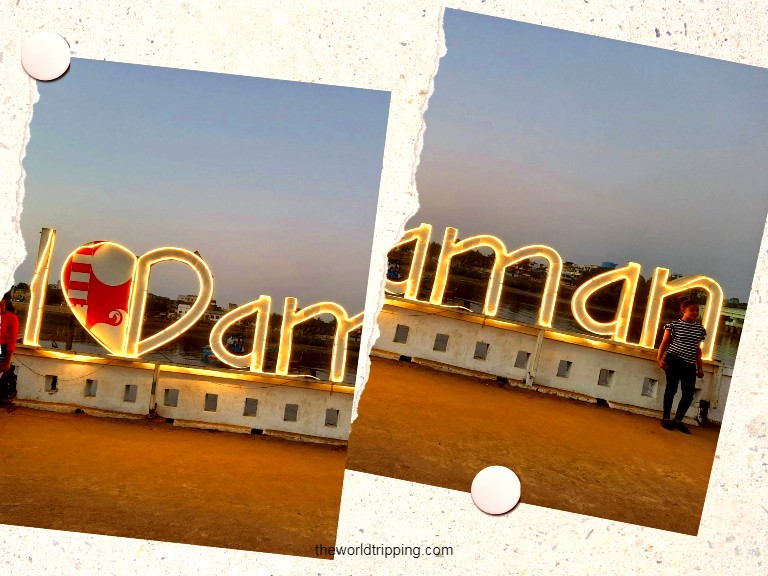 4. St. Jerome Fort/Nani Daman Fort & Jetty
Do you know how Daman gets divided into two parts? It's a Daman Ganga River that cuts through Daman to meet the Arabian Sea, divides Daman into Nani Daman & Moti Daman. We talked about Moti Daman in previous paragraphs, here's you will find everything about Nani Daman Jetty & St. Jerome Fort also known as Nani Daman Fort.
Nani Daman offers a beach for fishing & leisure activities, ample hotels, most of them are pocket-friendly, restaurants serving local cuisines & all kinds of shopping markets, where you can see how the local people live here.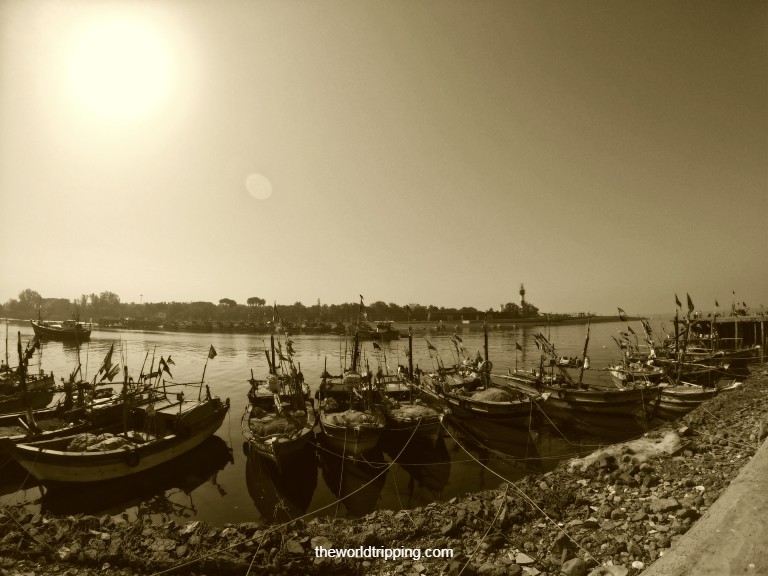 Jerome Fort is the highlight of Nani Daman and comes under must-see destinations. It appears as an outpost from the Portuguese era spread over 12250 Sq. meters protected by high stone walls on which you can stand and take a walk along with the fort.
With three bastions, and two gates, inside the fort premises, there is a small vintage church called 'The Church of our Lady of the Sea', a School which is still working, an old cemetery, and a large playground.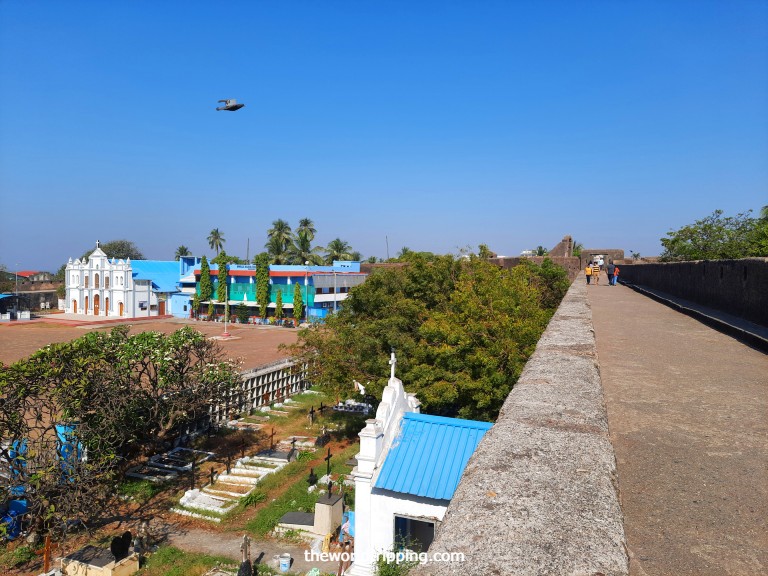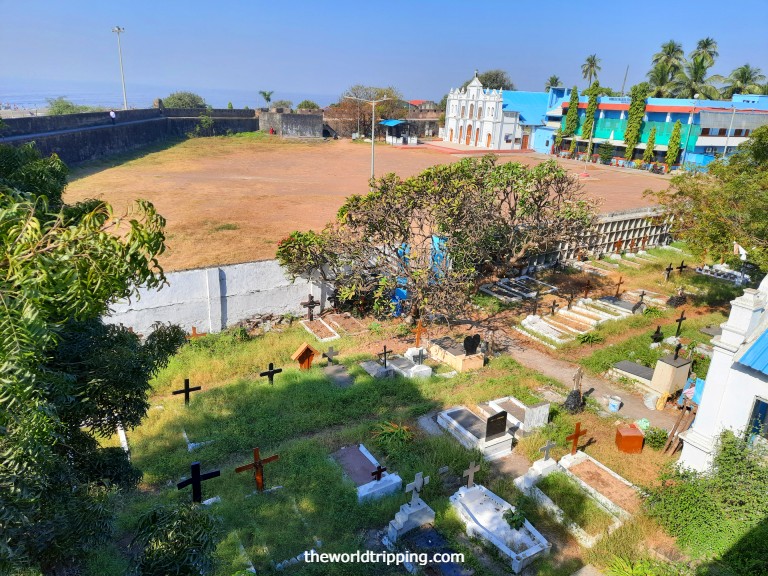 Welcomed by a big old-fashioned entrance gate made up of stone opened on the riverside. If you watch closely, you'll observe some sculptures, grave images, inscriptions carved on them. There is a big Christian holy cross on the top-middle and two crosses on both sides. 
A unique symbol just below the holy cross and on both sides of the door, then there is a statue of St. Jerome, inscriptions carved on the wall, which I guess some biblical message but the language & meaning is unknown to me, there are identical human figures on either side of the door with weapons in their hands (I suppose, they are guarding the Fort) and just above them, there is an identical lion on each side. That's how the entrance of St. Jerome Fort exactly looks like. Isn't it captivating?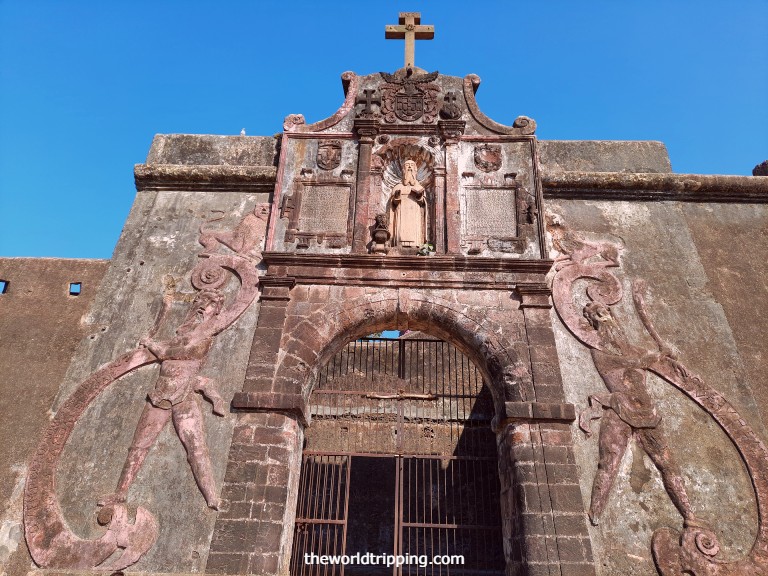 Take a walk on the rampart and enjoy the views of the surrounding fish market, fishing boats anchored along the jetty, the lighthouse, and the Daman Ganga River.
There is nothing much to do here, we visited the Fort early morning, when school was going on, but the church was closed. We did some photography, wandered all over the fort, and left.
Visit here in the evening before sunset, when food stalls & fast-food joints have settled along the jetty. Do not forget to try their famous Jetty Rolls and enjoy the sunset.
Entry fee: Free
Visiting time: All day 8 AM to 6 PM
Parking: You can temporarily park your vehicle near the walled compound of Nani Daman Jetty, in front of the fort with free of cost.
5. Devka Beach & Go Amazica Amusement Park
It's definitely not one of my favorite beaches in Daman, I'll tell you why? Beach is incomplete without sand & waves, right? But Devka beach is a rocky one, no sand & no waves, regret to say but when we visited it, it was dirty and not up to the expectations.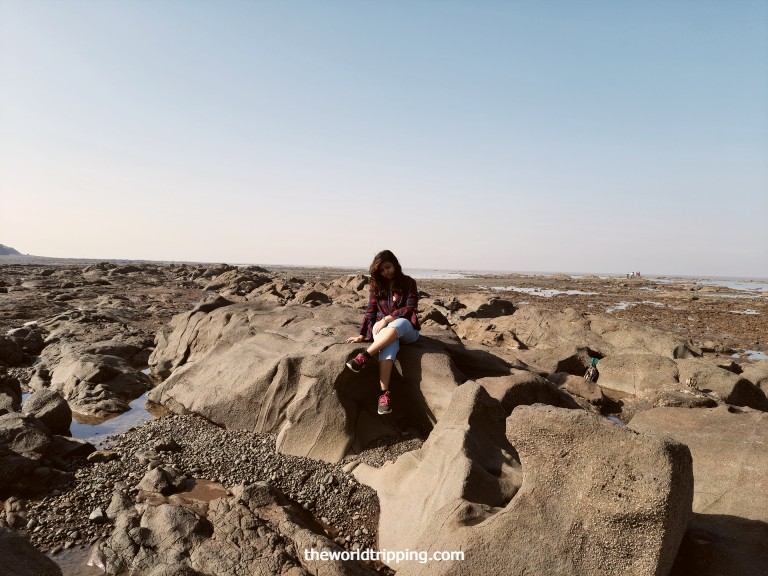 Many black rocks spread over the beach and the waves are way inside, you need to walk on those rocks just to touch the water, which didn't excite us.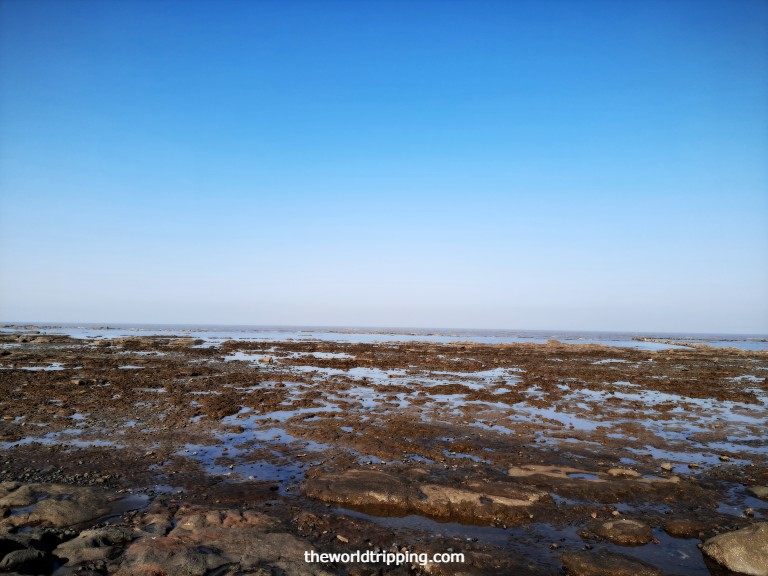 Then, there are some food stalls on the beach, people come, eat, drink and left their dirty plates, cans & bottles on the beach, which feel unpleasant. From this post, I would like to spread awareness about maintaining cleanliness on beaches & help to sustain marine life.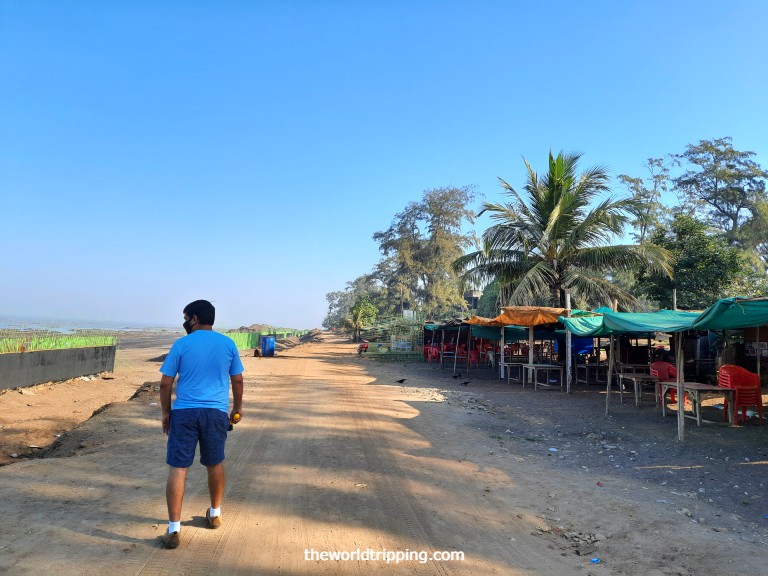 When we visited this beach in Jan-2021, there was some construction work going on the shorelines, which may happen to be a similar development to that of Jampore Beach.
The only reason behind its popularity is its location, which is away from the city and crowded attractions offer tourists serene atmosphere & privacy here. Some beachfront hotels got direct access to the beach.
You will be spoilt for choices to stay in from budgeted to extravagant hotels located on both sides of Devka Beach Road.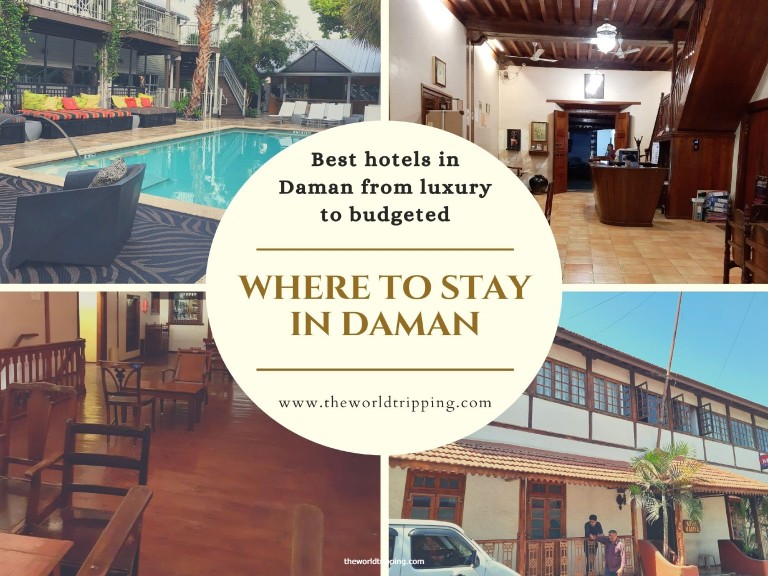 List of best hotels from five-star properties to budget options. Get to know what they offer at what price?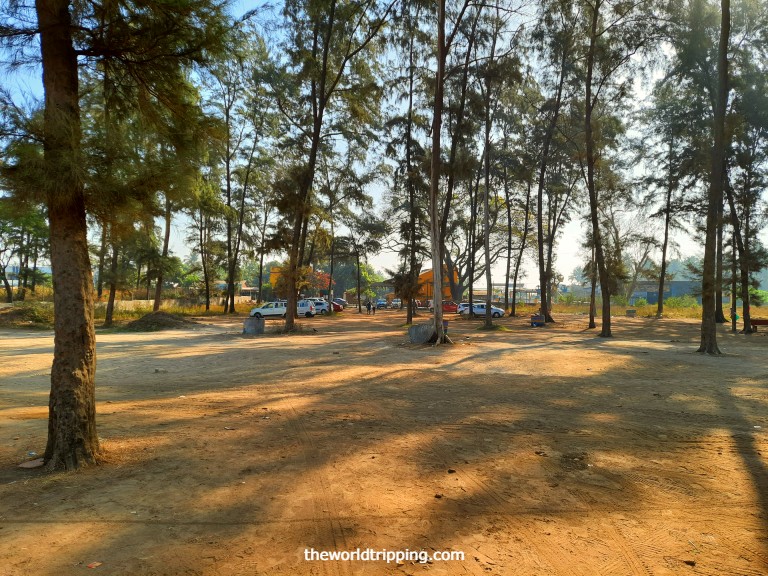 Devka Beach has growth potential and it'll be interesting to see 'New Devka Beach' post-development. Will they succeed to attract more tourists in the coming future? For that, we need to visit again and check.
Devka Amusement Park (Go Amazica Amusement Park):
Just like adults, kids get bored of routine, schools & other stuff, they also need enjoyment when you all go out for a family vacation, right?
Thankfully, there are a lot of fun things to do in Daman for kids, from camel and Pony rides in Jampore beach, water rides in Mirasol garden to adventure rides in 'Go Amazica Amusement Park' near Devka Beach.
It is located opposite the famous Devka beach, where you can spend an evening time on the beach and after sunset go for adventure rides in the park.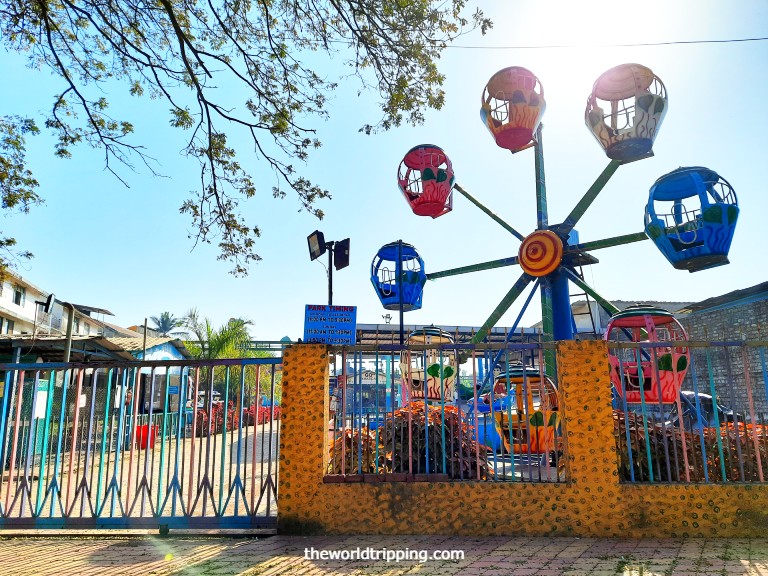 Free Entry
Park timing:
Monday-Saturday: 4 PM – 9.30 PM
Sunday: 11 AM- 1.30 PM & 3 PM – 9.30 PM
Parking:
There is no designated parking in front of the amusement park, but you can park your vehicle alongside Devka Road without upsetting the traffic.
OR park in an open space at the entrance of Devka Beach and walk down here.
6. Mirasol Lake Garden & Water Park
If you are looking for offbeat holidays in Daman, away from beaches, Mirasol Lake Garden & Water Park is the place where you come, relax and soak in nature, enjoy water rides & children play activities like mini trains, pedal swan ride, boating in their manmade lake of 12 acres, beautifully designed with lush garden and trees.
It is the best choice for a fun-filled family retreat. In addition to all of this, they also have a lakeside restaurant, bar & lounge along with accommodation facilities. They also provide an arrangement for a destination wedding as well as business meetings.
Meet one of the most prestigious churches from Portuguese colonial history in Daman, constructed in the 1500s in the remembrance of Saint Dominic.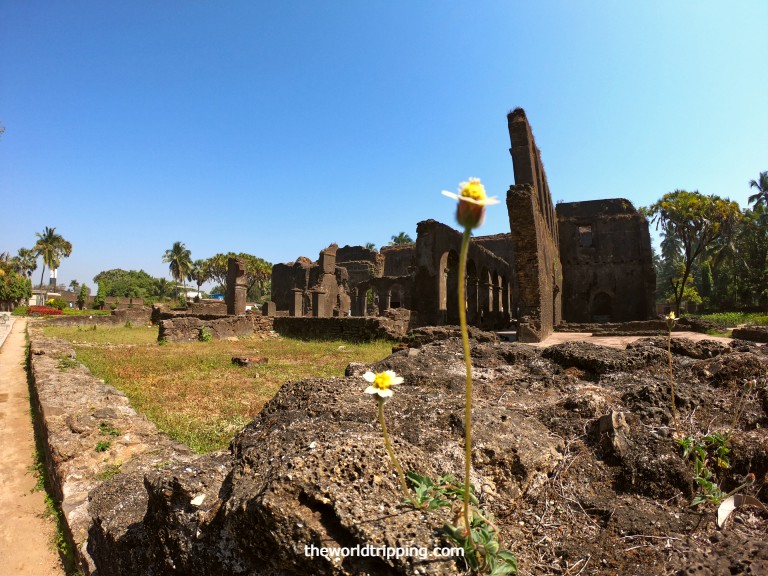 Portuguese came to India, ruled here for over 450 years, and left behind their rich architectural style, carvings in the form of churches that they built. Like other churches in Daman, Dominican Monastery is a proven example of their architectural skills in terms of well-designed doorways, pillars, altars & ceilings.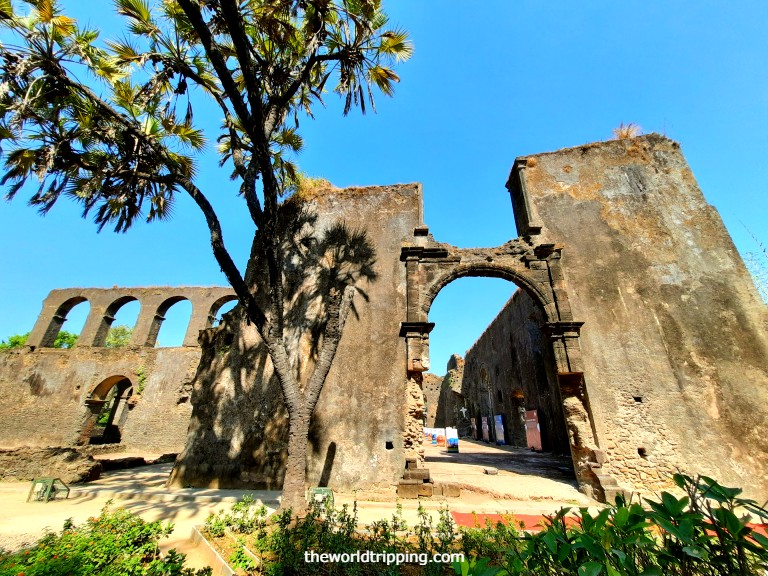 If you visit now, you will find the only remains are their arches and walls, as it is believed to be destroyed by an earthquake. We also learned that this monastery has been globally recognized and valued, as many catholic scholars around the world came here for theological studies as a part of priestly novitiate.
Till today this place has religious importance in the catholic community, as they gather here for holy mass prayers & to reminiscence the history.
Dominican Monastery is a part of Moti Daman Fort, 10 min walk from Bom Jesus Church. Get the best views of the monastery from the fort walls. Do not miss this place while you are here, however finding the address is a little trickier. It is open till sundown.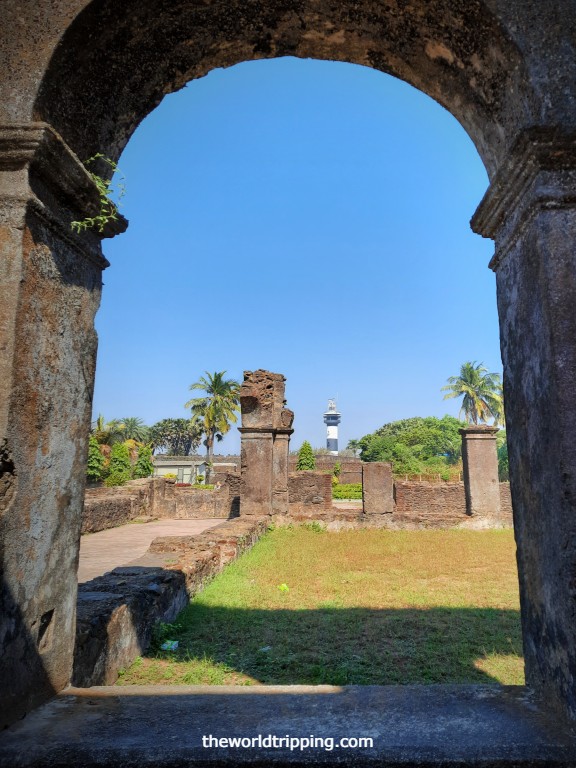 8. Cathedral of Bom Jesus Church
As I mentioned, the Cathedral of Bom Jesus Church is also one of the best testaments of Portuguese Art, that will make you fall in love with it.
This 1600's church is famous for its detailed carvings and worth your visit. There are few churches inside the Moti Daman Fort, but Bom Jesus Church is more famous among tourists. Decorated doorways & stunning interiors will blow your mind, that's our guarantee!
9. Maharaja Market / Mercado J. M. Falcao De Carvalho
Do not miss this very old shopping market called 'Mercado J. M. De Carvalho' built-in 1879, now known as 'Maharaja Market' located in the city center of Nani Daman. It is having an array of small outlets under one roof, crowded with people, little congested to freely roam around.
You will find a wide collection of Fashion & Beauty products, Jewelry, Clothing, Electronic items, Belts, Watches, Sunglasses, Bags & wallets, Imported/Foreign goods (maybe 1st copy) are available at reasonable prices. However, you must have good bargain skills to shop here. We doubted the quality of products, so only bought some assorted chocolates. It's a nice place to stroll & do some window shopping.
10. Church of Our Lady of the Sea
You can't miss this church while wandering around Nani Daman Fort, because as you enter the fort, this church instantly catches your attention. Representing a very old Portuguese style church, located in the premises of St. Jerome Nani Daman Fort, famous as 'The Church of our Lady of the Sea'.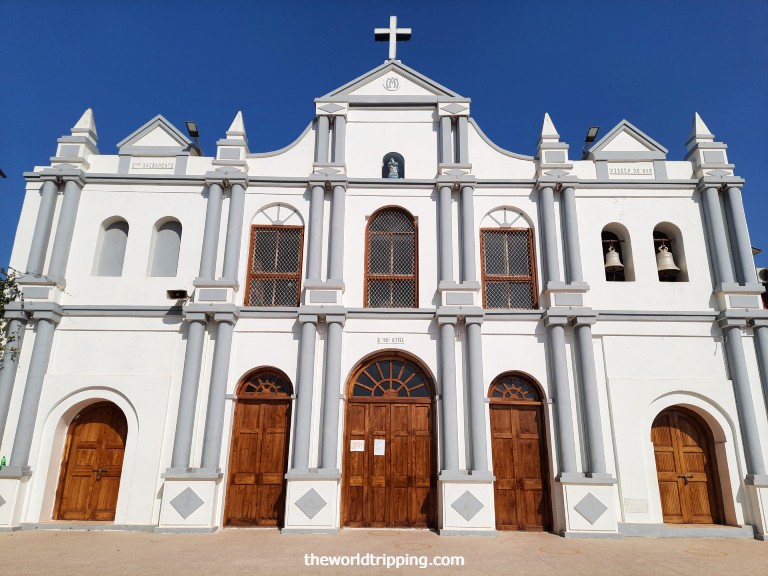 Talking about its architecture, you'll notice Portuguese influence, white-colored exterior very well complemented with wooden door & windows. We heard that it is equally attractive from the inside. Unfortunately, when we were there, it was closed due to the Covid-19 pandemic. Make sure to follow the visiting hours of the Fort.
According to our itinerary for 2 days in Daman, these are the top 10 famous places that you must visit while you are here.
If you find this post helpful and informative, please share with your friends and tell us your experience in the comment section after visiting. We would like to hear from you. Happy Tripping!!!