Like a private beach to spend the perfect time with your partner, you can't miss the chance to explore virgin beaches that are truly unspoiled, seafood lovers can satisfy their appetite with a variety of seafood, museums for history buffs, bird watching, trekking, beach hopping, shopping gifts and souvenirs from the local market, experiencing heartwarming adventure sports like scuba diving, snorkelling to fulfil your dream of seeing the underwater life. Trust me, you won't run out of things to do in Andaman and Nicobar Islands, it has something for everyone.
The Andaman and Nicobar Islands, being a paradise, top the bucket list for beach lovers like us who are looking for an exotic beach vacation that won't break the bank. We have not just one or two reasons but 12 reasons to choose Andaman over any other romantic destinations, they never disappoint you.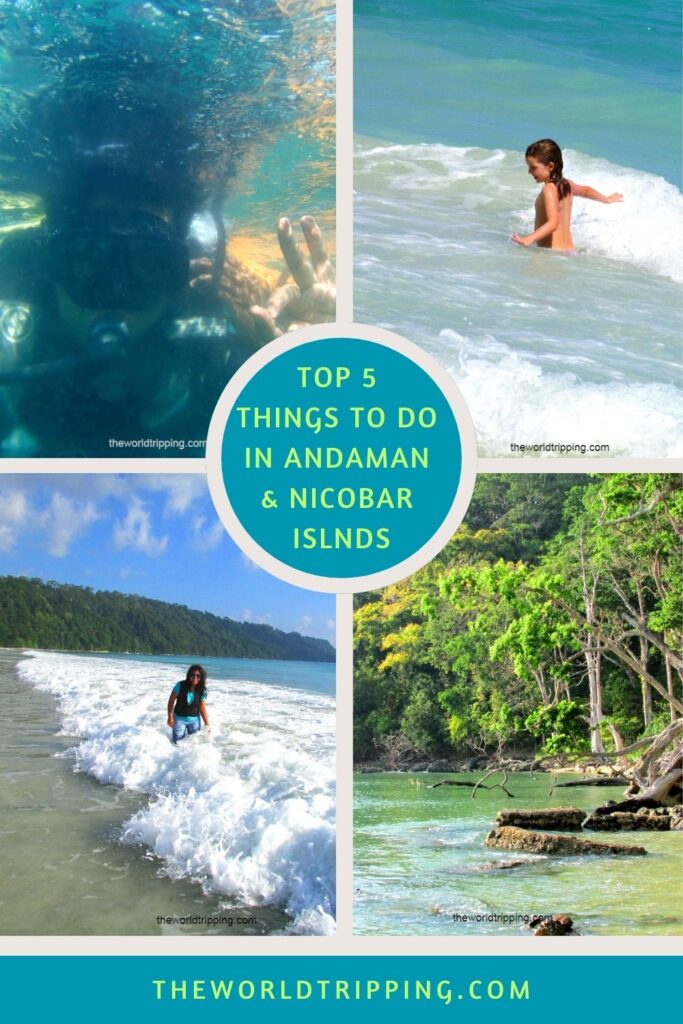 1. Adventure activities in Andaman and Nicobar Islands:
When you want to keep your swim gear on and are in search of "true adventure", pack your bags and head to the Andamans, a place that offers a variety of water sports to spark an adrenaline rush and give you an experience of a lifetime. Relive again and again.
When we say water sports, we usually think of jet skis, banana boat and speed boat rides, parasailing, etc., But in Andaman, along with these regular water sports, you will get a chance to do astonishing water sports like Scuba diving, Snorkeling, Sea walk & Glass Boat rides at a much lower budget than other exotic islands outside India.

Choose your sport based on how much thrill you can handle! And of course, taking into account the age factor.
Crystal-clear waters and attractive coral reefs with fascinating marine life make it popular among divers and snorkelers. Isn't it amazing that everyone will be able to see the mysterious underwater life, no matter how old you are or even if you are not a swimmer!?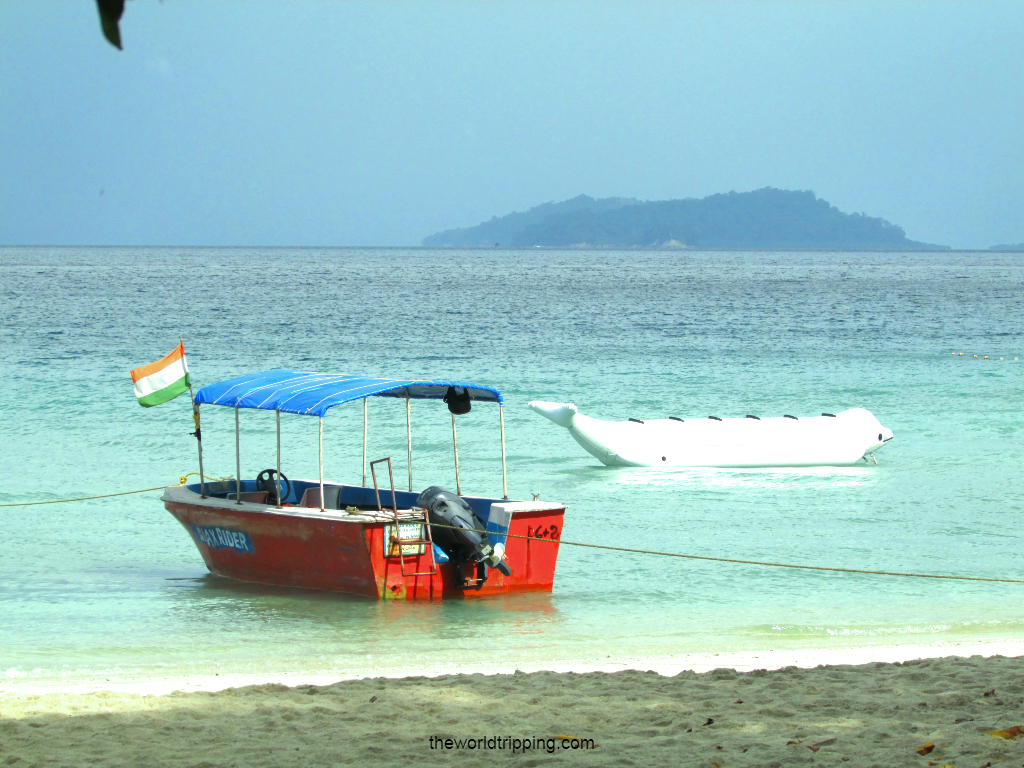 Note that-
All water sports mentioned here can be done subject to weather conditions.
While doing the activity, do not touch coral or any form of marine life or feed anything to fish.
Before any underwater activity, they will ask you about your medical history, current health condition, and influence of any medicine/drug/alcohol for safety reasons. Be honest while filing up customary forms, as any wrongful information can put your life at risk.
Please follow age guidelines for related activities.
It is an unforgettable, overwhelming, mesmerising "experience of a lifetime"! Don't miss the chance to catch a glimpse of the underwater scenes.
We have seen marine life many times on TV channels, but have you ever imagined that you are swimming deep in the water like a fish, can see the underwater world with your bare eyes, and feel the presence around them? Ah! Just the idea gives you goosebumps, right?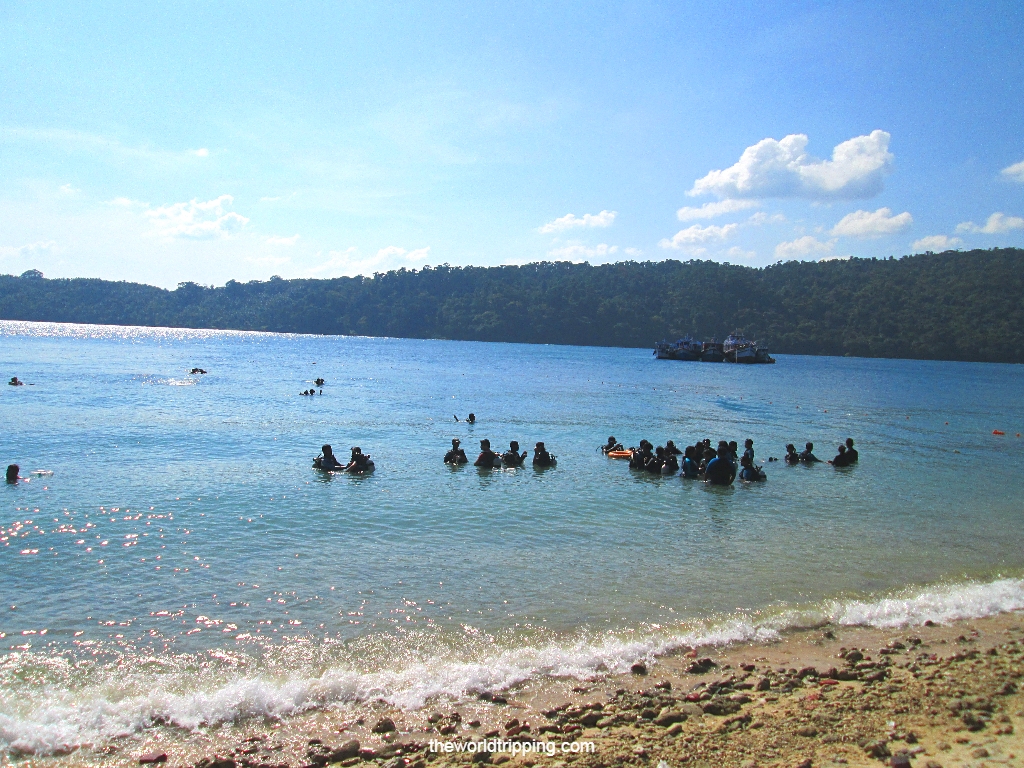 If you are in Andaman and if you haven't done it anywhere before, you should try this sport, because Andaman is famous for scuba diving, offering attractive and colourful coral reefs with rich marine life.
The team at the diving centre takes you to a dedicated area that is well-marked and protected within safety limits. Before admission, they ask you some questions related to your health condition, medical history, and the effect of any medicine/drugs for safety purposes.
You can go scuba diving even if you don't know how to swim, as the diving centre will have a team to train you and protect you. An instructor will always be with you (i.e., one instructor per person) holding your gear, checking you in, and following your signs, leading you to safety if you feel uncomfortable at any point.
Our Scuba diving experience
Let me be honest, trying scuba diving was very challenging for both of us, we were damn scared, as we are not swimmers and have underwater phobia. None of our close friends or family had done this before so we could have listened to the experience to boost our confidence.
The other side of our mind says that this is a once-in-a-lifetime opportunity and we can't pass it up without trying. As I said before, the idea of seeing, and feeling the colorful fishes was so enticing that it overcame our doubts, and anxieties and convinced us!!!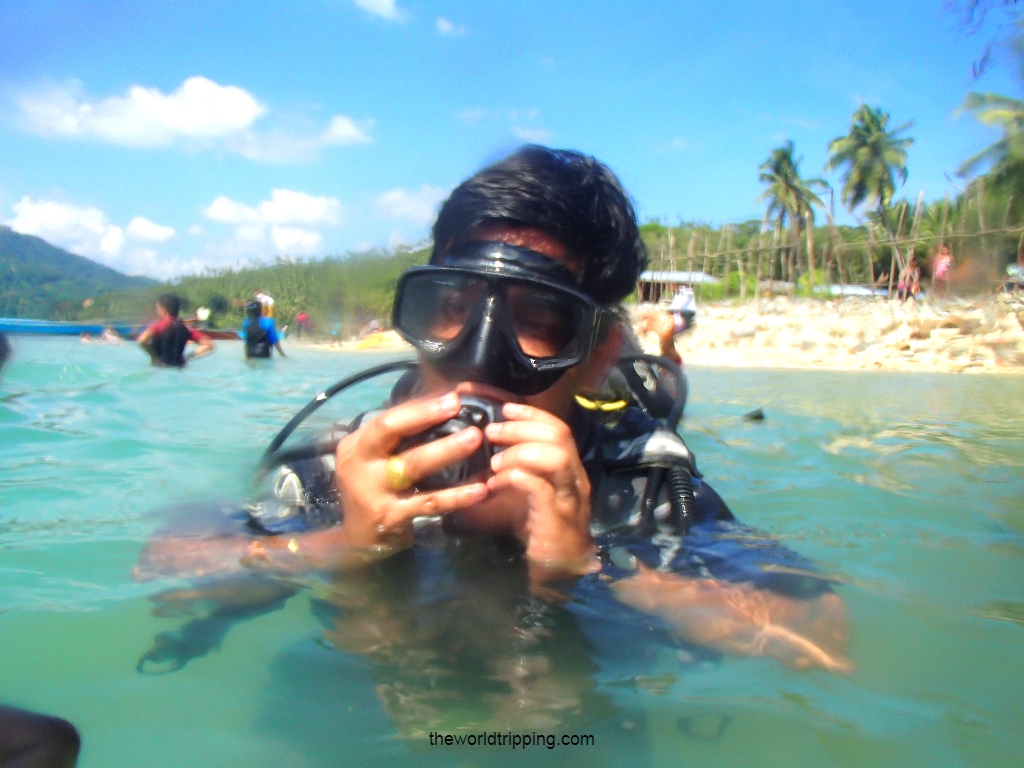 The team of divers was helpful, they trained us on signs to communicate (hand signals), how to breathe underwater, pressure differences, and how to operate gears. Feel free to ask them all your doubts and questions, and take your time to get comfortable with breathing and symptoms before going underwater, because safety always comes first.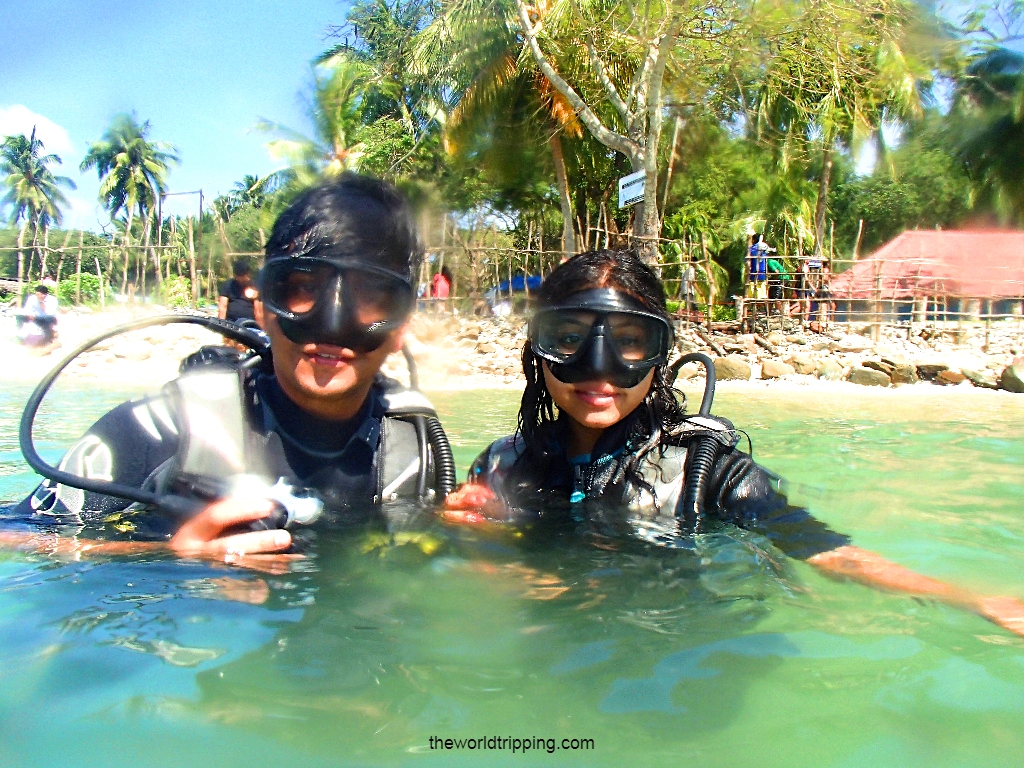 Once you start diving you get lost in what you see and feel like a small fish swimming in an infinite pool which I can't express in words! Speechless!
For first-timers, no need to panic, it is safe, and well equipped and the instructors are PADI certified (Professional Association of Diving Instructors), you just have to listen and follow their instructions carefully, go with the flow, and enjoy. You won't regret the underwater ride!
If scuba diving is too adventurous for you and health reasons limit it, you can try snorkelling or sea walking to satisfy your curiosity about the underwater world. (Relatively easy but equally exciting).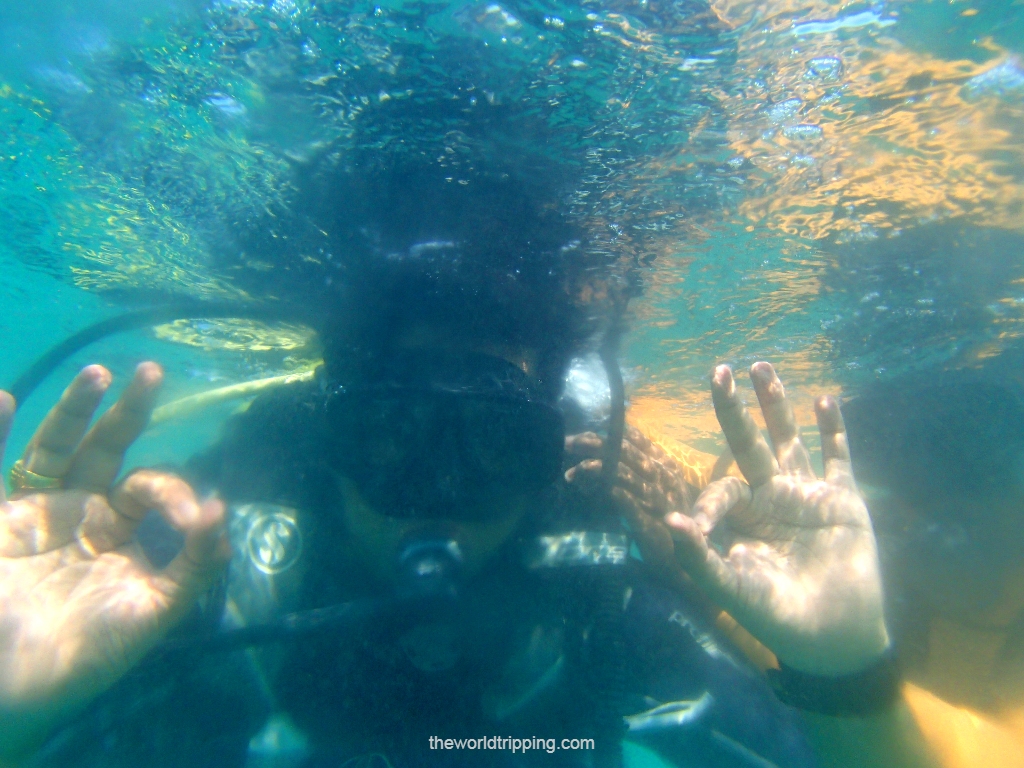 Important Info-
For scuba diving we choose North Bay Island at Port Blair, where you will find many PADI-certified diving centers. You can also enjoy this activity at Havelock Island. Havelock Island has popular scuba operating centers like Barefoot, and Dive India, which offer great equipment and instructor-level training.
It will cost you around 3500- 4500 INR (up to 60 USD) per person for all diving equipment/gear, diving clothes, certificate of participation, underwater photos and videos of scuba diving, and a dedicated instructor accompanying you throughout your time, 15 minutes of training and 30 minutes of diving.
Underwater duration may vary for different diving centres and their packages. And how deep you can go will depend on your comfort level in the water.
Swimming skills are not mandatory.
If you have heart problems, asthma, or any other serious health problems during pregnancy, please do not do this activity. You will need to fill out and sign the undertaking. As I said earlier, you should not be under the influence of drugs/alcohol while scuba diving.
Avoid jewellery, bright-coloured clothing, and open wounds for deep sea diving to avoid predator attack.
Find safe swimming and diving/snorkelling areas from the Tourist Information Center. Avoid swimming at night.
When swimming alone, be careful and stay away from harmful marine life like jellyfish, sting-ray fish, sharks, sea snakes, and stone fish. And while trekking through the mangroves or swimming at the mouth of the creek, keep an eye out for saltwater crocodiles.
Snorkelling is also very popular among tourists after scuba diving, mainly for two reasons, firstly, it is relatively easy and less risky, and secondly, you don't need to go deep into the sea, it can be done in shallow water, so anyone aged 5 years or older can enjoy this sport without health concerns.
You can experience snorkelling at North Bay Island, Jolly Bouy Island at Port Blair, and Elephant Beach at Havelock Island.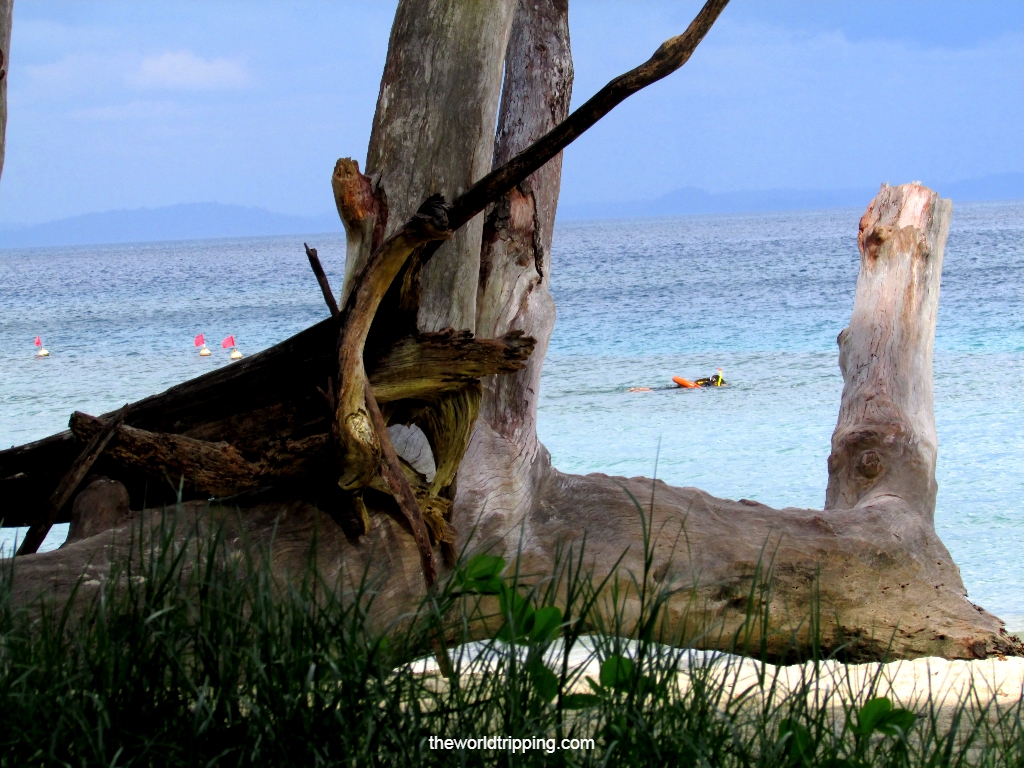 I recommend going to Elephant Beach on Havelock Island, an isolated beach that is the best on the island for snorkelers with its calm, light blue pristine shallow waters, stunning colorful coral reefs starting from the beach, only a few meters down with abundant marine life, perfect for beginner snorkelers.
Snorkeling is an activity I highly recommend.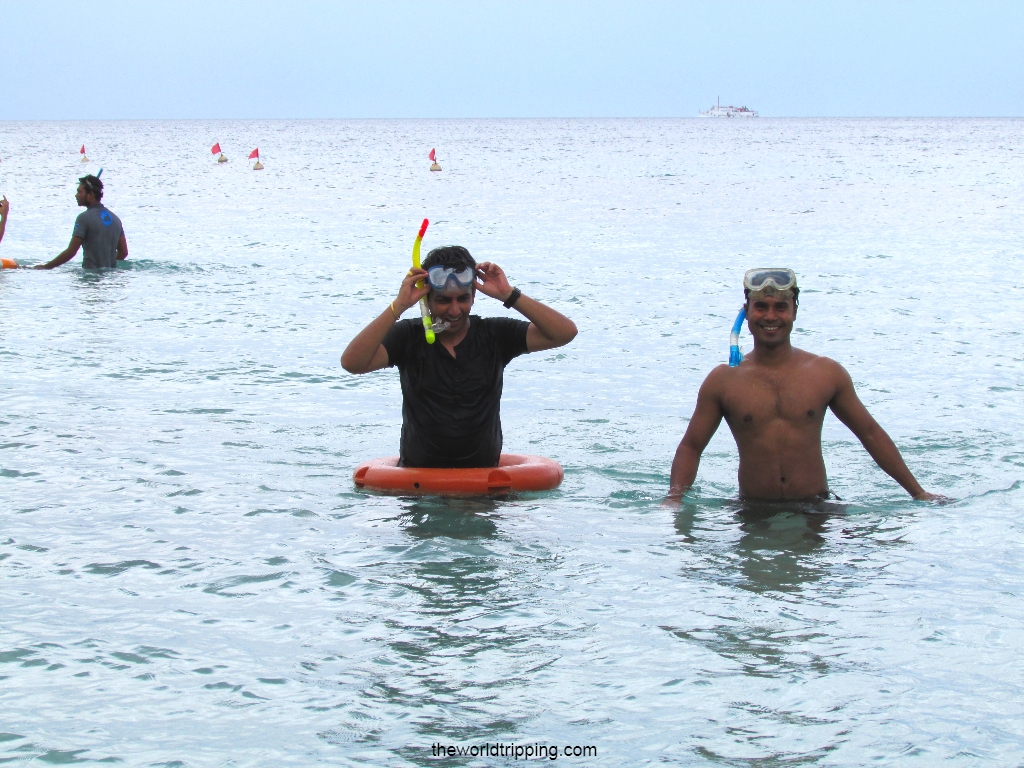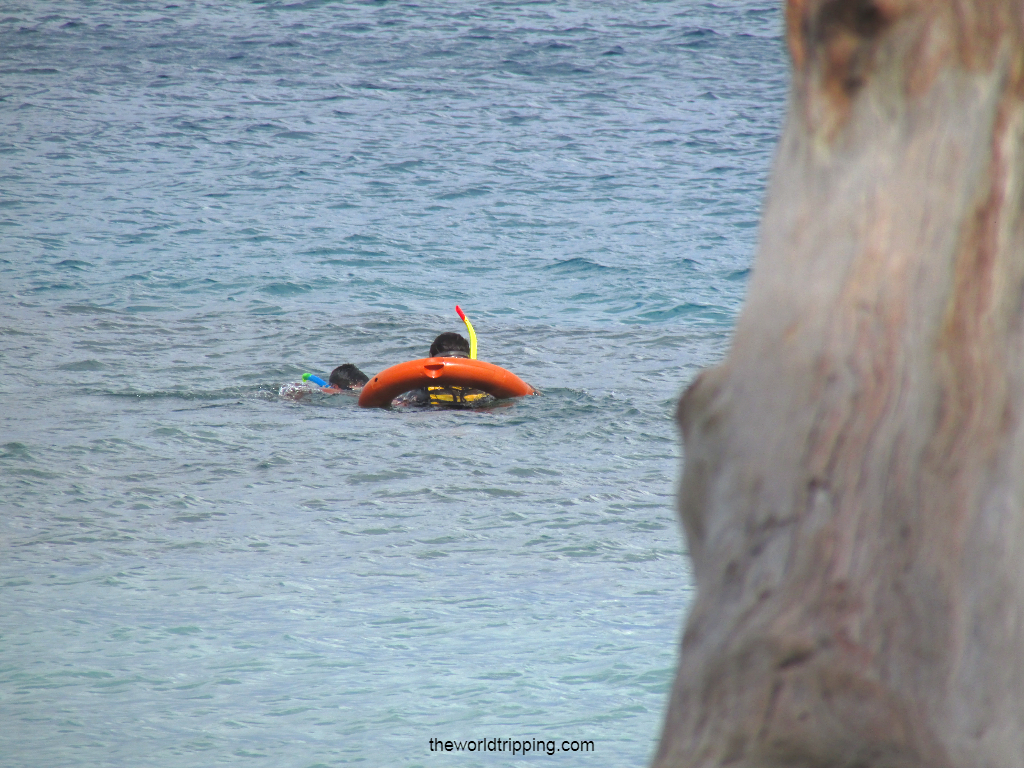 Important Info-
If you are an experienced snorkeler, just slip on your gear and start snorkelling in the shallow waters of Elephant Beach. Non-swimmers like us can experience it from the dive shop with the help of instructors; many resorts arrange snorkelling and diving trips here.
The snorkelling costs around 1000-1500 INR (up to 20 USD) per person provided with snorkeling gears, safety/floating gears, a certified instructor to accompany you, a boat ride to Elephant Beach, and 25-30 minutes of snorkelling, which I think is worth the experience and less dangerous than scuba diving. People of any age can easily enjoy it, just float on the surface and the instructor swims with you.
Please carry clothes, a towel, and comfortable waterproof footwear (as you know corals are found here in shallow water, it is better to wear waterproof sandals while swimming, otherwise sharp coral rocks can hurt you)
If you plan to stay on the beach for a long time, please carry water bottles and lunch packs.
Consumption of alcohol or any other intoxicating substance is strictly prohibited during this activity.
Still not sure about trying scuba diving or snorkelling? Another exciting option for you in Andaman is sea walking/helmet diving, which is a better-than-average water sport.
Imagine wearing an underwater helmet and walking around the sea floor surrounded by beautiful colourful fish and coral reefs. Fascinating right? Well, if the idea sounds so appealing, imagine it happening to you.
Your head and shoulders are enclosed in a helmet with a free flow of fresh air, allowing you to breathe normally underwater.
Unlike scuba diving, you descend to the bottom of the sea with a safety ladder with 7-8 other participants and an instructor guide who swims with scuba gear and oxygen backup in case of emergency.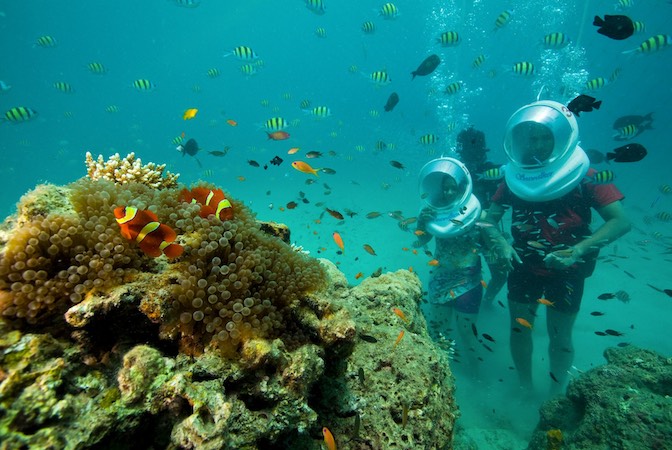 Important Info-
You can avail of this activity at North Bay Island in Port Blair and Elephant Beach in Havelock Island. I recommend scuba diving or sea walk in Port Blair and snorkeling in Havelock Island or vice versa, that way you can enjoy the underwater scenery of both places.
The age limit for this activity is 10 years to 50 years depending on health conditions.
It will cost around 3300 – 3500 INR (up to 50 USD) per person depending on where you are performing and what is included in the package.
Again, no swimming skills are required. It is much easier than scuba diving.
This activity takes about 20 minutes underwater.
I have given all the details of popular water sports to help you choose what is right for you. Click here to buy tickets online.
2. Bird Watching & Bird Photography
Did I mention that Andaman is a birder's paradise? Yes, it is! Nature lovers and photography enthusiasts come to the Andamans to find solitude in the peaceful nature and of course for bird watching, as you can find more than two hundred species of birds including some endangered and endemic species.
Get up early in the morning and walk in the forest near the beaches and watch these amazing animals flying around, have a lot of fun photographing them.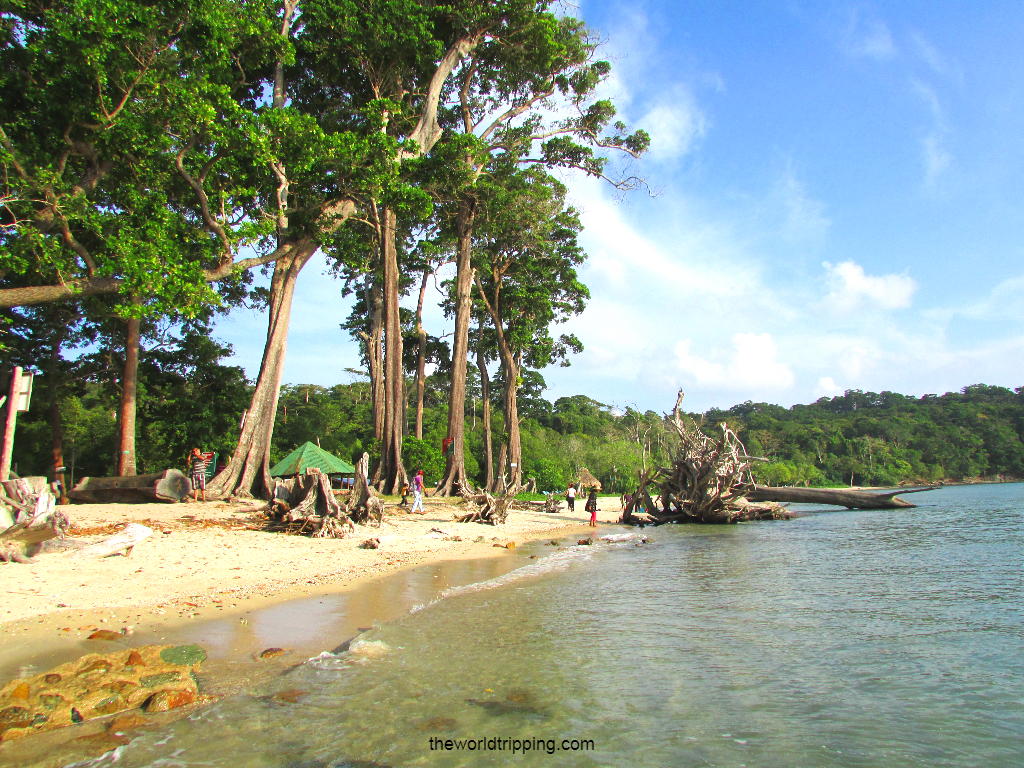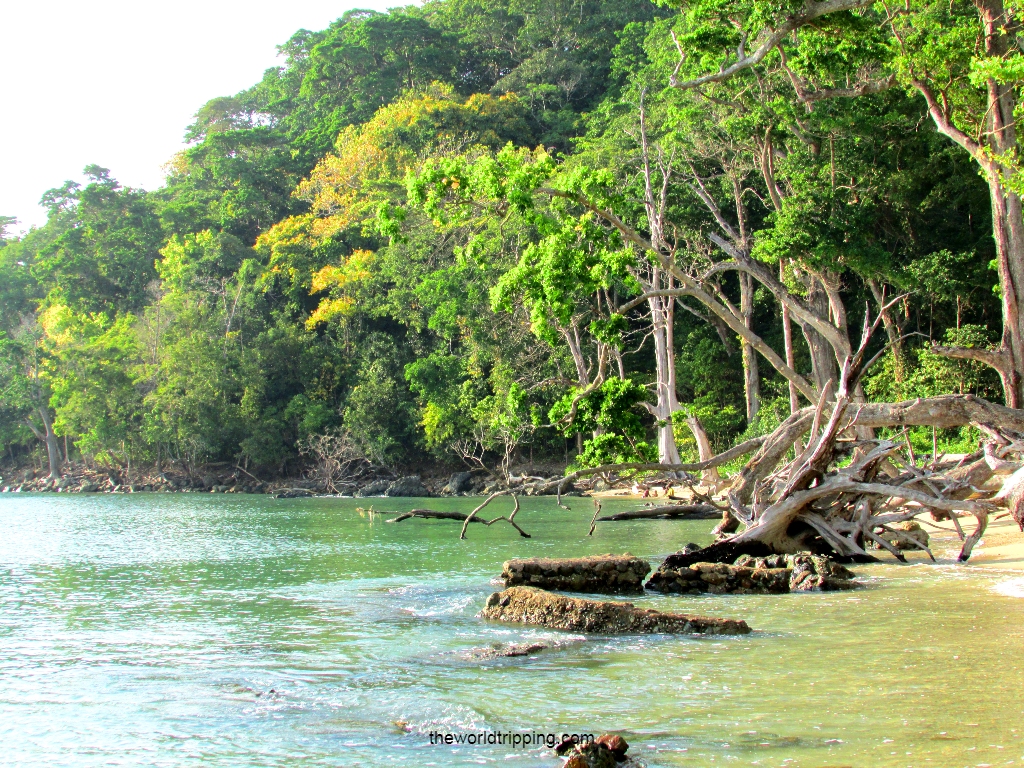 The hiking trails between Mount Harriet and Chidia Tapu (home to thousands of birds as the name suggests) in the dense evergreen rainforest offer plenty of opportunities for bird watching and bird photography.
Watching birds with the naked eye or through binoculars is a blessing to the eyes and listening to their chirping means they are performing orchestral music for you!
Who will win the eagle-eye prize for seeing some of Andaman's most magnificent inhabitants?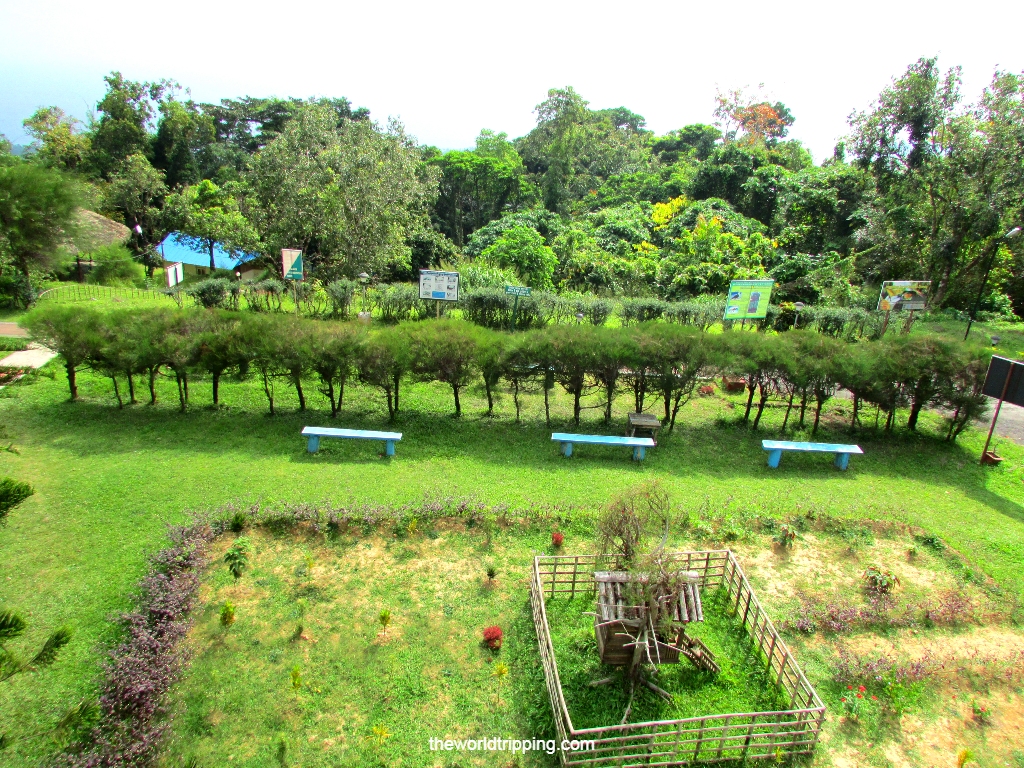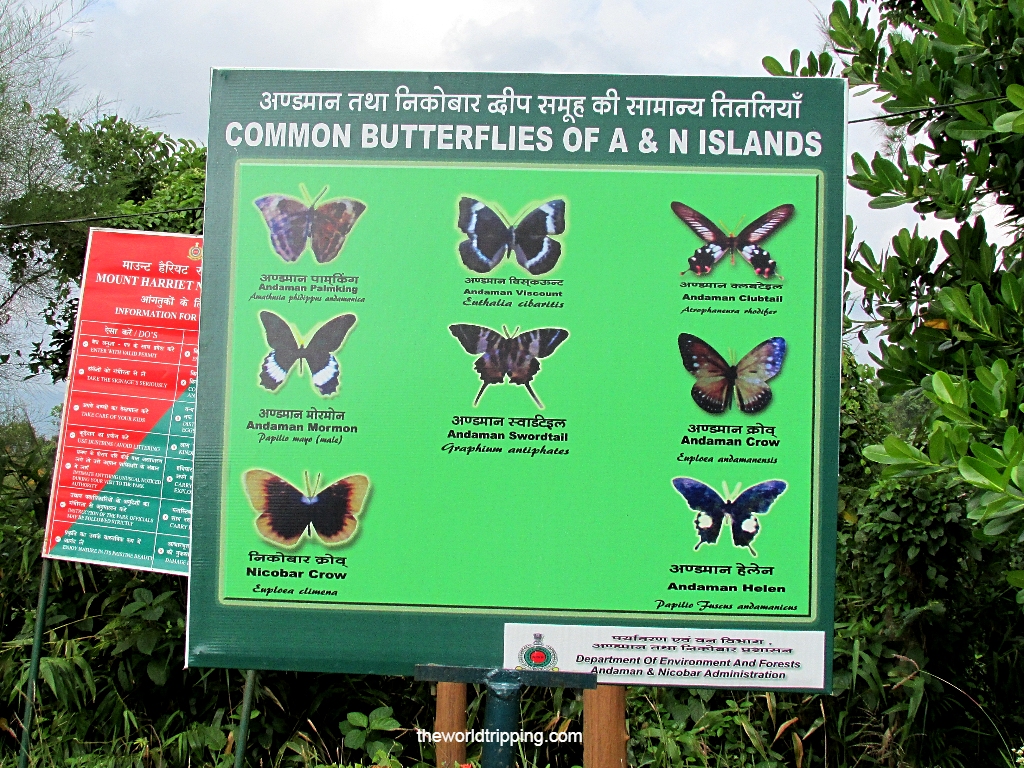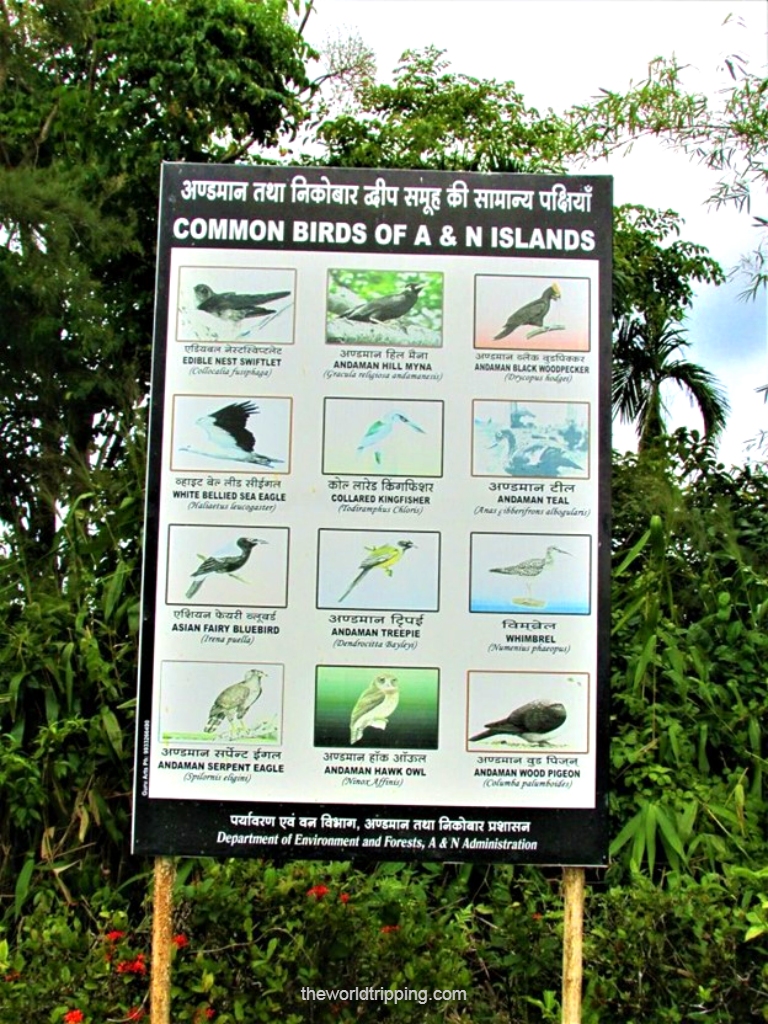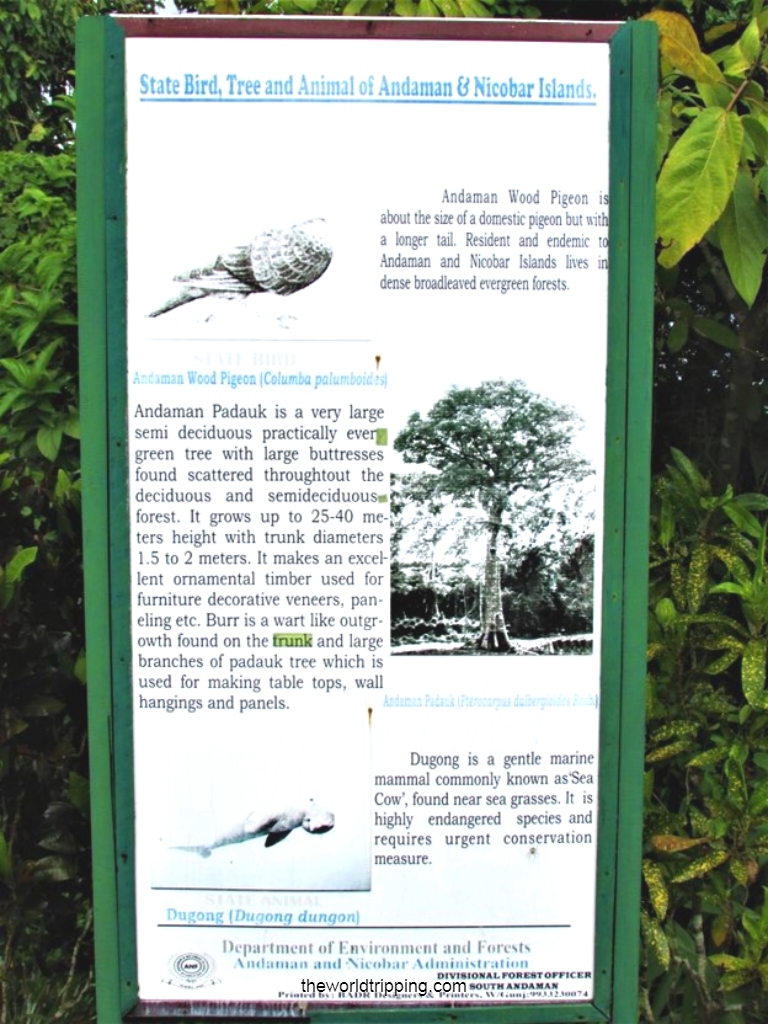 Note that –
The best time for bird watching is early morning, when they are most active and sunrise is a golden opportunity to take pictures. You can also see bird activity before sunset time.
Winter is generally the best time of the year for birding, as you will find that most migratory birds are attracted to the warm tropical climate of India.
The best places for bird-watching and bird photography are – Chidiya Tapu, Mount Harriet, Sippighat, Ferrarganj, and Wandoor.
Bird species endemic to Andaman and Nicobar Islands (i. e. they exist only in one geographical region) – Andaman Hawk-Owl, Andaman Scops Owl, Hume's Hawk-Owl, Andaman Woodpecker, Andaman Bulbul, Andaman Teal, Andaman Crake, Andaman Drongo, Andaman Serpent Eagle, Andaman Wood Pigeon, Andaman Treepie, Andaman Cuckoo-pigeon, Nicobar Pigeon, Narcondam Hornbill, Nicobar Megapode, Long Tailed Parakeet etc.
Apart from the endemic species, you can also spot other birds – eight species of kingfishers, four species of teals, parakeets, red-cheeked parakeets, swiftlets, pigeons and doves, and many more.
Let your feet move you through Andaman's hidden gems of hills, and protected wilderness areas offering hiking opportunities to quench your thirst for adventure.
Trekkers and outdoor enthusiasts can enjoy breathtaking scenery, from spectacular coastlines to wonderful hills and mangroves, cut through lush green and dense forests, blessed with abundant species of flora and fauna, and will not fail to captivate you.
Hiking trails at Chidiya Tapu, Mount Harriet National Forest, Baratang Island, and Elephant Beach at Havelock Island, Diglipur Island offer nature trails of varying difficulty and distance. Adapt yourself and choose a trail as per your ability. In the wilderness along the way, you will encounter wild animals, birds, exotic plant species, and butterflies.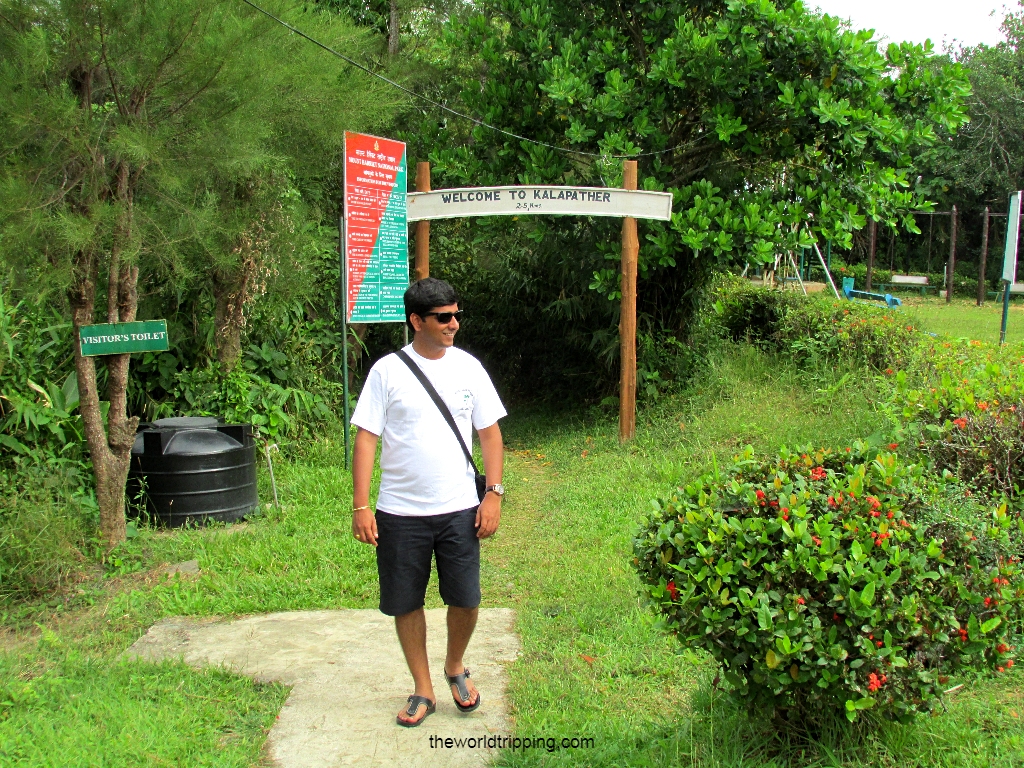 Chidia Tapu- This place is famous for sunset and bird watching. It also offers a nature trail to the southernmost point of South Andaman Island, where you reach Munda Pahad (Black Mountain), a small hill from where you can enjoy stunning views of the coastline and ocean expanse. Guided trekking tours are available here.
Mount Harriet National Forest- The Mount Harriet to Madhuban trek gives you an opportunity to observe raw nature, very beautiful, informative, and challenging. Through this trail, you will find rare species of plants, trees, wild animals, and local birds which will make it more interesting and amazing along the way.
Havelock Island (Elephant Beach)- Havelock Island is a special attraction of the Andaman Islands and a must-visit. It will not disappoint trekkers, as there are tours available, which take you through the jungle, and mangrove forest to the destination Elephant Beach, famous for its snorkeling adventure.
Baratang Island (Limestone Caves)– Baratang Island is known for its limestone caves and you can reach there by trekking through the mangrove forest, the paddy field is definitely a bit challenging but a unique experience.
Diglipur Island (Alfred Caves and Saddle Peak)- Diglipur Island is not so popular with tourists, so you will get to see vivid nature, biodiversity, and many unexpected and untouched places, it is a perfect place to explore. Trekking tours here take you to Alfred Caves which are less crowded but very charming. You will have another option, a trek to the highest point of the Andaman Islands called Saddle Peak, where you will see greenery along the way, home to various species of plants, birds, and insects. Islands and rivers from above.
All nature lovers take a look and add them to your itinerary!
Important Tips-
The best time to go trekking in the Andaman Islands is between November to April when the skies are mostly clear and the weather is less hot and humid. There is greenery everywhere and many migratory birds can be seen.
I suggest you go for a guided trekking tour or travel in groups to be on the safe side (don't try trekking in dense forests without a guide).
Trekking & fishing trips can be organised by Wild Orchid Resort, Barefoot, Emerald Gecko Resort, etc.
If you are a non-experienced trekker, I suggest starting with easy trails.
Wear loose, comfortable clothes and choose a good pair of shoes for trekking.
Carry a water bottle while trekking to avoid dehydration.
Apply sunscreen and mosquito repellent before trekking.
Carry a hat, and sunglasses to protect yourself from the sun.
Medical first aid kit is essential.
Eat snacks and energy bars when hungry.
Carry binoculars to spot animals, birds and of course camera gear for filming.
4. Exploring Islands and Beach hopping
How does it feel to wander the island with no planning, no schedule, and no hassle when your day is completely dedicated to just hopping the beaches, biking into town, discovering new places, and spending time in non-touristy spots? I think everyone should try this while you're on vacation here, and that's why I'm adding it to the 'to-do list'.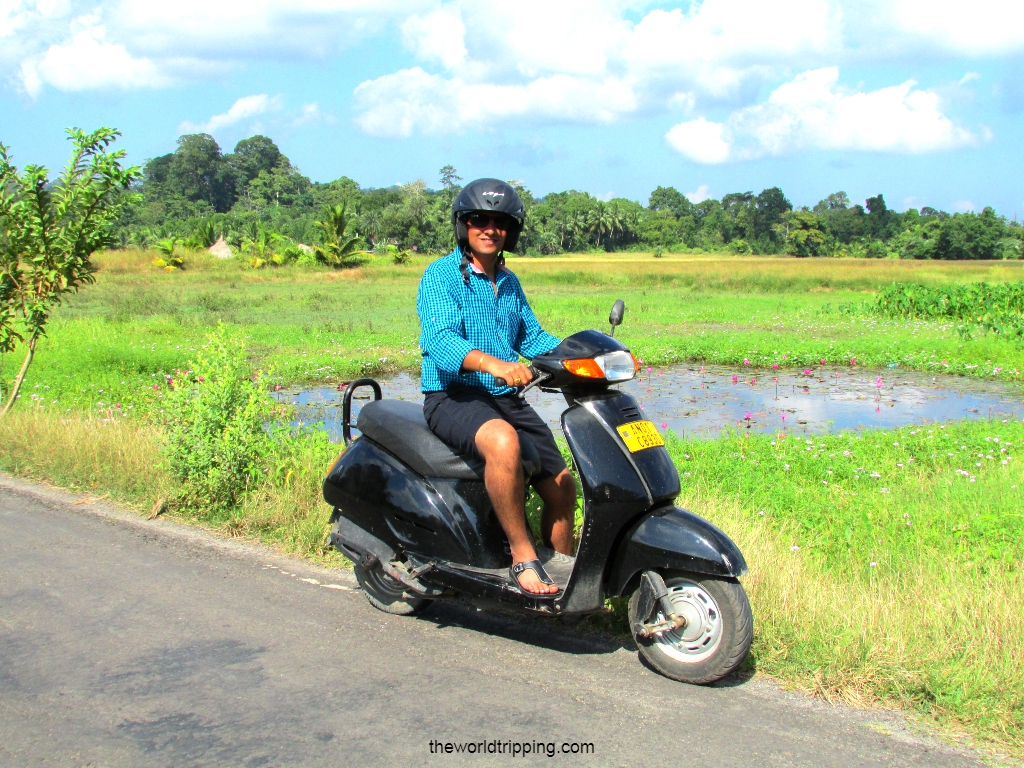 You can spend your whole day wandering around how the local people live, their lifestyle, culture, food, agriculture, fishing and most importantly just to have a good time with nature! You will fall in love with the slow and relaxed vibes of the town, which we often miss in our urban city life.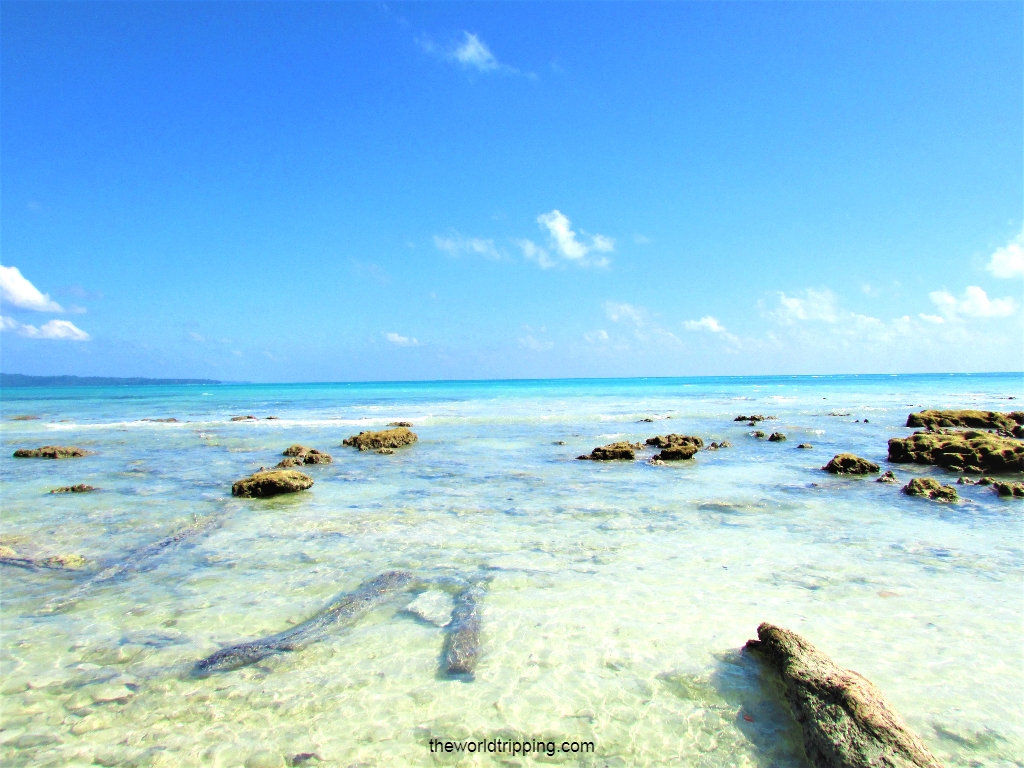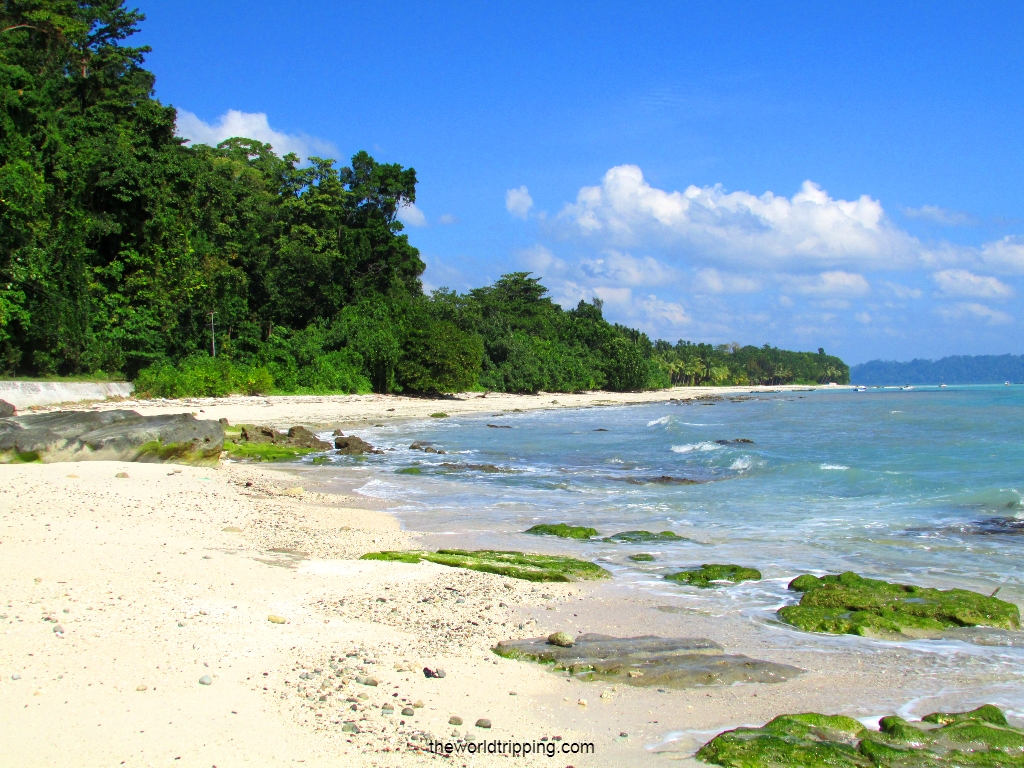 Andaman is the safest place for family, solo travel and roaming is very easy, very convenient, and cheap even if you are visiting this place for the first time.
Inter-island connectivity is easy through private/government cruise services and ferry boats. You can get taxis, prepaid cabs, autos, tuk-tuks, four-wheelers/two-wheelers, and bicycles on a rent or share basis.
Intercity sightseeing, island, and beach hopping are the best things to do for the day. From our 7-day itinerary, we reserved a separate day for this fun biking adventure to Havelock Island.
• Beach Activities (Collecting seashells/ Building sandcastles/ Beach volleyball/ Sun-bathing/ Reading books/ Relaxing on the beach)
Spending a relaxing day at the beaches is a must thing to do when you are on vacation on an island like the Andamans. Whether you are on a honeymoon or a family trip or with a group of friends, Andaman has a variety of beaches to suit your needs.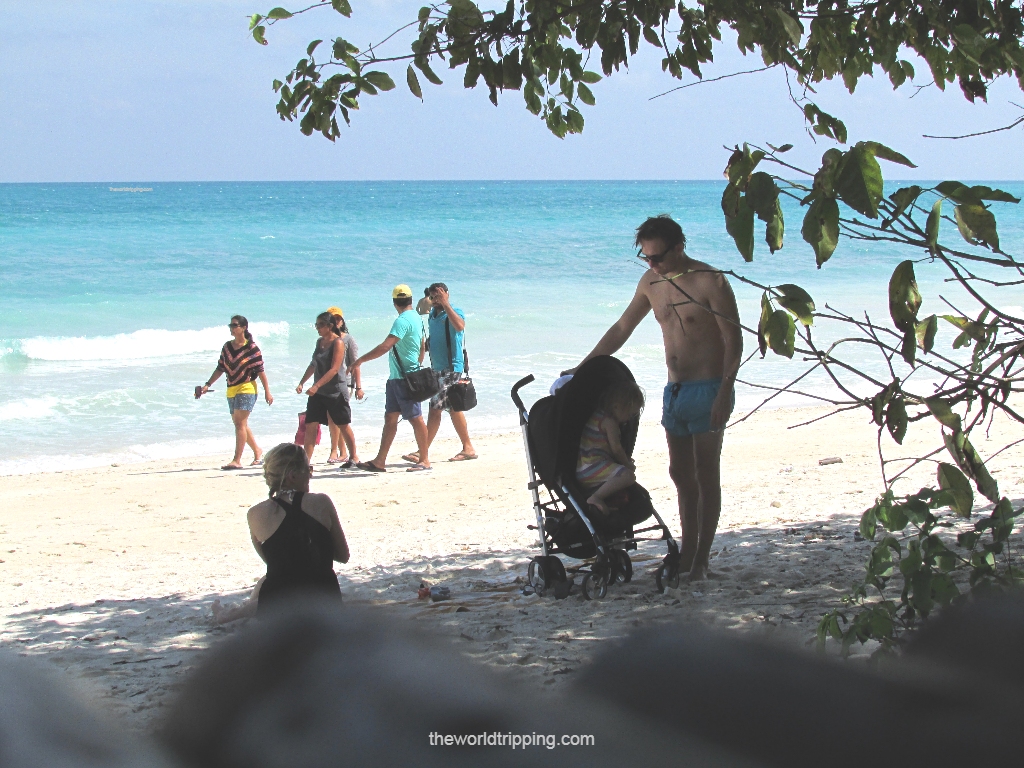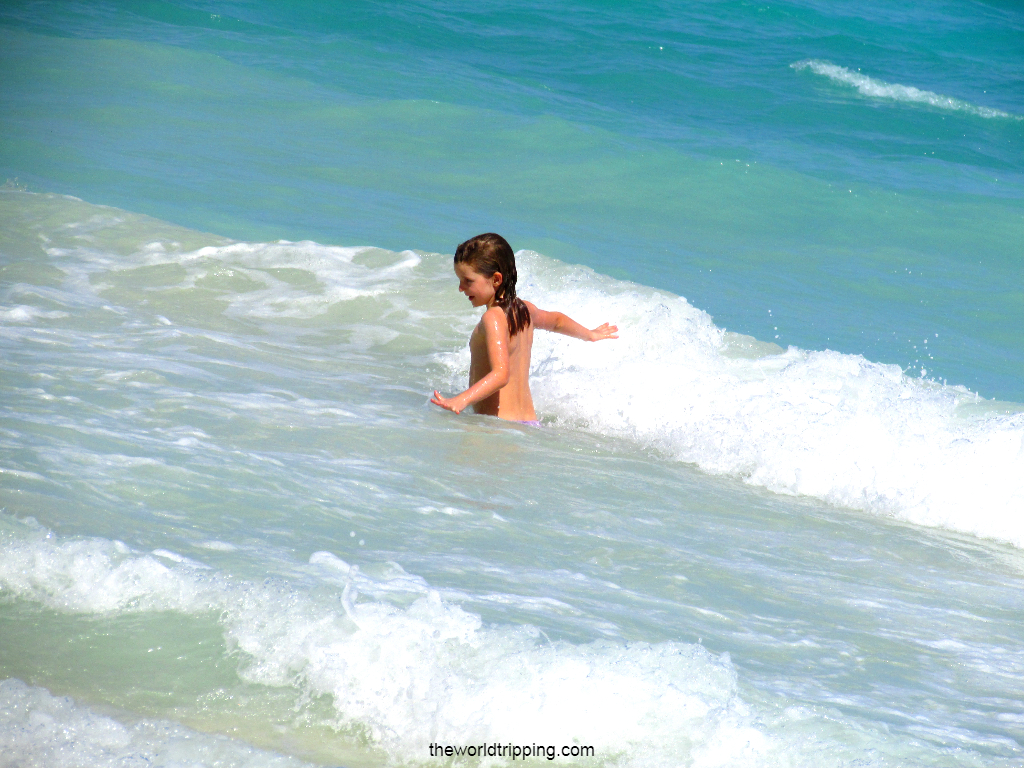 Havelock Island in Andaman has Kala Pathar Beach which is very raw, untouched, less crowded, and perfect for couples who want their privacy.
This is a one-of-a-kind private beach to spend a lazy day with your partner and if you are single, just sit in a hammock and enjoy the company of an interesting novel, looking out at the blue-green water and listening to the sound of the waves.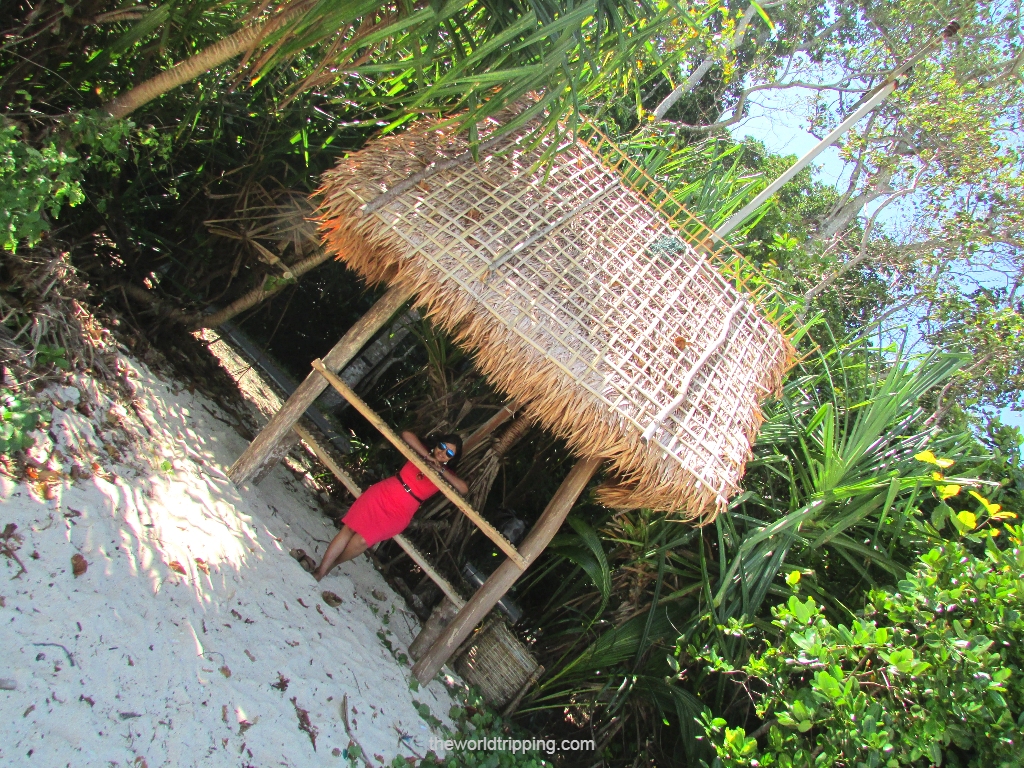 Collecting beautiful shells, and corals and making an ornament myself is a kind of unforgettable experience for me.
Yes, I'm not lying, you can easily find some beautiful shells and corals on the shores of Kala Pathar Beach in Havelock Island, it's like a virgin beach. The kid in me enjoyed this fun activity, I made a sandcastle and decorated it with seashells.
Looking at this picture you can imagine how much I love it.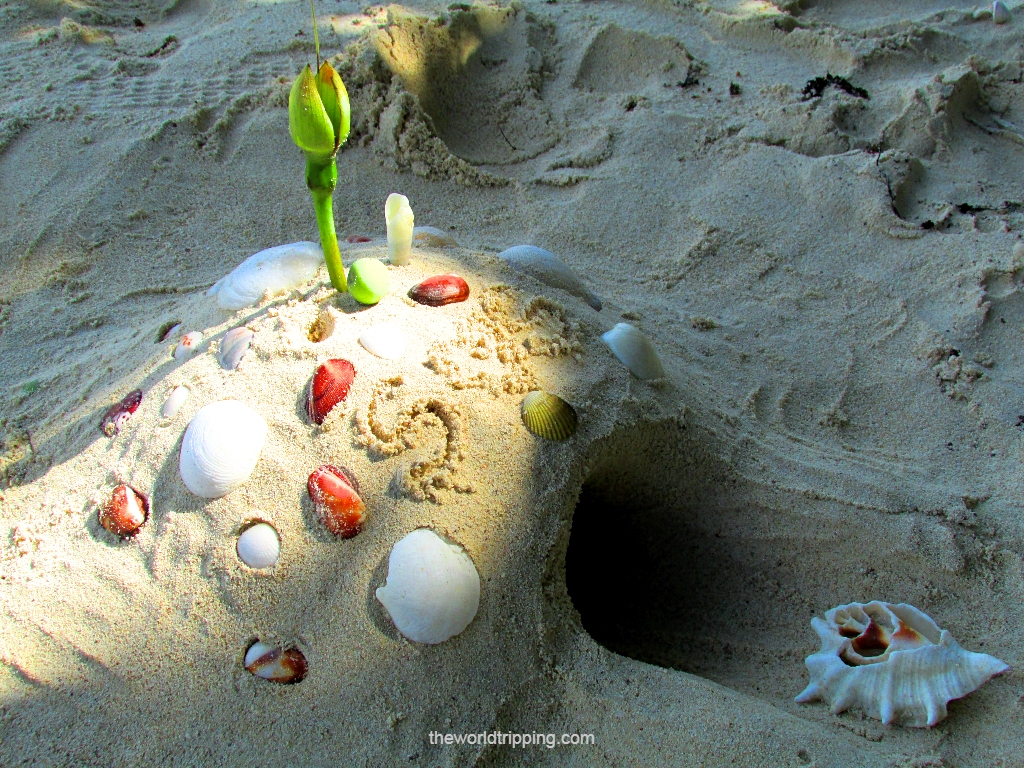 Radha Nagar Beach in Andaman offers a gorgeous sunset and a pleasant evening to enjoy swimming with strong waves. This beach is perfect for family and friends to play beach volleyball, sand ball, build sandcastles, and more.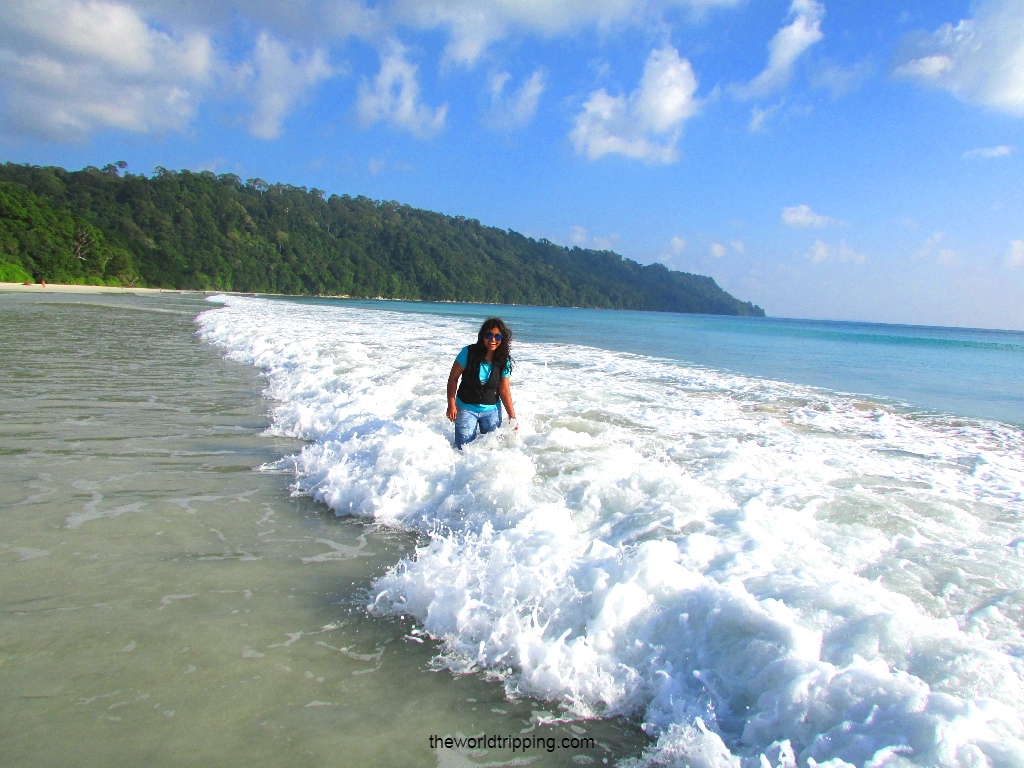 Buy souvenirs for home and make them a part of your life. To bring back the memories of the Andaman trip, we bought a large conch as a souvenir from the street market near Radha Nagar Beach on Havelock Island.
You'll find souvenir shops, and stalls near popular tourist beaches, where things can be slightly more expensive. If you want to shop in bulk for friends to gift souvenirs, we recommend you visit the 'Andaman & Nicobar Emporium – Sagarika' at the Port. Blair, a government-subsidized store where you can get it at a reasonable price.
How about gifting your loved one's necklaces, earrings, seashells and pearl bracelets? You can find everything from handbags to sarongs decorated with seashells.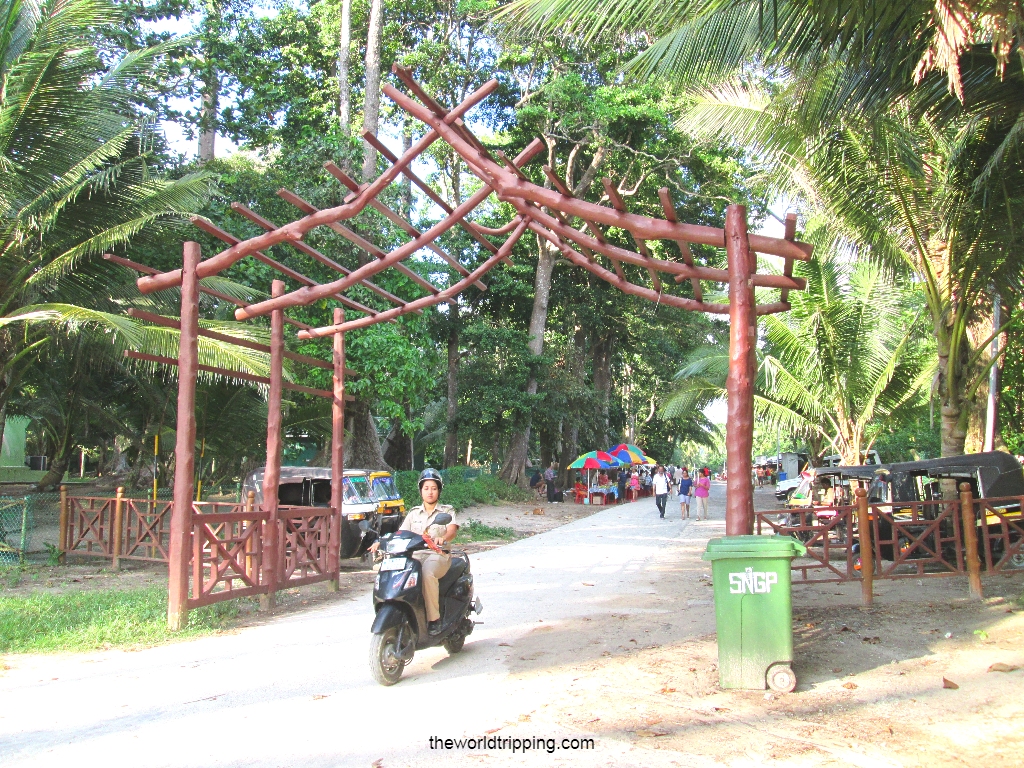 Andaman has plenty of freshly grown spices, including betel nut, which you can buy. Aberdeen Bazaar is a famous market in the heart of Port Blair city, where you can not only find groceries, vegetables, fruits, spices, ornaments, clothes, and souvenirs but also a hub of various shops like ATMs, telephone, internet cafes, restaurants, lodging, travel booking companies, etc.
If you appreciate local handicrafts, art, and antiques and love unique and innovative things, you will love to shop here. Andaman is known for its simplicity and artistic natural beauty, you will find carved wooden art, ethnic lamps, and decorative pieces made of coconut and bamboo, a perfect blend of its culture and arts, the best souvenir to decorate your home!
Important Tip- If you are thinking of buying clothes and gadgets here, let me tell you, it is not locally made, they are imported from the nearby mainland and you may find them expensive here.
These are our top 5 favourite things to do in Andaman, what are yours? Share with us in the comments down below.