Road trips may become frustrating if you are stuck in a waiting queue at toll plazas on National Highways. In India there was a manual collection of tolls, resulting in traffic jams, unnecessary wastage of fuel and time.
At the end of the year 2020, a brilliant initiative was taken by the Government of implementing FASTag at each toll plazas on National Highways which improves the speed and efficiency of toll collection and make your journey uninterrupted.
In this post, you will find answers of- what is FASTag, how it works, the benefits of using FASTag, a list of FASTag service providers and which is the best FASTag to buy in India, where to buy them offline & online, etc. We will be sharing ICICI FASTag Reviews from purchase to billing after using it for our vehicle. This post will be helpful to those, who are unaware and looking for a FASTag installation guide.
FASTag is an electronic toll payment device that uses Radio Frequency Identification (RFID) for payments directly from the customer's linked wallet, prepaid through savings/current account.
It's a prepaid device, easy to install, monitor, and use, attached to the windscreen of the vehicle. So that whenever your vehicle approaches any toll plaza, it will automatically scan the FASTag and deduct the respective amount from the linked wallet.
No need to stop your vehicle for cash transactions, it provides cashless & contactless payment at all toll plazas on National Highways. Just recharge your wallet to use more tolls.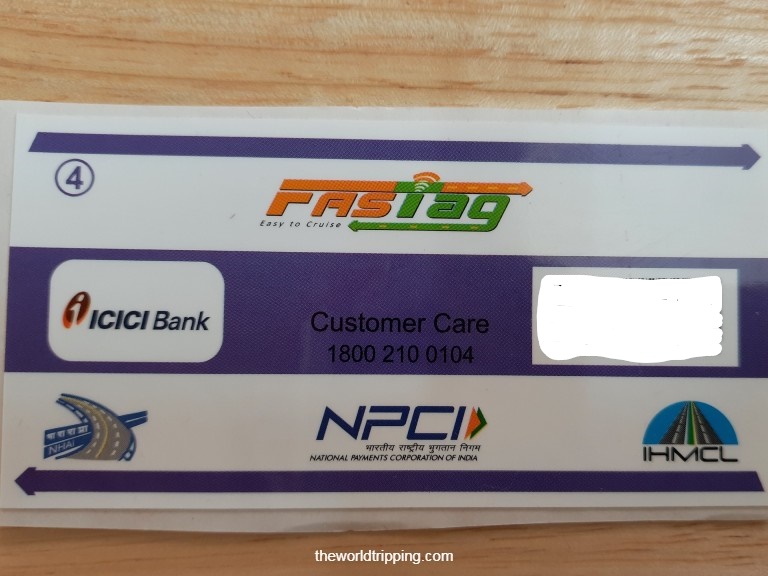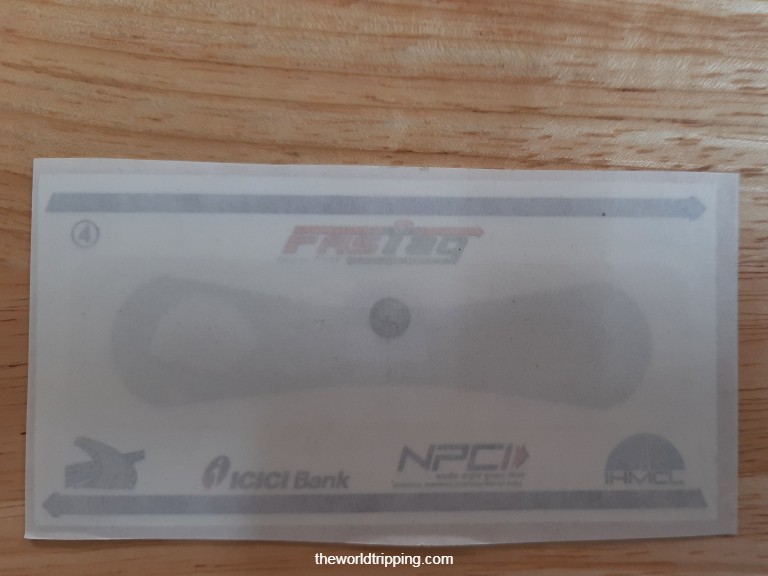 Is FASTag compulsory? Can I travel without a FASTag? What happens if you don't have FASTag?
All four-wheelers, commercial & non-commercial vehicles, trucks & buses must have a FASTag. It was made compulsory in India and strictly followed from 15th Feb 2021.
Can you travel without a FASTag? The answer is YES, but you might need to wait in line, as there are very few lanes on the national highways accepting the cash. Furthermore, you will have to pay double toll. The Union Transport Ministry said that every vehicle owner must implement this e-payment facility. There are several benefits of using FASTag, read on next to know more.
Benefits of using a FASTag:
No more waiting in the queue & no more traffic jams at a toll: Fastag will remove traffic congestion at the toll plazas.
No need to carry cash while traveling: No manual toll collection, no cash handling. Just recharge your FASTag account and you are good to go.
Increases flexibility/Easy to recharge: It gives you flexibility for doing payments, as you can easily recharge FASTag online through net banking, UPI, NEFT/RTGS, Credit card/Debit card, etc.
Save time & fuel: If the vehicle does not need to stop at the toll, you will be saving more time. It will reduce transportation & commute time. Less driving time means lesser use of fuel. A win-win for the customers.
SMS service & user-friendly monitoring for customers: There is an SMS alert for toll transactions & other intimations, so it provides clarity. In addition to this, you can handle multiple FASTags for all your vehicles from one account. Customers can view statements by logging in to the FASTag account.
Reduces Fraud toll collections & improves system transparency: This Government's initiative of implementing FASTag is not only beneficial to the customers but also the Government, as it reduces fraud toll collections and increases transparency & efficiency of the system.
List of FASTag service providers: Which is the best FASTag in India?
I am giving you the list of providers along with site links to check out the details. Do your homework first, read the details and then decide.
As you can see reputed & well-known national & private banks are providing FASTags, Airtel & Paytm-like platforms are also there, so you will have many options to choose from.
You should select the FASTag provider based on three factors:
It should be easy to buy & recharge: I recommend purchasing from those banks where you already have a savings account. It will be easy for you to buy & do cash transfers.
Check for customer care support: It must be a good & quick service. Because in case in the future, you may face problems like wrongful deduction of toll amount, unable to recharge/cash transfer, invalid card, or anything, your problems must be resolved quickly.
User-friendly interface/Easy to understand process & monitoring: If you look at their websites, observe its simple or complicated, user-friendly interface for customers or not. We prefer those banks whose instructions, information, Do's & Don'ts are mentioned and easy to understand for the normal public. The website should not be complicated so that any average educated man could easily monitor the account.
In my case, I felt ICICI Bank is the best provider for me because I have a saving account there, I like their website which is user-friendly, easy to understand for me and I can easily transfer cash from my savings to FASTag wallet. Most importantly I trust the bank and its customer care support.
So, which FASTag is best then? Sorry for my diplomatic answer. I've given three major criteria to look for in your best-suited option & I tried to minimize your confusion. ICICI bank may be the best for me but for someone else it may different.
In the next section, I'm writing ICICI FASTag reviews and our personal experience after using it on highways for your reference. Read further.
What documents are required to apply for a FASTag?
If you're planning to get a FASTag from your bank or Paytm where you already have a saving account/wallet, in that case, they already have your KYC documents. You don't need to submit anything to apply.
In the second case, if you don't have any previous association with the bank, then they may ask to provide KYC documents (Driving Licenses/ Voter ID/ PAN card/ Passport).
The other document you may need is Vehicle Registration Certificate (RC book)
How to get FASTag offline & online?
After compulsion of electronic payments at all toll plazas on national highways in India, it is mandatory to get a FASTag if you travel by your private vehicle.
You can apply online from individual sites of FASTag providers, fill up the information they asked, provide KYC documents if needed and the FASTag will be delivered to your doorstep within a week.
For offline distribution, there are places from where you can buy a Fastag for your car, the Indian Highways Management Company Ltd. and various banks established more than 28,500 point-of-sale locations.
Visit any Point of Sale (POS) counters at various toll booths, petrol pumps & RTO offices. Register offline and get your FASTag right there without waiting.
ICICI FASTag Reviews: User experience from purchase to billing
# Buying Experience: (10/10)
How to buy ICICI Fastag online? How to get Fastag ICICI?
Buying a FASTag from ICICI bank is a super easy and very quick process if you have existing savings account in it. The process is quite simple, you can purchase it online from internet banking, just like we did.
For Existing ICICI Saving/Current account holder, steps are as follows:
Go to ICICI Personal login page & fill the Customer ID & Password.
Under "Payments & Transfer" section, you will find "Buy/Recharge FASTag" option. Select that one.
You will have two options (Purchase & Recharge). Select "Purchase".
Fill in the details that are asked like Vehicle Registration Number, Vehicle Make & Model. (This information is important, as you know FASTags are color-coded and the charges are different for a different type of vehicles like Private car/Commercial vehicle/Bus/Truck, etc.)
 You need to confirm the dispatch address, Name, Mobile Number & Email ID.
After filling up the details, here they will not ask you to upload identity proof (Driving Licenses, Voter ID, PAN card, Passport), as they already have done KYC.
Pay the charges & it is done. You will receive a FASTag within 7 working days at your doorstep.
For New customer, the steps are as follows:
Go to ICICI FASTag's home page
Select "New Customer-Apply Now".
Fill in all the personal details, like name, mobile number, email ID, Address, DOB, and upload ID proof (Driving Licenses, Voter ID, PAN card, Passport)
In the next section, you need to fill in vehicle details & dispatch address and that's it.
What are the charges to get ICICI FASTag?
There is a minimal fee of Rs. 499 that you need to pay to get a FASTag for your car, jeep, or van. The charges may vary according to the type of vehicle & you will get a color-coded tag as per its type. A detailed break-up of charges is given as follows.
| Sr No. | Particulars | Amount in Rs. |
| --- | --- | --- |
| 1 | FASTag Joining Fee | 99/- (Inclusive of GST) |
| 2 | Refundable One-time Security Deposit | 200/- |
| 3 | Minimum Recharge | 200/- |
| | Total one-time charges in Rs. | 499/- |
Remember, for online FASTag recharges, a small convenience fee will also be applicable.
# Explanation of Installation process, Do's & Don'ts : (10/10)
Here I am talking about how clearly explain the installation process, Do's & Don'ts to the customers with the help of pictures, for which they deserve full marks from our side.
FASTag Installation Guide: How to use ICICI FASTag?
You will receive a FASTag by courier at your given address along with the Installation guide, Do's & Don'ts, see the photos.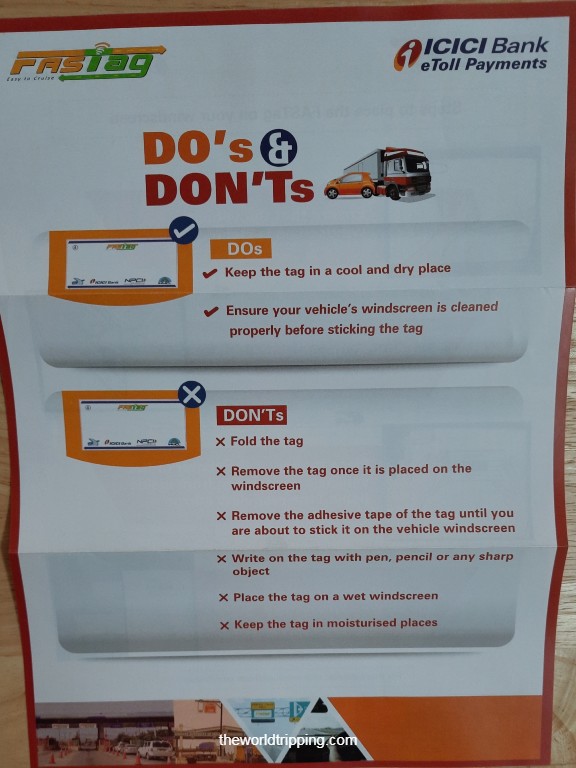 Do's of FASTag:
Keep the Tag in cool & dry places.
Ensure your vehicle's windscreen is cleaned properly before sticking the tag.
Don'ts of FASTag:
Don't fold the tag.
Go not write on the tag with a sharp object, pen, or pencil.
Do not place the tag on dirty & wet windscreen.
Do not keep it on damp surfaces.
Do not remove the adhesive tape of the tag until you are ready to stick on the windscreen.
Do not remove the tag once it is placed on the windscreen.
Installation Steps:
Step-1: Please make sure the windscreen from the inside of the car is clean and dry before placing the FASTag.
Step-2: Remove the adhesive tape from the tag.
Step-3: Please be careful while placing the tag at the center of the windscreen from inside, behind the rear-view mirror. (Note that: You cannot undo this /remove this once it is placed)
Step-4: As shown in the picture, please ensure that the Barcode and the Name must be on the interior side and the other plane surface of a FASTag must be detectable from the exterior side.
And you are ready to use ICICI FASTag.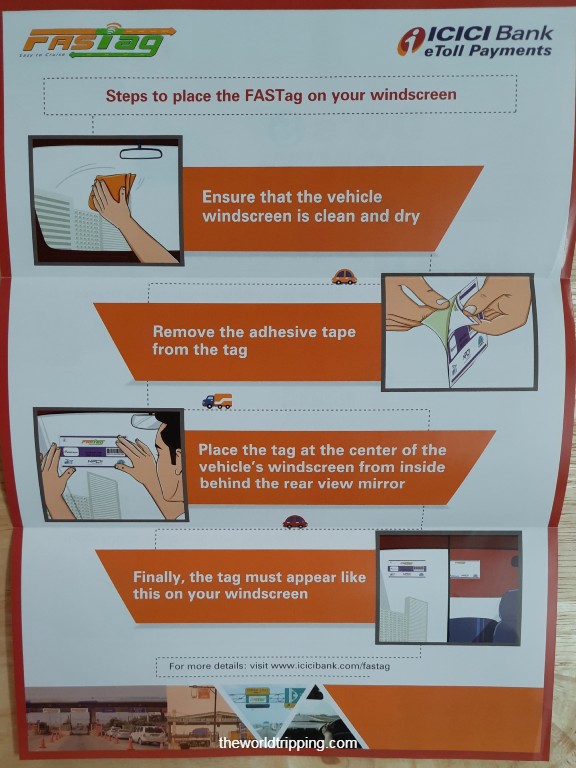 # Recharge experience: (10/10)
We found, the process of a recharge seamless, as we did it from our linked ICICI bank account.
If you have attached your two vehicles to a single account, in that case you can transfer money from one car to another in a single click.
There are many options you can use to recharge the wallet (Details are given below), so we are giving out marks for this experience.
How to recharge my FASTag online?
India encourages online transactions, which are virtual, simple, fast & flexible, and easy to monitor. FASTag offers that flexibility where you can easily recharge your FASTag through Internet banking, UPI, NEFT/RTGS, Debit Card/Credit Card facilities. Recharge with minimum Rs. 100 to Maximum Rs. 1,00,000.
Simply visit the online portal of ICICI Bank's FASTag facility and enter your login credentials. Under 'Recharge' section, enter the amount for which you'd like to recharge. Pay the amount using any of the options mentioned above.
If your FASTag account is linked to your wallet or your bank account, the toll charges will be automatically deducted from the account. In this way, you don't need to recharge every time.
It can also be recharged through other banks and the PAYTM wallet.
# User-friendly website for monitoring & easy to understand installation guide: (10/10)
If you go to ICICI bank's website, you will find all information given in simple language, easy to understand for a common man. User-friendly interface to monitor the account.
When we received a FASTag, it comes with an installation guide, Do's & Don'ts, Recharge guide, which was well explained along with pictures. Due to their transparency & clarity, we are giving them full marks. Nothing to complain about.
# Experience at Toll Plaza: (9/10)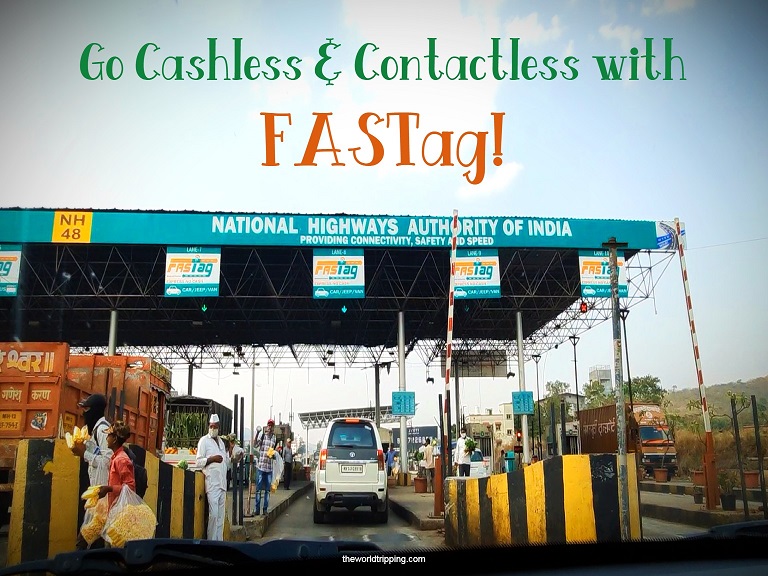 I know, some of you had bad experiences at Toll plazas, like FASTag not getting scanned automatically, showing invalid FASTag, double deduction of toll charges, etc. There were speculations about scams and cheating at some toll plazas by toll collection companies.
After installing FASTag, our first road trip was to Malvan & Goa in Mar-2021, We were cautious then & made a video recording while passing through the Toll plaza to have proof if any incidence happens. We have crossed approx. 10 tolls during the trip, but thankfully not even one single instance we had trouble passing through tolls.
You will receive a Message Alert on your linked mobile number whenever you cross any toll plaza with a FASTag and toll charges have been deducted. The Message includes the amount deducted, Location of a Toll, Vehicle Number, Date, and Time of Journey for your reference.
We tested this facility during our road trip. It's a very good automated system, where you will have all information on your mobile to access.
The only drawback we found that it is not quick, takes up to 30 Minutes to 1 Hour to receive the message.
Secondly, if you don't get network coverage on highways, the SMS can be delayed, so this is not reliable and that's why we deduct 3 points out of 10.
# Billing/Deduction of Payment: (9/10)
We have heard our friends complaining about the amount deducted twice, wrong billing, etc. But we have been lucky and did not feel the same. Amount deducted at each toll was exactly to the toll amount mentioned on the board near respective plazas at highways.
FASTag is a good initiative taken by the Ministry of Road Transport & Highways, operated by the National Highway Authority of India (NHAI), not only beneficial for the public but also to the Government, as it reduces frauds in Toll collections.
FASTag has unlimited validity & up to 7.5% cashback offers provided to boost its implementation.
On highways, you will see dedicated lanes for FASTag users at Toll plazas and those who don't have it will pay the double charge.
What are you waiting for? C'mon, let's do the FASTag if you haven't. We have got special offers for you in the next paragraphs.
Be Smart! Go Cashless & Contactless with FASTag!