Our quarantine stays at Aloft New Delhi Aerocity by Marriott, turned out to be surprisingly pleasant, felt like home with comfort food and a peaceful, fresh environment. Here is our quarantine story of 7 days for you to lessen your worries about the hotel quarantine for international travelers. 
We will be sharing our experience at Aloft New Delhi Aerocity reviews of hotel room, amenities, food quality, veg & non-veg meal preferences, check-in and check-out procedures, hospitality services & safety, Room cost per day, etc. It will help you to choose the right hotel for your stay, an idea about the packages (what included & excluded in the room cost), which rules you need to follow, etc. We covered everything here.
It all started when the outbreak of Covid-19 compelled the entire world into complete or partial lockdown, halted travel, restricted boundaries. India started the world's largest repatriation mission called "VBM – Vande Bharat Mission" for all Indian nationals who are stranded and require to go back.
Check out all details of 'Vande Bharat Mission – VBM' is given in separate post sharing our personal experience, right from booking flights to hotel quarantine.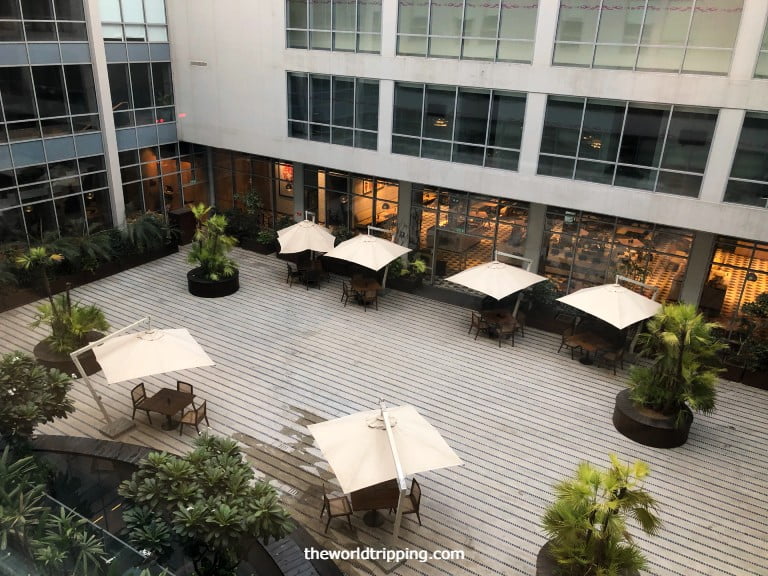 All travelers who came by VBM should submit a self-declaration form on the online portal at least 72 hours before travel. An undertaking must be submitted on the portal that the passenger will undergo mandatory quarantine. i.e. 7 days Paid Institutional Quarantine (Hotel Quarantine) followed by 7 days isolation at home.
However, you and your family may be permitted for 14 days home quarantine, only if you have any of the following conditions/compelling reasons:
  i) Cases of human distress
  ii) Pregnancy
  iii) Death in the family
  iv) Serious illness
  v) Parents with children of age 10 years or below
If you are eligible for any of the above conditions, you should apply to the online portal at least 72 hours before boarding. The decision taken by the government will be communicated on the online portal.                                                                                                           OR
However, if passengers seek exemption from institutional quarantine on arrival, the RT-PCR test should be conducted within 96 hours before the journey & the result should be uploaded on the portal for consideration. Each passenger needs to submit a self-declaration regarding the authenticity of the report and will be liable to criminal prosecution if it is found to be false. The same test report needs to be produced upon arrival at the port of entry in India.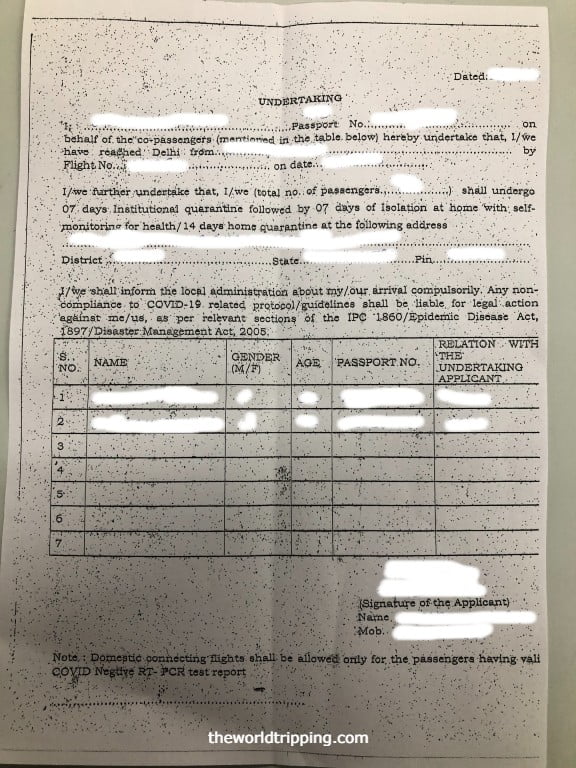 How to Choose The Best Hotel for Institutional Quarantine? Can I Book My Stay In Advance?
The answer is YES. You have two options, either you go for 7 days institutional quarantine at a hotel or you can book for a day or two, take a rest, get over jetlag, get the test done in a hotel and if the result comes out negative then you can free to leave for your home and complete further quarantine up to 14 days at home.
We weighed the risk of going home where our parents had underlying conditions, decided it was not worth the risk, and opted for 7 days hotel quarantine. We booked our hotel one and half months before our travel date, to avoid confusion & unwanted stress at the airport after a long and tiring journey. 
When it comes to choosing the hotel, you will be given a list of all category hotels (2-star, 3-star, 4-star & 5-star) which are designated for quarantine, where the price packages have been fixed by the government. We preferred Aloft, Aero city, New Delhi because it was from a reputed Marriott chain hotel and just 10 minutes away from the airport.
Those who did not pre-book a hotel, do not worry, on arrival at the port of entry in India, you can select a hotel at the airport, but it will be a first come first serve and the hotel will be allotted as per the room availability.
We suggest that- If you are confirmed & don't have any confusion, then book your choice of hotel in advance to avoid chaos at the airport.
Our Quarantine Story (25th Oct 2020 - 1st Nov 2020) & Aloft New Delhi Aerocity Reviews: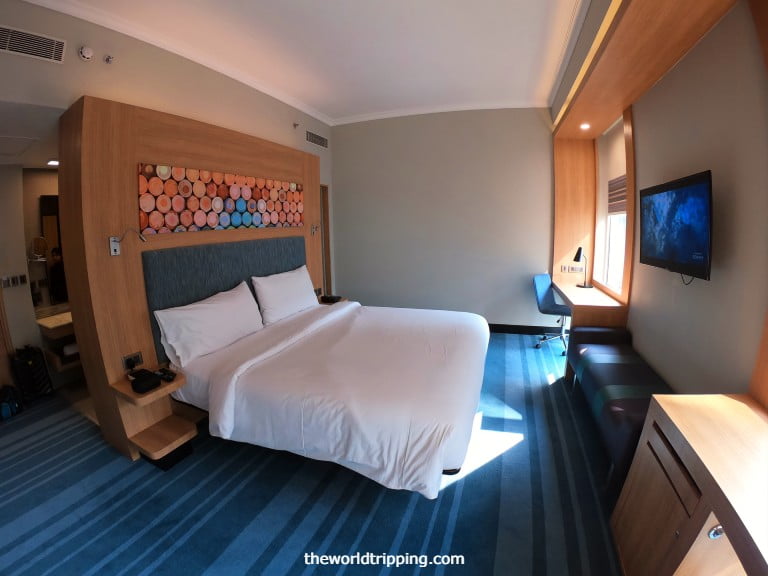 Quarantine Stays for 7 Days Package Cost
Quarantine stay at Aloft has been extremely cost-effective
Room Type: King size bedroom for two 
Room rate: 4000 INR per night + Taxes. (The room rate will be subject to change anytime as per Government)
The Package includes:
  – 3-time meals (Breakfast, Lunch & Dinner)
  – Drinking water bottles as required.
  – Tea & coffee making supplies as required.
  – Fast & free Wi-Fi service
  – TV with all the entertainment channels
  – 24 Hours Room service
  – Toilet & Shower supplies (Towels, Soaps, Shampoo, Body lotion, Facial tissues, Paper napkins, Toiletry kit, Toilet paper, Bathmats, etc.)
Location of Hotel - (5/5)
Proximity to Domestic & International Airports was being one of the reasons for choosing this hotel for quarantine.
This hotel is strategically located in the prime spot, not only closer to the airport, but also with proximity to DLF downtown at Gurugram, DLF cybercity, and major attractions of south and central New Delhi. Certainly, a good option for travelers to stopover and of course a great venue for a business meeting, parties, or weddings.
The distances of famous attractions from this hotel are:
  – Qutub Minar – 6.8 Km
  – National Rail Museum – 6.6 Km
  – The Garden of Five Senses- 8.4 Km
  – Safdarjung Tomb- 9.4 Km
  – Indira Gandhi Memorial Museum- 9.6 Km
  – Lodhi Garden – 10 Km
  – India Gate- 12 Km
  – Humayun's Tomb – 13 Km
  – Purana Qila – 13 Km
  – National Zoological Park- 13 Km
  – Agrasen ki Baoli – 13 Km
Check-in & Check-out Procedures - (5/5)
There was a city bus arranged at the airport to drop off passengers at their respective hotels. Sorry to say that, but the bus provided was in awfully bad shape. There was no person to help you with lifting your bag onto the bus. We were accompanied by some 3-4 airport people including the driver & the airport police, just to make sure that we reach the hotel and not running away. As there were instances happened where people tried to escape from hotel quarantine.
I guess, for the same reason, our passport was seized at the airport when we decided for hotel quarantine and later handed over to the hotel staff, which will remain under the hotel's custody until we successfully complete 7 days mandatory quarantine.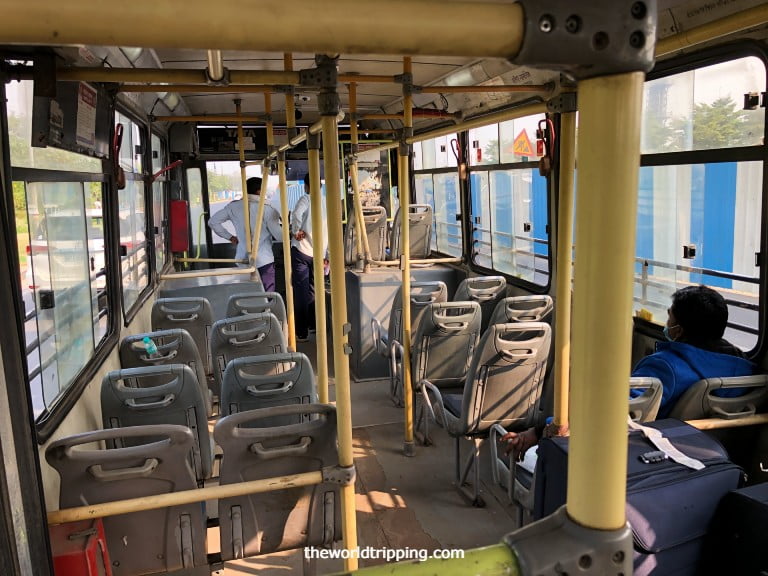 After reaching our hotel, which was in proximity of around 10 min drive from the airport, our luggage gets sanitized at the hotel entrance. The hotel staff came and let us in from the back entrance, where they have set up a temporary desk, waiting lounge & dedicated lifts for the guest who came for quarantine. Which was good for the safety of all the other guests and hotel staff.
There was no temperature screening while check-in. We have been told all the rules we needed to follow for further 7 days. We were given an undertaking form to sign on, stating that we are agreed to the terms & conditions & will follow all the rules. And that is all. A quick check-in later, although it was around 4 PM, hotel staff delivered fresh hot food & water bottles to our room, just as we needed that time. After a tiresome journey, we were exhausted, starving & simply attacked on food like kids.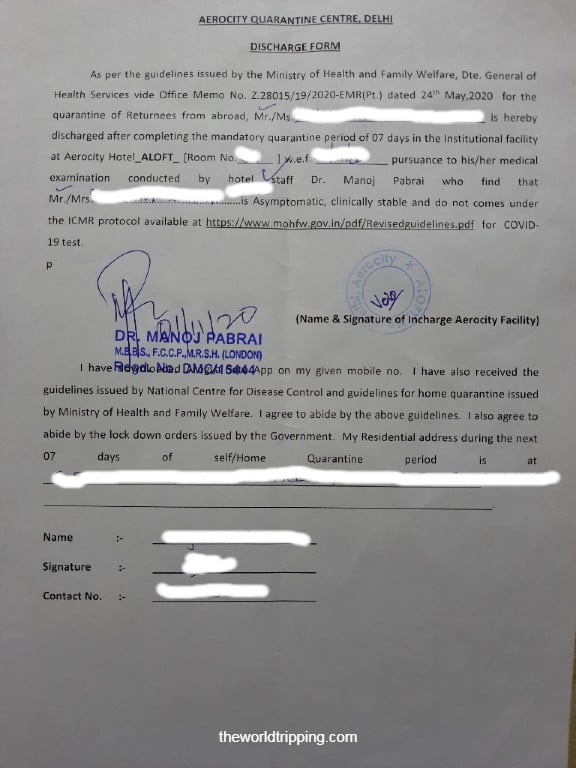 Same as check-in, the check-out formalities were also contact-less & hassle-free. We received our passport and discharge form by the hotel, stating that, we are asymptomatic, clinically stable and we agree to abide by the lockdown orders issued by the Government, that we will remain in self-isolation at home for the next 7 days.
Please note that you may require to show this discharge form at the domestic airport if you have another flight back to your hometown.
After check-out, you can take the airport shuttle facility of the hotel but it's very costly, instead try Uber or Ola cabs at half price.
Hotel rooms (Layout & Design) - (4/5)
The hotel has a great ambiance plus very convenient of being closer to important places. As soon as we entered the room, we got the fresh and lively feeling, the room was smelling good. The reason for its liveliness was the natural sunlight coming from two wall-sized windows facing the hotel's internal outdoor space.
Looking through those windows for a full day, one can enjoy the views of the hotel's In-house restaurant, garden, gym, pool, and other open spaces. It might be a good pass time for somebody like me, who likes to observe people for fun.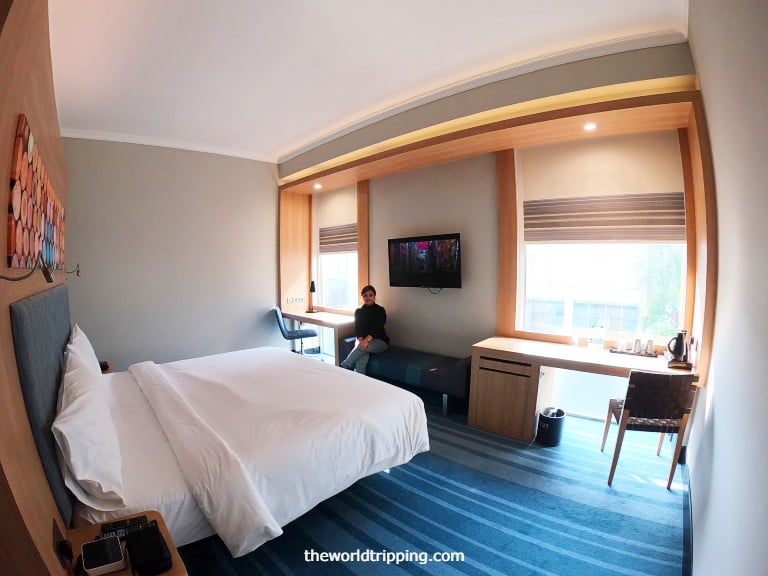 Well, I love the room, the layout was unconventional, unlike boring & stereotype hotels, modern décor & furniture, fresh color schemes – shades of blue & orange. The room was spacious, the bed was comfortable, curtains, linens, and carpet were clean and tidy. Hygiene was maintained. There were two tables and chairs in the room, simply perfect for both of us working online.
The Toilet and Bathroom were just fine, they could be more spacious. Extra towels, floor Mats, Toiletry kit, shower supplies were provided. Set of were given in the room.
A small fridge with a set of glasses for drinks, an electric kettle for tea & coffee, an electronic safe, electric iron, those were the appliances provided in the room.
We were grateful for 24 hours fast & free Wi-Fi, TV with cable connection, as these were the only sources of entertainment we can have during the quarantine.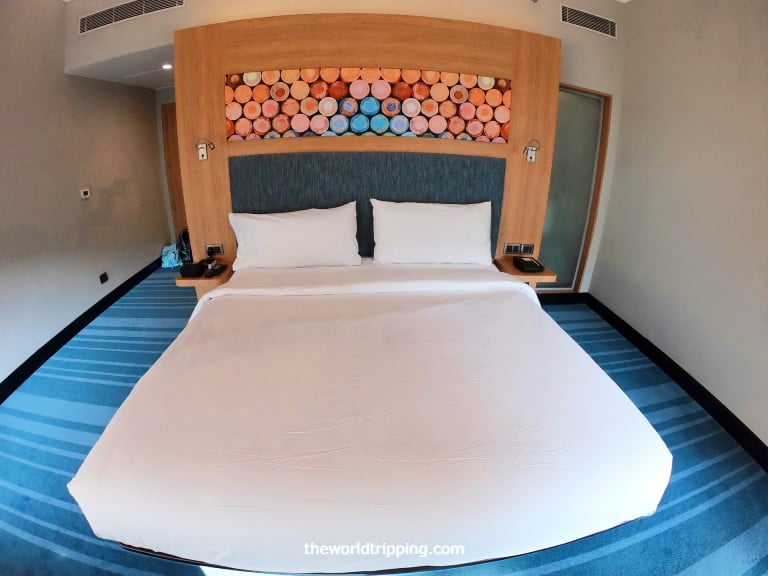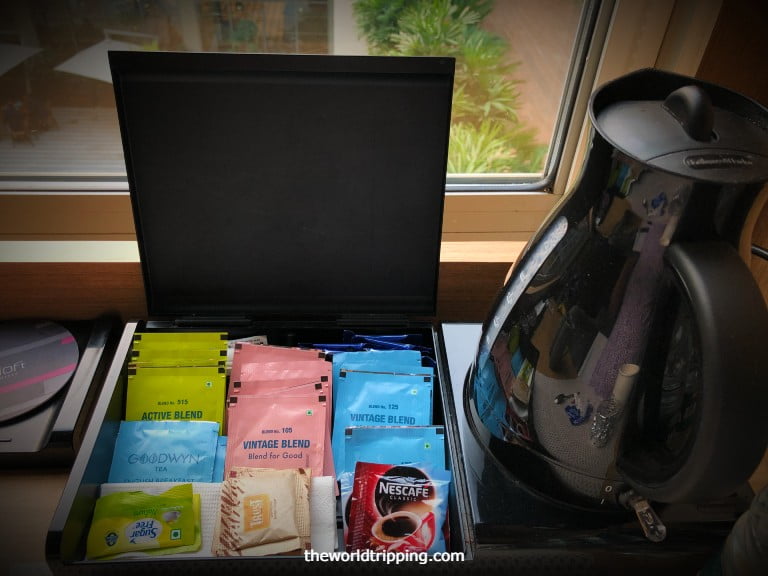 Safety & Sanitation - (4/5)
As I mentioned earlier, our luggage gets sanitized before check-in.
Contactless Check-in & Check-out.
There was no temperature check, or any COVID-19 test performed while check-in to the hotel as well as during our stay.
Test will be performed only on request or if you feel any symptoms of Covid-19 during your stay.
Doctors and team will be available 24/7.
As assured by the hotel, our room was professionally cleaned & sanitized before arrival.
There was no room cleaning done after we checked in.
We have been told that, as a precautionary measure, all linens are sanitized in the high-temperature wash. The hotel staff compulsory using face masks in public areas and while serving the guest.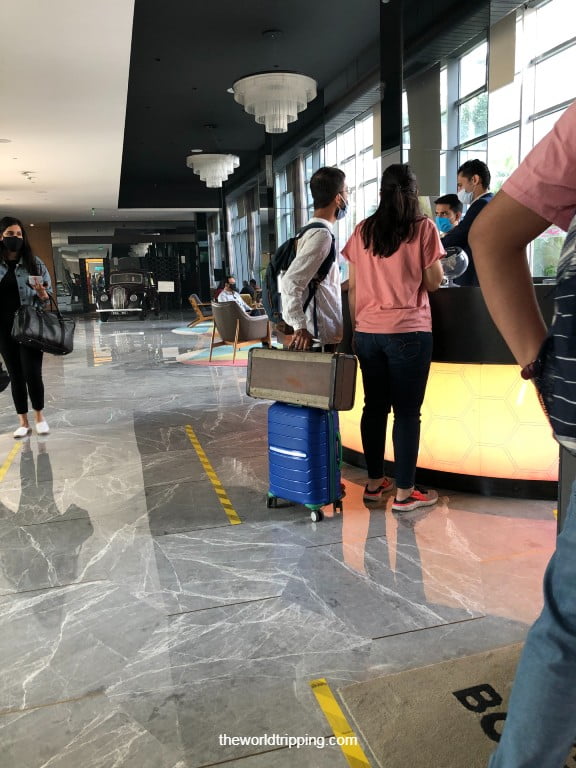 As per our observation through the windows, we can see hotel staff was taking care of new sanitation rules, using hand gloves, masks, regularly sanitizing tables and chairs after use, guests were using face masks. We saw the floors were marked for social distancing and hand sanitizers kept all over the corners and tables.
House Keeping & Room Service - (3.5/5)
Due to mandatory quarantine rules, we were not allowed to step outside of our room for 7 days. There was 24/7 room service available, and you can ask for whatever you want. We admired their timely closure of any room service request.
Water bottles, tea & coffee packages were given on request, but we find it time-consuming and a little irritating to ask for water bottles multiple times during a day. I think they should give at least 2 water bottles daily in the morning and then extra bottles on request.
There was no housekeeping since we checked in. We had been given a huge garbage bag to throw the garbage like empty water bottles, papers, etc.
We needed to call room service for extra towels, but they did not collect used towels. It was entirely our duty to keep the bathroom & toilet clean, make our own bed every day. I guess this is the only way to keep yourself & others safe.
Food (Breakfast + Lunch + Dinner) - (4.5/5)
What else do you want if you get homely food in a hotel!
I'm impressed by the fact that they have taken good care of food choices, keeping in mind that, nobody can eat hotel style spicy, oily, unhealthy food for 7 consecutive days. So, they served you a home-based meal to make your stomach happy & comfortable.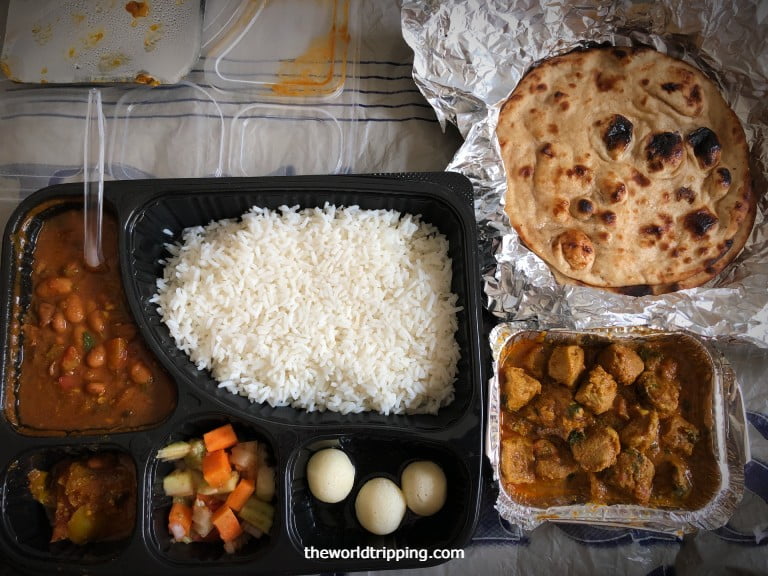 The food was delicious, a typical north Indian style. As we were in quarantine, the food was served on disposable boxes. Room service staff brings our meal boxes to our room and after finishes, we need to keep them outside the room on the floor to avoid direct contact. Anything we need will be provided to our doorstep, as we were not allowed to sneak out of the room, that was the thumb rule.
Everyday's lunch & dinner menu were pre-decided by the hotel (Usually it has Dal/Rajma, Rice, Dry/Gravy based Vegetable (Sabji), Roti/Chapati (Type of Indian Bread), Sweets, Salad, Pickle).
They ask you for non-veg preferences on the alternate days. Other than this, you can order your choice of dish to eat or juices to drink from their restaurant which will cost extra to you. But trust me, the portion of the meal served was fulfilling and you will not get bored if you like North Indian cuisine.
I have just one complaint which needs improvement that, the meal timings were inconsistent and had to wait longer than usual on few occasions, especially when you go for non-veg preferences.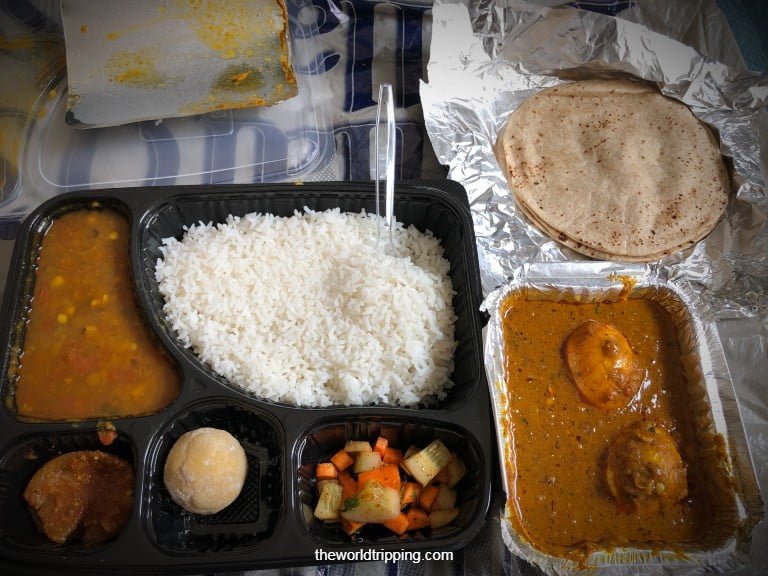 –  Breakfast with one fruit (Mostly Banana) Living in the USA, we had major cravings for Hot Indian breakfast, and having a variety of them (Puri-Bhaji, Idli-Sambar, Kadhi-Poha, Paav-Bhaji, Dahi-Paratha ) was satisfying. We really loved and enjoyed their breakfast. In fact, every morning, we used to play a guessing game of 'what's there in the box today'?
– Tea/Coffee- Electric kettle was given in the room and they will provide unlimited tea & coffee making supplies (Included in the package) on room service request.
– Beverages & Juices, Coconut water- At the time of check-in, we were advised not to drink any beverages in the room, which may be due to health concerns. However, one can order Juices, Coconut water by paying extra.
– Drinking water bottles were provided on request. (Included in the package)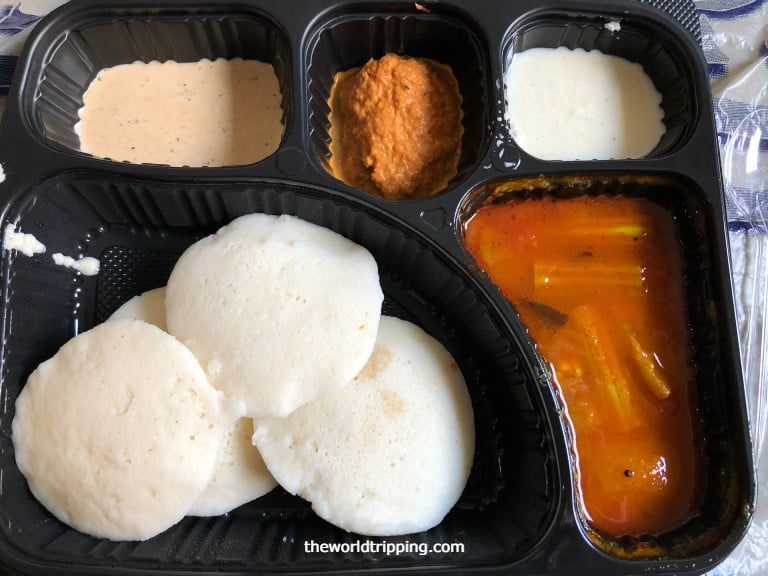 The hotel staff was courteous and friendly especially the room service staff, prompt on request. We liked their hospitality.
As we were quarantined, confined to the room during that one week, we could not use any. Due to COVID-19, the use of all amenities was limited to the regular guest as well. We saw people using the gym. There was an outdoor wedding ceremony with limited people happening when we were there. But we would love to go back & experience their spa & swimming pool.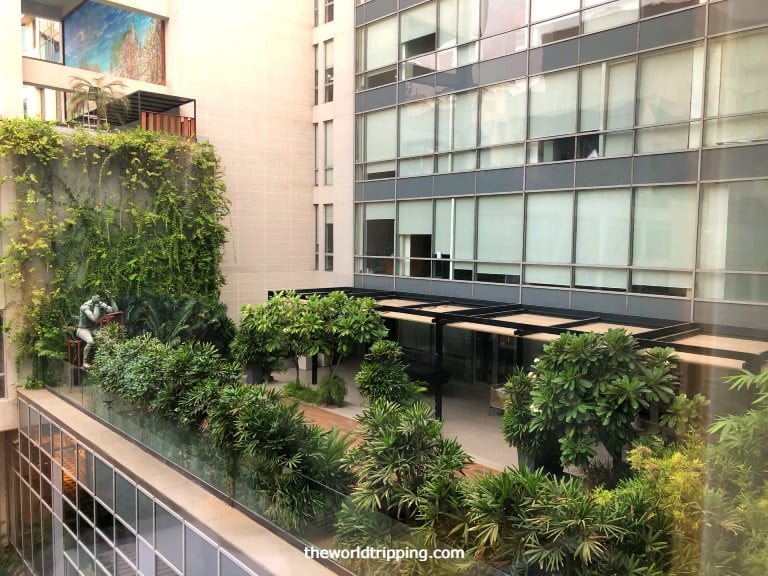 Value for money & overall experience- (4.5/5)
Staying in a hotel for 7 days without stepping out must be boring for some of you, but believe me, the hotel room was fresh and nicely designed, a lot of natural light and we have got outdoor restaurant and amenities facing room. 
We did not get bored, moreover, it was a detox, peaceful vacation, or I would say a much-needed break for us before getting into the fast-paced life of Indian metro cities. Indeed, a good value for money you spent!
- Pin this post for later -