Don't get surprised if I'm calling the City of Pella Iowa a little Holland. This place reminds me of Dutch heritage at each point of time I spend there! Pella is a hidden gem, a vibrant, culturally inherited, historically cozy little town in the State of Iowa, famous for its Annual Tulip Time festival.
People proudly nurture their heritage, Dutch culture, and lifestyle for hundreds of years, as 95% of the population are white Caucasian & half of them are from Dutch ancestry! They created this homeland by themselves in a true sense. 
Besides Tulip Time Festival there are local attractions & many things to do in Pella, Iowa that you can plan year-round. Since we visited 2 times, we know exactly where to go and what to see, the best restaurants & hotels in Pella Iowa, etc. It's a complete guide to the City of Pella Iowa and Tulip Time Festival for you to check out.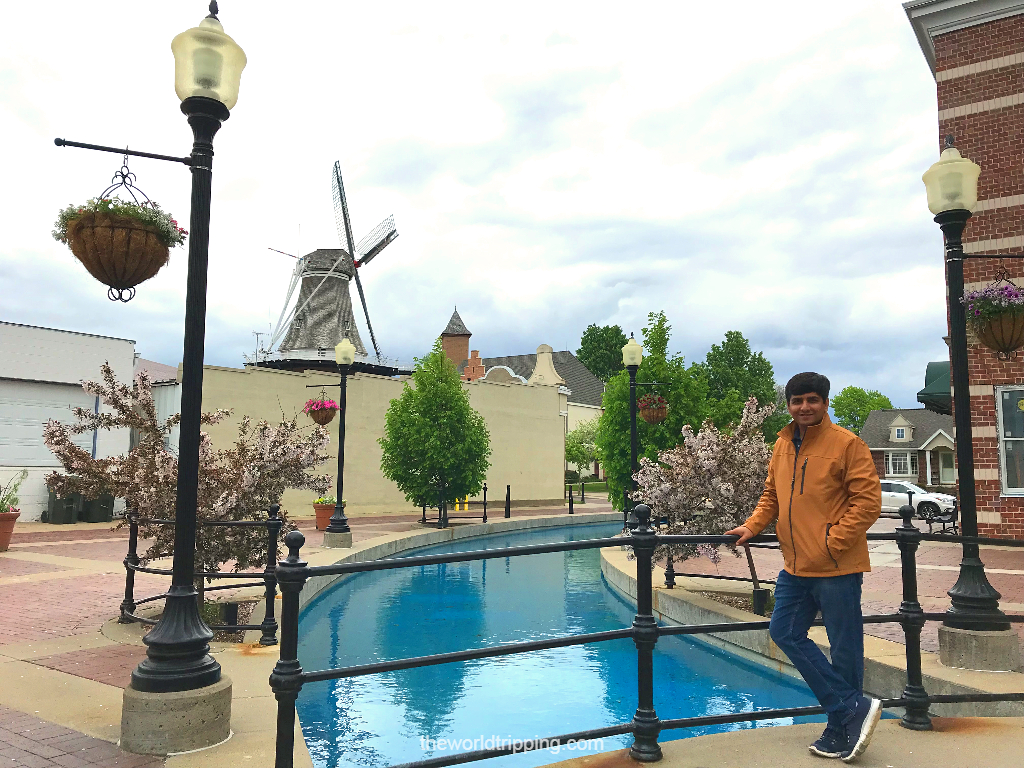 As soon as you enter the town, you'll witness eye-catching houses with a Tulip garden, restaurants, coffee shops, churches, city parks, a movie theatre, a shopping center, windmills, museum & recreation areas built in stunning Dutch architecture, which kinda takes you on a virtual tour of Netherlands. 
The entire city is so appealing and photogenic that you can't fix your eyes on one spot. Trust me, while walking around you'll stop at each corner to take selfies, like I did. Ain't you excited to visit this place in person?
They said, In 1847 Pella is founded by several hundreds of Dutch immigrants under the leadership of Dominie Henry P. Scholte, who was primarily responsible for the immigration of Dutch People to Pella, then the establishment of the town and its financial development.
They bring their culture here and transferred it from generation to generation. It is applaudable that, they have maintained a strong bond of unity and protect Pella's heritage by preserving historic buildings for future generations in honor of their forefathers.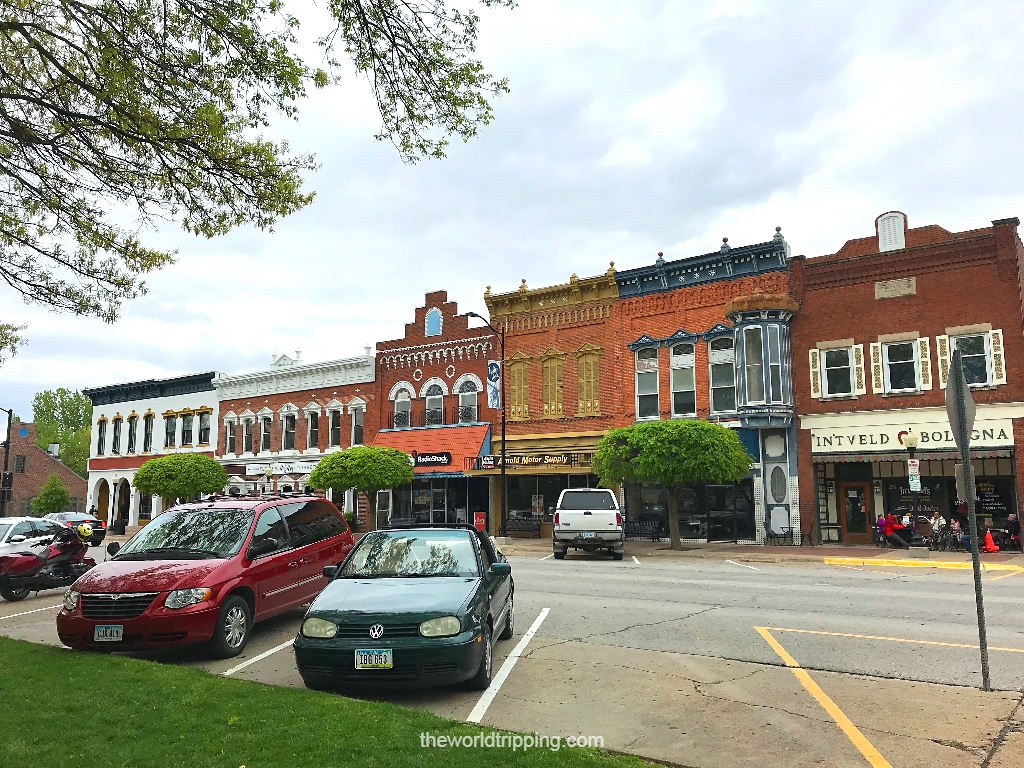 Where is Pella? How to reach?
Pella is in Iowa State (Mid-west of USA), 40 miles southeast of the capital city Des Moines. Getting here is easy, you can fly to the closest major Des Moines International Airport and rent a car or taxi from the airport to reach Pella. As per our opinion, the best way to explore USA is driving than flying.
It's a well-known tourist place that attracts major crowds from neighboring cities and states especially during Annual Tulip Time Festival.
Getting around In the Pella
It's a small town and getting around here is simple, as you will discover all major attractions are in the city center, so the best way to explore is by walking or biking. Bike rentals are available at cheap rates. You can find car parking near roadside spots or at the parking lots near any major attractions. Take a detour here, if you're driving nearby, indeed a perfect option for an interesting day trip or a weekend getaway.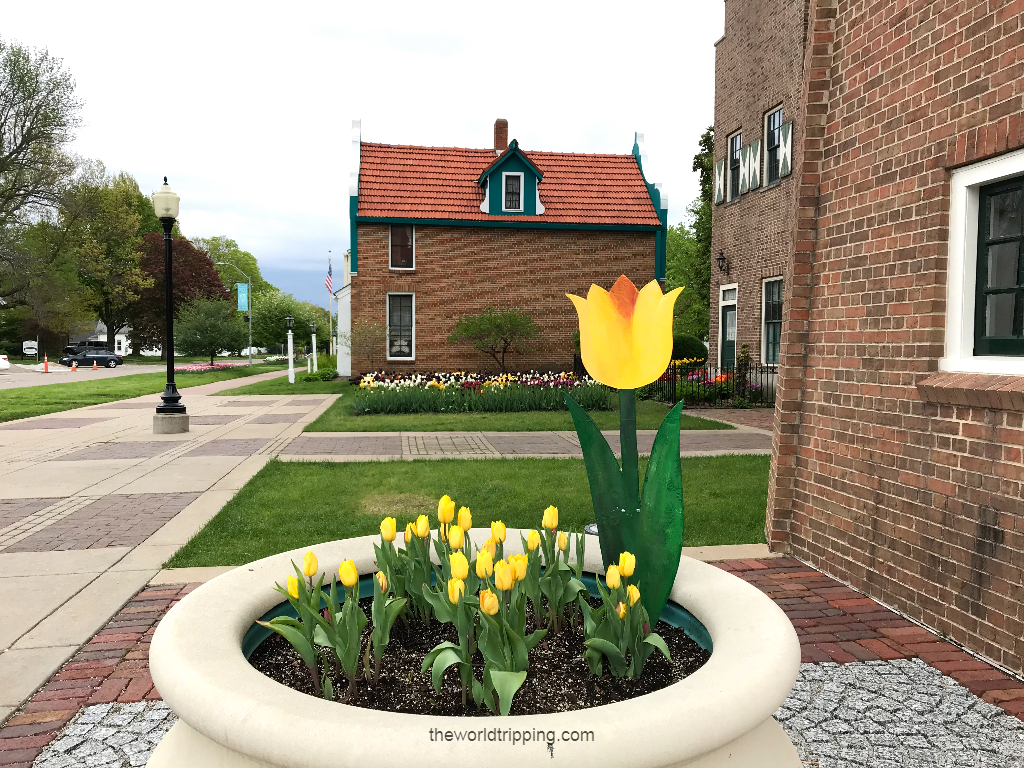 Best Time to Visit Pella: When is Tulip Festival?
Pella is popular for its Annual Spring Tulip Time Festival held around the first week of May, the exact dates vary depending upon weather conditions & bloom time, which lures thousands more tourists from nearby cities and states.
Pella people are very friendly and welcoming, a proud community, who don't shy away from flaunting their culture. So, to explore & celebrate their culture, lifestyle, food & music, I insist you visit Pella during its festival time, you will find the dates on their official website, kindly check before making any plans & hotel reservations.
Other than Tulip Time, you can visit year-round to enjoy other local attractions.
If you're planning for a romantic couple photo shoot in the Tulip Gardens and not wanting the crowds, then you must visit after the festival within the first two weeks of May, as we did.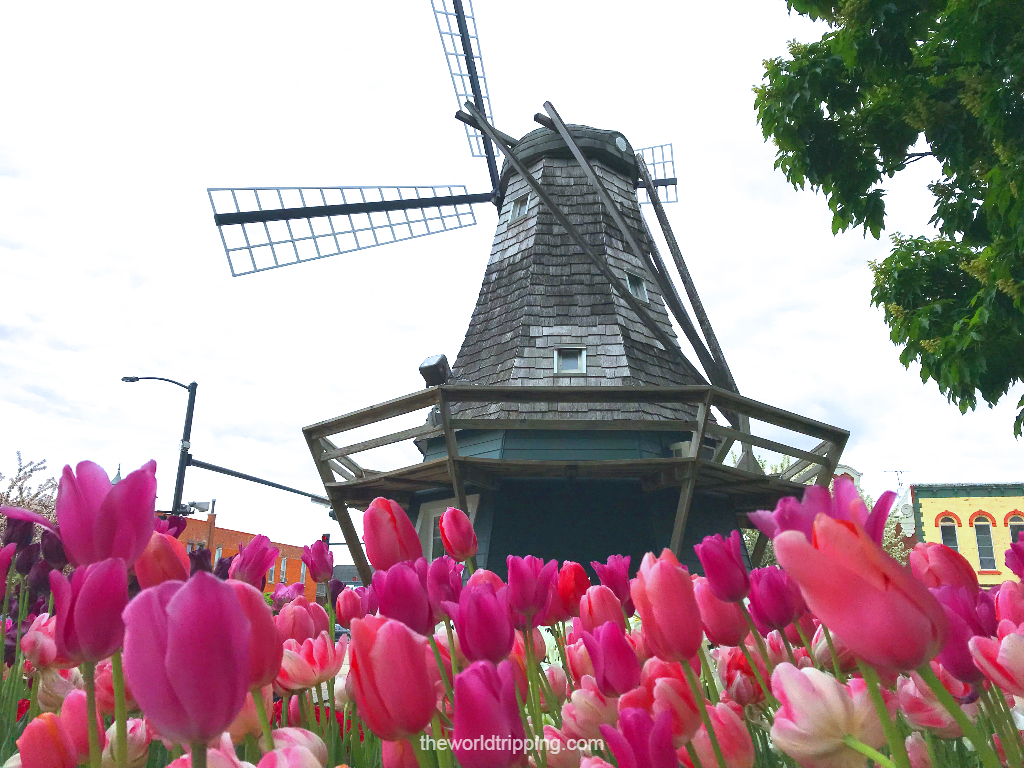 Pella's Annual Tulip Time Festival
During the season of rebirth, Tulips blooms, and people at Pella celebrate the most awaited festival of the year that is Tulip Time, conducted during the first weekend of May, as I said before, the exact dates and parade time may vary as per the bloom time and weather conditions. This festival has been celebrated for 85 years and counting…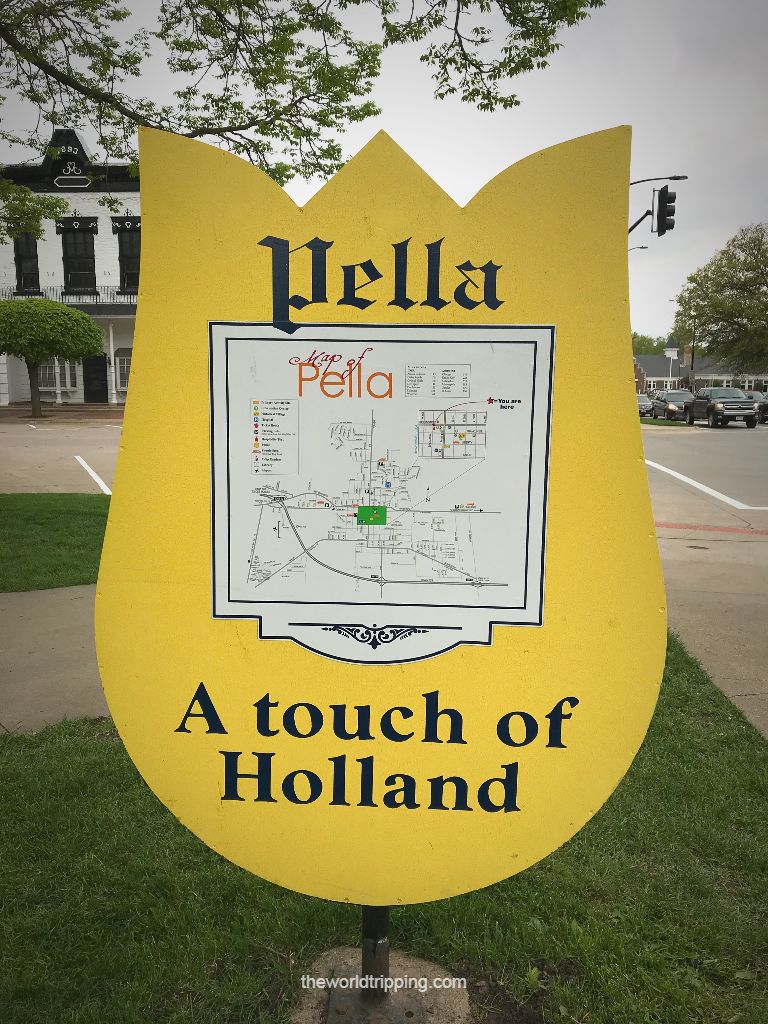 From a beautiful variety of tulip gardens to iconic windmills, people performing a traditional dance in Dutch consumes & wearing wooden shoes, daily parades & marching bands downtown, handmade Dutch style crafts, music, food stalls, and many more, you'll discover the best of Dutch heritage here, Pella often called as Touch of Holland!

During the festival, you'll get a chance to closely experience the essence of their lifestyle and at the same time, you can tour the museums & historical places at downtown.
Before coming to Pella, I just know a few popular colors of six-petal tulips, but I was absolutely stunned by seeing almost fifty shades of Tulips of different sizes, shapes, and symmetry! 
Trust me, you'll have a chance to see many varieties from single tulips and double tulips to fringed tulips, Parrot tulips & Lilly flowered tulips, and of various shapes like bell, cup, or lily in one place, Pella!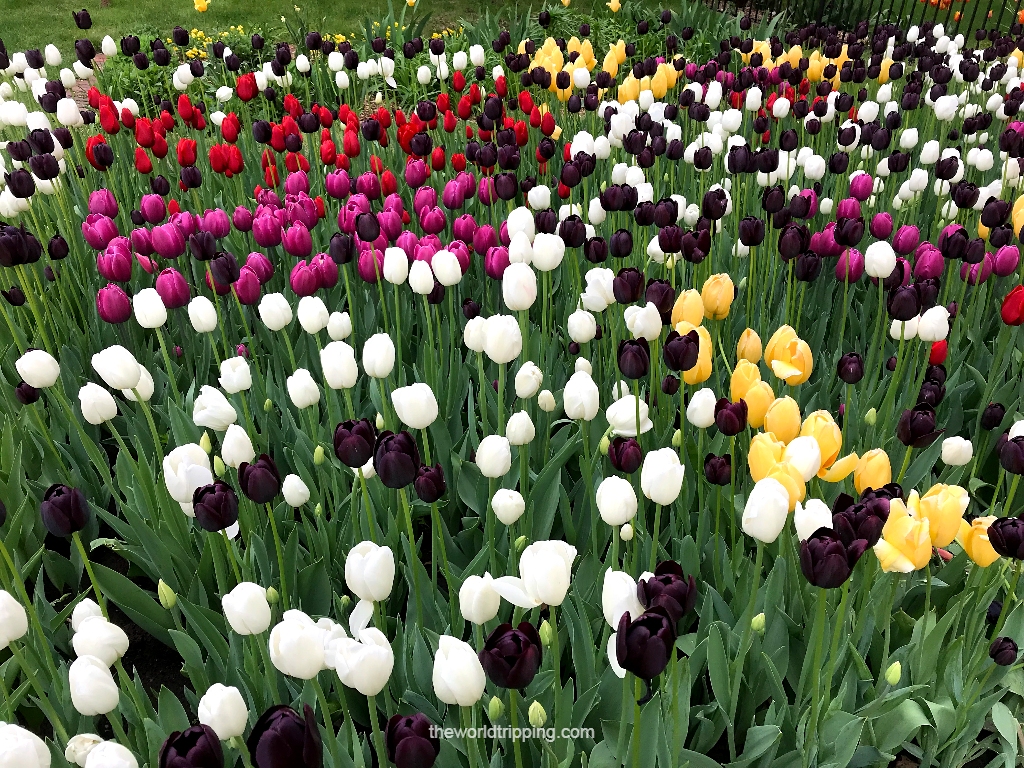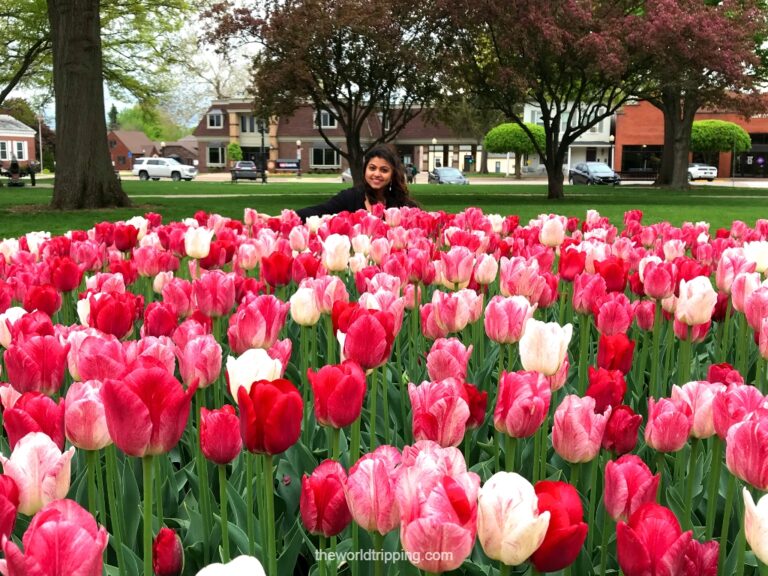 How often do Tulips bloom?
Tulip is an annual flower and spring is the time for Tulips to bloom. They are dainty flowers. For those who don't know, after the end of the season, they die and you need to plant new bulbs in the autumn which bloom in early spring (Mid-March to Late April), mid-spring (Early May to Mid-May) and late spring (Mid May to Late-May) depending on the varieties.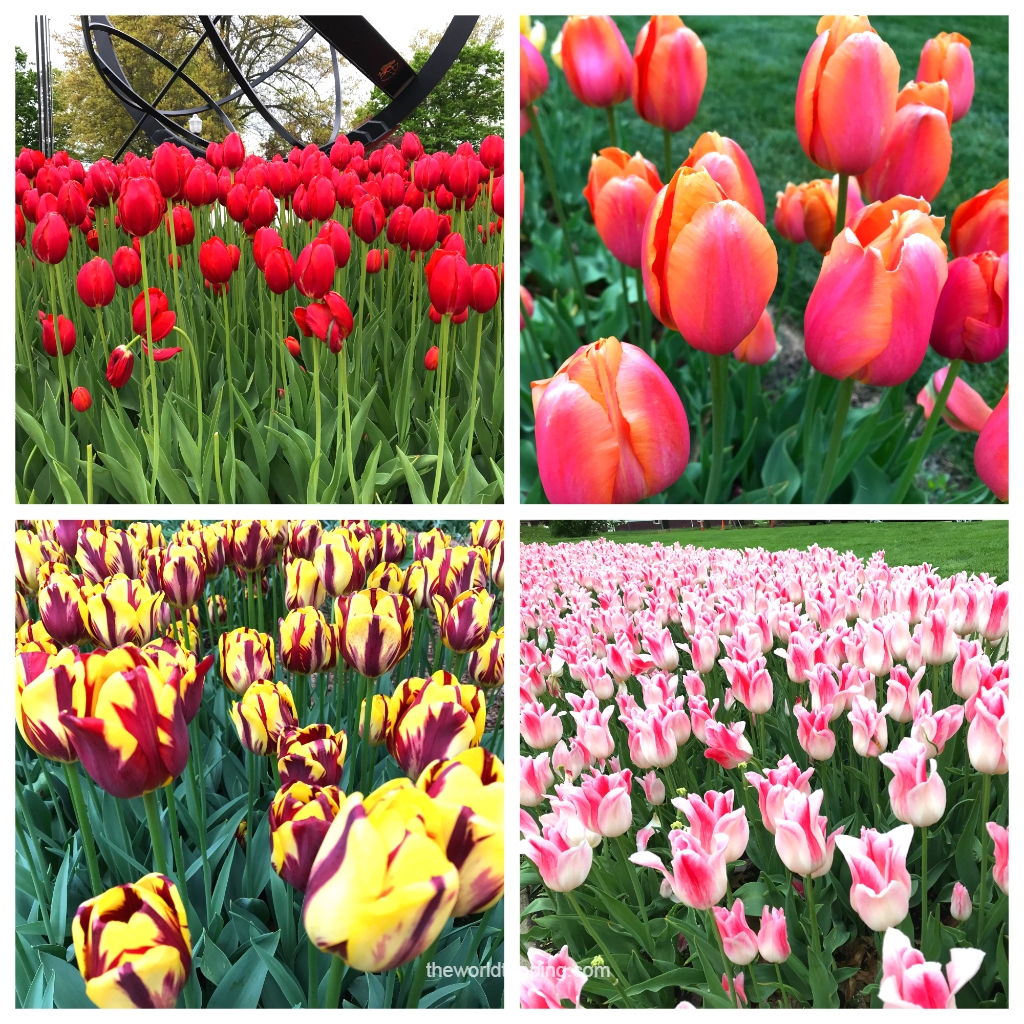 Importance & Significance of Tulips
They are absolutely classic, and spectacular which used in wedding bouquets and flower arrangements or for gifting your loved ones. 
As you may know, each colored Tulip symbolizes some meaning or feelings, like Red-colored Tulip symbolizes Love & Pink Tulip for friendship, whereas White Tulip represents purity & respect, and the good-looking bright Yellow Tulip is for happiness and hope!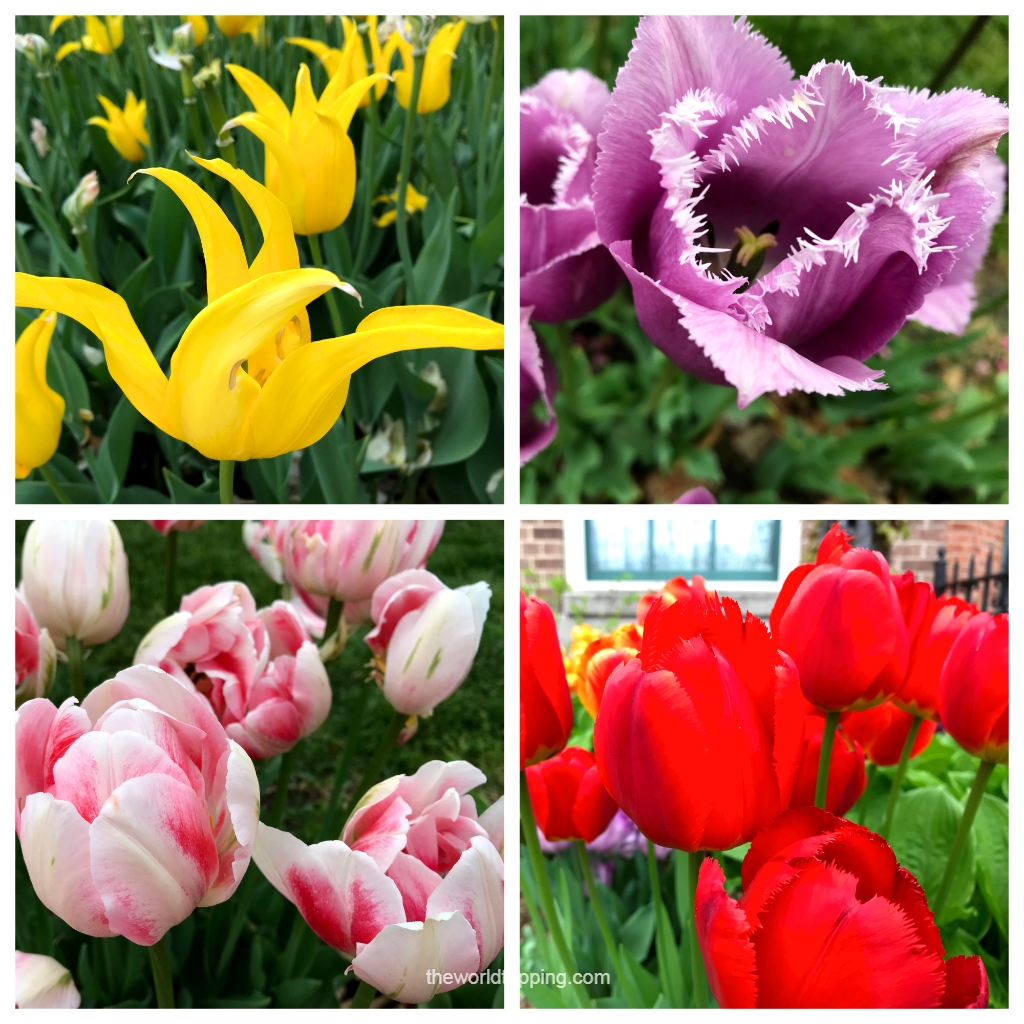 You can't miss the opportunity to capture insanely beautiful Tulip gardens. If you own a drone, make sure to carry it with you, every shot will come out as phenomenal, whether you are an amateur or expert. Well, I love the freedom to click as many as I want on my iPhone, what do you think? 😉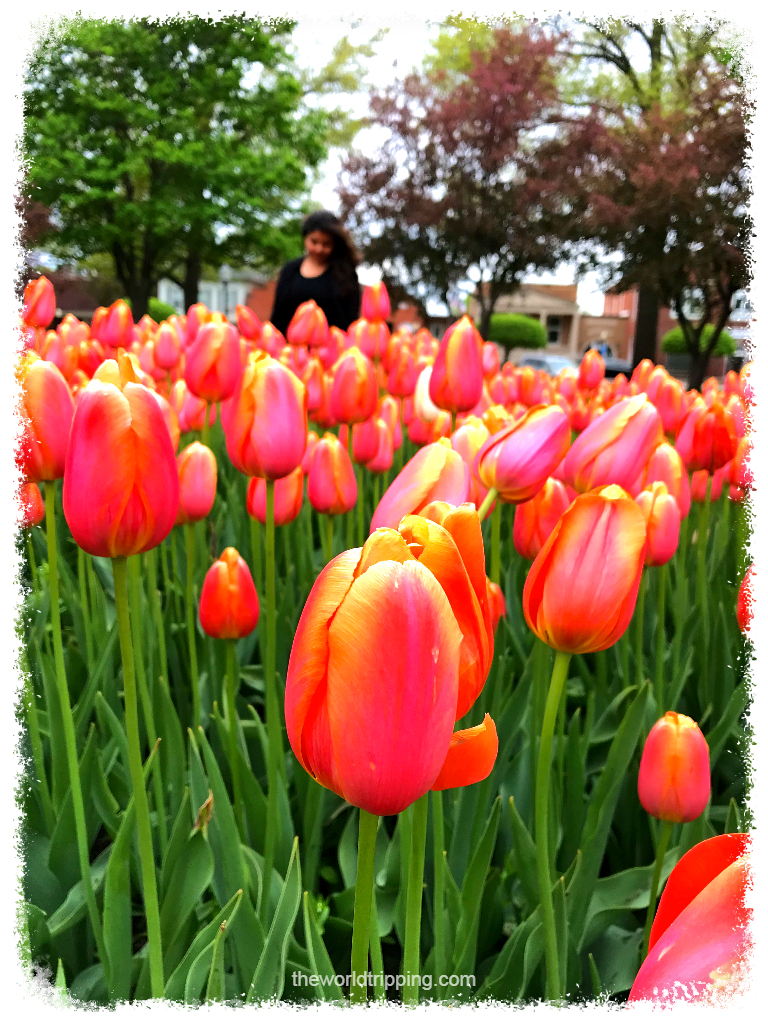 Major Attractions of the City of Pella Iowa
Here goes, I listed down a few places you should not miss when you are in Pella.
Pella has a surprisingly beautiful & cozy downtown area. The best way to explore is to park your vehicle and just walk around. Wandering through the picture-perfect town, you will encounter city hall, post office, public library, churches, Jaarsma bakery (Famous old bakery of town), coffee shops, restaurants, shopping centers, all are in Dutch architecture, also iconic museums, windmills & tulip gardens, it's possible to stop and admire the sculptures at every corner.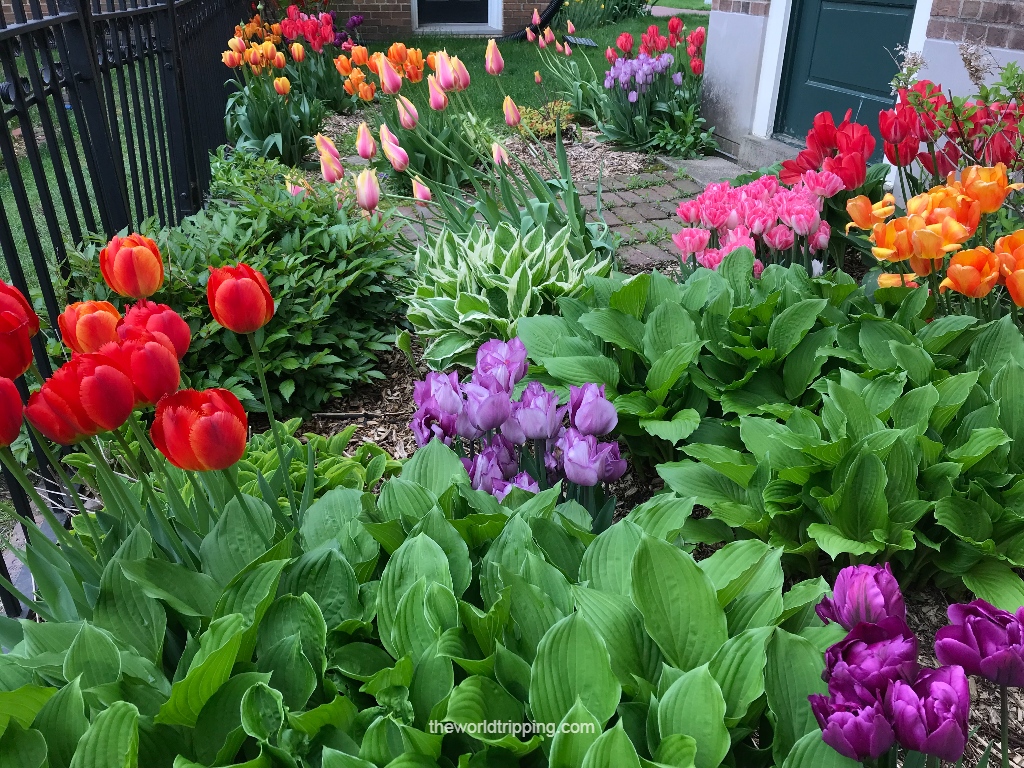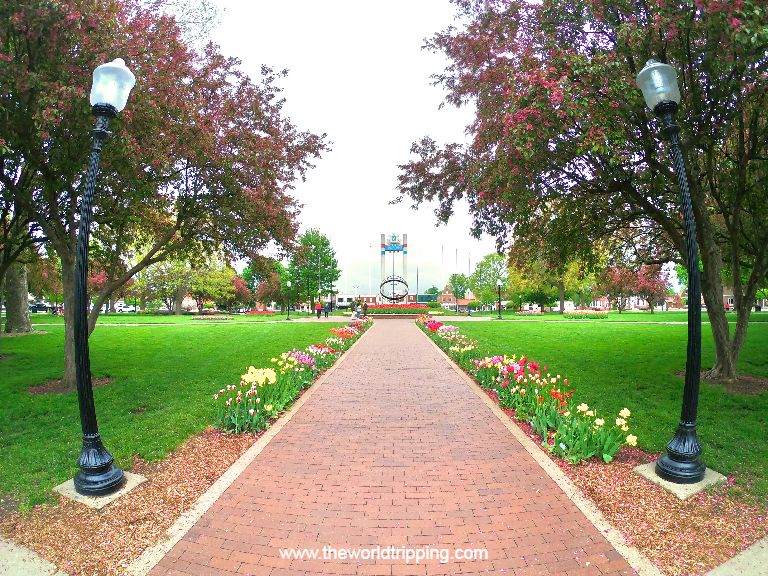 If you're visiting around April-May, one thing you will boldly notice is the endearing little tulip gardens in front of every house, which changes the aura of the entire city into a magical one. 
You can opt for the Pella city tour, which will be an open-air wagon tour that, gets you through highlights and historical landmarks, narrated information as you travel for 45 minutes. You will get the tickets from the visitor center, $5 for adults & $3 for children from ages 5-18.
2) Vermeer Windmill & Historical Village Museum
Besides Tulips, Dutch culture is incomplete without windmills! The Vermeer windmill is the 1850s style, as the tallest & totally functional Dutch windmill in North America, makes a signature monument for Pella. It catches your attention from long distances and can take pictures from various angles.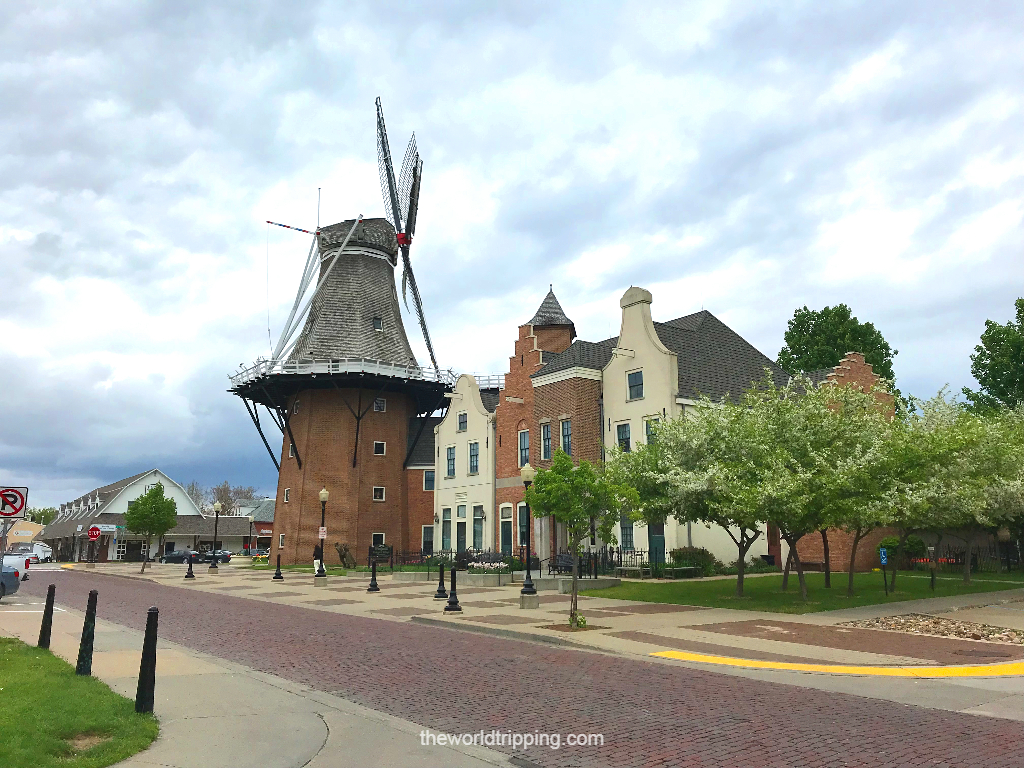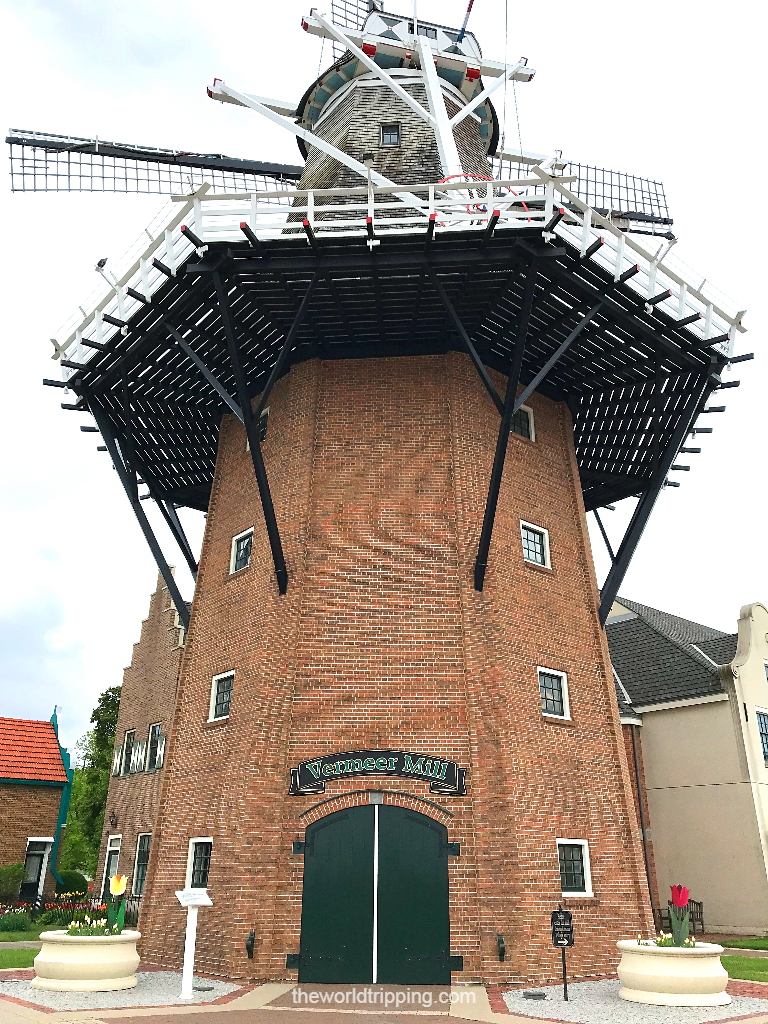 This has four-story brick construction, making it rises to 124 feet to catch the wind over the city, used for grinding wheat grains to flour.
You will see the collection of models of ancient windmills and the display museum on the 2nd & 3rd floors of the windmill, whereas the 5th floor offers stunning 360 degrees views of the surrounding.
Attached to the windmill, there is a historical village museum comprising of Wyatt Earp House, Beason-Blommers Grist mill, Van Spanckeren's General store, and Dutch bakery, which depicts the ancient lifestyle in Pella.
It's interesting to see a mini replica of villages in Holland in the middle of colorful flower gardens.
Please visit official website to know more about the village tour, timings, and ticket information that includes a guided tour of the windmill that opens from March through December, from Monday-Saturday.
3) Scholte House Museum & Maria's Tea Room
It's a lovely Dutch-style mansion built in 1847 by Dominie H. P. Scholte for her wife Maria and is now a museum for tourists. It's certainly a pleasure to see the house features personal belongings of the Scholte family surrounded by tulip gardens and some bronze metal sculptures, reminiscing history. Take a tour of the house. It is open on Monday through Saturdays between 1 PM to 4 PM. You can read here the detailed history about the family & buy tickets.
Come, enjoy coffee in Maria's Tea Room, and get lost in history. It is open on Wednesday, Thursday, Friday & Saturday by reservation only with seating at 1:30PM & 3:30PM. It will cost around $12 per person, however the hours and tickets may vary during Tulip Time. To get the latest updates please refer to their official website.
4) Tulip Avenue in Central Park & Sunken Gardens Park
At Downtown, you'll find a wonderful garden created by planting thousands of vibrant colored and popular varieties of Tulips in these two parks, making them the hottest attractions for the Tulip Time festival. Tulip Avenue central park also features a stylish fountain, creative Pella Sundial, and 65 Feet tall Tulip Toren, who's now become a famous monument in the city of Pella.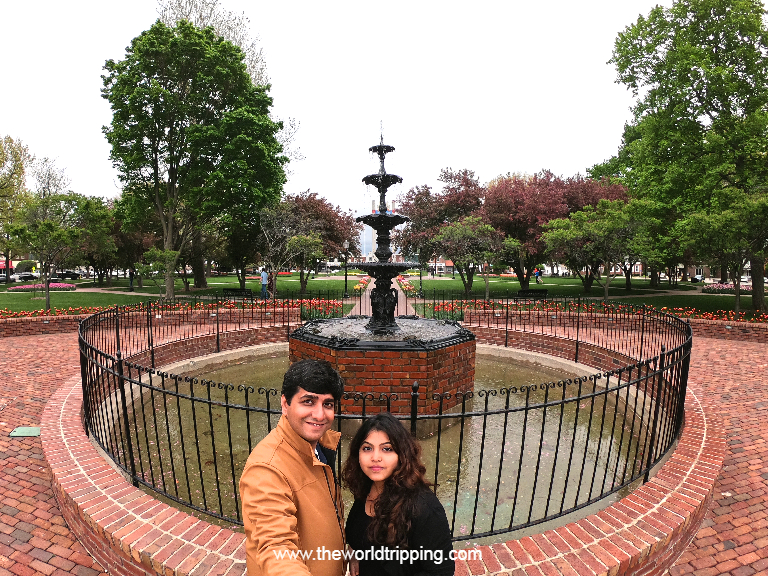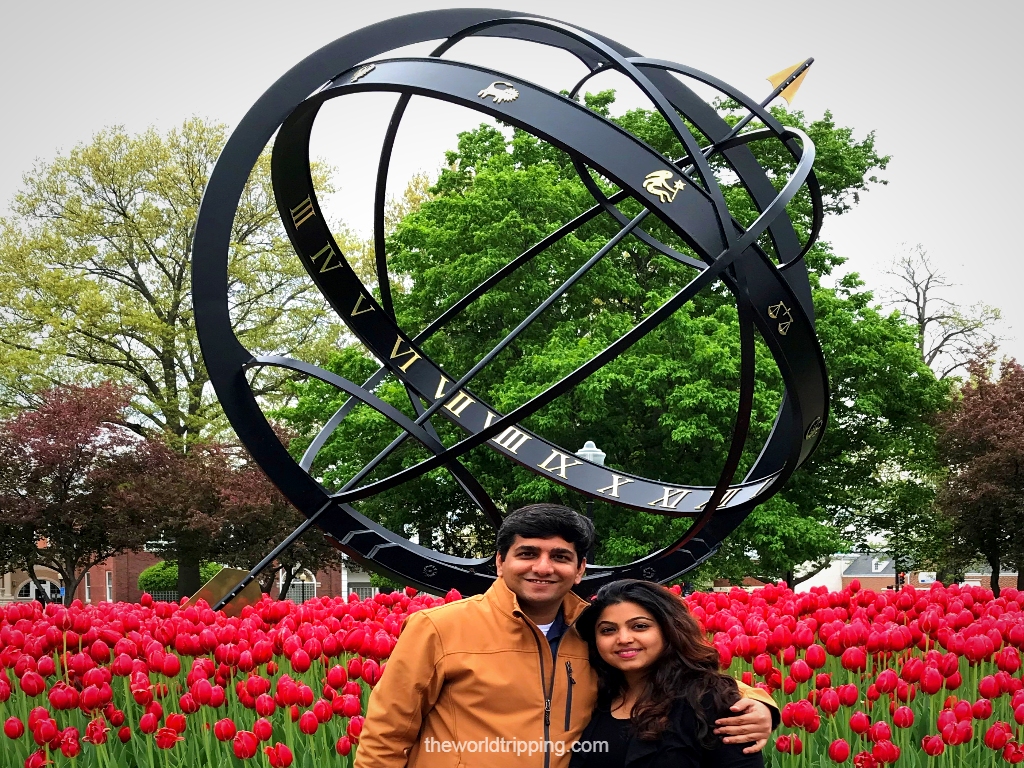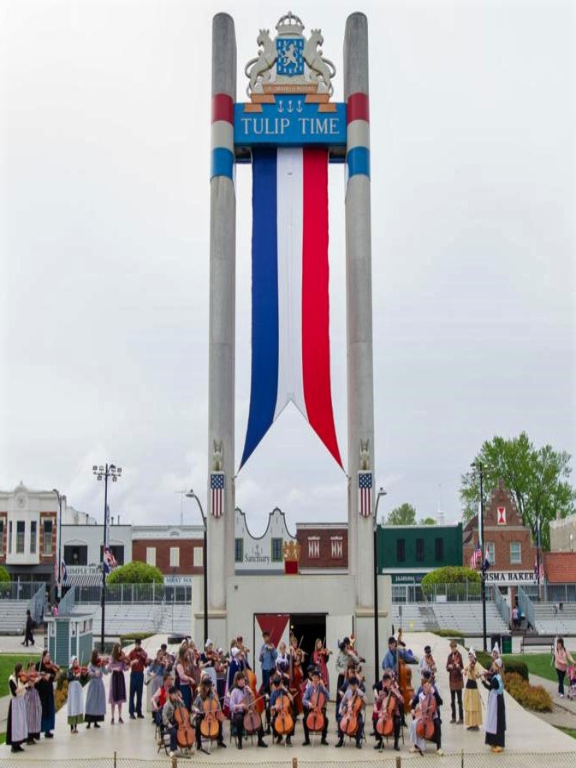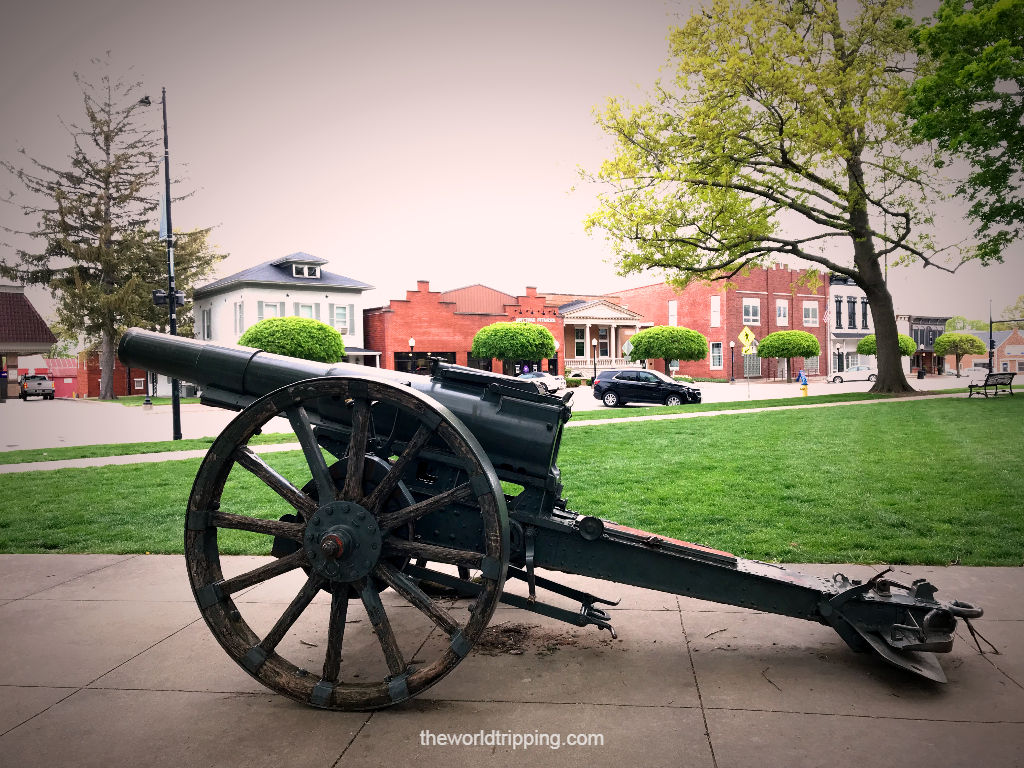 Well talking about the history behind this monumental Toren, they said for many years wooden Toren structures have been used for Tulip time on a temporary basis and it gets turned down after each festival.
Later in 1967, it was decided to build a permanent concrete Tulip Toren, which takes a year to complete in 1968. Getting a photo near the sun dial and the famous Tulip Toren is a must!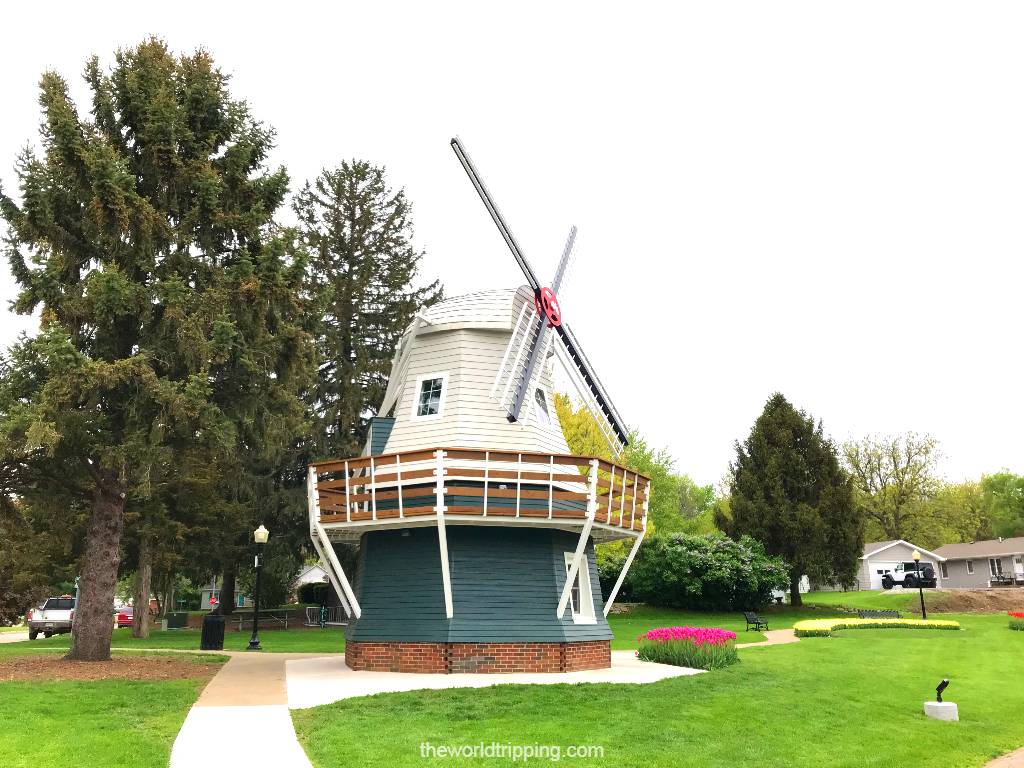 Built in 1900, this vintage-style historical building is indeed a perfect venue for intimate ceremonies, hosts beautiful weddings, dinner parties, and corporate events, and of course, it arranges theatre shows, entertainment events, and whatnot!
Pella Opera House has a Barton vintage organ and an ornate tin ceiling with a seating capacity of 324, which brings entertainment to Pella. I took a self-guided tour of the house and surrounding area to feel the vibes. If you are looking for entertainment, check out their year-round theatre shows and event calendar to book your tickets.
It's delighted to see one of the oldest artistic carillon clocks designed for Pella located at franklin street, has mechanical figures and 147 bell chimes that perform at regular intervals.
7) Molengracht Canal Plaza
Melengracht Canal Plaza is the replica of Dutch canal and a shopping district, extremely photogenic place located at the city center in Pella, Iowa. It has a charm of vintage business district having retail shops, offices, dinning & entertainment. Don't forget to pay your visit here when in Pella.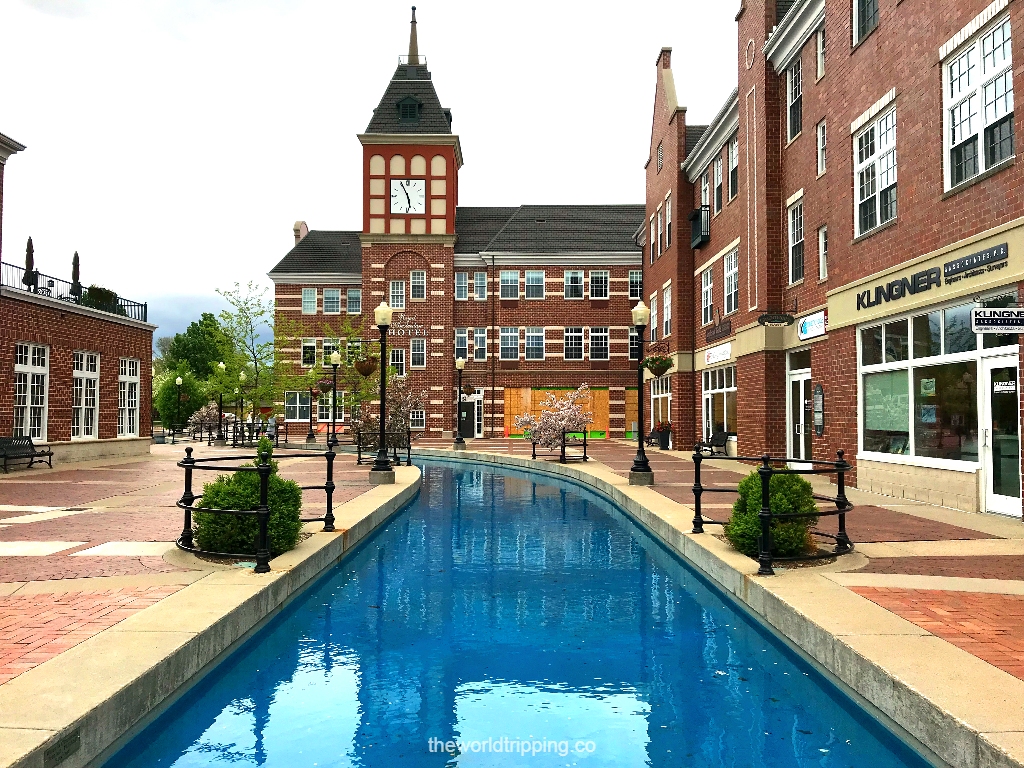 Here you not only feel the Dutch culture but also can taste it! Jaarsma is one of the oldest family-owned and operated bakeries since 1898, conveniently located in the city center, 727 Franklin Street, and specializes in authentic Dutch pastries.
You may appreciate that, everything they made is fresh with no preservatives, maintained high quality for generations, delicious in taste, and inexpensive! You can buy souvenirs from the store they have. It became one of the hot spots you must check out.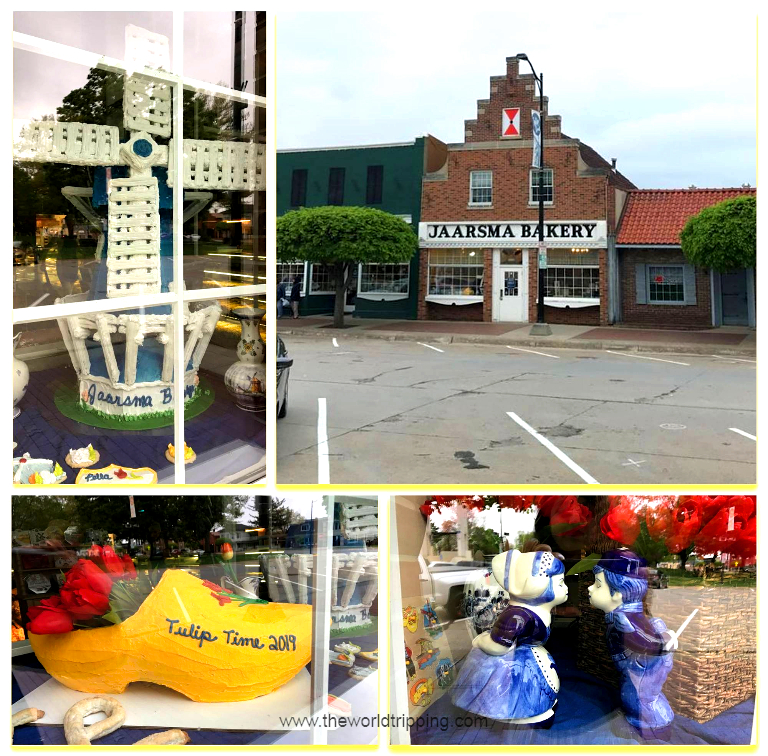 If you are vacationing and looking for a stay, you will find plenty of options from 3-star hotels, chain hotels like Country-Inn, Baymont-Inn, and Wyndham to budgeted bed and breakfast, or you may rent a vacation house. 
RV rentals are also present. While roaming around the city, I came across a European-themed hotel- The Royal Amsterdam, located along the photogenic Molengracht Canal closer to many attractions in the heart of the city. Those who love luxury can spend a night in this gorgeous hotel come restaurant.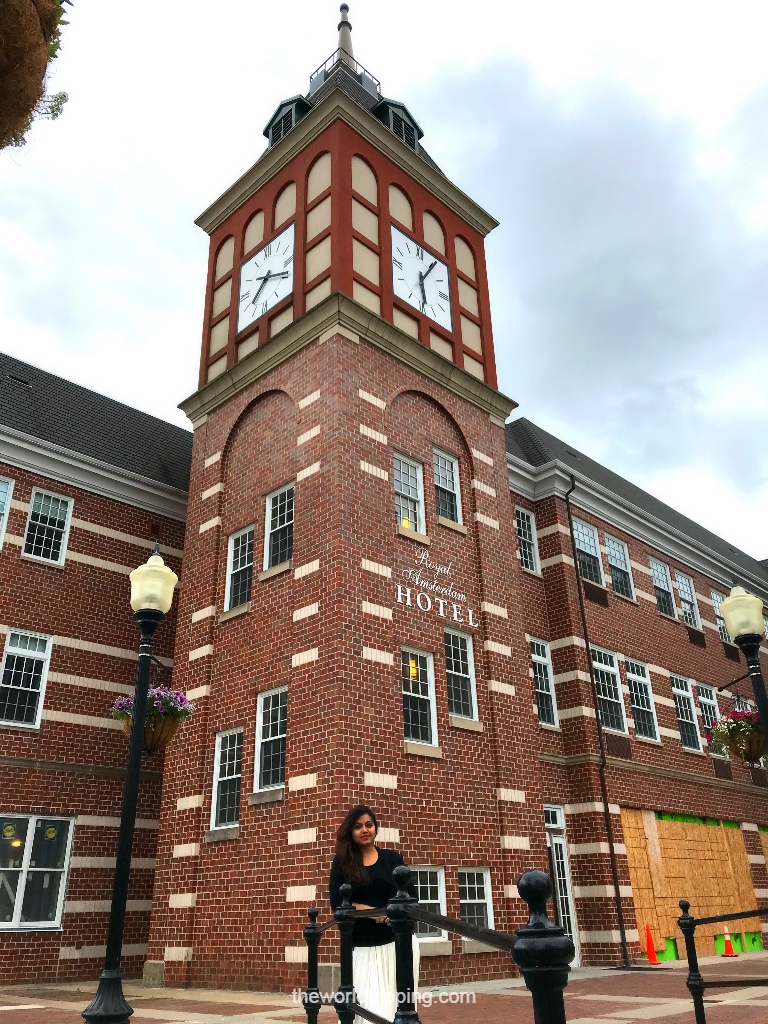 Restaurants in Pella Iowa- Taste of Local Flavors
Downtown Pella offers great options to eat and drink, right from freshly baked pizza, fast food joints, cafes, and coffee houses to fine dining restaurants that serve Dutch, Mexican, Chinese, Japanese, and Vietnamese food. Most of the restaurants are located on the famous Franklin Street & Main Street around the major attractions in the city enter.
You may experience wine tasting and shopping at the famous 'The Wijn House', having a collection of more than 200 Iowa-made wines selected around the state. Locals and visitors enjoy learning about wines in a laid-back atmosphere along with local chocolates and cheese. And as I said before, don't forget to try famous Dutch letters and pastries at Jaarsma bakery.
Just stroll around the city and you will find good options for shopping of antiques, vintage clothing, gifts, shoes, and much more. Enjoy your time at attractive boutiques too. Check out more shopping options here.
Pella is a beautiful fusion of history and modernity!
That's it, these are our favorite places to see and things to do in Pella Iowa. Don't forget to stop by in Tulip Time. It will make a relaxing, yet exciting city break for you.
Pin it for later, if you like it!!!