Being a 'Punekar' living in a metropolitan city, one can only imagine the hustling lifestyle that draws your energy. To get that instant boost over the weekend, you need peaceful places in the vicinity, right?
Thankfully there is no end in terms of touristy places in and around Pune. In terms of nature, Pune has Mountains, Rivers, Waterfalls, Lakes, and Western Ghats. For history lovers, there are Forts & Monuments. Not just that, Pune is rich in cultural and religious beliefs with many ancient & famous temples that one should not miss.
Among the famous temples of Pune, Ramdara Temple is one of the ancient temples and is renowned for its picturesque location. It's a perfect picnic spot near Pune for 1 day trip that families to come over the weekend.
It was my love at first sight when I first saw this picture on social media, just have a look-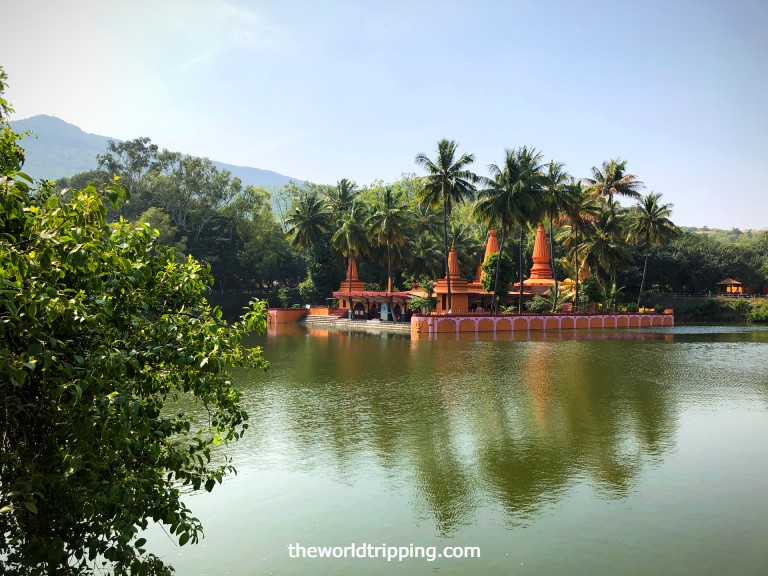 It's an iconic photo of the 'Ramdara' temple surrounded by tall coconut trees and a pristine lake with a backdrop of hills. A walking trail around the lake provided some benches to sit on and admire the natural beauty. Mighty Banyan trees where you can sit back and relax, enjoy your lunch box, and take a good nap.
Isn't it inviting? I am already visualizing my friends & family picnic over there…
We call it an ancient temple because about 50 years ago, Mahant Shree 1008 Shree Devipuri Maharaj popularly known as 'Dhundi Baba' from Ujjain came here with a belief in the existence of Lord Rama and he found a holy Shiv linga at this place. Later, he built the temple with the help of his followers & villagers by collecting donations. Temple got its name 'Ramdara' for having idols of Lord Rama, Laxman, and Sita.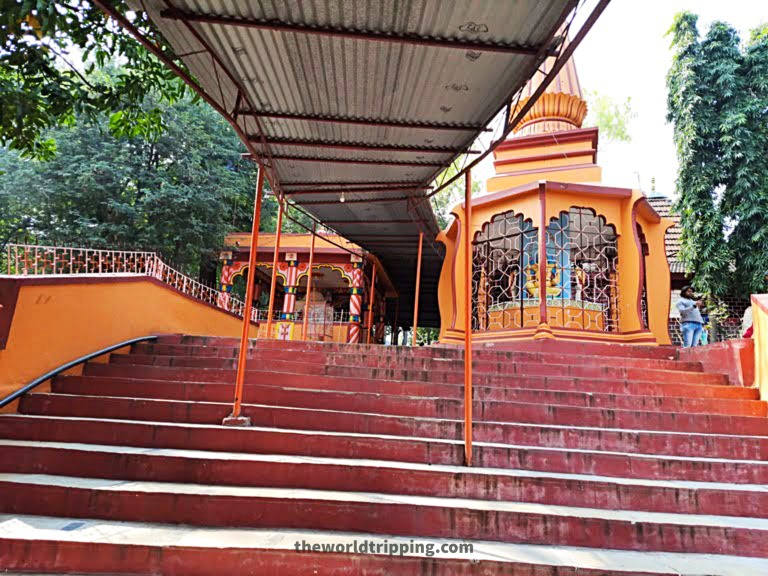 The way it is designed & constructed is thoughtful, attractive structures in deep saffron color (i.e. Bhagwa/Kesari, which is a color of Sunset & Fire symbolizes light, sacrifice, and quest for salvation as per Hindu mythology) surrounded by a greenish blue lake and lush coconut trees, making it extremely photogenic with those contrasting colors.
After entering the temple premises, you will come across the Ashram of Devipuri Maharaj (Dhundi Baba), descending a few steps further there is a temple of Lord Ganesha and Dasha-Avatar of Lord Shree Krishna.
After going down a few more steps you will enter the main porch of the temple made up of slanted & conical shade supported by concrete pillars, called 'Sabha Mandap.'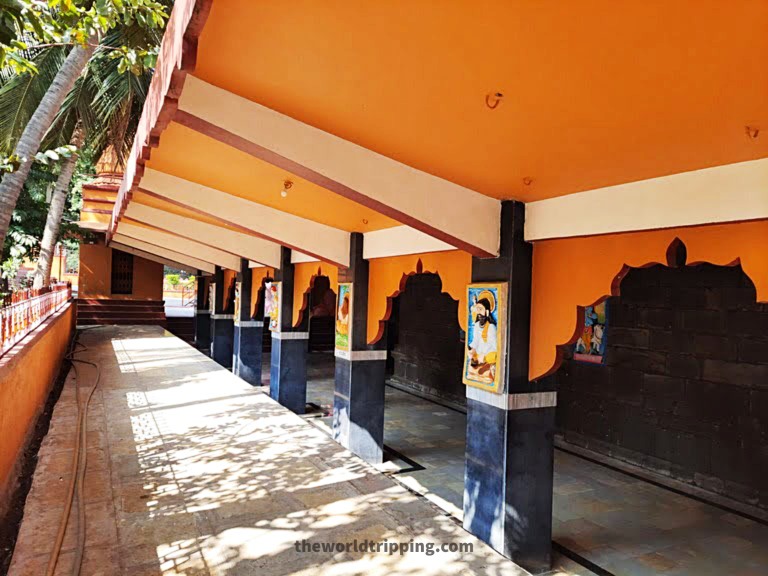 Under the Sabha Mandap, there's a lot more to check out, you will find the fire altar, sculptural representations known as 'Shilpa Chitra', Murals & Paintings of Lord Hanuman, and famous Rishis (Hindu Sages / Saints) like – Ved Vyas, Shankaracharya, Tulsidas, Vashishta, Surdas, Ramdas, Tukaram, Gyneshwar, Meera, etc. on the pillars and walls of the temple. There are mantras of the 15th Adhyay of the Hindu holy book, 'Shrimad Bhagwat Gita' written on the walls. Overall it's a colorful and decorative temple from the inside.
There is a 'Nandi Mandap', where a white marble stoned Nandi is sited in front of the adytum beside Shiva and Parvati. You will also find a statue of Dhundi Baba in a marble stone inside the temple.
Now coming to the inmost division of a temple (Gabhara/Sanctum), there is an idol of Dattatreya (Avatar of three Hindu Gods- Bramha, Vishnu & Mahesh), also Lord Ram, Laxman, and Sita, and a holy Shiva Linga. It's indeed a holy shrine where all gods come together to pour blessings.
The atmosphere inside and outside the temple is pleasant due to its well-maintained structure and cleanliness. Just sit down anywhere, meditate, and absorb all positive energies from the surroundings.
Temple is surrounded by a manmade lake from three sides and with a picnic area full of giant & old trees. However, access to the lake was not open due to security reasons. There were ducks calmly swimming around enjoying their privacy. A walking trail around the lake with sit-outs to rest and capture the beauty. The lake was so clean that you can see the reflections of the temple.
5 Things to do at Ramdara Temple
After paying worship, there are other things you can do like-
This is everybody's favorite thing to do right? Trust me you will go crazy and end up taking plenty of photos of the temple from different angles and rims while walking on the trail around the lake.
There are some photo props where most people are interested in taking pics with the elephant statue at the entrance gate, and the Deer statues surrounded by a compound wall.
Mighty banyan trees with their penetrating roots spread over and making a dense network look pretty old and ghostly. People just climb over the branches to get clicks. 
You can take photos of the temple and its surrounding, as there are no strict rules. No charges for photography, so take as much as you want.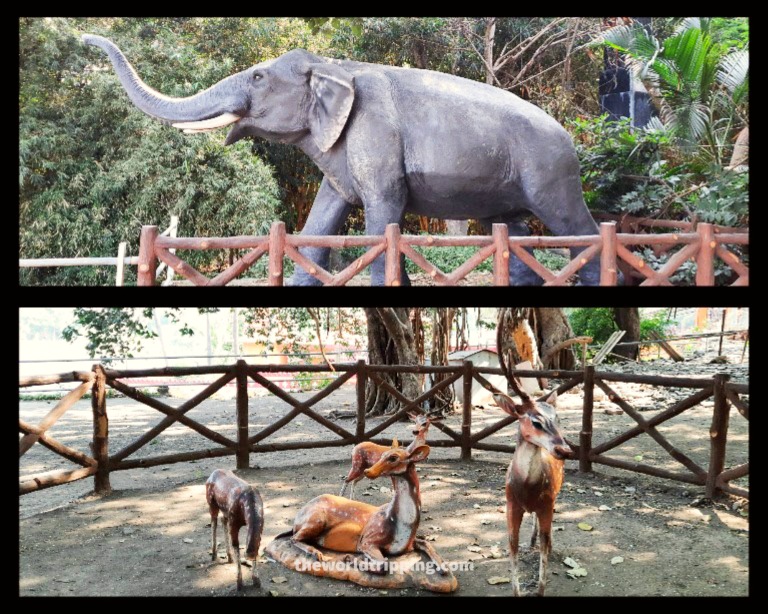 • Picnic/Recreation Activities/Tiffin Party
I must admit, this is a pretty good spot for families, friends & office groups to come over and do a picnic or recreational activities. Isn't it amazing that you don't need to go far to enjoy nature? 
Just pack your tiffin boxes and enjoy your food under the trees. Take a nap or play with your buddies and create memories.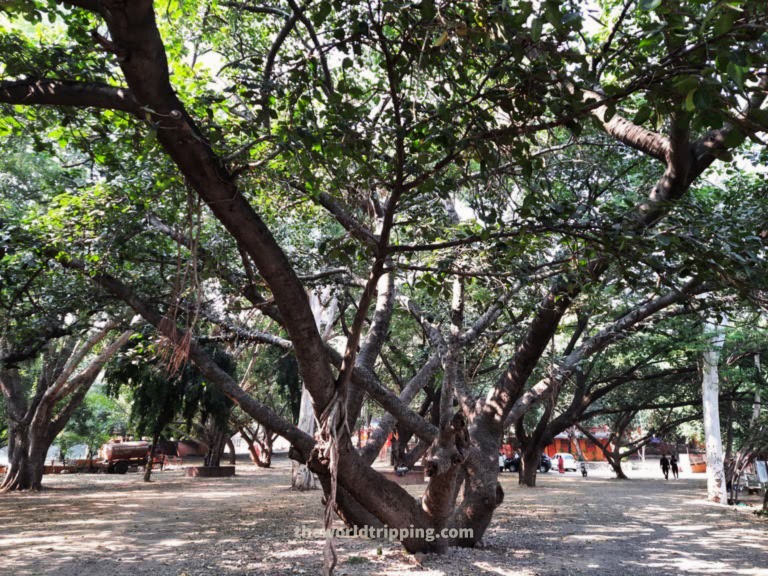 Wanna make this trip a little adventurous? As you can see, there are many hills around the temple for trekking, but the famous one is the Ramdara hilltop, which is a moderate-level trek. Regular hikers can reach the top in 1HR. however, average people will make it to the top in about 1.5HR. 
I bet the views from the hilltop must be rewarding especially during monsoon. There is a wide area on the top for you to explore 360 degrees and get pictures of the temple from a different perspective. 
There is no water and food on the trek path, so you need to carry your own. Do not litter and throw plastics on the trek and keep the hills clean. 
For a trekking trip like this, I recommend going in winter or monsoon, and only in the early morning in the summer. Don't attempt trekking with children, it can be dangerous. There is another small hill nearby where a Shiva temple on the top is quite easy to trek. However, its access road was closed when we visited last time.
• Bird Watching/ Bird Photography
Few of my friends are so passionate about bird watching and photography. This is a good spot if you come early in the morning where you could see different varieties of birds like Owls, Bulbuls, Mynas, Common Iora, Baya Weaver, sunbirds, Ducks, Kingfishers, Drongos, etc. It's a great habitat for them due to the lake water and the farmland nearby.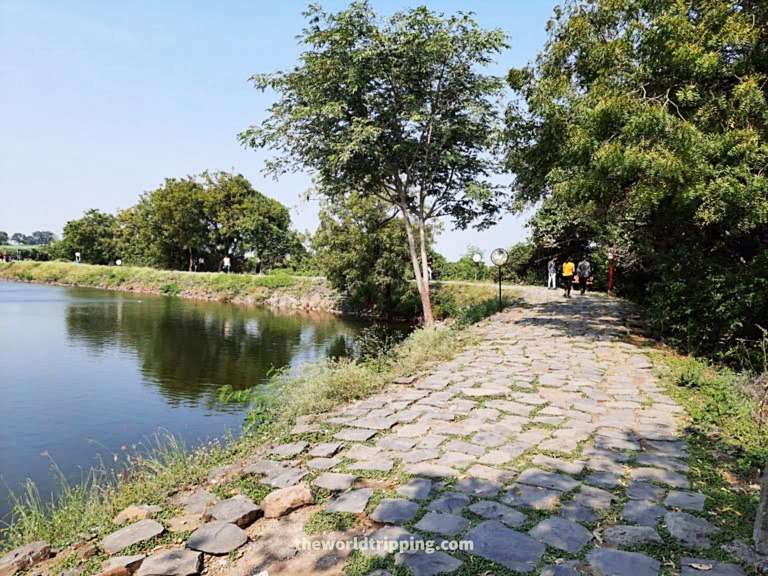 Sometimes, you just need a peaceful place and fresh air to breathe, away from the city, and this place offers both!!!
How to Reach Ramdara Temple?
Ramdara temple is located at Loni-Kalbhor village, 25KM. from Pune city center & 18KM. from the Hadapsar area. Reaching here is easy because it is just 6 kilometers inside after leaving the Pune-Solapur highway. Google map is a definite help to take you up to the temple without much hassle.
Let me inform you, there is no direct bus or any public transportation available to reach there. So, you will need your own vehicle (Either a 2-wheeler or a 4-wheeler). You can rent a self-drive car if required.
From wherever you start the journey in Pune, you will need to take the Pune-Solapur highway, which passes through Hadapsar – Manjari. Once the city limit gets over, proceed towards Loni-Kalbhor village, after the toll plaza you will need to take a right turn and leave the highway. From here the typical village road starts and you will be started to enjoy the drive as it passes through farmlands & flower plantations. Fresh cool air with unspoiled nature just feels right for a morning drive.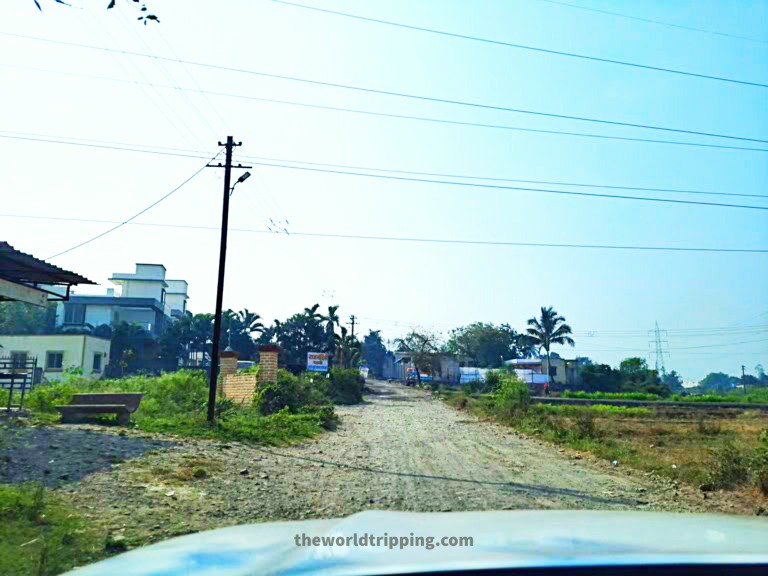 The road condition is not that good, as there is no tar road all the way but who cares if you are going somewhere so beautiful. And who wants to speed up if your journey is refreshing…
Soon you will be started seeing hills and reaches a big parking lot. Ramdara temple will remain hidden until you reach the entrance gate where the big elephant statue welcomes you.
Where to Eat at Ramdara Temple?
There are only a few food stalls near the temple selling some snacks (Wada Paav, Bhajji, Poha, Misal & Matki Bhel), local fruits, Sugarcane juice, and Tea /Coffee. So, it's better to bring your own food for lunch.
Veg & Non-veg restaurants are available only on the Pune-Solapur highway.
I have a better idea to take a pit stop, there are some Misal joints on the Pune-Solapur highway like the famous one- 'Jogeshwari Misal & Bhel'. Whether it's a breakfast or a lunch they got you fulfilled.
'Matki Bhel' is our personal favorite, just pack & enjoy it with your family on the premises of the temple under the shades of giant Banyan trees with nature's company.
At the temple gate, some local farmers sell fresh vegetable and fruits.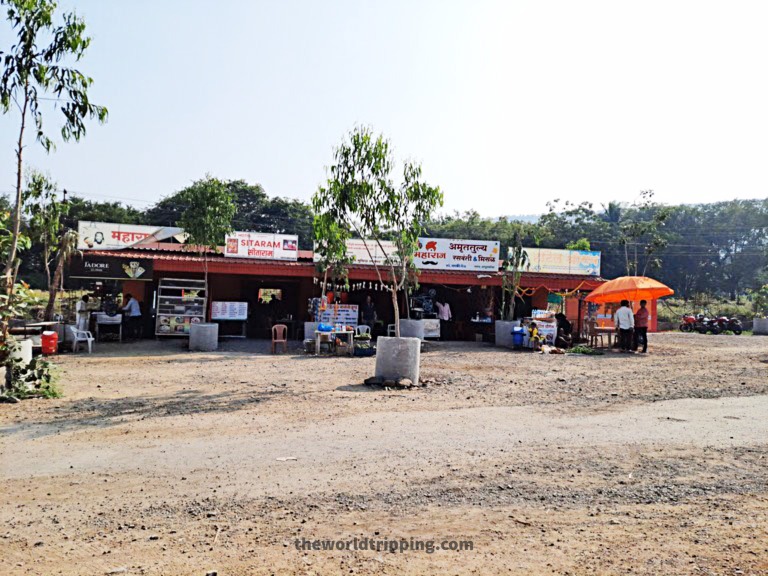 Best time to visit Ramdara Temple
You can go there any time of the year. But practically speaking during hot summer, you would not want to get tanned, right? In that case, go for an early morning trip. 
There will be restrictions for outdoor fun during monsoon season, especially picnicking may be not possible. As you know there is no continuous tar road, so going there during rain may get messy.
The best time to visit is after the rainy season & during the winter months- September to February when the trees are lush green and the skies are clear.
Temple Timing, Parking Charges & Entry Fees
Temple Visiting Hours- 7AM to 5PM (All days)
Parking- Designated parking space is available outside the temple and the charges are-
Two wheeler- Rs.20
Four wheeler- Rs.40
Entry fees- Free. I guess, it's included in the parking tickets.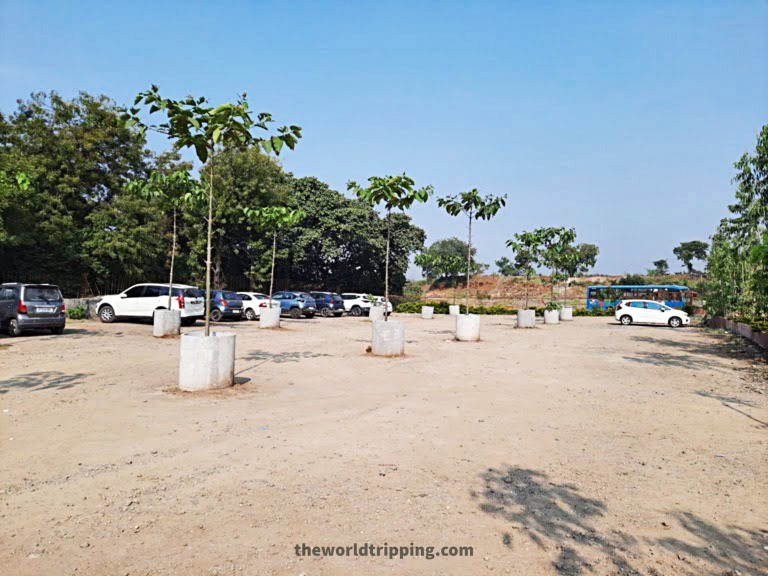 Approx. Time to Spend at Ramdara Temple
It will take around 1.5 Hr. – 2 Hr. to explore the temple & surrounding including taking photos, sitting & relaxing for some time, etc.
But if you are with a group of family/friends and went there for a picnic, you can easily spend your half day there.
Besides Ramdara temple there are a few other places to see nearby-
Shree Chintamani Vinayak Temple, Theur, Pune – 13KM. (35 Min. drive from Ramdara Temple)
One of the renowned shrines of lord Ganesha in Maharashtra. It is set to be the 5th temple that should be visited while doing the Ashtavinayak trip.
Mahadaji Shinde Chhatri, Pune city, Pune- 21KM. (1HR. drive from Ramdara Temple)
It's a memorial dedicated to the Great Maratha General-Mahadaji Shinde located at Wanowrie.
Meher Retreat Theme Park- 36 km. (1HR. drive from Ramdara Temple)
Jejuri Fort, Khandoba Temple- 46KM. (1HR. 20Min. drive from Ramdara Temple)
It is one of the most significant Hindu pilgrimage holy places for Maharashtrians.
Try to reach there early morning between 8 – 10 am (Temple timing are- 7 AM to 5 PM). It gets crowded over the weekends and you may experience the city traffic later in the day.
Bring your own food for lunchtime (If you are picnicking).
Restrooms & drinking water facilities are available on the temple premises.
Do not throw garbage, papers, cups, plastic bags & bottles on the premises. Throw them in the designated garbage tanks/buckets and keep the area clean after having your meal. Please respect nature and be a good citizen.
Do not feed ducks & throw food items/garbage in the water. It will only pollute the water.
As mentioned earlier, no public transportation is available to get there.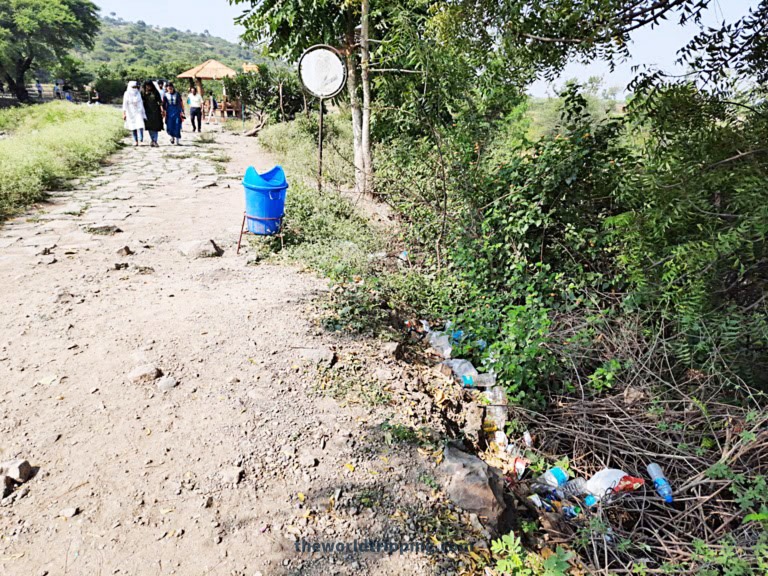 Ramdara is a blessed place hidden on the outskirts of Pune. Some people like to come here on their way to the famous Theur Ganpati temple. 
So Punekar, did you visit Ramdara? Not yet? Then you must, I'm sure you will love it.