Many people find Midwest boring, just a flat patch joining the two most happening, ultra commercial cities on either sides. Don't forget, many US Presidents, Financiers & Industrialists born here. Known to be 'The Heart of the Nation'<3, Midwest plays a major role in the America's agriculture and manufacturing sectors which boost the economy.
Speaking of Agriculture, there is the Nation's largest farm progress show held annually in the Midwest, showcasing latest technology driven advanced farm equipment, tractors & combine harvesters including their field demonstrations. Around more than 500+ leading Ag-tech manufacturers & suppliers from across the country and around the world participated as exhibiters.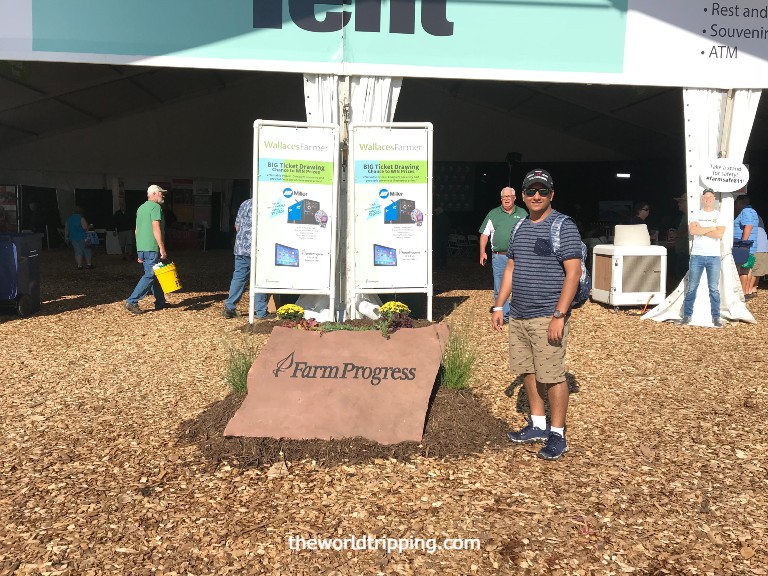 Attending the Farm Progress Show does not mean you should be a farmer or any businessman. Visit here to know how interesting and resourceful this event can be.
It's a Nation's prestigious & popular event that the agriculture enthusiast should not miss. I'd like to advice, come with your kids & educate them what futuristic agriculture will look like, show them giant monsters working on the field.
Read this guide & scroll through our photo blog, it might interest you. Firstly, let me count on reasons for you, why you should attend this event, though you are not a farmer.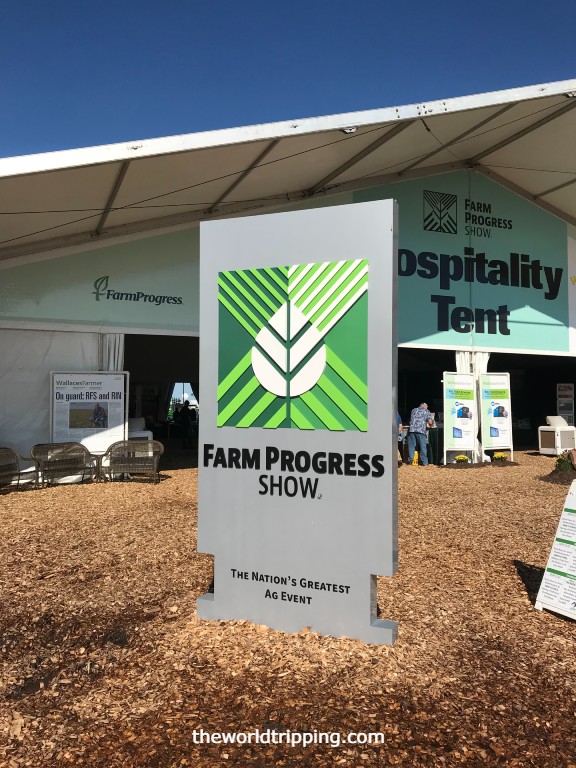 The first Farm Progress Show was taken place on 2nd October 1953 in Illinois State, which was a great success, attended by over 75K visitors. This show has evolved over the years and has now become one of the prestigious events that all the manufacturers, as well as farmers, are waiting for. Farm Progress Show is rated No. 1 among the largest trade shows in the United States as stated by Trade Show News Network. 
Up until the number of exhibitors increased to 600+, and visitors from all over the United States as well as aboard increased to over 200,000 to experience everything the Farm Progress Show has to offer. This is how Agriculture has been celebrated for over 65 years and counting.
> Meet & Greet with Farm-Tech Experts & Farmers, build up Ag community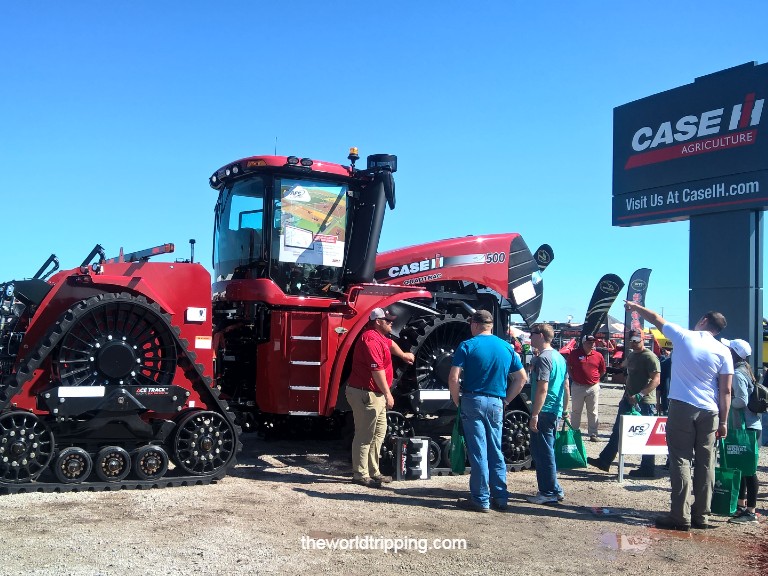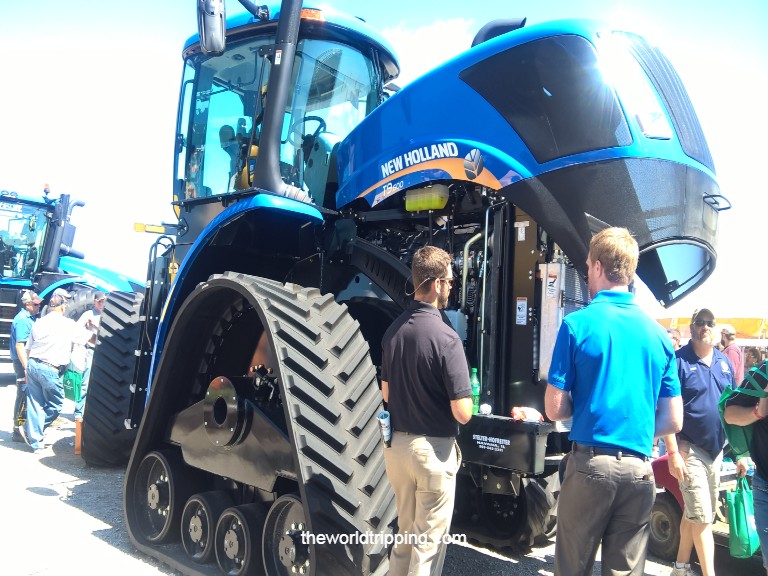 It's a popular event where Ag manufacturer and suppliers get the opportunity to meet with customers (i.e. Farmers), try to understand & solve their problems, help to answer queries, showcase upcoming product lines in front of them, offer them to try out new products before its market launch and get their genuine feedback.
Farmers can have a direct talk with farm-tech experts, product designers and engineers ask queries about equipment that they are currently using and give them suggestions for future needs.
It's a wonderful gathering allows fellow farmers to meet and greet, build up Ag community.
Isn't it nice to have all people (Manufacturing Tech experts & Farmers) sharing same interest comes under one roof?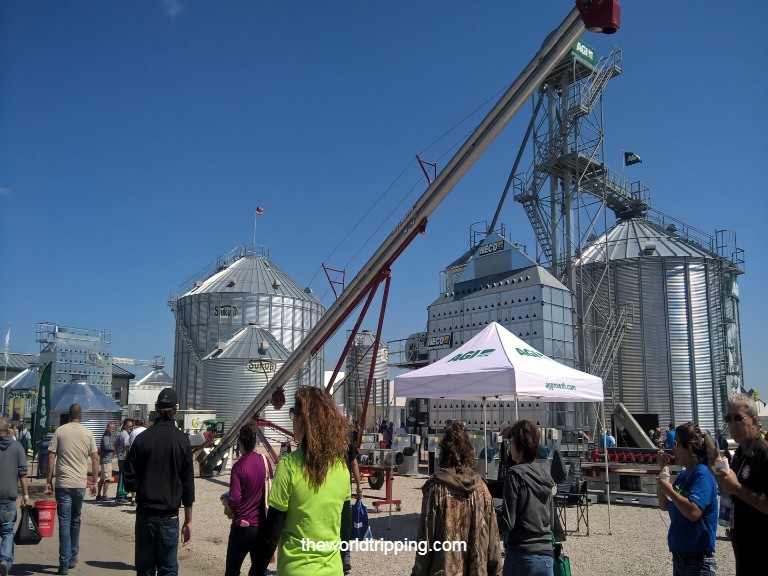 > Opportunity for Business Expansion
Manufacturers and Farmers eagerly waiting for this event every year and as it provides great opportunity for businesses to plan beforehand & launch new equipment, showcase best products in front of the actual customers (i.e. farmers/suppliers) and expand businesses and widen up contacts.
At the same time, Farmers and Ranchers from across North America and around the world never miss the opportunity to see agriculture's latest product introductions and compare various brands instantaneously, meet face-to-face with experts and gain practical knowledge. It's a win-win for both the parties.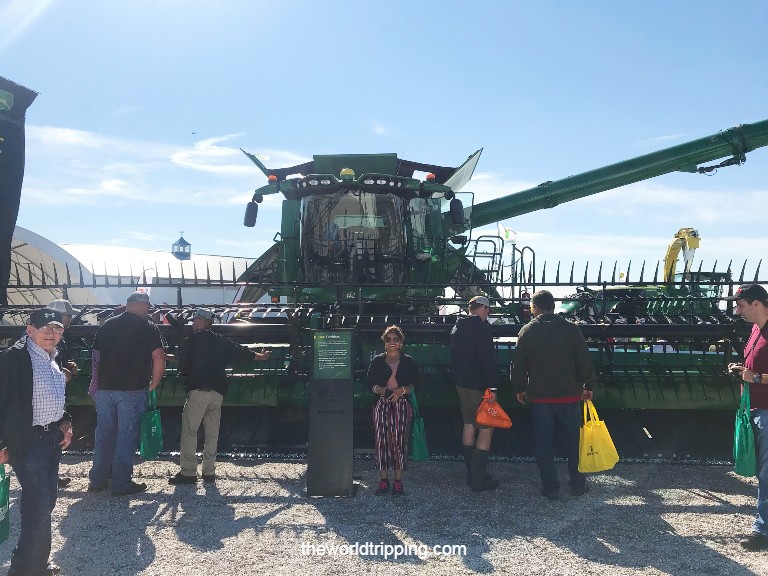 > Feel the boost by watching those monsters work on your command
Farm progress show offers field demos of tractor & combine harvester performance, GPS & precision equipment & tillage techniques at the actual field. 
Curious minds from non-farming background must be so excited to watch those monsters at work in the actual field. Its indeed one of the biggest highlight of the event, if weather permits.
> Excellent Learning Opportunity for Kids & Non-farmers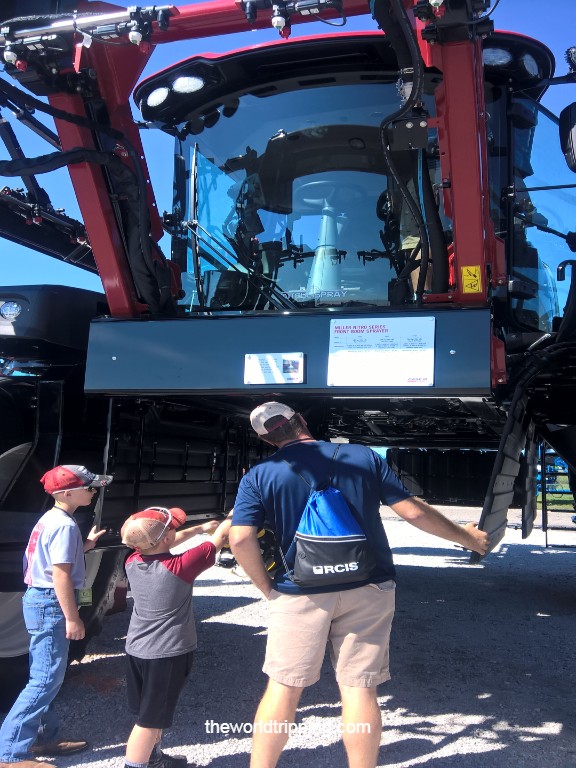 Unlike farmers, many of us did not grow up on a farm. 
This show provides an excellent learning opportunity for kids & families from a non-farming background about the latest technology-driven advanced agriculture that has become so intelligent and can be operated by satellites with autonomous working technology.
Get thrilled by sitting in the driver's seat & enjoy free education.
> Take Photos with 'Giant Machines'
Never miss the opportunity to take lots of photos and selfies with those giant machines, after all, it's an engineering marvel!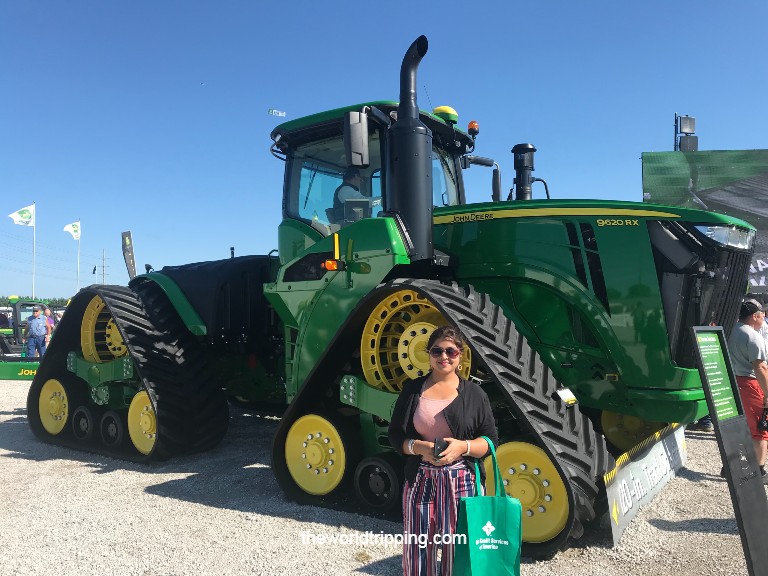 What to expect in Farm Progress Show: Types of exhibits
You will find exhibits of all types of AG equipment under one roof right here-
• Grain handling equipment, Harvesting equipment, Tillage equipment, GPS and precision equipment, Earth moving equipment, Hey handling equipment, Seed handling equipment, Feeding equipment, aeration, dryers & drying equipment, Lawn & garden equipment.
• Tractors and accessories, Trailers and accessories & Trolleys, Combines and accessories, Sprayers and accessories, Conveyors, Planters and accessories, grain and accessories, crop protection units.
• Fertilizer products, Seed, Drills, Augers, Tires, Batteries, and etc.
• The highlight of the show that you should not miss is watching- The Corn Harvesting & Tiling demonstrations in the actual field,
• Hospitality tents to eat, drink and relax.
• Free educational seminars with guest speakers and much more.
Glimpse of our visit to 2018's Farm Progress Show at Boone, Iowa
We have a photo collection of the Farm Progress Show-2018 held at Boone, IA. Unfortunately, the live field demos were canceled due to rains.
Check this out and get an idea of what you can expect there. Book your tickets now.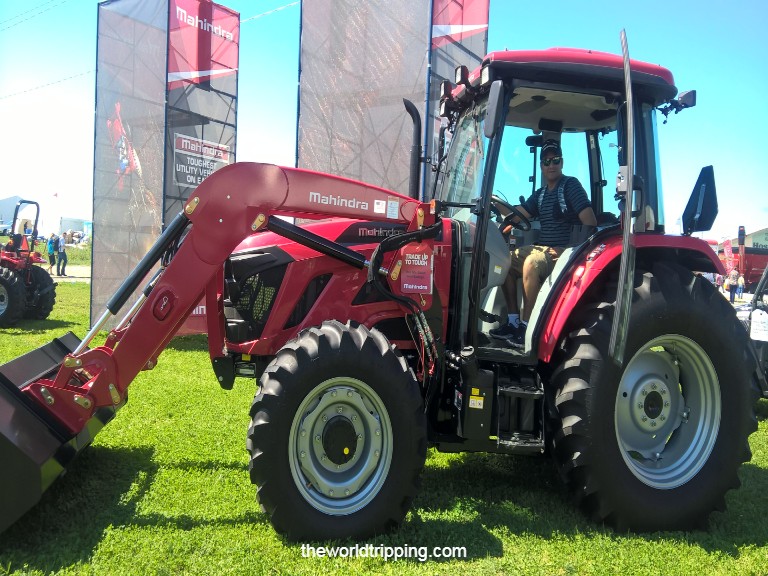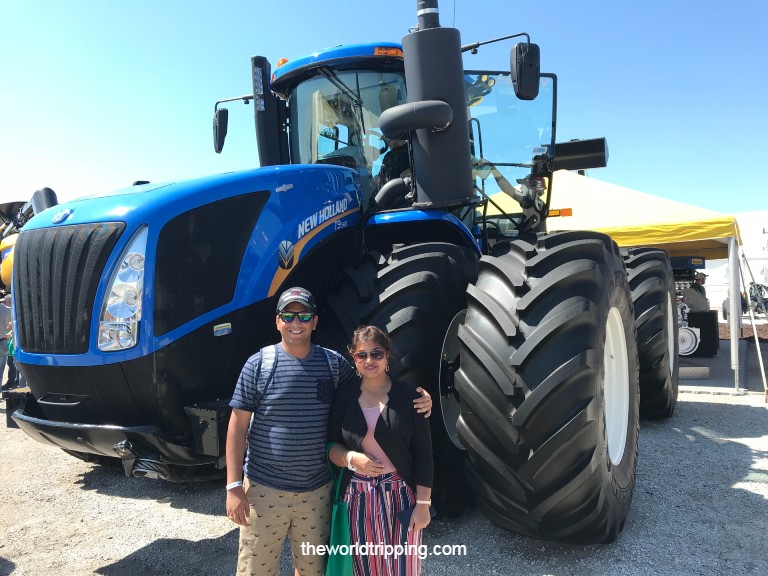 When & Where is Farm Progress Show-2022?
Generally, Farm Progress Show is conducted for 3 days at the end of August & starting of September months each year. One more interesting thing I came to know is that it took place at two locations Decatur (IL) & Boone (IA) in alternate years.
Last year it was held in Decatur, Illinois state from 31st Aug, 1st Sept & 2nd Sept 2021. So this year's event is going to be in Boone, Iowa.
Venue, Date & Time:-
Address:- Boone, Iowa (1827, 217th St., Boone, Iowa- 50036)
Dates:- 30th August 2022, 31st August 2022 & 1st September 2022
Time:- 8 AM to 5 PM
What is the cost of the tickets? How to purchase them?
What if I say, you can save $5 on each ticket by purchasing tickets online in advance? Good deal right?! Plus you don't need to wait in line at the gate.
Hit the link below: 
Official Website of Farm Progress Show  and book your advance tickets now.
Or call on 800-441-1410 to get an assistant.
Ticket cost for
> Adults – $20 (If you purchase at the entry gate); $15 (For advance admission)
> Student (13-17 Age group) – $10
> Children (Age 12 and under)- Free
Can I bring my golf cart to get around?
Yes. The only thing is, that you need to purchase a permit of $80 on the gate.
Rent a golf cart from the Farm Progress Show-approved vendor.
To know more about the rental fee & its policy, hit the link here. 
Make a reservation now. 
Note that, Mobility scooters are available on-site, which will be first come first served basis.
• It's a full-fledged event and one full day is not enough to see everything that the show has to offer.
• There is a feature from which you can map your show by prioritizing & listing your favorite exhibits so that you will not miss out on anything. Or just simply pay your visit all three days and cover it all.
• Go to this link, whether you want to attend the event or participate in the exhibition and reserve space.
• Book advance tickets online to get a discount of $5 per adult.