Introducing, 'Robert is here fruit stand.' YES, A FRUIT STAND. You may be surprised what so special to talk about mere a fruit stand. It may sound ordinary to you but it's NOT!
Started from a roadside fruit stand 60 years ago, it has grown into a complete tourist destination having a Petting Zoo, Exhibit of Vintage Tractors, Play Area, and Picnic tables serving Smoothies & BBQ. They promise live music entertainment on the weekends and holidays! It has become a beloved spot for locals & tourists, makes it a must visit place on your way to Everglades National Park. Here in this post I've shared Robert is here fruit stand reviews in detail.
This is a fruity wonderland of deliciously fresh local & exotic tropical fruits! Ever heard Canistel (Egg fruit) or Guanabana (Soursop)? Have you ever tried Mamey Sapote, Black Sapote, Caimito, or Passion fruit? You will fall in love with their unique exotic flavors and with each sip, you would feel like you are already on a tropical island. Though we visited many tropical places in India, some fruits were alien to us. You will find these weird, uncommon tropical fruits around the world under one roof only in "Robert is here." 
To all milkshake & smoothie lovers out there, do not miss this iconic place, when you're in Homestead, Florida.
Robert Moehling, a proud owner of an iconic fruit stand called 'Robert Is here.'
Yes, you will find Robert here offering fresh produce to the customers, most of them are freshly grown right on his family farm in Homestead Florida. His passion for fruits & dedication towards work is commendable. He built & maintained the reputation, gained attention as a popular stop on your way to Everglades National Park.
Not just that, Robert is here alleged to be a founding member of the Florida Agritourism Association & become the first Florida-based entry into the National Culinary Heritage Register. WOW!
The story behind its unique name is quite interesting. You can gauge their popularity from Instagram handle @robertisherefruitstandandfarm.
Where to find 'Robert is here fruit stand?'
Robert is here strategically located around the world-famous Everglades National Park. The Ernest F. Coe visitor center is just 8 miles (15 min drive) from here.
Address: – 19200 SW 344th St, Homestead, FL 33034, United States.
We took a pit stop here before entering the Everglades NP to enjoy the afternoon speed boat ride. We were surprised by how they develop this property, offering so much in one place. Glad that we stopped here and taste awesome smoothies. It was indeed a delightful and refreshing break in a scorch summer.
Good thing that it is open every day from 9 am to 6 pm.
What do they offer? What are the specialties?
# Robert is here Smoothies, Fresh Produce and Entertainment !
It's a traditional family-owned business having vide collection of local & exotic tropical fruits and farm-fresh vegetables, specializes in fruits shakes & smoothies. You can pick your favorite fruit and they will cut it for you, enjoy fresh fruit right there. You can have assorted varieties on one plate.
Educate children by showing them a variety of fruits that have never seen or tasted before. Pick your favorite, strange-looking fruit, feel it, smell it, taste it, learn how it looks like, what it tastes like & when to eat, etc. Honestly, we didn't know some of the varieties like Guanabana, Mamey, Caimito, Passion fruit and all, which we tasted there for the first time. 😛
I would recommend, try the natural fruit taste first if you haven't tasted it before and then order its smoothies and shakes, you can combine your favorite fruits.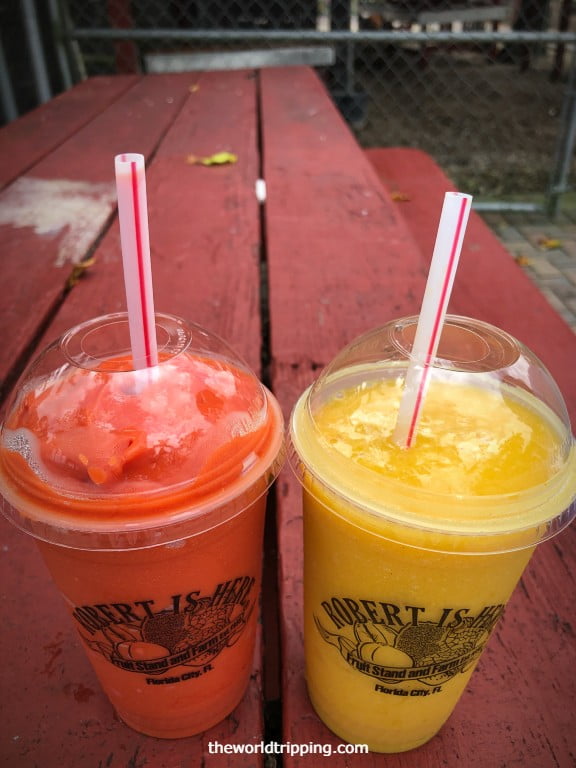 They have a live milkshake & smoothies counter, where they made shakes with fresh fruits with no artificial ingredients, preservatives, or colorings. They will ask you whether you want to add sugar or honey to it. If you have lactose allergies, no problem, enjoy their smoothies of fruits plus ice. The shakes and smoothies you will get in around $7 – $10.
Guanabana: – They claim, it's the best-tasting fruit in the world, delicious, and melts in your mouth like cotton candy. You will find a separate mention of this fruit shake in their menu under a premium category, which costs you around $10. You must taste this extraordinary.
In-store collection: – You will also find Jams & Jellies, Fruit Butter, Candies, Marmalades, Hot Sauces, Dressings, Relishes, Pickles, Pure Raw Honey. They have the largest selection of honey at a single place, you can taste like 25 different kinds of honey before you pick one. We were curious to taste Mango Honey & Avocado Honey. One must try key lime pie (Local's favorite) or any key lime product when you are in South Florida.
You can order online too, they will be shipping at your place or the second option will be a curbside pickup.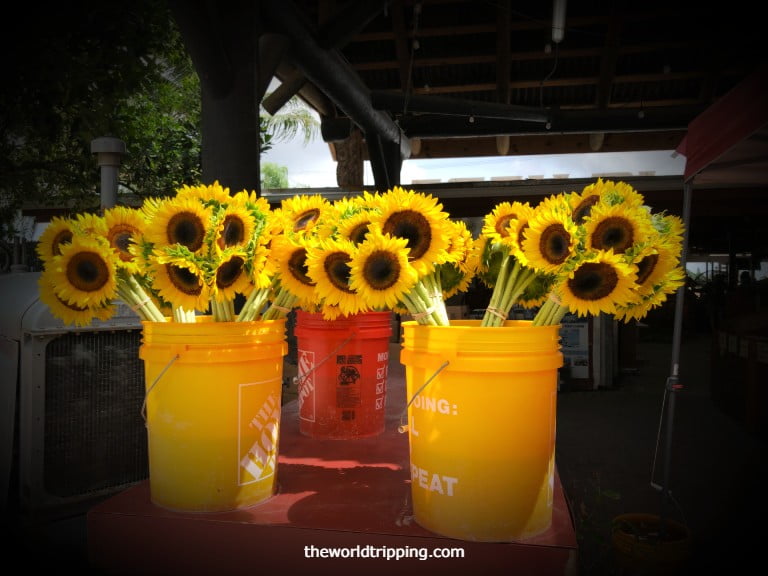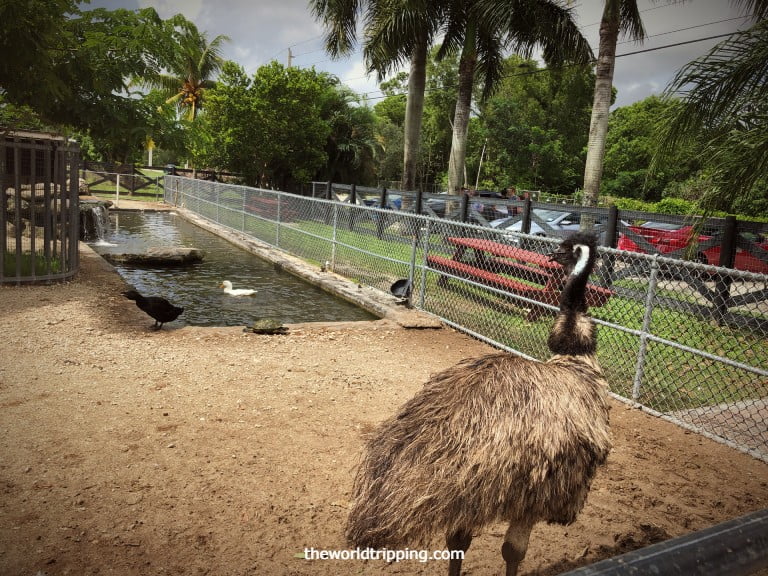 Plants & Flowers: – They have some plants & Guanabana trees for sale. You can buy sunflowers as well.
Farm Animals: – They have a small petting zoo, Chickens, Ships, Parrots, Ducks, Emu. Get friendly with farm animals while waiting for your turn. You can feed them at 3$ a bag.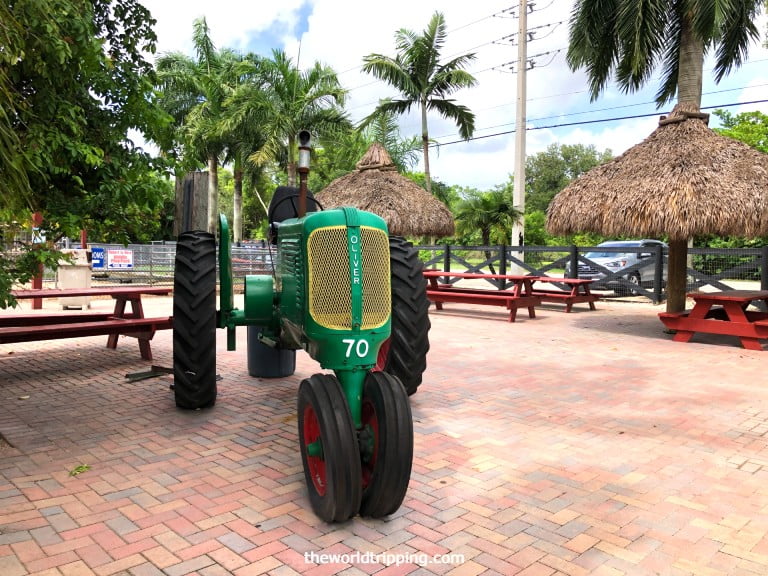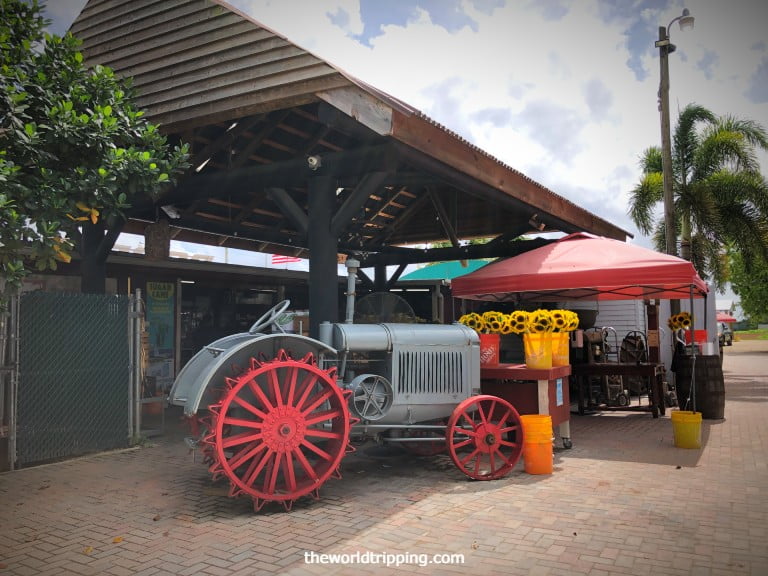 Exhibits of Vintage Tractors & Farm Equipment: – As soon as you enter you will notice exhibits of vintage tractors collection around the corners. You can sit & take a photo with them.
Play Area & Picnic Tables to Relish BBQ & Shakes: – They have a small play area for children and picnic tables to a seat outside and relax. On every weekend they operate a food truck serving hotdogs, BBQ chicken, pork & ribs at an affordable prices. It's a great pit stop to have lunch and drink shakes/smoothies on your way to Everglades National Park.
When we visited the place in Oct-2020, the COVID-19 pandemic was at its peak, they were not allowing entry to the store, but we could still enjoy their shakes and smoothies by the drive-through and spent some time watching their exhibit & animal farm. 
Now things are normal, you can go, explore and order whatever you like, however you like.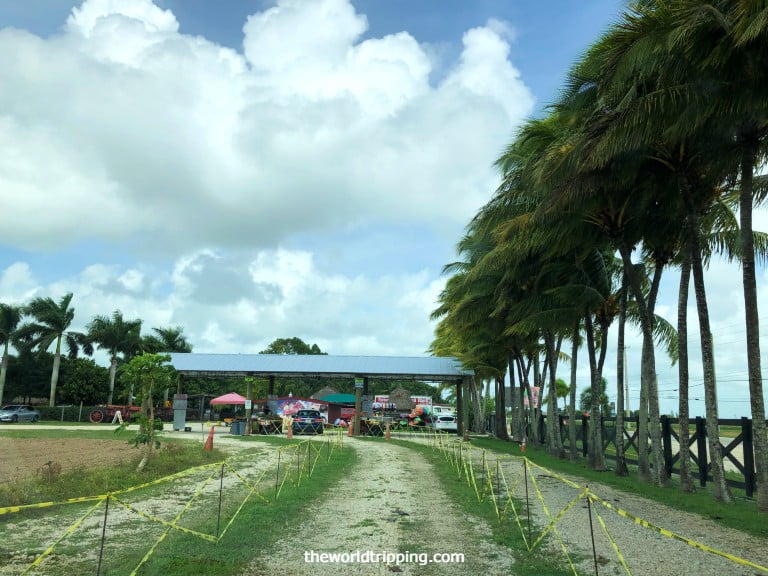 Robert is here fruit stand reviews based on our first visit:
When we were searching for places to visit in South Florida, near Everglades National Park, that is when we learn about this place and stopped here before entering the Everglades. As we approach the store, there was a big hoarding named 'Robert is here' that can be seen from half a mile. Soon we realized this place is not ordinary.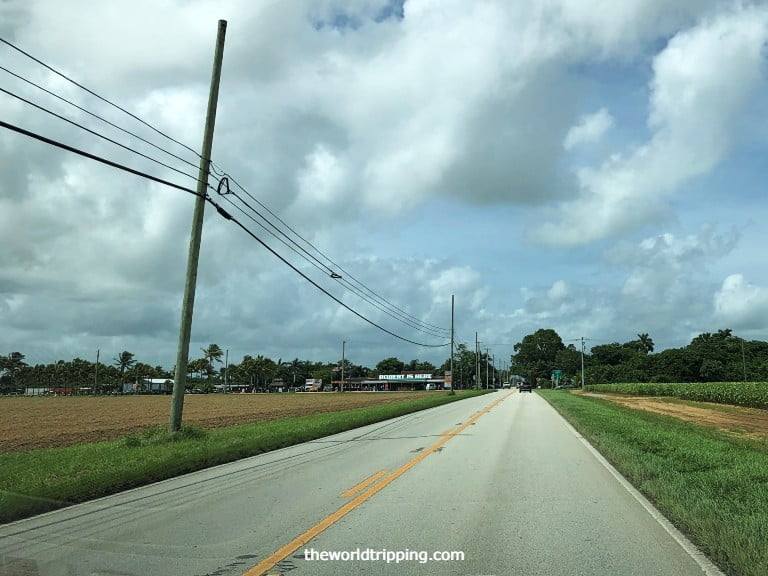 We went there in the month of Oct-2020, unfortunately, we could not enter their store due to COVID-19 safety regulations.
Luckily, they were attending customers & serving fruit shakes by a drive-through. You need to enter from the backside of the store they will take your order and give you a coupon.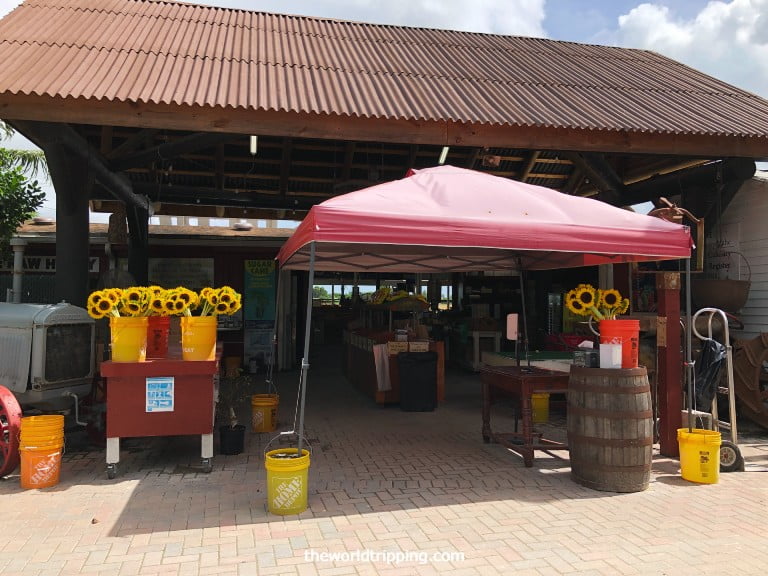 We wanted to try some weird-looking fruits and shakes that were new to us. There were so many varieties & combinations that you could easily get confused about what to try first. You cannot try them all on the first visit.
We ordered Mamey Sapote smoothies & Passion fruit juice with honey. Both cost us around $8 each.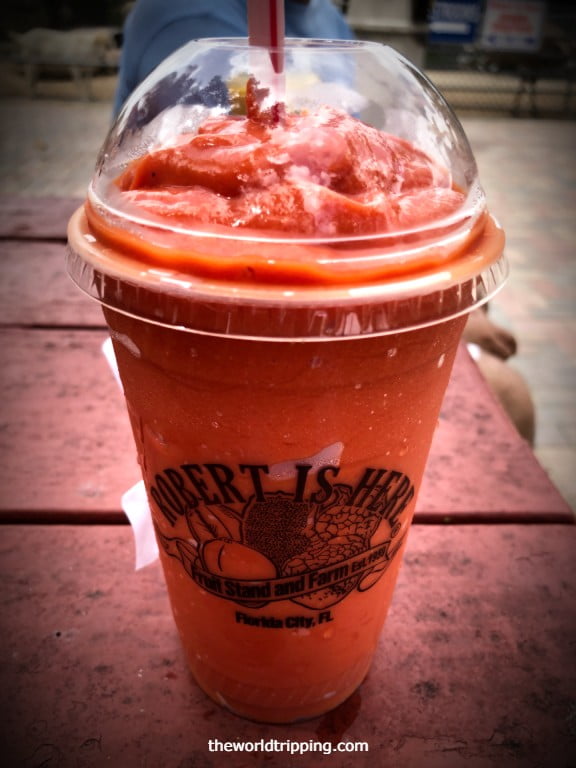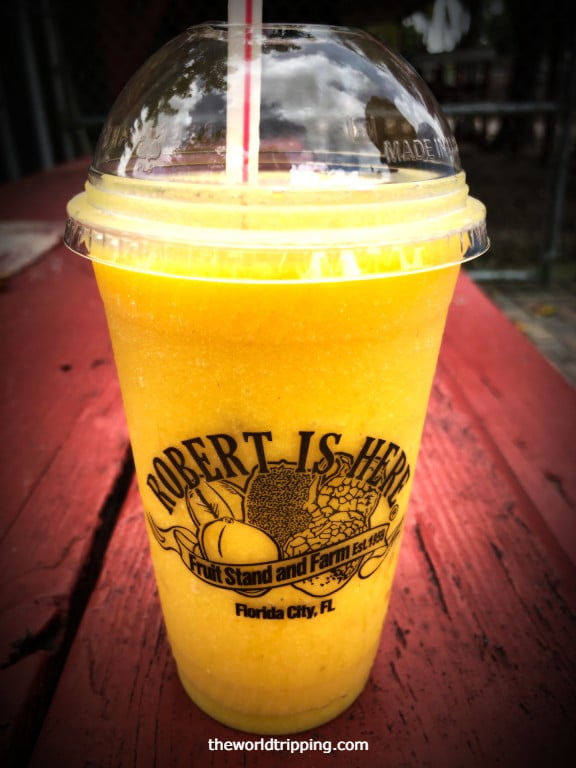 The size of a milkshake glass was big enough to make you full. We were tasting those fruits for the first time.
Mamey Sapote Smoothy was super yummy & sweet, it has a creamy texture just like I'm having sapodilla. It was so thick; that I feel like I am not drinking but eating pure fruit.
And our second drink was a Passion fruit with Honey which was so refreshing, perfectly sour, and sweet combination, exactly what you need in a hot summer.
We enjoyed our drinks by watching their Animal Farm and Tractor Exhibits. We had a great time!
They have a big farm and open area nicely developed in terms of Agrotourism. No doubt locals love it here. I would recommend all the tourists to stop by and have a sip!
Location – 4 / 5
In-store Collection – 4 / 5
Freshness of the Fruits & Veggies – 4.5 / 5
Presentation & packaging of items in store – 4 / 5
Hospitality – 4.5 / 5
Quantity of fruit shake/smoothies – 4 / 5
Taste of fruit shake/smoothies – 5 / 5
Entertainment – 3 / 5
Value for money – 4 / 5